Cargo e-bikes offer up a good alternative for shorter journeys, where carrying goods (or even children) is required. If you're fortunate enough to live in an area with reasonably safe cycling infrastructure, then a cargo e-bike like the new Decathlon R500e could be a solution to rising car costs.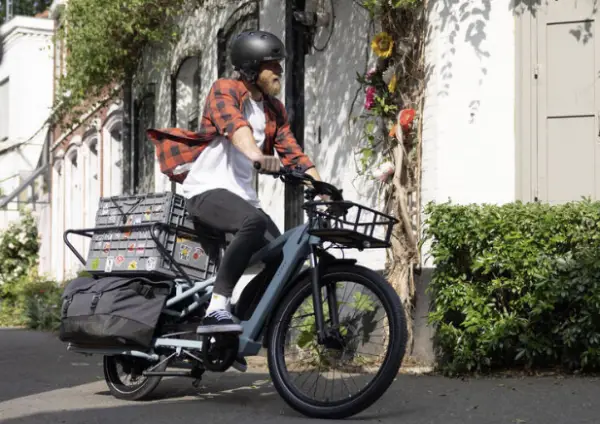 The R500e is Decathlon's first-ever cargo e-bike, and in this article, I'll be taking a closer look at the specification to see if it can compete with the likes of the popular Rad Power Radwagon 4.
Specification
| | |
| --- | --- |
| Motor | 250w rear hub motor 58Nm torque |
| Pedal Sensor | Torque sensor (bottom bracket) |
| Battery | 672Wh (48v 14Ah) Samsung cells |
| Charging Time | 4 hr 40 min |
| Maximum Assisted Speed | 15.5 mph (25 km/h) |
| Battery Range | 90 km (assist level 1, flat road, light rider). 50 km predicted real-world range. |
| Number of Assist Levels | 0 – 3 plus 6 km walk assist |
| Maximum Weight Capacity | 170 kg (including rider) |
| Bike Weight | 38 kg |
| Brakes | Tektro hydraulic |
| Gearing | Microshift 1 x 8 |
| Suspension | Front suspension fork |
| Wheels | 26″ front / 20″ rear toughened alloy rims with 36 spokes |
| Tyres | CST cargo-specific |
| Accessories |  Lights, Front basket, Rear cargo rack, Centre stand, mudguards, bell |
Pros
Loads of carrying potential
Hydraulic brakes
Decent sized battery
Cons
The UK version is a bit pricey
Heavy
250w hub motor will struggle on steep hills
---
Summary
In the current economic climate, millions of people are slowly being 'priced out' of car ownership due to rapidly rising fuel prices, and other running costs like insurance, tax and servicing. Cargo e-bikes like the new Decathlon R500e, look like they could provide a viable alternative to using a car for day-to-day things like shopping and work. Unfortunately, some of the best electric cargo bikes can cost as much to buy as a decent second-hand car. But, there are an increasing amount of options available for under £3500.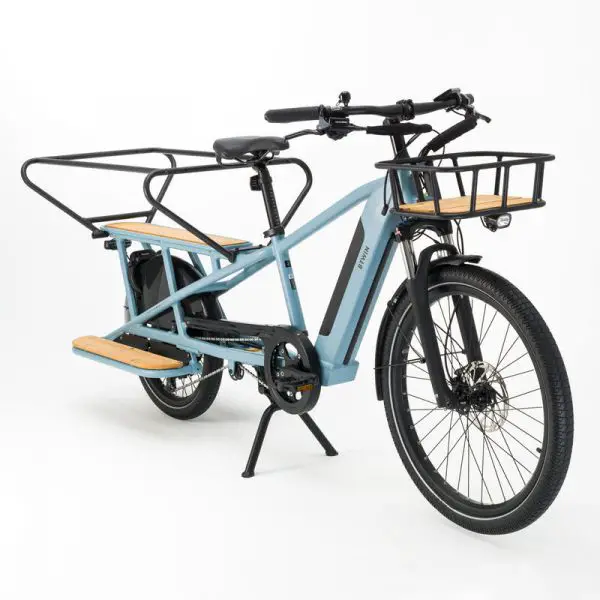 Priced at £3499 in the UK (€2815 in the EU😒), the R500e is one of the cheaper options available. This new model has only recently become available in the UK but has been available in European Decathlon stores for some time. Below, I'll have a closer look at the specification to see how it stacks up against the competition.
Electric components
As a cargo e-bike is designed for carrying heavy loads, a standard 250w motor won't always do the job. It seems Decathlon has this covered by using a 48v 250w motor that produces an impressive 58Nm of torque and 685 watts of peak power. The battery also looks pretty good and is 48v 14Ah (672Wh) using Samsung lithium cells.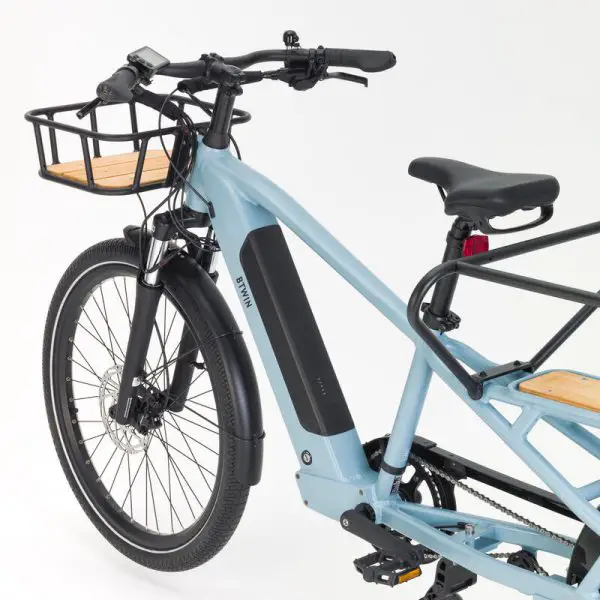 Pedal assist is activated by a torque sensor – this is located in the bottom bracket and measures the pedalling force applied by the rider. This provides a smooth and efficient pedal assist, benefiting the rider and also range potential.
Cargo e-bikes put a lot more load on the motor, so overheating could be a potential problem. Thankfully a 48v system requires less current (amps) to generate the same amount of power (when compared to a 36v system). The upshot of this is lower heat build-up with increased efficiency and reliability.
I feel that Decathlon would have been better to invest in a mid-drive motor for this application, especially at this price point. Hub motors are good at dealing with moderate hills, but their limits are quickly reached on gradients above 10%.
The display is a multi-function LCD which is neatly located on the left-hand side of the handlebar near the grip. It looks fairly generic and has all the functionality you'd expect on an e-bike display.
There are 3 levels of assistance which provide the rider with 90%, 180% and 300% assistance respectively. The estimated battery range is up to 90km on a single charge although this is likely to be significantly less when loaded and using higher assist modes. Given the overall weight of the bike (38kg), I reckon a realistic range for the average rider would be in the 40-50km region.
A useful addition is the 'start assist' trigger, which is a thumb throttle that's limited to the 6km/h allowed by law. This will be very useful to help the rider get going when fully loaded or on a bit of a hill.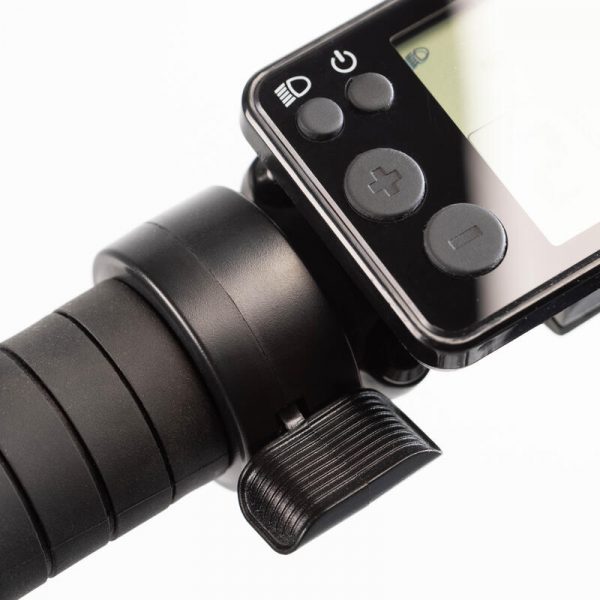 Bike components
The Decathlon R500e is well kitted out for a sub-£3500 electric cargo bike. Plus, there's a whole host of accessories available from Decathlon – things like child seats and jumbo-sized panniers.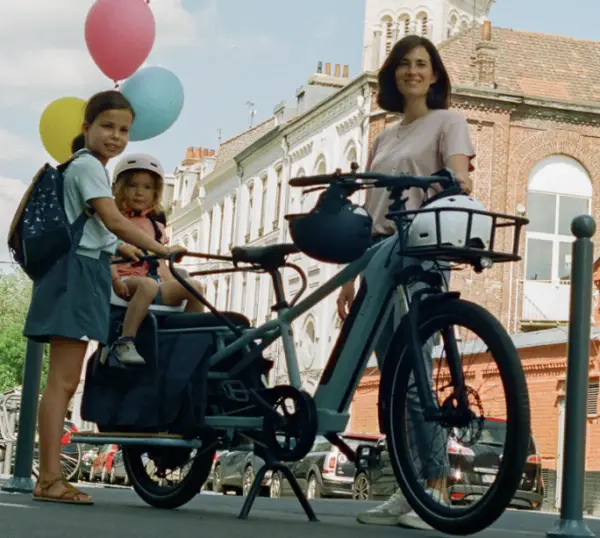 Gearing
Gearing is provided by a dependable Microshift 8-speed system which is cheap and cheerful. I've used Microshift components on numerous occasions and never had any bother. I've always found the shifting quality to be just as good as anything by Shimano or SRAM. The cassette is an 11-28 which I think is a bit too high gearing – I think an 11-36 would have been much better for a cargo e-bike.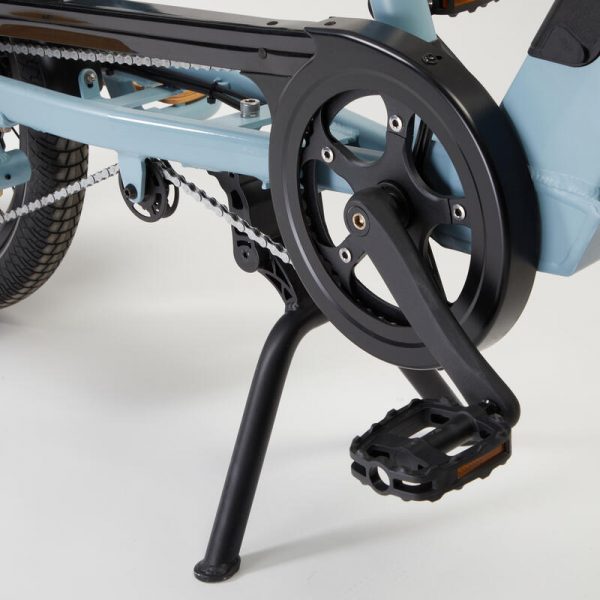 Brakes
Stopping power is provided by Tektro hydraulic disc brakes – I couldn't find the exact model used, but looking at the photos they look like entry-level brakes. These will be fine for casual day-to-day riding, but I'm not so sure about braking down a steep hill when fully loaded. This is an e-bike designed to carry a fair bit of weight and it would have been better to see 4-piston brake callipers fitted.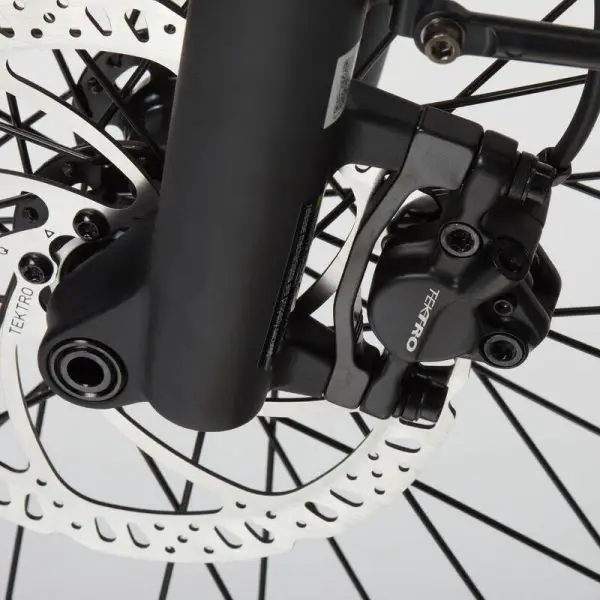 Suspension
Decathlon doesn't specify the suspension fork on their website, but looking at the photos, I'd say it's a Suntour, possibly an XCT or XCM. These are commonly used on budget mountain bikes and are perfect for soaking up the lumps and bumps commonly associated with urban riding.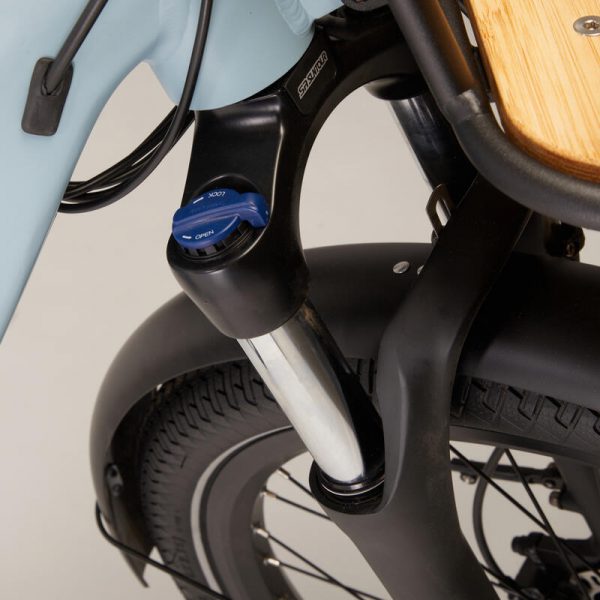 Cargo capacity
This is the icing on the cake for the Decathlon R500e, and one of the reasons it's the best electric cargo bike in its class. The R500e has lots of potential for carrying cargo. There's a very large rear cargo section, as well as a substantial front luggage area. The total carrying capacity is 170 kg, but this does include the weight of the rider. The rear rack is rated at 80 kg.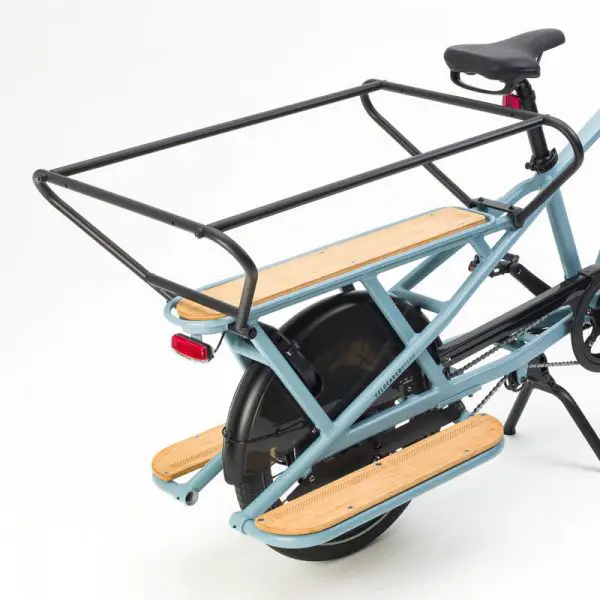 Wheels and tyres
There is a 26″ wheel up front and 20″ at the rear. I can only assume the reason for the smaller diameter rear wheel is strength with a reduced chance of broken spokes. Looks like a good call to me, as smaller rims are generally much tougher. Heavy loads combined with rough city streets are a recipe for broken spokes, so the 20″ wheel is a great idea. The tyres are CST C1996 cargo-specific tyres, so they probably have reinforced side walls and increased puncture protection.
Frame and finishing kit
The frame looks tough and durable, and it needs to be if carrying weight. Decathlon specifies a weight limit of 170kg on top of the weight of the bike at 38kg. This means you could easily carry a couple of children or even an extra adult.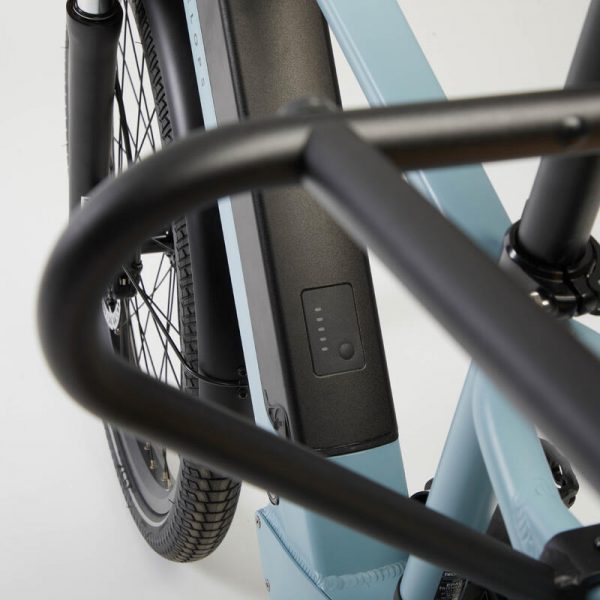 As far as extras are concerned, the Decathlon R500e is well-catered for. There are full-length mudguards at the front with a partially enclosed rear wheel. A moped-style centre stand is included in the price and there are good quality front and rear lights that run off the e-bike battery.
Who is the Decathlon R500e aimed at?
The Decathlon R500e electric cargo bike will be suitable for anyone from busy stay-at-home parents to professionals who want an e-bike for delivering goods. You could easily take a couple of kids on the school run, then go and do a spot of shopping!
If you are a tradesman, there is plenty of potential storage space for tools and the like. If you're looking for a cheap way to get around town and maybe deliver small goods to customers, then the Decathlon has loads of potential.
There is a whole range of accessories being released, it's only going to increase the potential. You could even use it for camping trips as you could carry loads of gear, including the kitchen sink!
Find out more about the Decathlon R500e
Conclusion
At the current price of around £3499, the Decathlon R500e looks reasonable but is not fantastic value for money. In the EU it's much more competitively priced at €2819. Its main competitor is the Rad Power Radwagon 4 which comes in at €1899 – but is the Decathlon bike better? There are similarities between the two bikes, most notably the 48v motor with a 672Wh battery. The Decathlon bike has hydraulic brakes, torque-sensing pedal assist and slightly better gearing. Plus, it has a substantial front rack and front suspension.
It's hard to make an accurate comparison unless I've got both bikes in front of me, but I would say the Radwagon is still tops when it comes to sheer value for money. Plus, you now have budget options like the Fiido T1 available which has a more powerful battery and hydraulic brakes.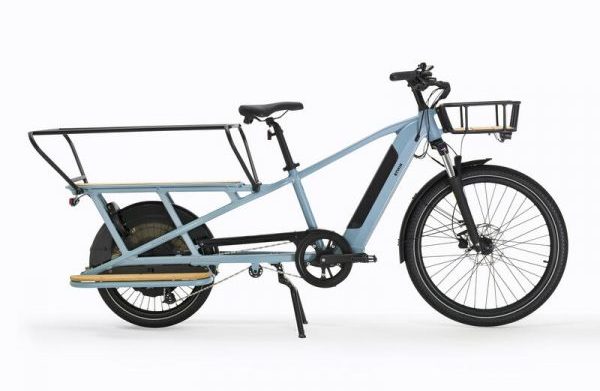 Having said that, the Decathlon R500e looks like it has bags of potential, and it certainly has more cargo-carrying ability. Whether you can justify paying the extra, depends on your personal needs.
It looks very well-built, and it will be interesting to see what other accessories become available in the coming months. On face value, I certainly think the R500e is worth considering if you're after a cargo e-bike.
Find out more about the Decathlon R500
If you already own a Decathlon R500e, please feel free to leave a review in the comments section below.