The Fafrees F20 is a budget folding e-bike that punches well above its weight in terms of battery power. Rocking a massive 36v 16Ah battery, which is an impressive capacity on a sub-€1000 e-bike. Plus, there's a whole host of additional features like the mudguards, lights and even a seat on the pannier rack – although I'm not sure how practical that's going to be!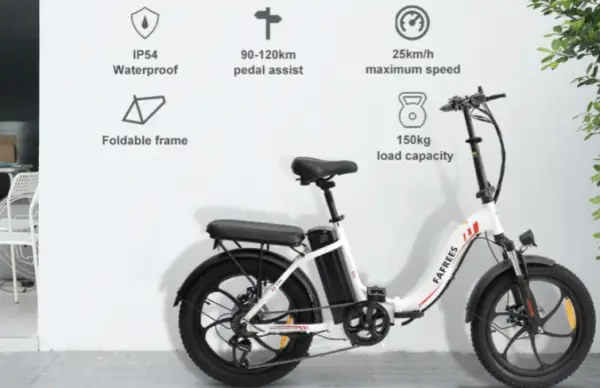 Below, I've taken a more detailed look at the specification. If I can get hold of a sample for a full review, I will update this article accordingly.
Buy the Fafrees F20 – use discount code: NNNFAFREEF20EB (EU only)
Key Features:
Removable Battery
36v 16Ah battery should give a real-world range of around 80km, depending on terrain, wind, rider weight etc. The claimed maximum range of 120km is optimistic but may be possible if the assist is only used occasionally. It can be safely assumed the battery uses generic cells. These e-bikes are now required to pass stringent tests regarding battery safety to satisfy EU laws.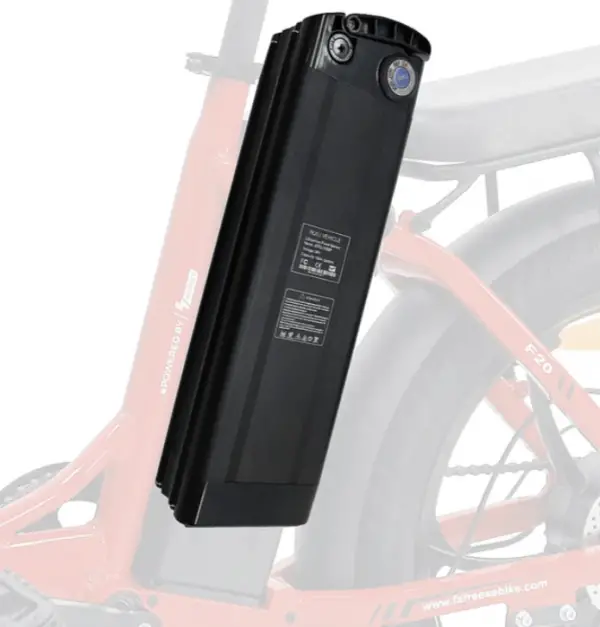 Strong 250W Motor
Equipped with a 250W brushless rear hub motor to provide a good boost on the hills, the top speed is 25km/h in line with EU pedalec laws. Small geared hub motors usually offer decent performance, and I see no reason why this would be any different.
7-Speed Gears
The Shimano 7-speed gearing is standard fitment on 90% of budget e-bikes. It's dependable, easy to maintain and cheap to fix if it goes wrong or gets damaged.
3 Riding Modes
Three riding modes: electric mode (throttle control), no assist mode (great for conserving battery energy) and pedal assist mode (best compromise on battery range). According to the spec sheet, there are three different pedal assist levels, meaning you can set the assist at the most comfortable and efficient level for your needs.
Bright LED Light
Equipped with bright LED headlights for driving in the dark or poor light conditions, improves rider visibility to other road users.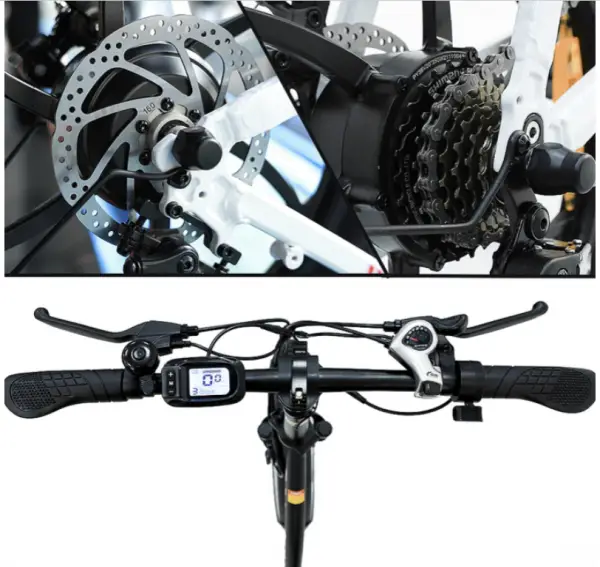 Strong Mechanical Disc Brake
The front and rear mechanical disc brakes should provide adequate stopping power in all weather. Although not as powerful as hydraulics, I find most mechanical disc brakes work just fine, providing they've been set up properly. They can sometimes squeal when new.
Big tyres
I like the 20″ x 3″ tyre size on this e-bike. It sounds like a great compromise between regular tyres and full-on 4″ fat tyres. The latter can be noisy and cause excessive rolling resistance when on the tarmac, so the 3″ should be a better size for all-around riding.
Adaptable to different riders
The Step-through frame design makes it easy to mount/dismount the bike. And the adjustable handlebar height makes it suitable for a broad range of rider heights (between 160-195cm tall). Riding position looks comfortable and with the adjustments available, the Fafrees F20 should be a comfortable ride.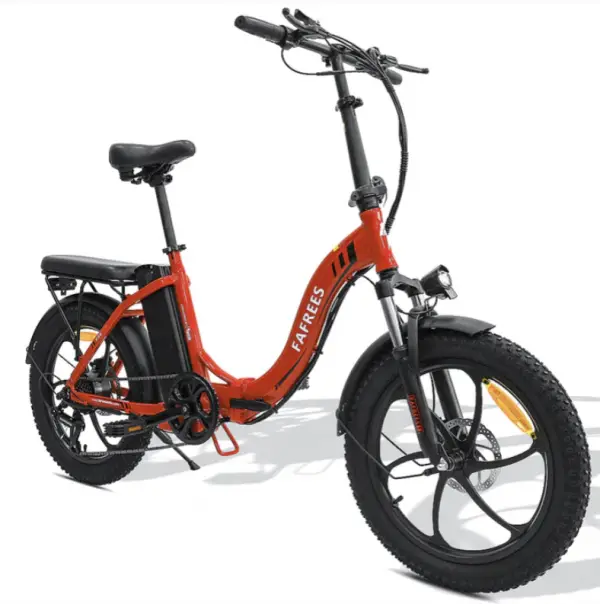 Fafrees F20 Specification
General
Brand: FAFREES
Type: e-BIKE
Model: FAFREES F20
Color: Black/White/Red
Specification
Model: F20
Motor: 250W 36V rear DC motor
Battery:  36V 15AH Lithium-ion battery
Charging time: 5-6 hours
Battery Range: 55km-65km
Maximum Speed: 25km/h
Optimal Speed: 20km/h
Climbing Angle: 25°
Wheel Diameter: 20"
Frame Material: Aluminum Alloy
Folding Stem: Yes
Digital Display: Yes, display for speedometer, odometer, time, light, battery life
Riding Modes: 3 Modes(power mode, cycle mode, moped mode)
Transmission Gears: 7-speed gears
Brakes: Mechanical disc brakes
Headlight: Bright LED light
Max User Weight(Weight Capacity): 150kg
Suitable Ages: 16-65 years old
Waterproof Level: IP54
Operating Temperature: -10"C-45"C
Charging Voltage: DC 42v
Input Voltage: AC 220v
Unfolded Bike Length: 153cm
Handlebar Length: 63.5cm
Folded Size: 90CM*33CM*69CM
Product Weight: 27kg
Weight & Size
Product Weight:27KG
Package Weight: 31KG
Conclusion
Based on specification and price, I think the Fafrees F20 looks like a very promising option if you're looking for a cheap folding e-bike. If weight is a deciding factor, then I'd have to say look elsewhere, as the F20 is very heavy at 27 kg. It's not going to be practical to cart around town.
For a cheap folding e-bike, you can take on a substantial ride and in relative comfort, then it looks like a good option. It's a nice design with a step-through frame and an upright riding position. Being able to adjust the handlebar height is another plus point.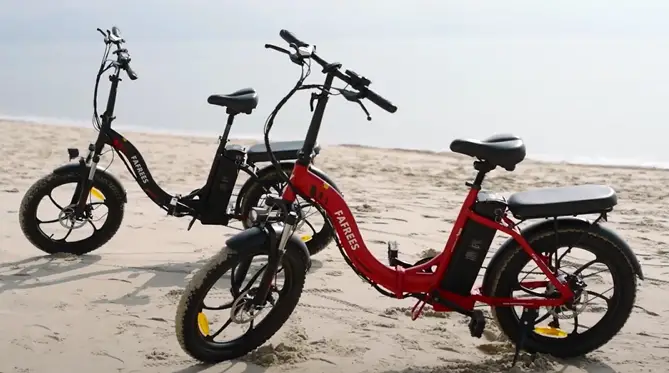 Where the Fafrees F20 stands out is value for money. The sub €1000 folding e-bike market is over-saturated, so any bike that has a spec that stands out a bit has to be worth considering. The only other folding e-bike (that I'm aware of) that has a large battery capacity in this price range is the Fiido L3 – which is a great little bike but only has one gear and very small 14″ wheels.
If I can get hold of one of these for a review shortly, I'll update this article. But in the meantime, if you currently own a Fafrees F20, please feel free to leave a comment below. Thanks for reading!