8 of the Best Electric Bikes for Heavy Riders (in 2022)
ebikechoices is supported by its audience. When you purchase through links on our site, we may earn a commission. Learn more
This is a subject close to my heart, as when I rode my first e-bike nearly six years ago I weighed around 300lb (136kg). Are you a heavier rider who is looking for an electric bike? If so, you're in luck! In this post, we will take a look at 8 of the best electric bikes for heavy riders. We'll discuss what factors to consider when choosing an electric bike, and we'll also recommend a few models that are ideal for heavier riders. I've included e-bikes that are available in the UK, EU and USA.
Choosing the right e-bike for a heavier rider
Just because you're heavy, doesn't mean you are overweight. At the end of the day, we're all different shapes and sizes and there's no 'one size fits all' when it comes to electric bikes. Certain e-bikes do have recommended upper weight limits which may be as low as 120kg. But, there are other factors to consider.
The biggest factor for any heavier rider is the power to weight ratio. A 75kg rider, riding a 22kg e-bike is going to find the assist much more noticeable than say a 130kg rider. A heavier rider will inevitably need to work harder on the climbs when riding a motor of equivalent power/torque/gearing. Conversely, on the flats and descents, a heavier rider will be at less of a disadvantage.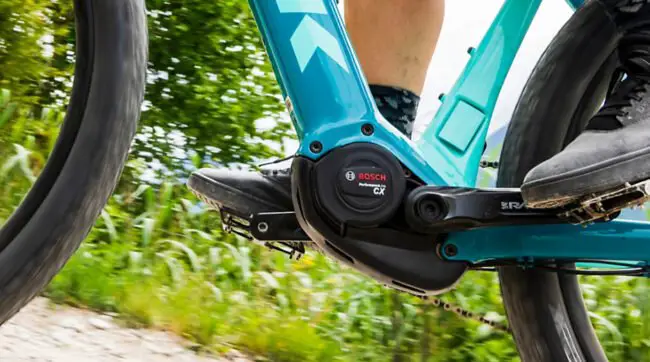 Another consideration is the capacity of the battery. If you're a heavier rider (say over 100kg) then you'll likely find that you use more power and therefore drain the battery faster than a lighter rider. You may need to consider a bike with a larger battery or look for an e-bike with the option to upgrade the battery.
Gearing is another important thing to consider. As a mid-drive motor transfers power through the bike's drivetrain, having a good range of gears is important, especially when climbing steep hills. It will be better for the motor (and your knees). I recommend a 10 – 12 speed cassette with a gear range of 11-46 or 11-50 teeth on the cassette.
Finally, there are comfort factors to think about when choosing an electric bike – such as saddle and frame size. As a general rule, you should be able to stand over the frame of the electric bike with around 25cm of clearance. If you can't, then the frame is likely too small for you and you should look for a model with a larger frame size. Step-through frames are particularly good because the low standover height makes it much easier to get on and off the bike.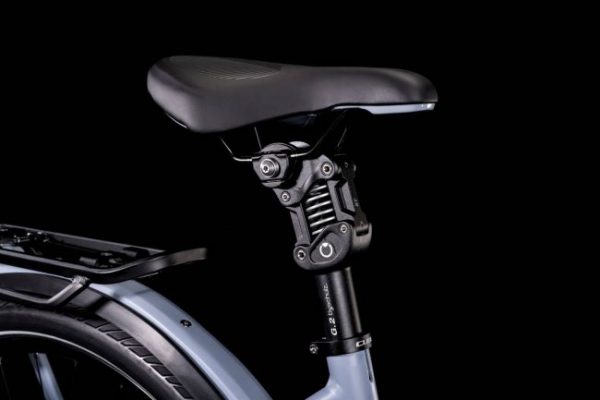 Best e-bike motor for a heavier rider
In my experience it's got to be a mid-drive every time. When I first started out riding an e-bike, I made the mistake of buying a cheap hybrid fitted with a 500w direct drive hub motor and it really struggled with my weight on any hill above 8-10%. If the hill was really steep, say 15% plus, then I'd be walking it.
After a few weeks and a bit more research, I realised that I had bought the wrong e-bike / motor combination for my weight and decided on a mid-drive conversion. I found a suitable donor bike and fitted a Bafang BBS02B 750w motor. This was a revelation and transformed the riding experience! I could now carefully meter the power using the 9-assist levels – it gave me the confidence to tackle longer, more challenging rides in my area.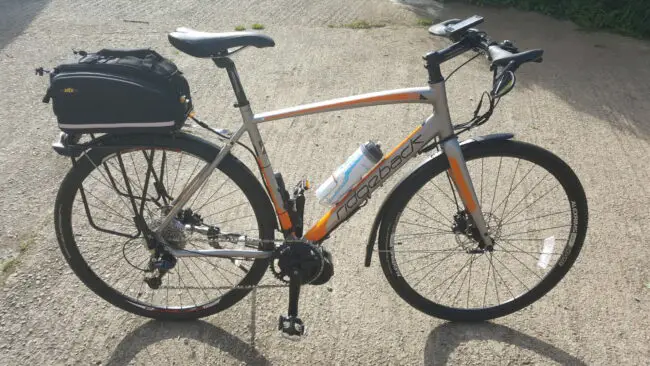 After 12 months and over 2000 miles of riding, I had lost enough weight and improved my fitness to a level that I felt confident enough to start riding a regular bike.
In this article, I'm going to be focusing on factory-produced electric bikes. E-bike technology has come on a long way since I first got bitten by the bug, and fortunately you can now get a road legal e-bike that will take you up the steepest of climbs.  I regular go cycling with a good friend who is about the weight I was 5 years ago, and he can comfortably climb really steep hills on his Trek e-MTB.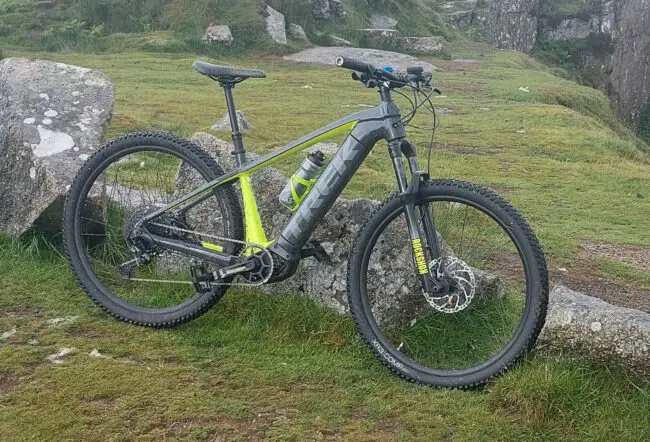 Despite the massive range of e-bikes now available, the idea of converting a bike you already own can be quite appealing. You can customize motor power and battery size to suit your individual needs. Going down this route can be fraught with problems, but it can be very rewarding and save you a lot of money in the process. Find out more on building your own DIY e-bike.
Best electric bikes for heavy riders are…
Now that we've taken into account all of the factors to consider when choosing an electric bike, it's time to recommend some models! All of the e-bikes featured below have a maximum weight limit of 136kg or higher. They all use the most powerful mid-drive motors and have high-capacity batteries. I have included some step-through e-bikes as the low standover height can make it much easier to get on or off the bike.
---
1. Cube Kathmandu SLT 750 🏆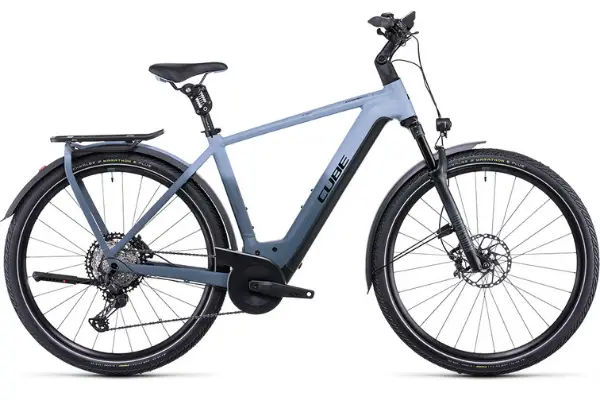 The Cube Kathamndu SLT 750 is the perfect e-bike for the heavier rider. Featuring the powerful Bosch CX motor with a long-range 750Wh battery, the Cube certainly ticks all the boxes. Plus, there's an impressive gear range with a 12-speed drivetrain and 10-51 cassette. The Kathmandu is built for comfort whether you're commuting to work or taking on more adventurous rides. Other features include Rockshox air suspension forks, 4-piston hydraulic disc brakes and suspension seat-post. This is the e-bike I would buy if I could afford one!
Available from Fitstore24 (EU Shipping)
---
2. Riese and Muller Supercharger 2 GT
Designed for comfort and long-distance touring, the Riese and Muller Supercharger 2 GT is an impressive bit of kit. The German brand are renowned for building the highest quality e-bikes that provide the best riding experience possible. One of the most unique features of this bike are the dual 625Wh batteries, giving a total energy capacity of 1250Wh. This means you never need to worry about running out of assist and could quite easily ride well over 100 miles on a single charge.
The Supercharger 2 uses the Bosch CX motor which produces 85Nm of torque making it perfect for heavier riders. Other features include Marzocchi Bomber air suspension fork, puncture resistant tyres and Magura MT4 hydraulic brakes. For extra comfort there's a Cane Creek Thudbuster suspension seat-post. These are often referred to as the 'Rolls Royce' of e-bikes, and I can see why!
---
3. Rad Power Radrunner 2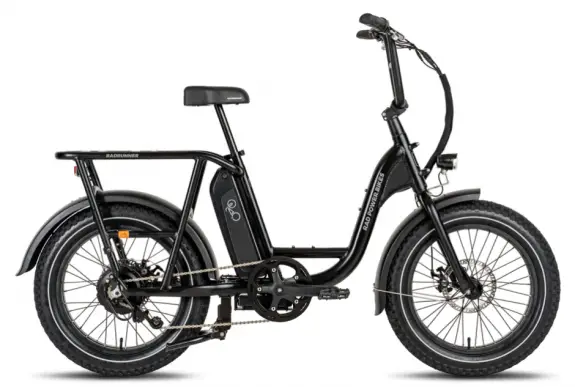 The Rad Power Radrunner 2 is a great option if you're looking for an e-bike that can be adaptable and can carry things you usually wouldn't be able to fit. With options to fit a front rack, centre storage box and loads of other accessories, the Radrunner 2 is an incredibly versatile machine! Plus, it has a capacity of 136kg making it suitable for heavier riders. This bike uses a 250w rear hub motor so will only be suitable for more undulating terrain, but at €1499 it's excellent value for money.
Visit Rad Power Bikes for more info
---
4. Trek Allant +7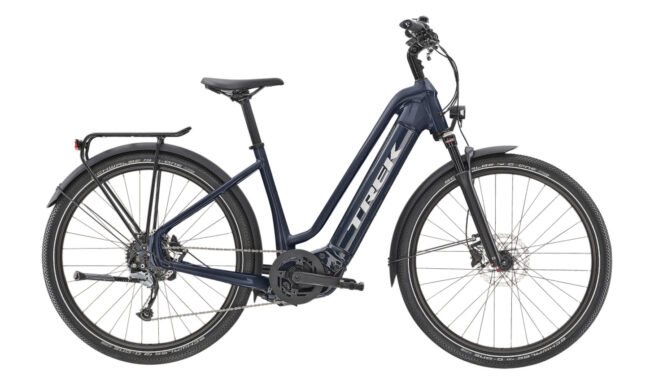 I've included the Trek Allant +7 as one of my friend's has one of these and it's enabled her to ride further and take on more challenging routes than ever before. I have ridden this e-bike a few times and I'm impressed with the comfort and 'magic carpet' ride quality. The Allant +7 also uses the Bosch CX motor, which literally flattens out steep hills. The Trek is an impressive machine and feels very tough. The e-MTB mode on the Bosch motor adapts to your riding and gives you optimum assist with out needing to switch between modes. You can read my Trek Allant +7 review here.
---
5. Accolmile City Electric Bike 💰 Best Value!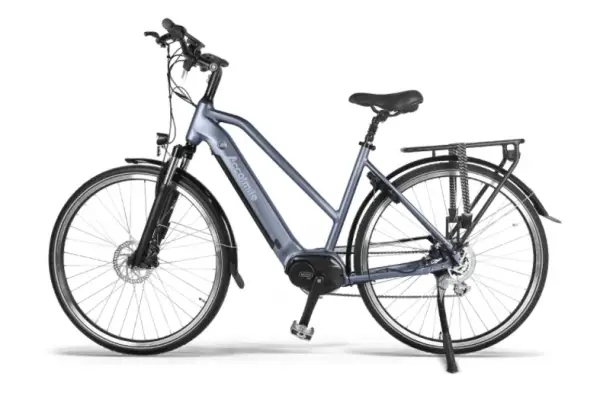 I came across this relatively new brand of e-bike recently and have been impressed with what's on offer for the price. Costing less than £1300, it's excellent value for money. The Accomile City hybrid electric bike has a maximum load capacity of 150kg, making it suitable for heavier riders. The specification is excellent for the price and features the Bafang M200 mid-drive motor and a 522Wh battery.  There are two frame options, a regular crossbar frame and this trapeze frame model which offers a low standover height. Other features include a rear wheel security lock, pannier rack, mudguards, lights and kickstand.
Available from Aliexpress (EU Shipping)
---
6. QuietKat Apex
Available in the US is the QuietKat Apex fat tire electric bike. This e-bike is tough and can carry 325lb in weight – it's designed for off-road riding on terrain not normally accessible with a regular bike. The Apex is available in a 750w and 1000w version and uses the excellent Bafang BBSHD mid-drive motor which produces up to 160Nm of torque. A 768Wh battery ensures a decent range and the 4.5″ tires with 150mm travel air forks will give a plush ride.
---
7. Jeep e-bike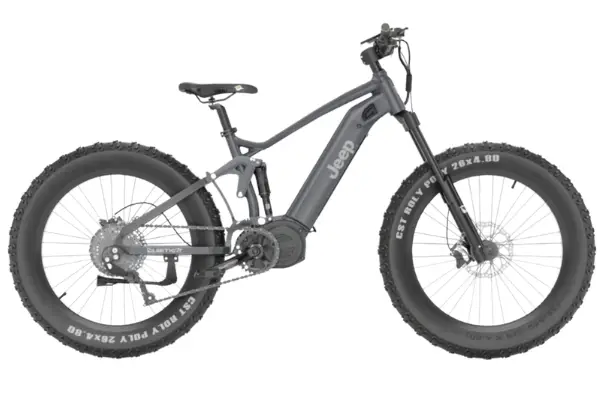 You know when an iconic company like Jeep put their name to an electric bike it's going to be something special! The Jeep e-bike doesn't disappoint. This full-suspension fat tire e-bike is built to take on the roughest of terrain. Featuring the Bafang Max Ultra motor that produces over 1500w of peak power and a 696Wh battery. Other features include SRAM 1 x 9 gearing and Rockshox air suspension. If you're a heavier rider looking for a capable all-terrain machine, there's not much better than this.
---
8. Specialized Turbo Vado 4.0 2022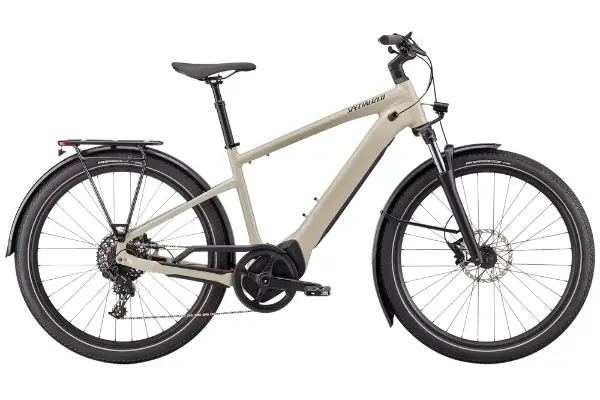 The latest 2022 version of the popular Specialized Turbo Vado 4.0 benefits from an upgraded motor and impressive 710Wh battery capacity. This latest motor has been designed specifically for Specialized by Brose and provides up to 70Nm of torque which will be great for climbing hills. The Vado 4.0 also has SRAM 1 x 11 gearing with a wide-range cassette, further improving its climbing ability.
For comfort there's a suspension seat-post with 80mm of travel and up front there is a Suntour Mobie A32 air suspension fork. I have a friend who owns last years model and they can't sing its praises enough! The Vado is designed to handle tarmac or more rugged terrain and is perfect for heavier riders. A highly recommended bike from a prestigious brand.
---
Conclusion
So there you have it, a selection of 8 of the best electric bikes for heavy riders. All of the e-bikes featured above are versatile and can be ridden on or off-road. My personal favourite is the Cube Kathmandu SLT 750, it has an excellent specification and features the latest 12-speed Shimano drivetrain. I'm also a big fan of the Riese and Muller – there's no other e-bike in its class that can match the 1120Wh battery capacity.
If you're in the US, the QuietKat range of e-bikes are excellent. They're designed to be tough and are capable of handling rugged terrain with ease. The Jeep E-Bike is on another level and would be the perfect choice if you plan of being more adventurous.
If you're on a budget, the Accomile is fantastic value – it offers mid-drive motor performance with decent battery range for not a lot of money. Then there's the Radrunner 2, which adds load carrying capacity making an ideal e-bike for work or trips to the shops.
Regardless of what you decide, e-bikes are a game-changer. Whether you're looking to be more active or you're just after a cheaper way to get from A to B, and electric bike is a great option.
If you need any help or advice choosing your next e-bike, please feel free to leave a message in the comments section below.