When Engwe launched their popular fat tyre e-bike range in the UK, some potential buyers were put off by the legality of these bikes – most had power outputs exceeding the legal limit. Thankfully, they released the Engwe Engine X earlier this year, which has a 250w rear hub motor, limited speed and disabled throttle. 
The Engine X is a fat tyre folding e-bike with much in common with its bigger brother, the Engine Pro. It shares the same frame, dual suspension and cargo rack but has a smaller battery (624Wh), restricted motor and mechanical brakes. In this review, I'll tell you what it's like to live with on a day-to-day basis and see how it fares in terms of performance and battery range. 
Key features:
Unboxing and assembly
The Engwe Engine X arrived very well packaged, and removing it is always a job in itself. It took me about 15-20 minutes to remove all the cable ties and foam from the bike. Once unpacked, assembly is reasonably straightforward, but I recommend two people to do the job comfortably due to the weight. You must fit the front wheel, mudguard, seat post/saddle, and steering column/handlebars. I'd allow about an hour in total and ensure all the securing bolts are correctly tightened before setting off. Engwe provides a manual and tools, and I recommend looking at an assembly video on YouTube.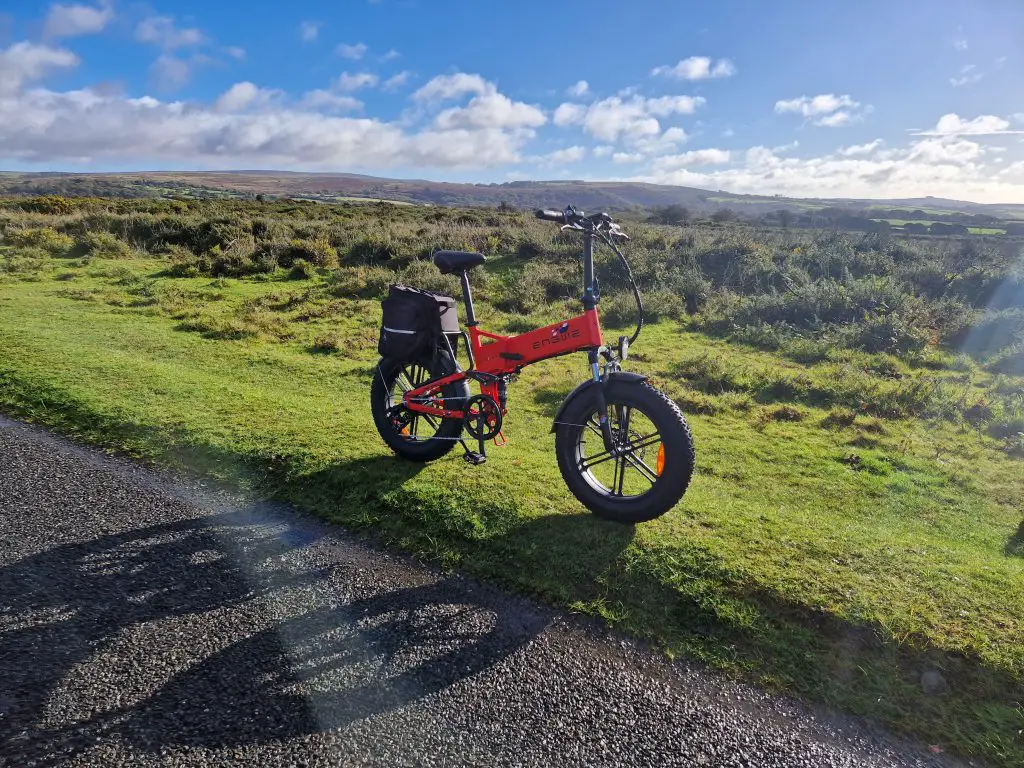 Electric components
The Engine X uses a 48v 250w rear hub motor, and apart from the serial number and 250w stamped onto the hub externally, it looks identical to their other hub motors. This motor is restricted to 15.5 mph (25 km/h) to comply with UK e-bike laws. In addition, the half-twist throttle is also disabled. It is possible to activate the throttle and raise the speed limit, but this defeats the object of having a road-legal e-bike. 
Regarding the power output, it's got more than enough to satisfy most riders. The Engine X has 5 power levels to choose from – in the lower 2 levels of assist, the motor cuts out quite early, but it's not until level 3 that things start to happen. During testing, I tackled fairly steep climbs and had no problems in level 3 and above. The motor only started to struggle on hills approaching a 15% gradient.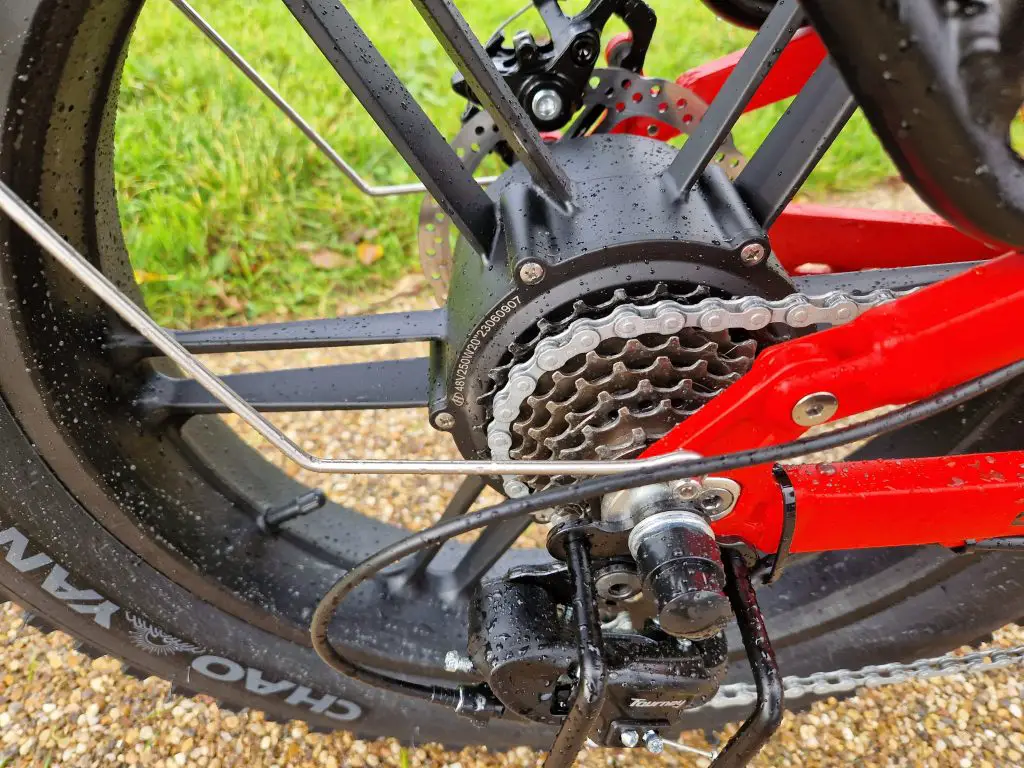 Having previously ridden the 750w EP-2 Pro, this motor had the same pulling power up hills but was a little smoother and quieter. I noticed the current setting on the display was set to 20A – that would mean 960 watts of peak power! Still, it's got 250w stamped on the motor, and most 250w motors produce well in excess of their continuous power rating. 
The Engwe Engine X has a 624Wh (48v 13Ah) battery hidden in the frame. You can charge the battery in situ via the small charging port. To remove it, You'll need to unfold the bike at the main folding point, unlock the battery with the key and pull it out using the plastic handle. The key cannot be removed when using the bike, so I always keep the spare in a drawer. 
The range is about what I expected for an e-bike of this type. Engwe claim up to 120 km (74 miles) is possible in warm temperatures with a light rider on flat ground. I had 30% left after 22 miles using it in levels 3-4 – I weigh 105 kg, and the test route was quite hilly. A realistic ballpark figure for the average commuter should be in the 25-30 mile range. 
The display is the YL80C, which is clear, easy to read and has good functionality. It's controlled by a keypad next to the left-hand grip. From here, you can shift between assist levels, turn on the lights and adjust the motor performance. You can alter the number of assist levels to a maximum of 9 or a minimum of 3 if required. You can also change the PAS start-up strength and adjust the speed limit (not recommended for legal reasons). 
Bike components
The Engine X uses the old faithful Shimano Tourney 7-speed gearing – dependable and predictable but nothing special. The gears shifted fine throughout the testing period, giving a decent enough range for some of the steeper hills. On the flat and downhill, you quickly run out of gears, though, and by 20 mph, my legs were spinning fast. Ideally, the 14-28 freewheel could be replaced by an 11-28 to give you a little more top-end.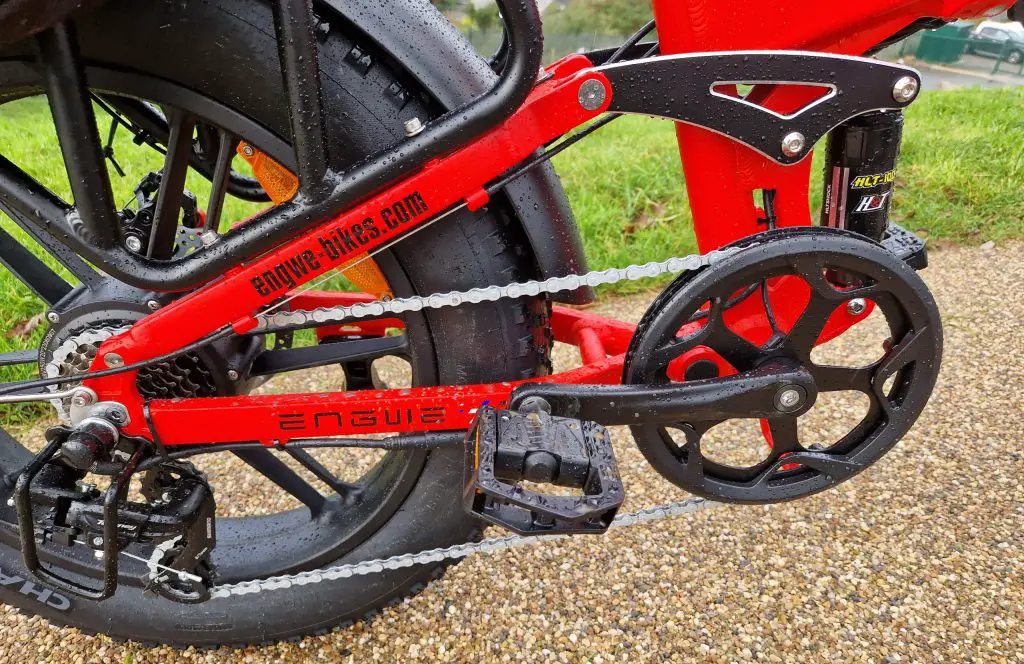 For braking, there are some basic mechanical disc brakes. These actually performed better than the ones on the EP-2 Pro, and out of the box, they were well-aligned with no rubbing. Once bedded in, they offered decent enough braking performance, although I would be inclined to upgrade them at some point with something like the Zoom HB100 hydro-mechanical brakes.
The Engine X has front and rear suspension like its more expensive sibling. Although it works well enough for day-to-day riding, it does add unnecessary weight and complexity to the bike. Throughout the testing period, I've kept the front locked out, and the big tyres have done a good enough job soaking up potholes and speed bumps. The rear suspension adds another comfort layer and makes for a smooth ride.
The 20-inch alloy mag wheels are heavy but should be impervious to damage from day-to-day riding. The 4-inch wide Chaoyang tyres give the bike a smooth, albeit bouncy ride – I had them at the recommended maximum of 20 psi, although they can be inflated to much lower pressures for riding on sand or snow. As expected, the grip was very good, and they're particularly suited to riding on wet and mucky country lanes. 
The finishing kit comprises an alloy folding steerer, which can be height adjusted. The handlebars have a nice rise and subtle sweep back, giving a comfortable hand position. The grips are not lock-on but are comfortable and have palm rests. Finally, the saddle is very big and squishy – not really my kind of saddle, but it's easy enough to change if required.
When it comes to accessories, the Engwe Engine X is well catered for. The front headlight provides adequate lighting, and the rear light has an integrated brake light. A robust-looking alloy cargo rack, a kickstand, and metal mudguards are all very useful if you use this as a commuter bike. 
Folding the Engwe Engine X
The Engine X weighs around 35 kg, and If you're strong enough to lift it into the back of a car or on a train, it can be folded. This process requires a little effort simply because of the weight and bulk of the bike. 
First, you must fold the pedals and then drop the seat post (using the quick-release clamp). Then, fold the steering column and release the main clamp to fold in half. At this point, you can unlock and remove the battery, which will reduce the overall weight by about 4 kg – maybe put the battery in a rucksack.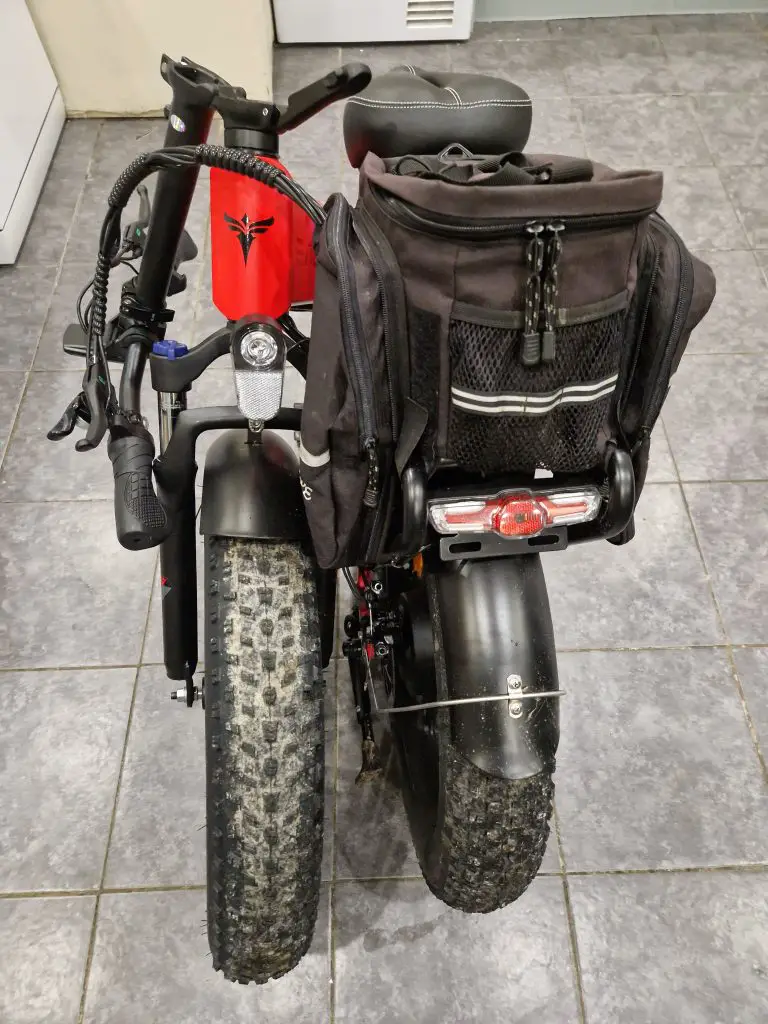 The main problem here is that once it's folded, there's nothing to keep it folded – you have to hold it together as you lift it. A handle is built into the frame, which helps a little, but if you've got the slightest hint of a back problem, I wouldn't risk it unless there are two of you. It's not train-friendly either – you will just about squeeze it through the door, and it will take up two spaces in the bike compartment.
Test ride
Having previously ridden the Engine Pro, I knew what to expect handling-wise from the X. If, like me, you're used to riding a regular road bike, then it comes as a bit of a shock. It feels heavy and ungainly initially but improves once you settle in and gather speed. The pedal assist kicks in fairly quickly, and once it does, the acceleration is impressive and guaranteed to bring a smile to your face. 
My initial test route was 22 miles long and took me up a section of the NCR27 – here, I felt totally at home cruising up the quiet cycle path, dodging the odd squirrel and taking in the stunning scenery. I set the assist to level 3, which comfortably hustles you along at 13-14 mph. The ride is comfortable and relaxing. My legs may have been turning the pedals, but my heart rate monitor indicated I was having a leisurely stroll! 
Even the occasional heavy downpour couldn't dampen my spirits – I've always been unsure of these big, heavy folding e-bikes, and this was the first time I'd truly enjoyed the experience. My legs were still sore from the previous few days of cycling, and riding the Engwe provided a welcome break for them. 
Pros and cons
Pros
Very good value for money
Great performance
Comfortable
Cons
Very heavy
Too bulky to take on public transport
Conclusion
If you're looking for a simple and effective means of transport to get you from A to B, there's nothing to dislike about the Engwe Engine X. It ticks all the right boxes – it's comfortable, practical and provides plenty of assistance. Fit a front rack, and you've got a defacto cargo e-bike for a fraction over £1000 – I've even heard of people fitting child seats on the back. If you're looking for a folding e-bike to take on public transport, it's possible, but you won't need to go to a gym after lugging this around every day! 
I've been using it regularly over the last week, and it takes the effort out of shopping trips. I can fit a surprising amount of shopping in a rucksack and into my panniers, and it saves taking the car and queuing in the inevitable traffic. It provides a laid-back experience for longer rides, taking the effort out of pedalling while you enjoy the countryside.  If you can live with the heavyweight and quirky styling, then it's worth considering.