ebikechoices is supported by its audience. When you purchase through links on our site, we may earn a commission. Learn more
The Cyrusher XF800 is a big and powerful electric fat bike. It's been around for a few years now, but has benefited from various updates along the way. In this review, I'm going to be putting it through its paces to see if it's still good value for money in 2022 / 2023.
Cyrusher was founded back in 2014, and has gone on to be a well-know e-bike brand, particularly in the US, UK and Europe. Their range of electric bikes has been constantly improved and updated. The XF800 was one of their early best-sellers and has been steadily improving over the years. This latest 2022 version was sent to me a few months back, and this review is based on my initial impressions and subsequent months of regular use.
Cyrusher XF800 Specs
| | |
| --- | --- |
| Motor Type | Bafang Rear Hub Motor |
| Motor Power | 750-watts |
| Battery | 48v 13Ah (624Wh) LG or Samsung cells |
| Range | 25-30 miles depending on assist level used (real-world range) |
| Charging Time | 4-6 hours |
| Top Speed | 28 mph on the flat (up to 32 mph with hard pedalling |
| Weight | 32kg |
| Maximum Load | 150kg |
| Gearing | Shimano Tourney 7-speed with TX50 thumb shifter |
| Brakes | Union-Star hydraulic with cut-off sensors |
| Suspension | Front and rear coil sprung |
| Accessories | Kick stand, pannier rack, headlights |
| Availability | Check on Amazon |
Pros
Powerful Bafang Hub Motor
Smooth and Responsive Pedal Assist
Hydraulic Disc Brakes
Front and Rear Suspension
Nice paintwork and finish
Good Value for Money
Cons
Very Heavy
Tough to Pedal Without Assist
Not road legal in some countries
---
Unboxing, Assembly and First Impressions
Cyrusher contacted me to see if I'd be interested in testing their popular XF800 fat tyre electric bike, so I jumped at the chance! Cyrusher are a global brand and have fulfilment warehouses on all the continents – this review bike was sent from within the UK.
Delivery time
I received my XF800 within 24 hours of the order being placed. This is impressive, as the delivery time stated on their website is 3-5 working days. I'm not sure if my delivery was an exception or they usually deliver this fast. I would imagine it depends on the courier (mine was delivered by DPD).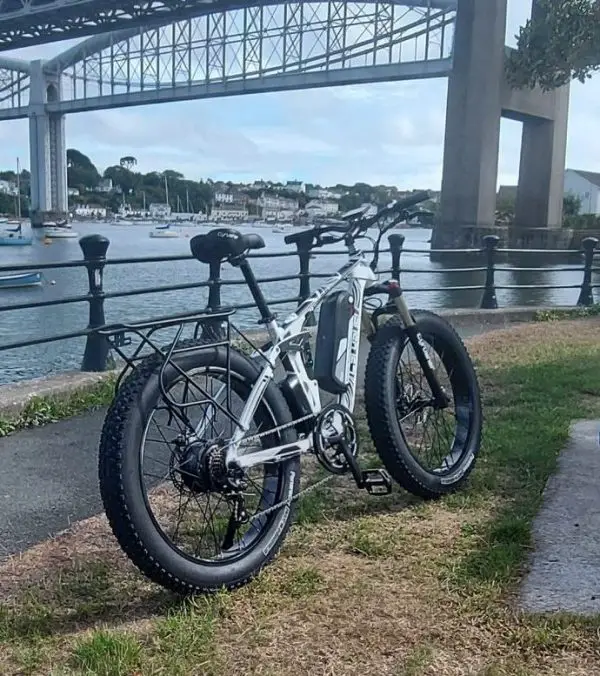 Package weight (handling)
The Cyrusher XF800 weighs in at around 32kg, but with packaging and accessories, the box weighed close to 40kg. Mine was a 2-person delivery, and they kindly took the box into my house. If you live in a flat or up stairs, I would advise letting them know when you place the order. I had to take my box down stairs to access my back yard and it was a fair struggle!
Packaging
I'm very impressed with the level of packaging on the XF800, they haven't left anything to chance and the bike was incredibly well protected all over.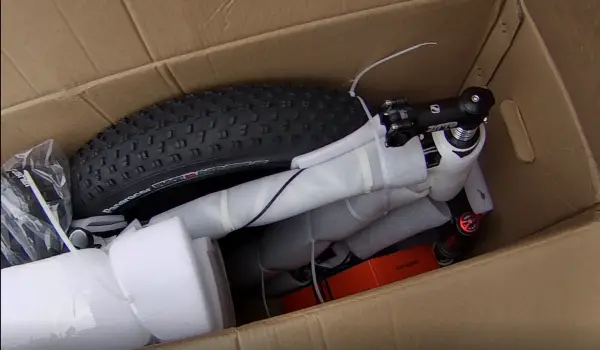 What's in the box?
Apart from the e-bike, other items include the charger (supplied with UK or EU plug), some very concise instructions, stickers, floor pump and some very nice tools – very impressive!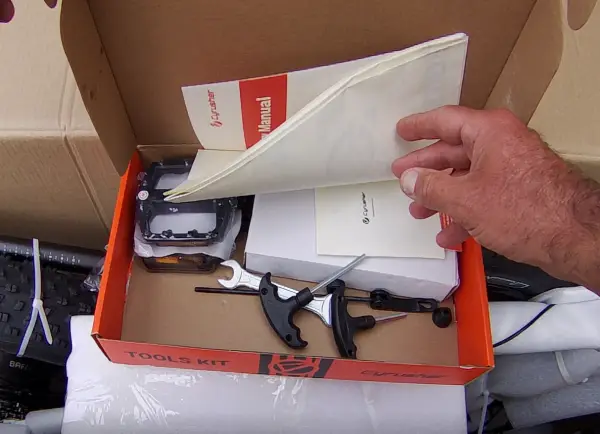 Paintwork and general finish
Once all the packaging was removed, I had a look over the Cyrusher to check for any marks or defects on the paintwork. I'm pleased to say, the finish was flawless with no marks or blemishes. This extends to all the finishing kit – I couldn't find any marks or scratches anywhere. Full marks here!
Assembling the Cyrusher XF800
The whole assembly process took me nearly 40 minutes from start to finish. I found assembly quite straightforward, but I've done this with hundreds of bikes before. If you're not confident in your ability to do this, I would recommend a competent cycle mechanic or local bike shop. It's important things are properly set-up and tightened before riding.
Electric components
All the electric components used on the Cyrusher XF800 are good quality, from the Bafang motor, through to the battery and display. They're all tried and tested. Plus, If you needed to replace things a few years down the line, all these parts are fairly cheap and easy to get hold of.
Bafang hub motor
The Cyrusher XF800 uses a quality Bafang rear hub motor rated to 750-watts. This motor uses a planetary gear system, which improves torque and efficiency. Plus, this motor will handle up to 1500-watts of peak power. The Bafang is a popular motor, and is very common on electric fat bikes. It's generally very reliable and fairly quiet in operation.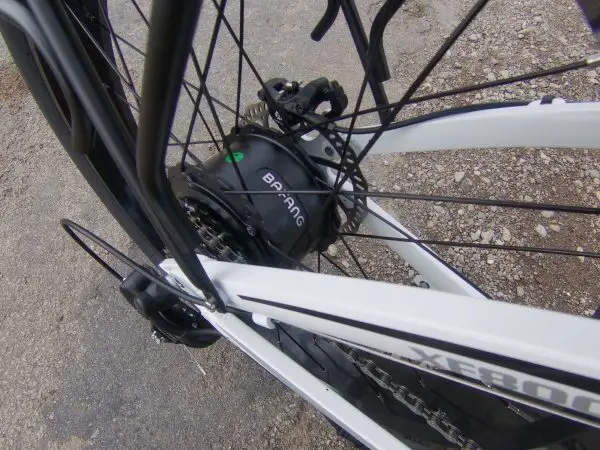 Battery
Power is provided by a 48v 13Ah (624Wh) Hailong case battery. Cyrusher use branded cells in their batteries (LG, Samsung or Panasonic) although there's no indication of the exact cells used in this battery. Range is claimed to be around 50 miles (maximum) – this may be achievable with frugal use of the pedal assist, but I am getting 25-30 miles. **The battery should be fully charged before use.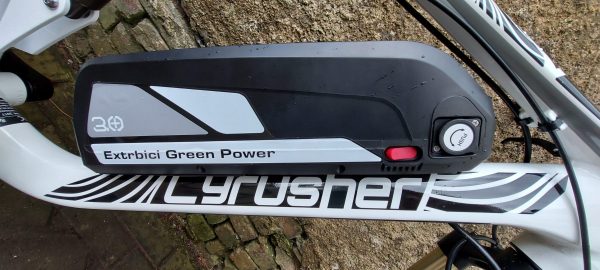 Controller
Going by the displayed power output, I reckon it's a 48v 25A controller. I will remove the controller box cover in the near future to confirm this (and manufacturer). It's likely to be a KT controller (to match the display) which is one of the better brands.
Display
My old favourite, the KT3-LCD display is used. I installed loads of these back when I converted bikes for a living. It's dependable, easy to configure. And, despite its age, still provides more info than some modern e-bike displays.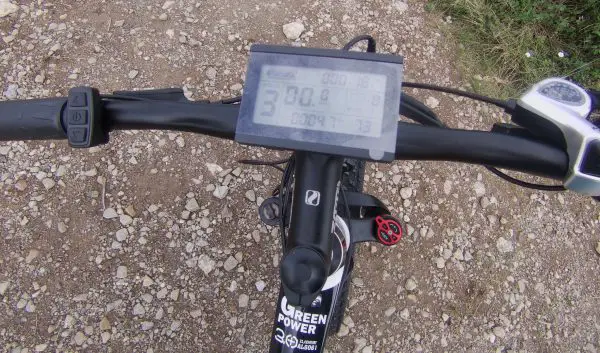 Pedal sensor
The PAS sensor is neatly tucked away on the drive side (behind the chainring), and works very well. Pedal assist is instantaneous and comes on very smooth and progressive – no sudden jolt or on/off feeling. These PAS sensors are definitely better than a few years ago!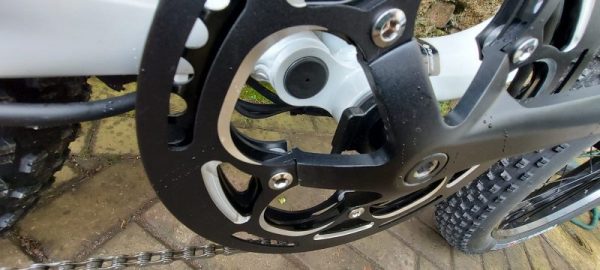 Throttle
I would say the throttle is less responsive – this is more than likely a safety feature, but some riders may find the lag slightly annoying. Personally, it didn't bother me as I prefer to use pedal assist, but it's worth mentioning.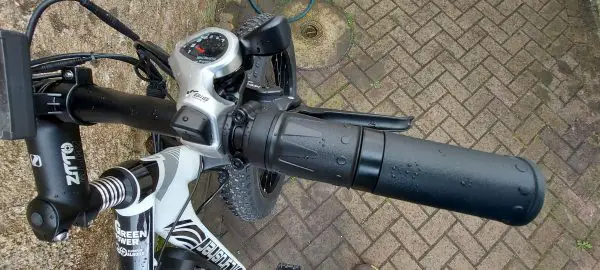 Brake sensors
With such a powerful e-bike, brake cut-off sensors are an important safety feature. These are integrated into the hydraulic brake levers and work as expected.
Full marks to Cyrusher for using quality electric components. Bafang are a well established brand in the e-bike motor world and their motors a generally very reliable. The fact that branded lithium cells are used in the battery is another big plus for me.
Bike components
The Cyrusher XF800 uses budget components across the board. A simple 7-speed Shimano drivetrain, with hydraulic brakes and unbranded suspension system. All the components work as expected and should be fairly durable in the long-term.
Gearing
Shimano Tourney 7-speed gearing is reliable and easy to service / maintain. With a 14-28 freewheel and Prowheel single chainring, there's a good spread of gears. Shifting is provided by a Shimano TX50 thumb shifter.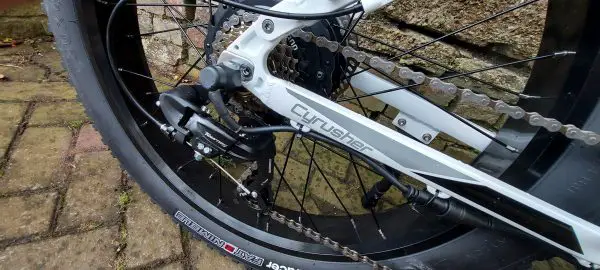 Brakes
Star-Union are not a brand I'm familiar with, but they work very well. These hydraulic brakes also have built-in motor cut-off sensors which is an important safety feature on an e-bike this powerful. It's nice to see good sized brake rotors as well – 180mm front and 203mm rear. **After a few months and a couple of hundred miles of use, the brakes are holding up well.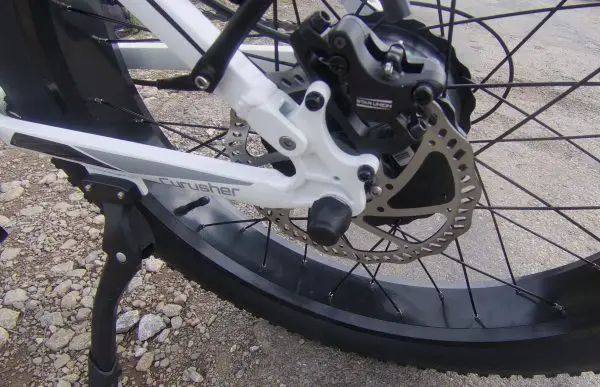 Wheels and tyres
Both wheels look well-built. The front wheel has a quick-release mechanism and the motor is in the rear hub. The tyres used vary, but my bike had expensive Panaracer  Fat B Nimble 26 x 4″ fitted. I haven't had any punctures to date (after 200 miles of use).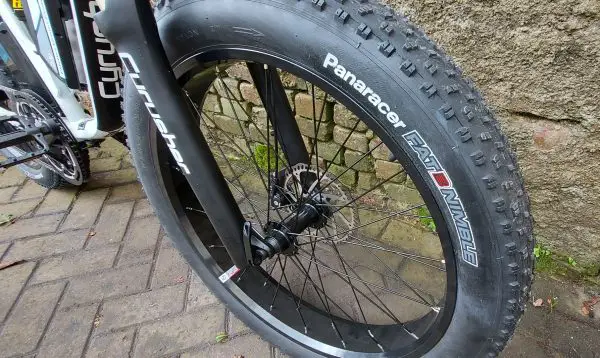 Suspension
There's front and rear suspension. The Cyrusher branded front forks look decent enough, with a nice anodised gold finish on the stanchions. These forks can be locked out if required and there is adjustment dial – I turned this clockwise as far as I could and didn't really notice any difference. The rear shock seems quite firm – I'm 102kg and it worked just fine.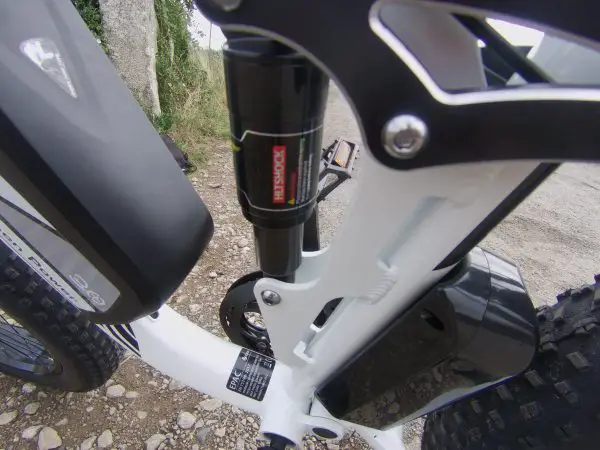 Saddle
The Cyrusher branded saddle has plenty of padding and a pressure relief channel. It's a nice looking saddle and is comfortable.
Finishing kit
All the finishing kit (seat post, stem and handlebars) are alloy and look / feel good quality.
Accessories
There's a few useful accessories on the Cyrusher – Kickstand, front headlight. Plus, a rack and mudguards are also included. I chose not to fit the mudguards as they looked like they would flap about.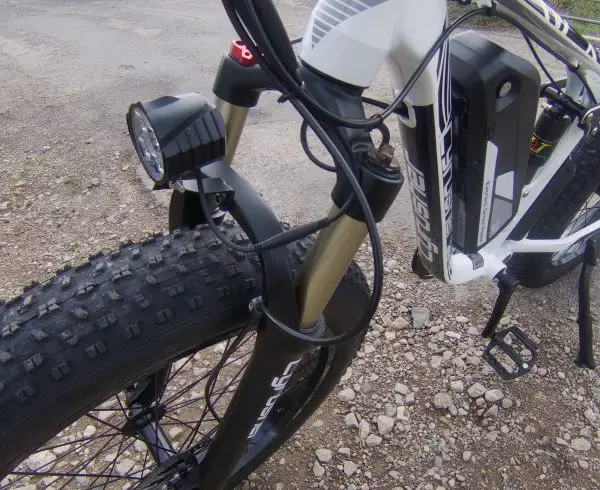 The Cyrusher XF800 is well equipped for the price. The Shimano gearing is very common on e-bikes at this price. I'm not a big fan of the TX50 thumb shifter and it would've been nice to have a trigger shifter instead. I haven't heard of the brake brand (Star-Union) before, but they do work well.
I was pleasantly surprised to see the Panaracer tyres – a very well-known Japanese brand and high quality. Although the tyres fitted to your bike maybe different (CST or similar).
I'm always a bit sceptical about full suspension on a fat tyre e-bike. Personally, I don't think it's necessary as the tyres provide plenty of cushioning. Having said that, the suspension does work well and gives the bike a 'magic carpet' feel.
Cyrusher XF800 – First Test Ride
My usual test route is around 6 miles and involves a couple of very steep climbs (20%) and a longer less steep climb (6% over 2 miles).  Below, I've broken down my opinion on the performance into different categories.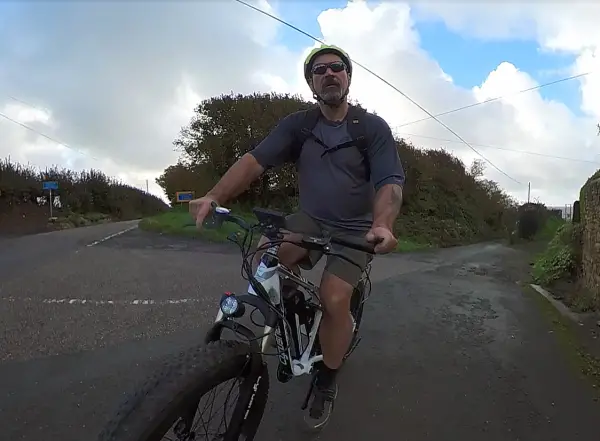 Pedal assist performance
I started off in assist level 3 – the motor kicked in very quickly, but not with a jolt, more of a smooth progressive build of power – full marks here! For a cadence pedal assist it works very well, although still nowhere near as good as torque-sensing assist (in my opinion).
Level 1 offered a little assist which would be fine for riding on the flat and conserving battery power, but useless for hills. The Cyrusher felt noticeably harder to pedal in level 1 than my unassisted gravel bike (which only weighs 10.5kg). Level 2 was a little better, but it wasn't until level 3 that things really started to happen.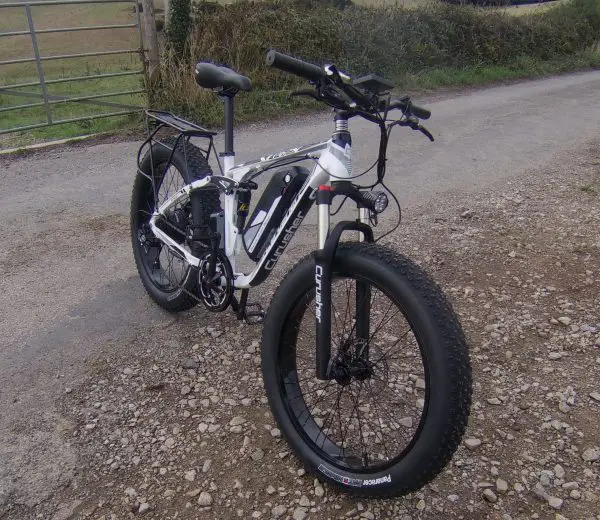 I would say the reason for this is that the XF800 is a heavy bike (32kg). Plus, you have the extra rolling resistance of the tyres – a massive 55 watts according to the Bicycle Rolling Resistance website. I reckon level 2 cancels this out and in level 3 you really feel the assist helping.
Moving on to level 4 and I didn't feel much difference from 3, but in level 5 it really starts to feel quick and the power builds rapidly. With some spirited pedalling I was able to get just over 30mph on the flat in level 5, although I reckon my pedalling cadence was well over 100rpm by this time!
Throttle performance
My only criticism here is the twist throttle lagged a bit – this may well be a safety feature, as I've used e-bike throttles before which are like an on/off switch and can be quite disconcerting. Personally, I don't think throttles are necessary on e-bikes, but some riders may benefit from using a throttle, particularly if they have a health condition.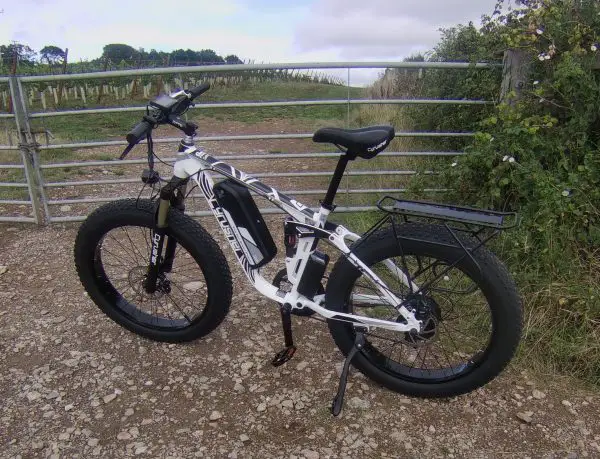 After the initial lag in throttle response, the power came in very smoothly and the bike quickly gathered pace. Once up to speed on the flat, you could easily cruise at around 25mph, with a top speed approaching 30mph.
When using throttle only, the bike would slow down on smaller hills. On steeper hills (8% and above) you needed to pedal to keep the bike going – this is typical of a hub motor of this power output with a heavier rider.
Battery usage
Starting with a fully charged battery and a ride of 6 miles with roughly 1000ft (300m) of elevation gain, I used up one bar on the battery (out of five). This was mainly using assist level 3 to 5 with about a mile of using the throttle only. This would equate to about 30 miles. But, I live in a very hilly area.
Update 15/09/22 – I took the Cyrusher out for a longer ride today and the battery was down to 1 bar after 22 miles. The ride was very hilly and I didn't go below level 3 assist, and used level 5 for about 20% of the ride. This seems about right for a 48v 13Ah battery with a heavy bike, heavy rider and hilly terrain. 
The average rider shouldn't need to use level 5 much, and in my opinion, leaving it on 3 is going to be more than enough for most riders. I reckon range of 25-35 miles is going to be realistic, with 35-45 miles possible with a light rider using low assist on flatter terrain. Read my article on ways to increase the battery range of your e-bike.
Braking performance
I was pleasantly surprised in the braking department. My route included a couple of very steep descents, and when you consider combined bike and rider weight of nearly 140kg, the brakes worked fine for me. I didn't notice any brake fade on the descents, but I have always favoured the cadence braking method, where you come on and off the brakes (as opposed to just keeping the brakes applied).
Handling
Compared to what I'm used to (road and gravel bikes) the Cyrusher XF800 feels like a tank! This isn't a criticism, it's just massive compared to my regular road bike and weighs over three times as much. If you haven't ridden a fat tyre bike before, it does take a bit of getting used to.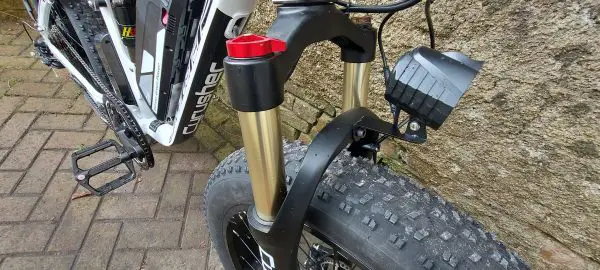 Once up to cruising speed, it actually handles very well and turns in to bends nicely. You only really notice the tyres on slower, tighter bends. But, if you're expecting snappy, responsive handling, I would recommend a lighter e-bike with skinnier tyres.
Comfort
The is the ace in the pack of the XF800! Magic carpet ride is the best analogy I can think of – it really does glide over the road surface, even on the less than perfect country lanes. With the saddle set level, and seat height adjusted correctly, it's a very comfortable bike to ride. The suspension does a great job of muting the jarring effect of potholes.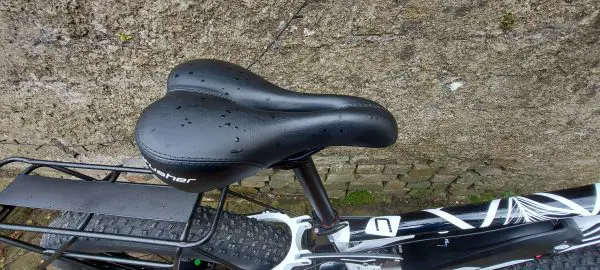 Conclusion
At the current price of £1899, the Cyrusher XF800 is a hell of a lot of e-bike for the money. Out of all the Chinese electric bike brands, Cyrusher are one of the more established, and have been around for a few years.  The XF800 is the best-selling e-bike in the Cyrusher range and is incredibly popular on both sides of the Atlantic.
I personally think it's a fun e-bike to ride. It's very comfortable, provides loads of power (too much some may argue) and looks the business with those fat tyres. If you're looking for a great way to commute to work in comfort without worrying about rising fuel costs and traffic, then it would be a great option. Plus, with the power this bike offers, you can keep up with the roadies without breaking into a sweat!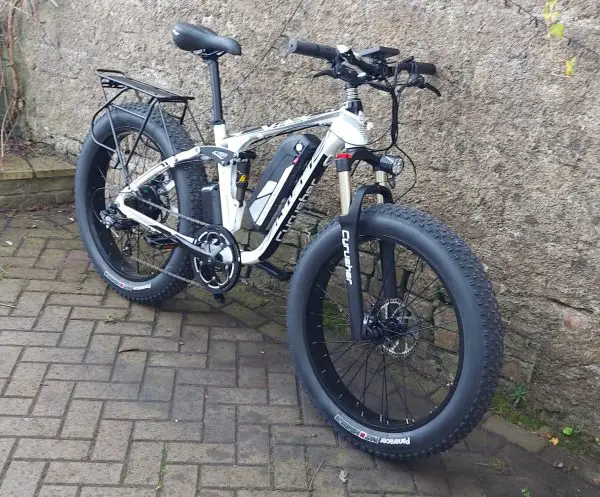 Another great thing about the Cyrusher is versatility – with those fat tyres you're not limited to just tarmac. You can ride on snow, sand or any rough terrain. Things like tree roots and rocks aren't a problem. If you want a leisure bike for putting on the back of your camper van, the XF800 is a great way to get around and see the sights. In addition, the Cyrusher is rated to 150 kg, making it an ideal e-bike for the heavier rider.
Alternatives
There are quite a few alternatives to the Cyrusher XF800. If you're in the US, I'd have a look at the new Magicycle Deer, it's more expensive, but has a massive 52v 20Ah battery. If you're looking for a folding electric fat bike, I would recommend the Engwe Engine Pro. More recently, I've taken delivery of the Himiway Cruiser, and I'm really impressed with the ride quality, battery and performance of this bike.
Would I actually buy one?
For me the answer would be no. And that's got nothing to do with the bike, but more my own personal preferences. I like e-bikes to be more like road bikes – lightweight, nimble and easy to pedal with or without the assist. The Cyrusher XF800 is quite the opposite. It's big, brash and heavy. But, like I've said above it is great fun to ride!
Final thoughts
I've now got several months of use from the Cyrusher and it's held up well. I have ridden it in the rain, and sub zero temperatures without issues. Battery range is generally between 25-30 miles on a charge – I usually stick to assist level 3 which for me is plenty of power. Based on my experience so far, I'd have no trouble recommending the Cyrusher XF800 as an e-bike to ride on a daily basis. For more info, check out my article on the pros and cons of owning an electric fat bike.
Where to Buy the Cyrusher XF800
If you own a Cyrusher XF800, please feel free to leave a review in the comments section below. And check out my latest article featuring my top 11 picks of the best electric fat bikes for 2023.