Lowstep or step-through e-bikes as they are known are one of the most popular genres of electric bikes. Their popularity lies in the practicality and broad range of appeal to riders of all ages and abilities. Trek have recognised this trend and has always had a good choice of step-through bikes in their range. The latest Trek Allant+ 7 Lowstep Electric Bike offers great specifications for the price. Read my full review below for more information.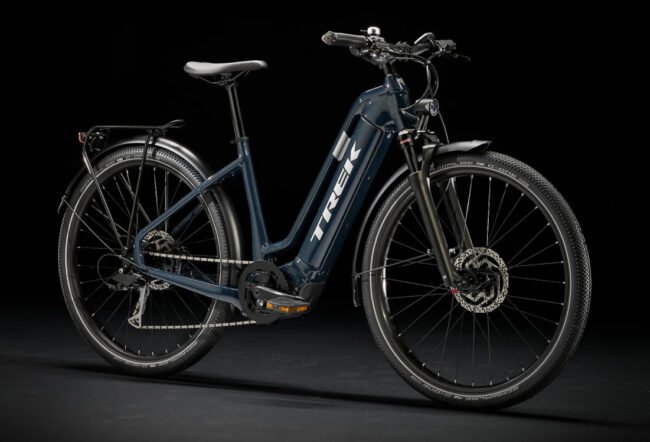 Images courtesy of Trek Bikes
Summary
A friend of the family recently purchased the new Trek Allant+ 7 and has kindly lent me their bike to test and review. My first impressions were one of an incredibly well-built e-bike, with excellent components and the very latest 4th generation Bosch CX Performance Line motor. The Trek isn't particularly cheap at just over £3000, but my friend wanted a bike that was going to last her several years, so quality was an important factor in deciding the purchase.
Trek Bikes are one of the most prestigious and well-known global bike brands and they have fully embraced the e-bike revolution by investing millions in R&D over the last few years. They now sell electric bikes that cover every discipline from road bikes, to full-suspension mountain bikes.
The Allant+ 7 is a very high-quality step-through e-bike aimed primarily at commuters and leisure riders. The focus is on practicality, comfort, performance and battery range and I think they've succeeded on every level. Read on for more detailed information on the components.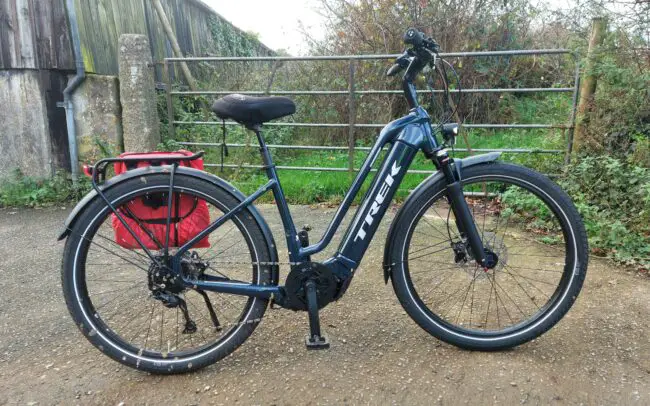 Electric components
When it comes to electric components, having a good motor and battery at the heart of your e-bike is of paramount importance. Trek has wisely chosen the excellent 4th generation Bosch Performance Line CX for the Allant+ 7. This is the best motor Bosch currently offers and is designed to cope with the rigours of mountain biking.
4th Generation Bosch CX Performance Line mid-drive motor
This motor never fails to impress me with its versatility and performance. Ride it in the lowest assist setting and it provides the rider with a useful boost that is seamlessly delivered via a high-tech torque and cadence sensor combined with a sophisticated firmware algorithm that constantly monitors rider input.  This translates to a very natural pedalling feel that makes the rider feel like they have developed very strong legs overnight. In turbo mode, the amount of assistance on offer from the 250w motor is nothing short of remarkable. This is down to the high torque output of 85Nm combined with the motor's peak power which will (briefly) hit nearly 500w.
What I love about the Bosch and other similar crank-drive motors is the more you put in the more the motor gives. There is a direct correlation between your pedalling effort and the power delivery which makes you, the rider feel like you have bionic legs!
Bosch Purion Display
The Purion display is at the budget end of Bosch's current line of displays and has been used on many e-bikes over the last few years. There is an emphasis on simplicity and user-friendliness, and the display offers the rider all the important information including speed, battery range, trip computer and assist level.
It doesn't have the same functionality as Intuvia or the high-tech appearance of the new Kiox, but it's discreet and gives the rider access to all the important data in an easy-to-read format.
Bosch Powertube 500Wh battery
Range anxiety is a thing of the past with the latest generation of Bosch power tube batteries. Combined with the increased efficiency of the motor it is quite possible to achieve a range of nearly 100 miles if ridden on gently undulating terrain in 'Eco' mode. I would say for the average rider, using a combination of all the assist modes a range of around 60-70 miles is realistic. Although there are lots of considerations like rider weight, tyre pressures, wind direction, terrain and outside temperature.
Bosch has a really useful range calculator tool which will give you an approximate battery range based on your motor, bike weight, your weight and the terrain ridden on.
Bike components
As a premium brand, Trek always uses quality Shimano or SRAM components on their e-bikes. The Allant+ 7 uses the latest incarnation of Shimano's MTB-specific Alivio groupset which is fairly entry-level in the world of mountain biking but is perfectly suitable for a step-through hybrid bike. Stopping power is provided by Shimano hydraulic brakes and all the wheels and finishing kits are excellent quality Bontrager, which is Trek's in-house component brand.
Gearing
The Shimano Alivio M3100 Shadow 9-speed rear derailleur is dependable and fully suited to a bike like the Allant+ 7. It offers a good spread of gears with an 11-36 rear cassette and 40t front chainring. I have used Alivio derailleurs on my touring bikes and covered thousands of trouble-free miles. This derailleur will also handle an 11-40 9-speed Sunrace rear cassette if you wanted to lower the gear further. Shifting is crisp and precise and the drivetrain is finished off with an e-bike-specific chain.
Brakes
The Shimano BR-MT200 hydraulic brakes are more than up to the job of stopping any rider quickly on steep descents. After the initial bedding-in period braking performance improves drastically and the brakes provide decent modulation and assured stopping power. Although the MT-200 is an entry-level hydraulic braking system, it is going to be more than enough for the average hybrid rider.
Wheels and Tyres
Trek have used their quality in-house Bontrager brand of hubs with Alex MD35, tubeless ready rims and has sensibly gone for the 650b (27.5″) wheel size option. The front and rear wheels also use thru-axles for increased rigidity and sealed hub bearings for longevity and low maintenance.  The tyres are excellent high-volume Schwalbe G-One 650 x 57c gravel tyres. The tyres not only help soak up road bumps but enable the rider to tackle a multitude of terrains with confidence. The G-One is designed to be ridden on tarmac, gravel tracks and forest trails.
Suspension
The SR Suntour Mobie25 front suspension forks are designed specifically with hybrid bikes in mind and they have all the features you would usually expect to see on an MTB fork including preload and rebound adjustment with a lockout feature (to prevent 'bobbing' when riding on tarmac). There is a useful 50mm of travel which is perfect for riding poorly surfaced country lanes and light off-road use.
Frame and finishing kit
A lightweight hydroformed alloy frame is finished in a hard-wearing gloss paint finish. The frame geometry is designed primarily with rider comfort in mind, placing the handlebars at more of a shoulder height, meaning the rider is set to bolt upright. There is also an adjustable handlebar stem so the rider can adjust this to suit their needs. The step-through frame design makes the Allant+ 7 perfect for riders who prefer a low standover height or may have difficulty riding a regular frame. There is a traditional-framed Allant+ 7 available as well.
All of the finishing kits are Trek's Bontrager alloy components, and the accessories included are impressive. There is a Racktime Lightit pannier rack, Pletscher Comp Flex 18 direct-mount kickstand, Hermans MR8 headlight with AXA Blueline tail light and finally full mudguards –  the Trek Allant+ 7 has everything you need to start your e-bike adventures straight away.
Who is the Trek Allant+ 7 Lowstep aimed at?
The Trek Allant+ 7 Lowstep is one of those electric bikes that will have a very broad appeal. You could easily ditch the car and forget the traffic on your daily commute, and with a battery range like this has to offer, you could comfortably do a 40-mile round commute in 'turbo' mode and not worry about turning up for work tired and sweating.
If you are looking to improve your fitness and want to explore your local countryside more, the Allant+ is perfect for weekend adventures. I would go as far as to say that you could even use the Trek for a spot of touring. With the potential to cover up to 100 miles on a single charge, you could cover lots of distance and charge up on your overnight stops.
Conclusion
My friend is delighted with her purchase, and having ridden the Trek myself I'm impressed with what it has to offer.  My friend is in her 70s and Cornwall is incredibly hilly (as anyone who has cycled there will tell you), having an e-bike like the Trek is a game-changer and is giving my friend the freedom to explore the beautiful Cornish countryside without having to worry about pushing her bike up the steep hills we have here.
The Bosch Performance Line CX motor is an amazing piece of technology, it's smooth, quiet, and efficient but most importantly it provides an incredible boost to your pedalling. I've tried the Allant+ 7 on hills with an average gradient of 15% (in turbo mode) and it flies up there – you still need to pedal, but the motor makes these hills feel like a gentle slope.
Comfort is a big deciding factor for a lot of people when buying an e-bike and the Trek is very well catered for in this department. The high-volume tyres combined with front suspension and an upright riding position make for a very comfortable, leisurely riding experience.
Equipment is also an important consideration. The Allant+ 7 has everything you could need – rack, mudguards, lights and kickstand. It is a versatile bike and is suitable for riding on unpaved cycleways, country lanes, and byways anywhere you want to take your weekend adventures!
Importantly the Trek looks and feels tough. All the components are of good quality and this translates into a very reasonable weight for an e-bike of this kind. Most low-step electric bikes seem to weigh in the region of around 25kg, but the Trek only weighs 21kg which is a 4kg weight saving. Bosch has also designed this latest motor in such a way that you can pedal it normally with the assist switched off, so even if you do run out of power you can still ride it as a regular bike (albeit a heavy one).
Check out the best women's electric bikes in 2023
All in all, I'm impressed with the Trek Allant+ 7, it's not the cheapest e-bike available but it is excellent quality and uses the best motor Bosch currently produces. If your budget stretches to £3000 and you're looking for a step-through e-bike, the Trek is worth a look.
Visit Trek Bikes for more information.
A product page on Trek Bikes US website
Also available from Sigma Sports
Thanks for reading, if you have any comments or questions regarding this article please use the comments form below and I will reply within 24hrs. More photos and a short video review to come.