One of the biggest drawbacks of budget electric city bikes, is they're usually lacking in the range department. Enter the new Engwe P26 which rocks an impressive 612Wh battery, and has all the features you would normally associate with this class of e-bike. In this article, I'm going to be having a quick look over the specs to see if it's a promising addition to the Engwe range of e-bikes.
Engwe P26 Specs
| | |
| --- | --- |
| Motor | 36v 250w brushless, geared hub motor (US version 800w) |
| Battery | 612Wh / 36v 17Ah (48v 13Ah US version) |
| Battery Range | Up to 70 km (claimed) |
| Top Assisted Speed | 15.5 mph (25 km/h) – 25 mph (US version) |
| Weight | N / A – I estimate around 26 kg based on similar e-bikes |
| Maximum load | N / A |
| Gearing | Shimano Tourney 7-speed with trigger shifter |
| Brakes | Mechanical disc brakes |
| Accessories | Kickstand, mudguards, front and rear light, pannier rack |
| Current Price | EU €1199 – USE CODE: infuencer30off for a £30 / €30 discount |
| Where to Buy | Visit the official Engwe website for more info or Visit Engwe US |
Pros
Good battery capacity
Comfortable riding position
Legal EU / UK version
Decent specification for the price
Cons
It's likely to be heavy
Quirky frame geometry
Billed as 'your first commuting e-bike' the Engwe P26 certainly looks well-equipped for the price. Although it's quite normal to see budget e-bikes with mudguards, racks and other accessories, there aren't many at this price point that has a 36v 17Ah battery (the US version has a 48v 13Ah battery).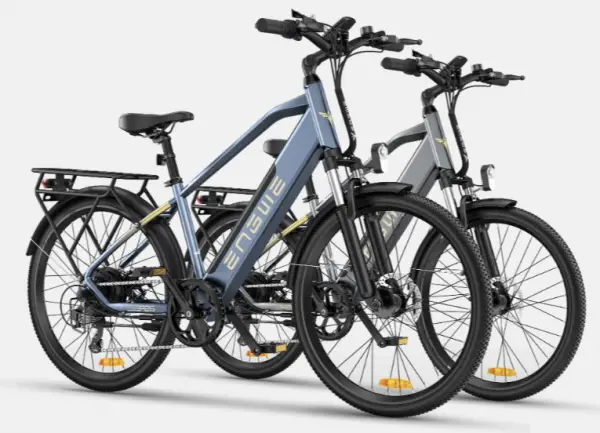 Electric Components
The motor looks like a fairly typical 250w brushless, geared rear hub motor. With a claimed torque output of 40Nm, it should be ideal for the task of city riding. Small hub motors are perfectly suitable for urban commutes, where there are no steep hills to negotiate. If you do live in a hilly city, I would recommend investing in something with a mid-drive motor.
If you're in the US, this version looks a lot livelier – with a 48v 13Ah battery, 800w on tap and an unrestricted top speed of 25 mph.
A large display straddles the handlebars at the centre – this display looks identical to the one used on their EP-2 Pro Folding Fat Bike. I've used this display and it's one of the better displays available at this price point. Big, clear and functional – that's all you need!
The crowning glory is the 36v 17Ah battery – although uncommon on hybrid e-bikes at this price, it still pales into insignificance when compared to something like the 48v 23Ah monster on the Fiido L3. Engwe has set their range estimates at reasonably realistic levels, although ultimately, battery range will vary greatly between individuals. I would suggest the real-world range of this battery is going to fall somewhere between 30 – 45 miles (48 – 72 km). There's no further info available (from Engwe) regarding the kind of lithium cells used. Typically, generic cells have diminished longevity when compared with branded cells like Samsung or LG.

Bike Components
Again, no surprises or innovations here – just simple, functional components which will be easy to service and cheap to replace. The gearing looks like the standard Shimano 7-speed we've all come to know and love, although I can't confirm this, as there's no mention of it in their spec sheet. The brakes look fairly unremarkable mechanical disc brakes – these usually work well enough for commuters. But, they can be prone to squealing and more braking force is needed (when compared with hydraulics). If you found the braking not satisfactory, you could always upgrade to some Zoom HB100 hydro-mechanical brakes.
The front suspension fork looks fairly standard and will be fine for rougher roads, and canal paths, but not much more. More of a feature for added comfort and reduced rider fatigue than for performing stunts or hurtling down a mountainside!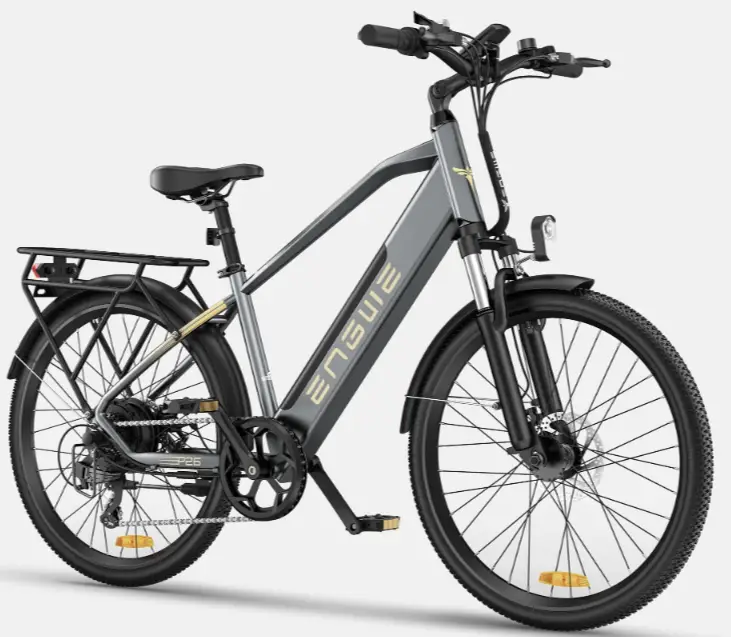 Regarding tyres and wheels, Engwe has decided to turn the clock back and go for 26″ wheels. This wheel size is becoming less common, as manufacturers move over to 27.5″. I love 26″ wheels – there's a reason long-distance bike tourers prefer them – they're usually tougher. The tyres look like they're suitable for tarmac and rougher surfaces like gravel – this opens up the P26 as a leisure e-bike for weekend adventures. Engwe state these also have puncture protection which is a must on an urban e-bike.
No commuter e-bike would be complete without the obligatory rack, mudguards, lights and kickstand – it's all here and looks fairly decent.
Visit the official Engwe EU website – USE CODE: infuencer30off for a £30 / €30 discount
Visit Engwe US (800w version)
Bike Frame and Sizing
The frame has been designed as a 'one size fits all' with Engwe claiming it will suit riders from 5ft up to 6ft 8″. I'm a bit sceptical of this, as it's got a very high front end and a long wheelbase. The geometry looks very similar to the Eskute Voyager I tested a couple of years back – and while I could ride that bike comfortably at 6′ 1″, I'd have my doubts anyone much under 5′ 5″ would be comfortable riding it. There looks to be reasonable adjustment in the saddle height, and the P26 does feature an adjustable stem. This may help in some cases, but if you were short, then you would need a shorter stem and an inline seat post.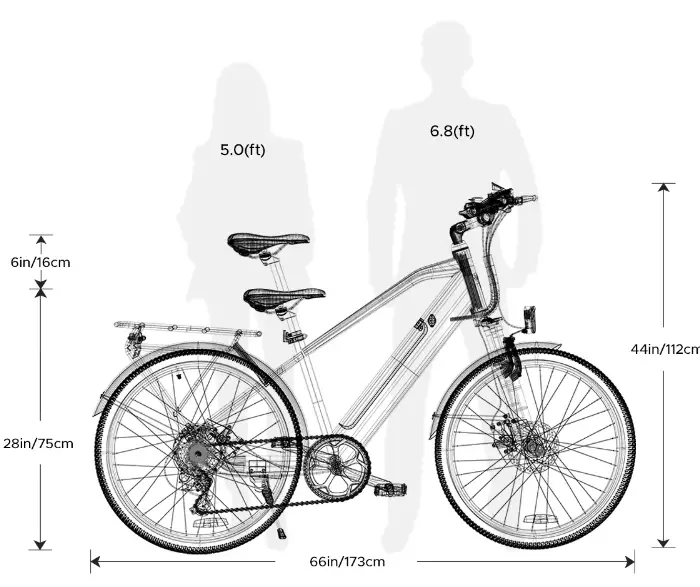 The Verdict
What Engwe have done is taken a fairly generic frame, motor and component package, and added a decent-sized battery. It does look like very good value for money, but should you go ahead and buy an Engwe P26? Until I get my hands on one for a full review, I can't say for sure. But, based on my previous experience with the EP-2 Pro and the Engine Pro, I have enough confidence in the brand to say, it's worth considering. Plus, early customer reviews look promising.
If you own an Engwe P26, please feel free to leave a review in the comments section below.