ebikechoices is supported by its audience. When you purchase through links on our site, we may earn a commission. Learn more
If you're looking for a comfortable and practical electric bike that can take you on adventures, the new Magicycle Deer SUV e-bike ticks all the right boxes. In this review, we'll take a closer look at some of the key features to see what sets this new e-bike apart from the competition.
An SUV or 'Sport Utility Vehicle' is an electric bike designed to be versatile enough to cope with the rigours of all-terrain riding, whilst offering supreme rider comfort and long battery range. Fat tire electric bikes are a fun way to explore the great outdoors, and experience the thrill of adventure. With an e-bike like the Magicycle Deer, you can take your outdoor adventures to the next level. SUV e-bikes are perfect for those want love to explore challenging terrain, and enjoy the ride without getting tired.
Magicycle Deer Specs
| | |
| --- | --- |
| Motor | 750-watt Rear Hub Motor (1100-watt Peak Power) |
| Battery | 52v 20Ah |
| Range | 60 – 80 miles |
| Top Speed | 28 mph |
| Water / Dust Resistance | IP55 – Medium Protection |
| Brakes | Hydraulic Disc Brakes |
| Gearing | 7-Speed |
| Suspension | Front Suspension with Hydraulic Lock-Out and Rear Suspension |
| Weight | 41 kg |
| Max Load | 400 lbs |
| Availability | Visit Magicycle for More Info |
Pros
Big 52-volt Battery
Hydraulic Brakes
400 lbs Carrying Capacity
Powerful Hub Motor
Full Color Customizable Display
Full Suspension
Available in Step-Through Frame
Cons
Very Heavy
Only Available in the US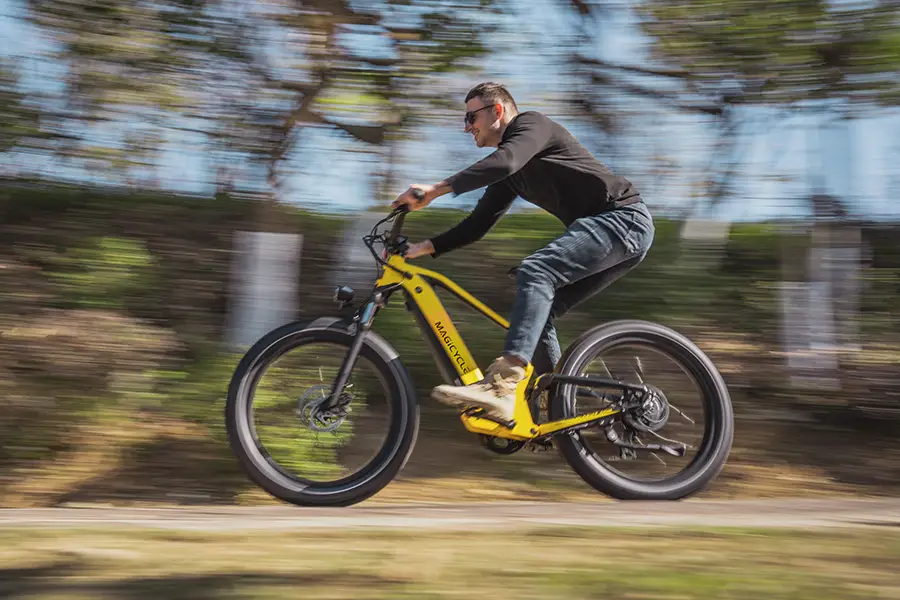 The Magicycle Deer is a full-suspension, fat Tire SUV e-bike that's designed to provide riders with the performance and durability they need to tackle any terrain. It comes with a 2-year warranty and is shipped from within the US. Priced at a very reasonable $2699, it looks like a lot of e-bike for money. Below we'll take a closer look at the components to see if this is the ultimate SUV e-bike for under $3000.
Electric Components
The Magicycle Deer uses a powerful 52-volt 750-watt, brushless geared hub motor, with a peak power of 1100-watts and impressive 96Nm of torque (claimed). Having a 52-volt system has various benefits – being able to keep the current to a maximum of 22 amps (in full power mode), reduces the risk of overheating, improves efficiency, while retaining the strong performance associated with these motors.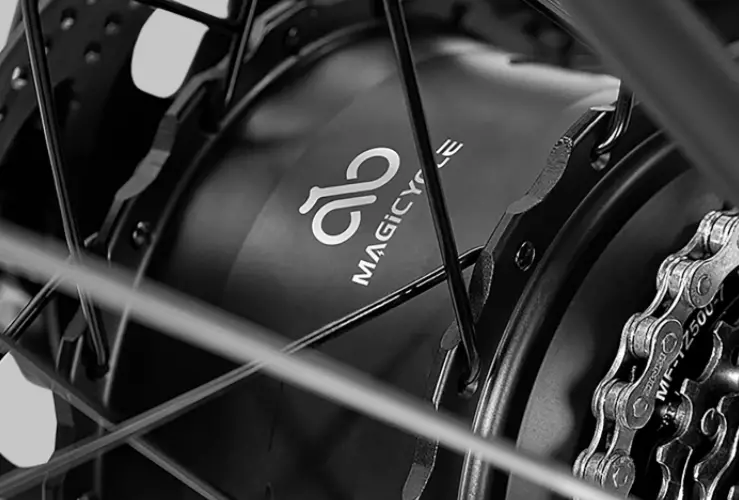 One feature that separates the Magicycle from a majority of other e-bike brands is their use of 52v batteries. The Magicycle Deer rocks a whopping 1040Wh of capacity from the 52v 20Ah battery. This translates to a potential range of up to 80 miles (in pedal assist eco mode) with a real-world range of 40 – 50 miles easily achievable. You could go even further, and buy a spare battery to take you deep into the wilderness on weekend adventures. The battery is removeable and neatly integrates into the frame, giving the Deer a sleek finish.
Another stand-out feature of this e-bike is the premium color display. This feature-packed display allows you to customize certain parameters and monitor battery health. It's a crystal clear display with bright, vivid colors.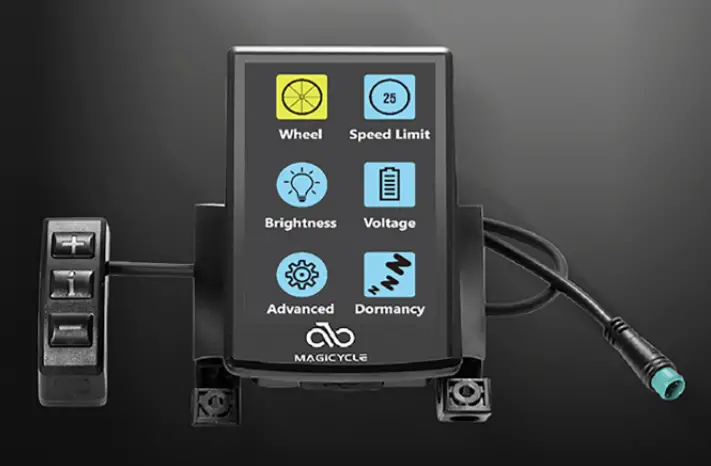 Bike Components
Gearing is dependable Shimano Tourney 7-speed – that's plenty of gears for an e-bike with this kind or torque and power output. Gear shifting is taken care of with a Shimano TX50 thumb shifter. These components are widely used, reliable and easy to use.
When riding a big e-bike on any terrain, optimal braking performance is a must. The Magicycle Deer has hydraulic disc brakes front and rear with 180mm rotors this will ensure strong braking performance combined with good modulation.
An ebike SUV should not only be comfortable, but capable of being ridden on challenging terrain- the Magicycle Deer is well catered for in this department. There's front and rear suspension. The front fork looks robust, and have a hydraulic lock-out function. The rear suspension system looks neat and functional, with a swinging-arm design and single shock absorber.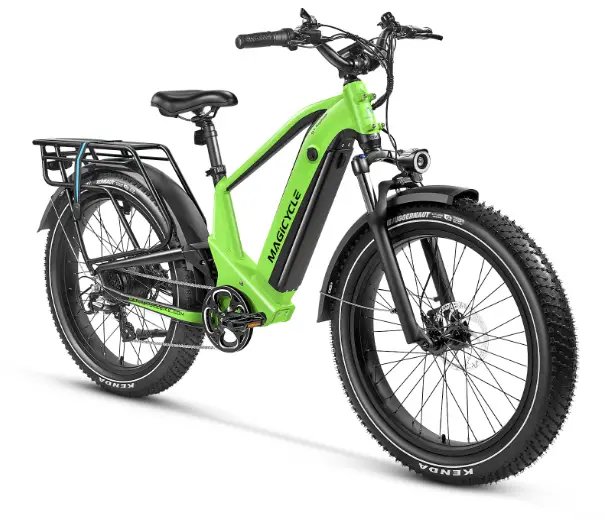 Finally, there's tough 26 inch fat rims, with 4 inch wide all-terrain tires. Kenda Juggernauts are one of the best fat tires available, and feature a puncture-resistant layer to reduce the risk of flats from sharp stones, glass and other hazards. In addition, they're designed to handle all kinds of surfaces from asphalt through to sand or even snow. The great thing about these tires, is they can be run at very low pressures, which really helps with traction off-road.
Accessories
No SUV electric bike would be complete without a full compliment of accessories. The Magicycle Deer is equipped with front and rear mudguards, lights, kickstand and a heavy-duty pannier / cargo rack. In addition, the Deer has mounting points upfront for a cargo basket. You can really fit a whole load of stuff on this bike, whether it's going for a weekend camping or just popping out to the shops.
Sizing and Weight Limits
The Magicycle has an 18 inch frame – they have factored in plenty of adjustment in the saddle height, plus there's a short stem. The recommended size range is between 5ft 5″ up to 6ft 8″ . I like the fat it's available in a regular, and step-through frame design. This really opens up the potential to riders of all ages and abilities . Plus, the low standover height of a step-through can improve rider confidence and safety.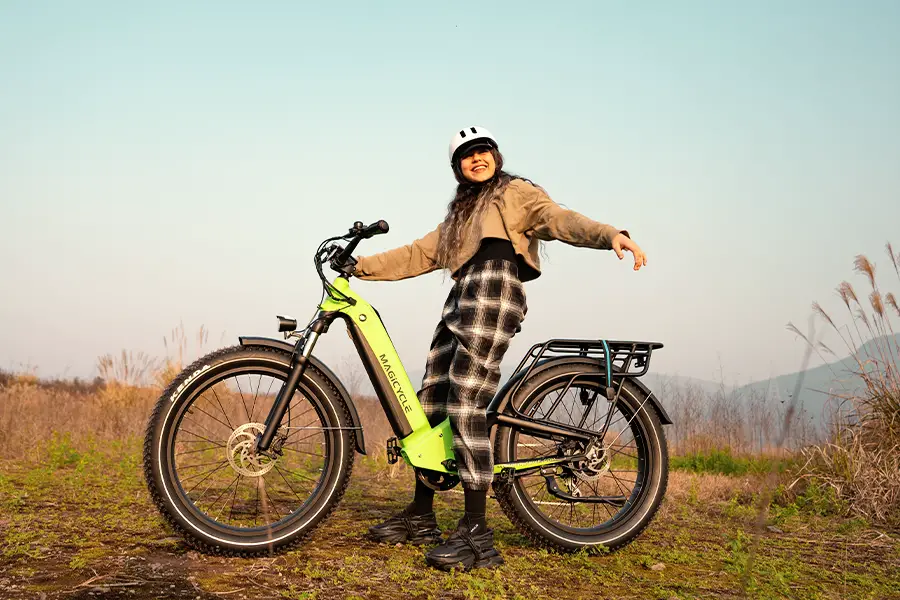 This is also one of the best e-bikes for a heavier rider, with a maximum payload of up to 400 pounds, the Magicycle Deer can double-up as a cargo e-bike, whether you were going bikepacking or you just wanted to get your weekly groceries.
Who is the Magicycle Deer Suitable For?
This is an e-bike that has a multitude of potential uses. If you love commuting by e-bike all-year-round, but get lots of snow in the winter, the Magicycle Deer will be an ideal solution. Maybe you want to shorten your daily commute by taking an off-road shortcut, but need a bike that can handle rugged terrain. If you have an RV, and love spending time travelling around, having one of these would really help you explore the countryside. It's also going to be great for lots of other outdoor activities – you could even load it up with fishing gear to take you to your favorite spot. Find out if a fat tire e-bike is suitable for you.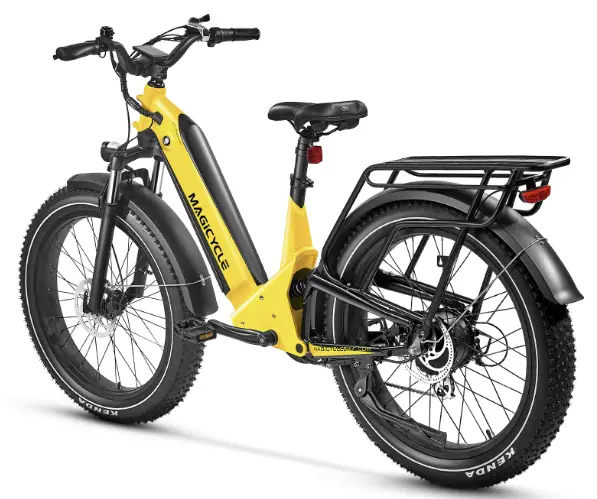 The Verdict
The Magicycle Deer is one of the best fat tire e-bikes available, and would be an excellent choice for anyone who loves to explore the great outdoors or the thrill of off-road adventures. The great thing about e-bikes, is you can enjoy cycling without the physical demands imposed riding challenging terrain. With its fat tires and full suspension system, this e-bike has everything you need to tackle any terrain and enjoy your rides to the fullest.
I really like the concept of an SUV electric bike, and the Magicycle Deer fulfils this roll perfectly! If you're looking to take your adventures to the next level, then the Magicycle Deer comes highly recommended and is well worth considering.
We'd love to hear your thoughts. If you own a Magicycle Deer, please feel free to leave a review in the comments below.
Visit Magicycle for More Information 👉Use Code FH300 for a $300 Discount