I recently sold one of my e-bikes and took an interesting bike back in part exchange. The Ortler Speeder is sold exclusively by the German company Bikester, and in this review, I'll look at the specification and give you my opinion based on the initial 30-mile test ride.
I've been familiar with the Ortler brand for a few years, but have never got around to testing any of their e-bikes. Bikester is a German company, and Ortler is one of their exclusive brands. They are very popular in Europe, but not so well-known in the UK. The model reviewed here is the Ortler Speeder, which is currently on sale at a very reasonable £1119 (€1285).
Ortler Speeder Specification
| | |
| --- | --- |
| Motor | Bafang G20 250-watt Rear Hub Motor |
| Pedal Assist | Torque and Speed Sensor |
| Battery | 252Wh |
| Range | 30 – 50 miles / 48 – 80 km |
| Gearing | Shimano Deore M4100 10-Speed |
| Brakes | Shimano MT200 |
| Wheels | YAK 3 Six Disc |
| Tyres | Schwalbe Marathon Supreme 700x37c |
| Accessories | SKS Mudguards, Kickstand, Lights |
| Availability | Visit Bikester |
Pros
Quality Shimano components
Torque-sensing pedal assist
Bafang hub motor
Schwalbe Marathon Supreme tyres
Good quality accessories
Cons
Low capacity battery
No display
A bit on the heavy side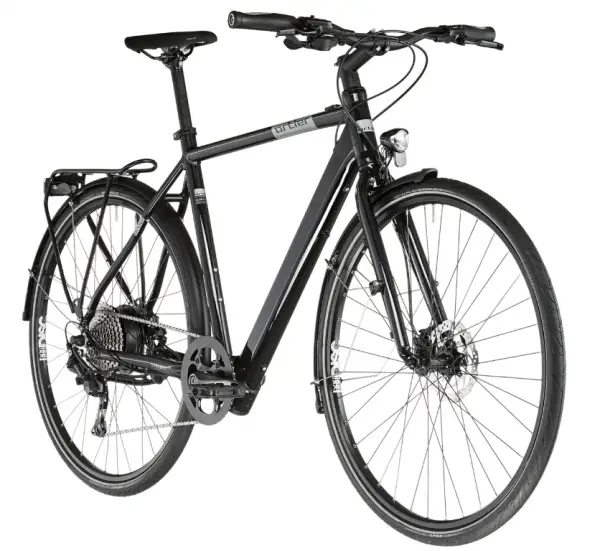 The Ortler Speeder is designed to look and feel like a regular bike. Being fairly lightweight and with an integrated battery and no display, you certainly have to look twice to notice the Bafang hub motor nestled between the big cassette and disc rotor. The bike used for this review is in 'as new' condition and has 166km of use recorded on the app. Below, is a detailed analysis of the electric and bike components, based on my initial test ride.
Electric components
Ortler has gone for a minimalist approach, keeping the battery hidden in an oversized downtube and motor control done via a smartphone app.
Motor
The Speeder uses the reliable Bafang RM G020.250 rear hub motor with a claimed max torque of 45Nm. This is one of the better-quality hub motors available. It's very quiet in operation, with a slightly audible whine noticeable in the higher power modes. Nominal power is 250w as per EU and UK laws, and the power cuts out at 25 km/h (15.5 mph).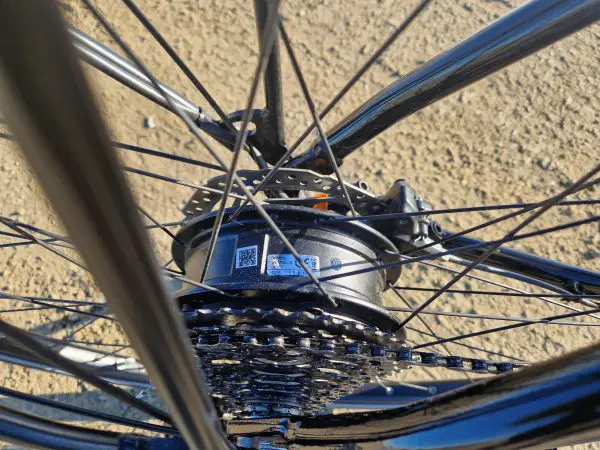 Performance feels lively, more so than the Mahle X35 system. In the higher power setting it flies up moderate hills, but on the steeper climbs I still needed to put in a lot of effort. There doesn't seem to be any drag from the motor above the assist cut-off limit. I was able to maintain 20 mph + on a fairly flat road over 4 miles without too much trouble (with a tailwind).
Pedal assist
Pedal assist is provided by a combined torque and speed sensor. This is a Bafang component and is fitted in the bottom bracket. I found the pedal-assist to be very smooth and intuitive. Torque sensors measure pedalling force and connect the rider's effort with the motor power output. Not only does this improve motor responsiveness, but it also enhances the riding experience and improves efficiency.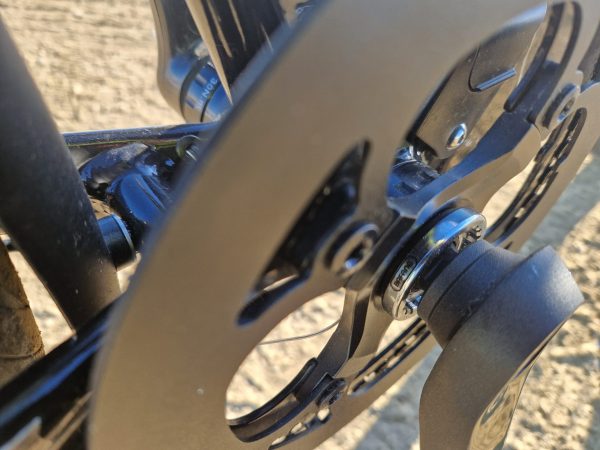 Bafang Go App
The Ortler Speeder does not have a screen. Instead, there is a single button on the top tube (like the Mahle X35). This button has limited functionality – it switches the system on and will go into the default mode set by the app. You can use the bike without the app, but will not be able to change assist levels on the fly. When the battery drops below 30%, the LED changes from blue to red, and when it's down to less than 10% it starts flashing (red).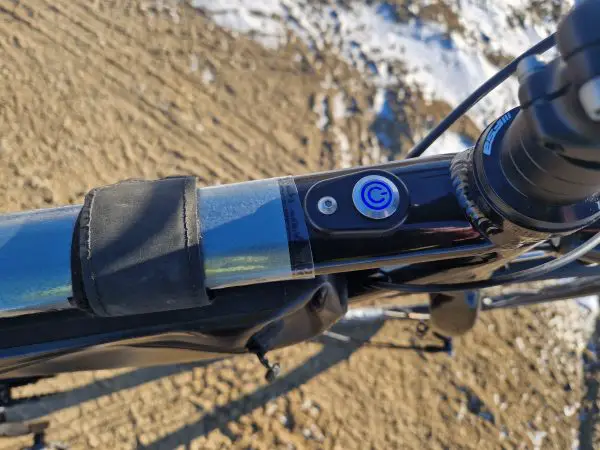 Downloading the app is straightforward from Google Play, or the Apple App Store. The Bafang Go app does have some negative reviews, but after installing it (on my Samsung S22), the app discovered the bike almost instantly. You need to configure the main display which is easy enough. You can choose up to 9 assist levels which is a good feature, also you can set the default mode for the button on start-up – either eco or sport.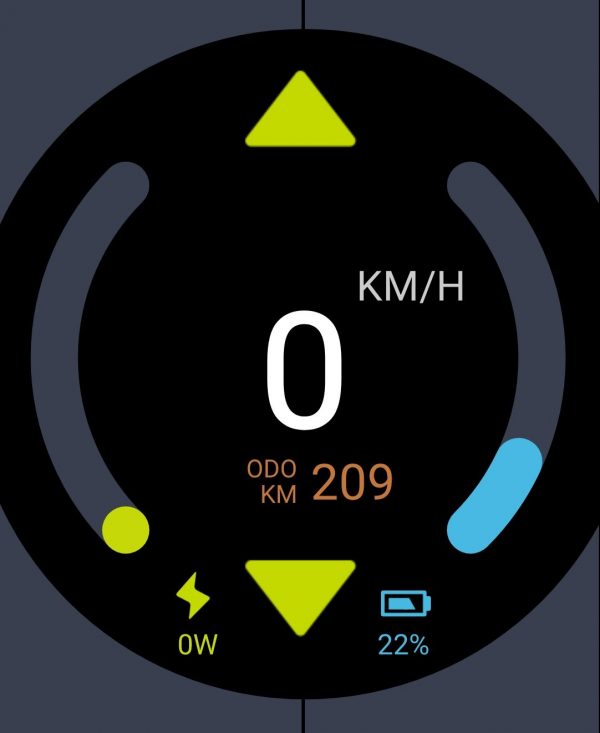 There's a battery screen which shows how many charging cycles the battery has had, and the current charge level (in voltage and MAh). It will also display the battery remaining in percentage and estimated range left. You can pair up a heart-rate monitor if required, and it will display motor power and current (amps) in real-time.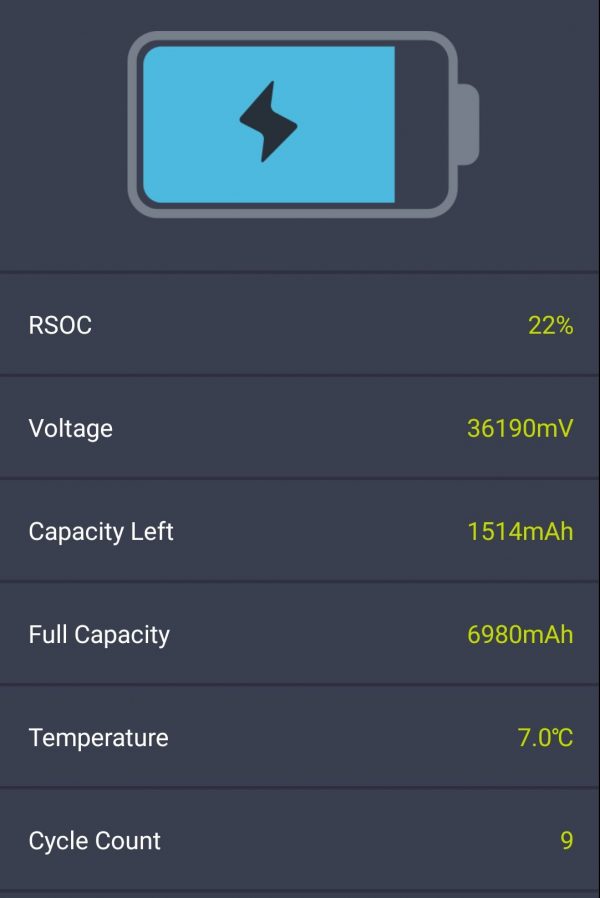 I don't have a suitable bike mount for a phone, and decent ones like the Quad Lock are quite expensive, although there are cheaper options available. Another consideration is do you have a waterproof phone?
In practice, it's not a bad idea, but I would have preferred a simple control keypad and LED panel. I use a bike computer for speed etc and don't like the idea of a big mobile phone cluttering up my handlebar. I decided to keep my phone in a frame bag for the duration of the ride and it worked fine.
Battery
The battery is integrated into the frame and cannot be removed easily. Charging is done in situ, with a charging port beneath a plastic cover where the downtube meets the bottom bracket.
With only 252Wh (watt hours) available, the range isn't going to be that great if you use full power mode – maybe 25 miles (40 km). If you're more sensible with the assist, and only use it when you need to, then much longer ranges are possible.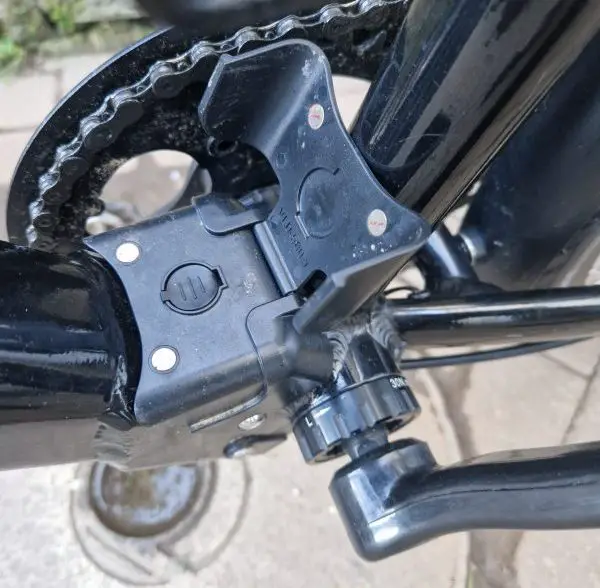 My test route was 31 miles (49 km) with 2500 ft (762m) of elevation gain. The battery was fully charged beforehand. The air temperature was around freezing and there was a strong headwind for half the ride.
For the first 10 miles, I unwittingly had the bike on a high-power setting. I hadn't changed the power setting in the app  – I remember thinking that it was providing way too much assistance for level 1! 10 miles in, it had already lost 56% which would be about right for full power mode.
I managed to change it to the lowest setting, which for me felt like just the right amount of assist – very subtle and just enough help to take the sting out of the long climb up to Princetown on Dartmoor.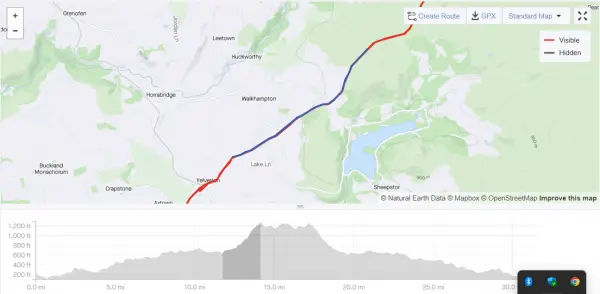 When I got back, I checked the app and still had 22% remaining. I think considering the power was set high for the first ten miles, that's pretty good going for such a small battery. It's certainly similar to what one would expect with the Mahle X35 ebikemotion system.
I'm going for a 40-mile ride tomorrow to see how it goes, but I reckon as long as I'm sensible with the assist level, it should be easily achievable.
Bike components
This is what impressed me about the Ortler Speeder. Most electric bikes at this price point use budget components. The Speeder, however, is adorned with some top-quality gear, like Schwalbe tyres and Shimano XT gearing.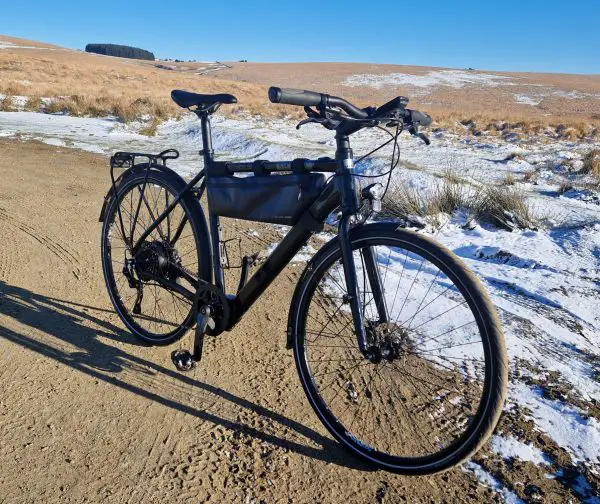 Gearing
I had to do a double-take when I checked out the gear components. There's a Shimano Deore M4100 10-speed shifter, Shimano XT long-cage rear derailleur and KMC-E10 chain. The cassette is also top quality – a Shimano HG500 11-42.  These kinds of components are usually found on e-bikes retailing for well over £2000. Needless to say, gear shifting was flawless. With each click of the shifter, the gears changed smoothly and quickly.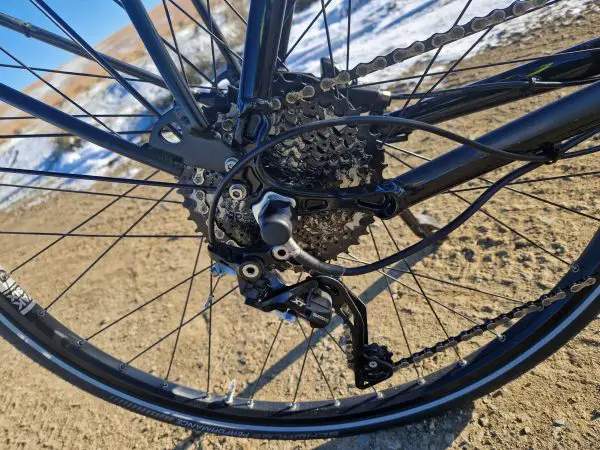 Brakes
Another pleasant surprise. Shimano MT200 hydraulic disc brakes are at the lower end of the scale but work well. I have used these brakes before on several different bikes and they never fail to impress. The Speeder is set up in European style so the rear brake is on the right-hand side.

Wheels and tyres
The rims are decent quality Schurmann YAK 3 Six discs, with the front wheel using a Shimano TX-505 hub. These rims are German and look to be very good quality. Tyres are the excellent Schwalbe Marathon Supreme in 37-622. They are fast-rolling while offering similar levels of puncture protection to the standard Marathon. Very good tyres with top marks on bicyclerollingresistance.com.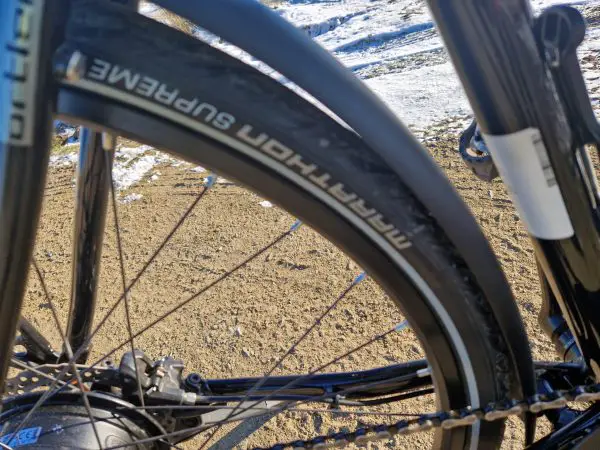 Frame and finishing kit
I like the look and finish of the frame. It's finished in a deep gloss black powder coat and looks fairly resistant to scratches and chips. The frame and fork are made from 6061 alloys. There's an oversized downtube to house the battery, but it's not too big, and to the untrained eye you wouldn't even know it was an e-bike.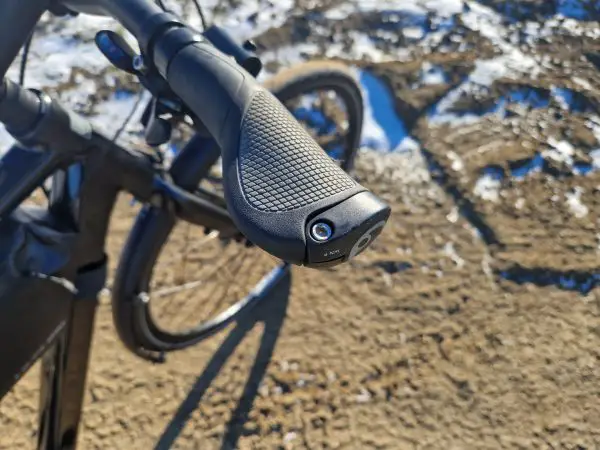 There's a quality FSA headset which was very smooth. The handlebar and stem are Promax and the 31.6mm seat post is by Kalloy – all good quality stuff. The grips are the excellent Ergon GP-1 which are both comfortable and stylish.
Accessories
Once again, all the accessories fitted to the Ortler Speeder are top quality. There's a set of SKS mudguards, a Pletsher direct mount kickstand and a B & M Lumotec front light with Herrmans H-Trace rear light. Finally, there's a Racktime rear pannier rack which has a load capacity of up to 20kg.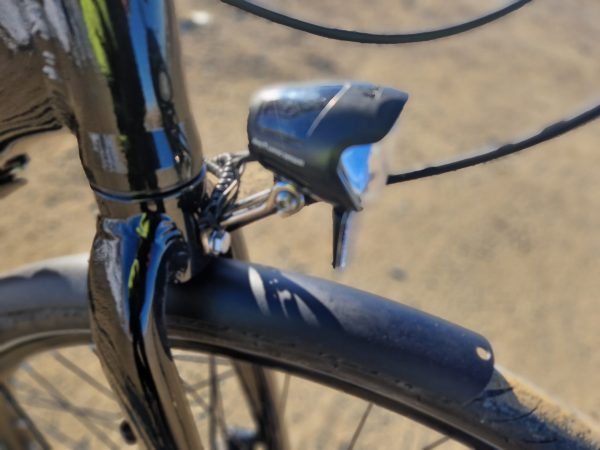 Saddle and comfort
The saddle is a Velo VL3135 and I found it remarkably comfortable. It's quite firm but does mould itself nicely to your behind. It may not suit everyone as some people prefer more padding. I was wearing cycling leggings for the ride which had additional padding.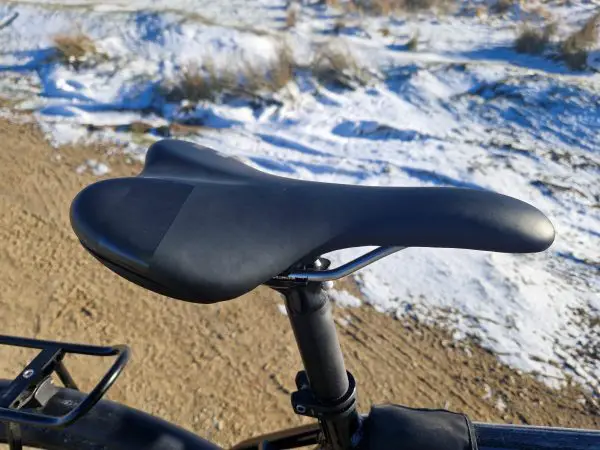 Who is the Ortler Speeder suitable for?
This is going to be a great electric bike for commuting as it has everything you'd need. Plus, with good-quality components, you're not going to worry about replacing things too quickly. It also has some potential for touring, although the electric assist would need to be rationed, and saved for the hills. Unfortunately, there's no range extender available (that I'm aware of), so longer-distance riding may be problematic.
If you're looking for an e-bike to help improve your fitness, this bike would make a great motivational tool, as the power is provided in relation to your pedalling effort. The Speeder is a cyclist's e-bike, it's not a free ride and you still need to put the effort in.
Conclusion
I'm impressed with the Ortler Speeder for the price. It's identical to the Rabeneick TS-E which retails for about €1900.  The components are top-quality and the bike feels very nice to ride. The handling inspires confidence and it feels like a regular bike without the assist activated.
My only complaint is the lack of a control pad, as some people will not like having to rely on a phone app to change assist settings. I've looked into the possibility of adding a display. This bike uses Bafang's CAN-BUS communication protocol and there are several displays available that might be compatible.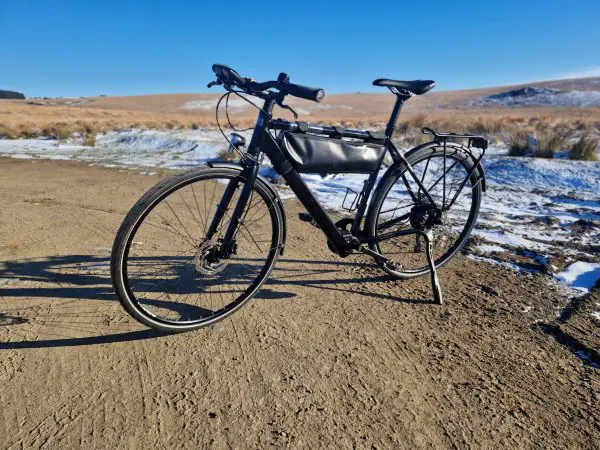 The battery range seems about on par with the Mahle X35, although if you use it at full power everywhere, you'll be lucky to see 25 miles out of a charge. Use it sensibly and I reckon 40-50 miles is possible.
As for the weight, it's not particularly lightweight for an e-bike of this kind. The Ribble AL e weighs in at under 15kg and the Ortler comes in at a hefty 19.2kg. Having said that, the weight didn't seem to hamper progress on the flatter sections when riding about the assist limit.
All in all, if you're after an e-bike that's got top-quality components, is fairly lightweight and looks/rides like a regular bike, then the Ortler Speeder is well worth considering and at its current price is an absolute bargain!
If you own an Ortler Speeder, please feel free to leave a review in the comments section below.
Related Articles