Ribble Cycles have kindly lent me their Gravel AL e to review, and in this article, I'll take a closer look at the specification and explain why I think this is one of the best electric gravel bikes currently available.
The Ribble Gravel AL e is a versatile and lightweight gravel e-bike that's designed with the more adventurous rider in mind. Rocking big 650b tyres, Shimano GRX groupset and trail-friendly geometry, the Gavel AL e is a practical mile-muncher with the added benefit of e-assist.
Ribble Gravel AL e Specs
| | |
| --- | --- |
| Motor Type | Rear Hub Motor |
| Motor Brand | Mahle X35 |
| Motor Power | 250-watts |
| Battery | 252Wh |
| Range | 30 – 60 miles (assisted) |
| Gearing | Shimano GRX 2 x 10 / 1 x 11 |
| Brakes | Shimano GRX Hydraulic |
| Availability | Visit Ribble Cycles Website |
Pros
Lightweight
Good off-road
Comfortable
Smooth and Quiet motor
Excellent brakes
Shimano GRX gearing
Cons
Small Battery
May be underpowered for some riders
---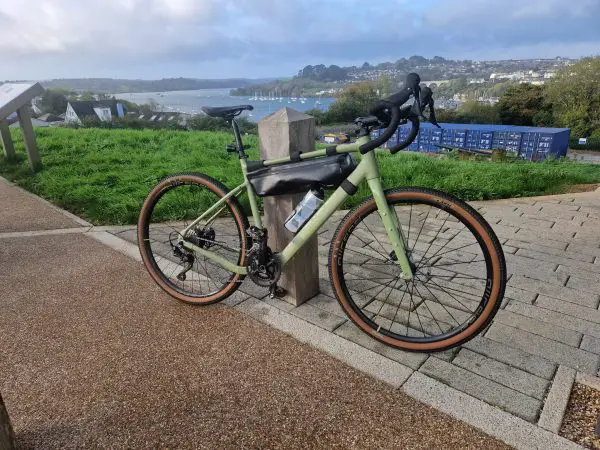 Ribble Gravel AL e vs CGR  AL e
The Gravel AL e is more off-road focused
CGR AL e is better suited to commuting / road use
Gravel AL e is better for bikepacking
Put the two side by side and the differences between the Gravel AL e and CGR aren't immediately obvious. The CGR has a more road-focused endurance type geometry, whereas the Gravel AL e is longer and lower, making it far more suitable for tackling rugged terrain.
Apart from the frame, the other main differences are the groupset options. The CGR is available with road-friendly groupsets like Shimano 105 and Ultegra, whereas the Gravel is available with gravel-specific groupsets like SRAM Apex or Shimano GRX. There's also a slight weight penalty, with the Gravel AL e weighing in at a fraction over 14kg – the Ribble GGR AL e, I tested in 2020 weighed in at 13.6kg.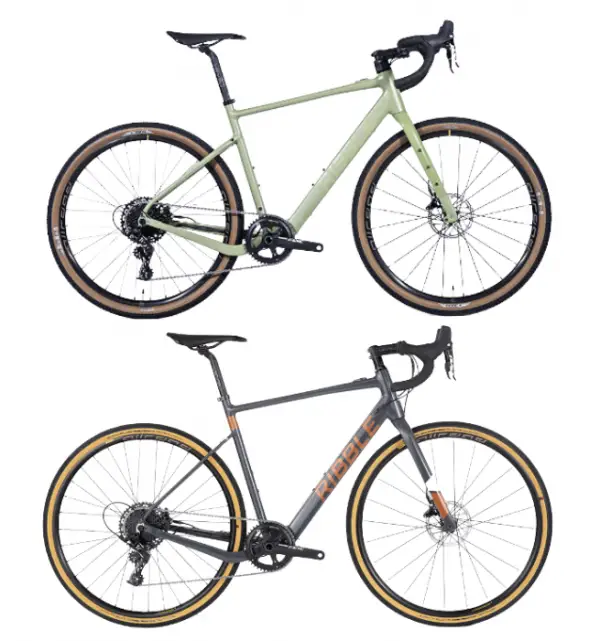 The CGR AL e is aimed more at the rider who wants a versatile road/commuter e-bike with the option of riding a bit of gravel and single-track. Whereas the Gravel AL e is more of an out-and-out adventure / bikepacking e-bike.
Ribble Gravel AL e Build Options
The Gravel AL e is available in five standard build levels. Plus, there's the option of using their bike builder to further configure the spec to suit your needs (including custom paintwork).
Author's Cycling Background
At 53 years old, 6'1″ and 107 kg, I have a fairly good level of cycling fitness. I got back into cycling in the summer of 2017 after really letting things slip in my forties and putting on loads of weight. Since 2017, I've cycled over 27'000 miles, with 7500 ridden in 2022. I currently own two bikes – a Genesis Equilibrium road bike and a Merlin G2X gravel bike.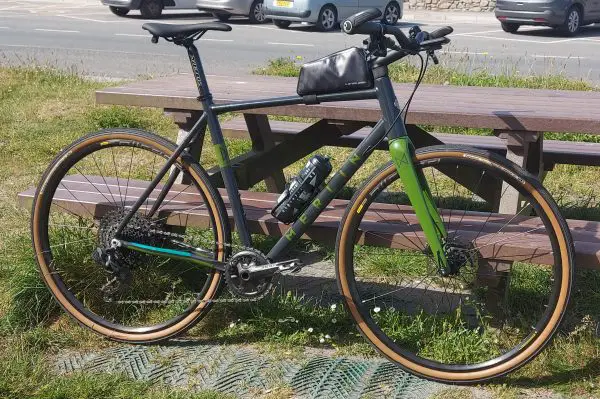 Because I live in Cornwall, I average over 10'000 metres of climbing every month which has started to take its toll on my knees (particularly my left knee). To mitigate this I started doing daily stretching exercises. Plus,  I take MSM, Glucosamine and Collagen supplements daily to help repair the connective tissue and limit further wear and tear on the knees. So far, doing this has helped and I've noticed a  significant improvement.
I currently ride on average 20-25 miles a day and generally try and stay in heart rate zone 2 for most rides, and maybe do 1-2 harder-paced rides a week.
Key features
Shimano GRX RX400 groupset: Has worked flawlessly the whole time I've had the bike. Light, crisp and precise shifting and nice ergonomics on the hoods.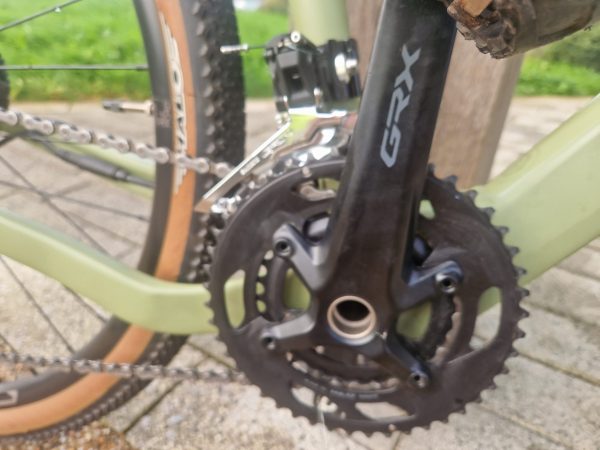 Shimano GRX brakes: These are brilliant. They work with minimal effort and do stop you quickly. In fact, you've got to be a bit careful as it's very easy to lock up the rear wheel.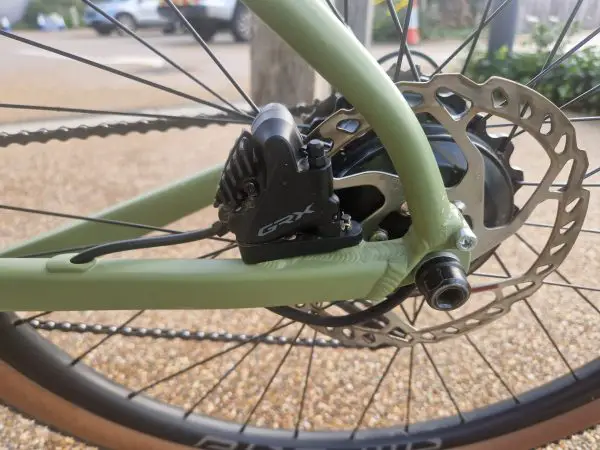 Mahle X35: Worked as expected. Subtle, but useful assist and definitely seems to take the edge off longer rides. But you can still train to a higher intensity if you wish. Soon to be replaced with the lighter, torque-sensing X20 system.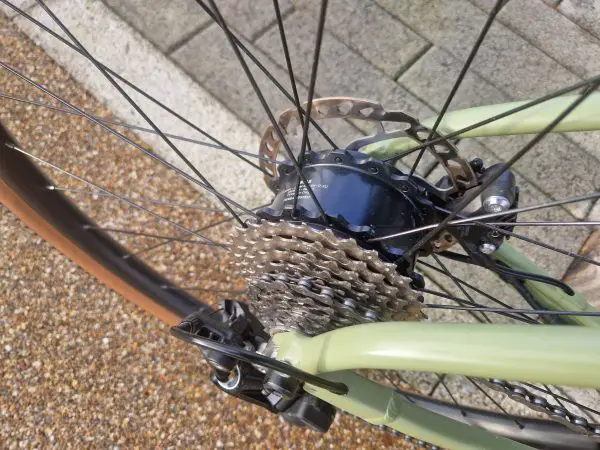 252Wh battery: Small, lightweight but incredibly efficient. Uses high-quality Panasonic cells which are one of the best in the business and renowned for longevity.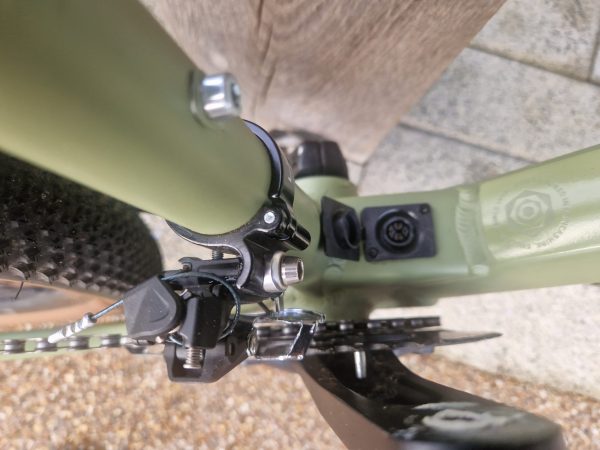 Mavic Allroad 650b wheelset: I have the 700c version of these wheels on my gravel bike and they're a great entry-level gravel wheelset. I've covered 2000 miles on my bike, including lots of Dartmoor off-road and they are still as true as the day I brought them!
Visit Ribble for the full spec and build options
Test Ride
I've ridden several e-bikes fitted with the Mahle X35 system, so I knew what to expect from the Ribble as far as performance is concerned. The X35 is based upon the concept of 'just enough help' and is designed to complement your riding ability, not dominate it.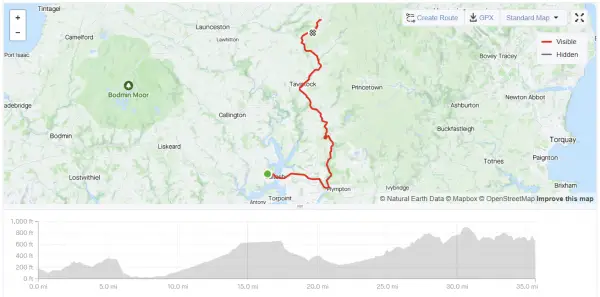 So far I've covered about 100 miles on the Ribble Gravel AL e and it's a whole lot of fun to ride! For my first test ride I decided to ride up to Okehampton and back, riding part of the Devon coast to coast cycle route (N27). This route takes in the Plym Valley Trail, Drakes Trail and Granite Way.
Once the kids were off to school, I headed off on one of the better days we've been having recently. There was a moderate SW wind with broken clouds and sunny spells.
Pairing Wahoo Elemnt with the E-Bike
The first thing I did was to connect my Wahoo Elemnt Bolt V2 bike computer with the X35 system so I could get the battery and assist info displayed. This was easy to do – you go into the sensor settings in the Wahoo app, make sure the bike is switched on, and it pairs really quickly.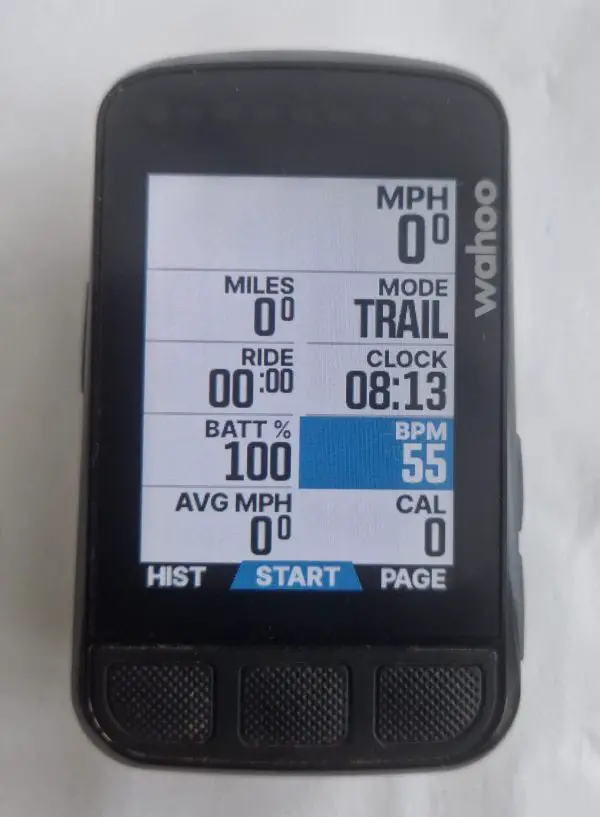 Riding Without Assist
I decided to only use the assist on the hills, as I wanted to see how far the small 252Wh battery would actually take me. I have to admit that when I came to the first small hill, I forgot to put the assist on and I didn't really notice it. The Ribble weighs in at 14kg, so it's like my regular gravel bike plus a couple of bikepacking bags. On the next small climb, I put it in eco mode and decided to leave it there until the start of the Plym Valley trail.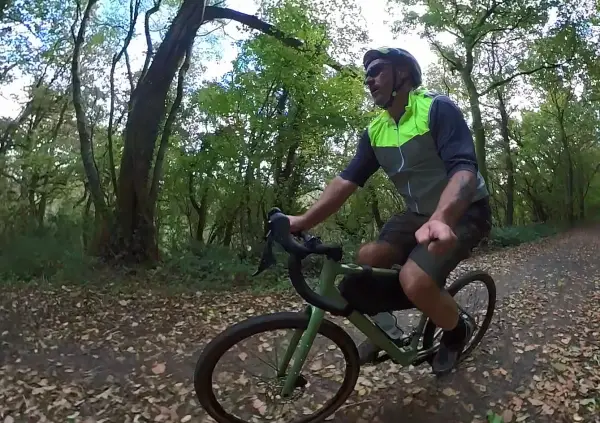 How much assistance does Eco mode provide?
There are three levels of assist – eco, trail and turbo. The assist you get in eco mode is very subtle, I reckon all it does is cancel out the extra weight of the electrics and increased rolling resistance from the chunky tyres. The great thing about this system is you can customise each assist level using the Mahle app.
On the occasional flat road sections, I had no trouble maintaining 22-24 mph, which helped on a bit a the tailwind. Once at the start of the Plym trail, I decided to switch the assist off. This section follows an old railway line and although it's uphill all the way to Yelverton, the incline is very slight and only noticeable if you start to put the power down.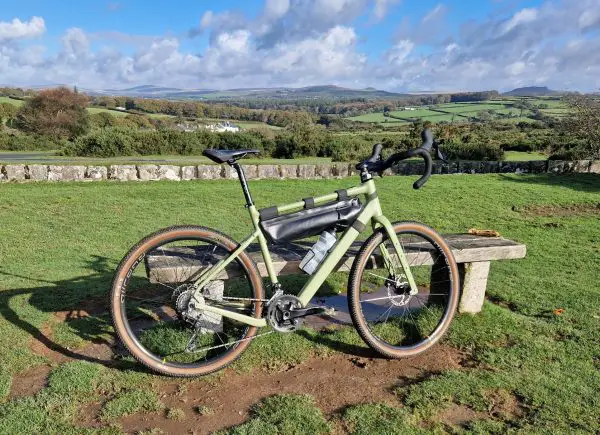 Perceived effort and heart rate
Interestingly, my perceived effort, heart rate and average speed were about the same as when I do the route on my regular gravel bike. This section is 8.5 miles with 620ft of elevation gain.
Once at Yelverton you take the Granite Way to Tavistock, this section is a bit more hilly with a downhill section followed by a steady climb. By the time I'd arrived at Tavistock, I had covered just over 20 miles and the battery level was still showing 91%.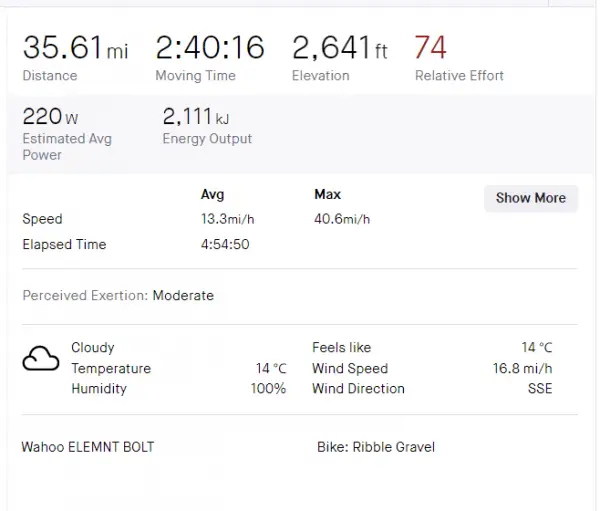 Comfort
Now is a good time to discuss comfort. 20 miles into the ride and I had no complaints in this department. The Selle Italia X3 Boost is a fairly cheap saddle but I have to admit, my behind was very happy! No numbness or discomfort on the sit bones. The riding position is comfortable and the flared drop handlebar felt very nice indeed.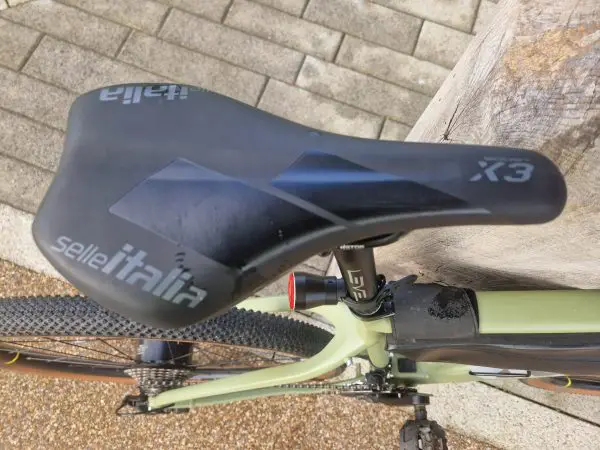 Trail mode on steeper climbs
The next 15 miles were much hillier, and I used Trail mode a lot more. On the occasional 8-10% gradient, Trail mode makes it feel like you're cycling uphill in an easier gear, and the legs don't tire or get the lactic acid burn. You still feel like you're working though, it just feels that little bit easier.
Problems
Unfortunately, I had a couple of issues further up the road. The first was a puncture in the front. As the Halo GXC is a tubeless-ready tyre, it was very difficult to get off and back on the rim. One broken tyre lever and lots of swearing later, I was eventually back on the road to Lydford.
By the time I got to Lydford, I decided to cut the ride short and start heading back. I was still looking at over 60 miles, but as I started the steep climb from near Lydford Gorge, the chain snapped! It had broken at the connector pin – whether this was down to incorrect installation or the pin had been re-used at some stage, I couldn't say. But, I've never had a Shimano chain go on me before. My spare quick-link was for a 12-speed and wouldn't connect the 10-speed chain. I managed to reconnect the chain by removing a link and reconnecting, but it didn't last.
Eventually, a very kind gentleman offered to give me a lift to Tavistock. Unfortunately the only bike shop there was closed and the next one in Yelverton was a five-mile walk away. Thankfully, my wife came and collected me.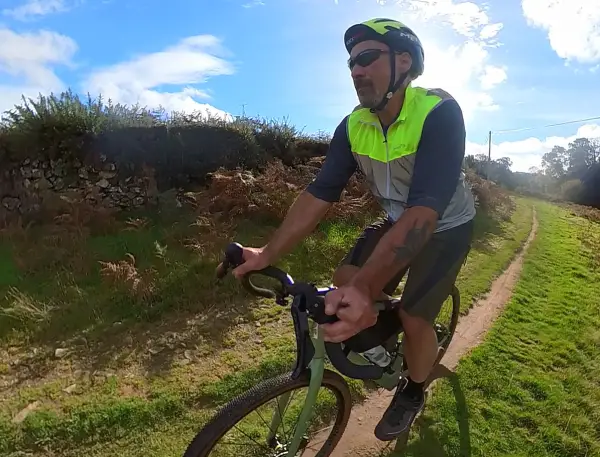 Test ride conclusion
Putting the problems to one side, the Ribble Gravel AL e performed very well. It handled the brief off-road section with ease and was a pleasure to ride. I ended up riding 36 miles and only used 23% of the battery. I reckon if I didn't have the issue with the chain, I'd have comfortably got all the way back and still had over 50% left on the battery.
More rides
Since this ride, I've been out on the Ribble for several shorter rides of around 25 miles. The interesting thing, is my average speed and heart rate are pretty much the same as when I do these routes on my regular gravel bike.
I did one ride of 25 miles where I kept the bike in Trail mode and pushed myself. The data made for interesting reading. I wasn't any quicker on the climbs compared to my regular bike. But it felt like I had fresh legs and a good tailwind! My heart rate average was 136 bpm, which was actually a bit harder than I usually go on this route.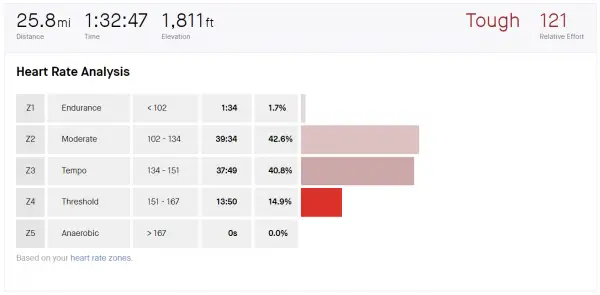 The Verdict
So what do I think of the Ribble Gravel AL e? I've really enjoyed riding it, and I'll be keeping hold of it for a bit longer as Ribble isn't in a big rush to have it back. I have been planning a ride up to Wiltshire before Christmas and I'd love to see if the Ribble can do the 135 miles on one charge.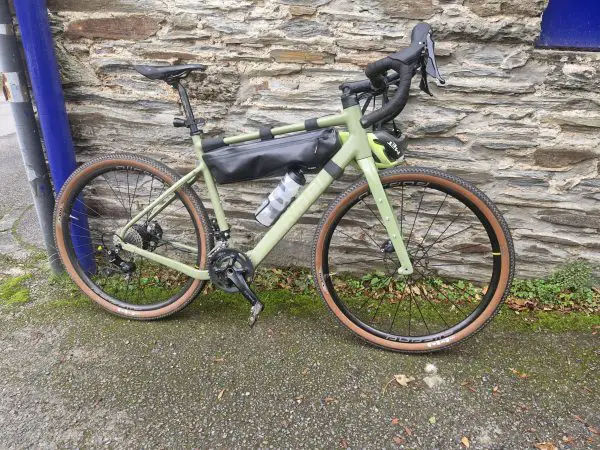 I love the frame geometry. It's very comfortable and it feels surprisingly lively on the tarmac, despite the heavy weight and big tyres. Handling is very confidence inspiring and the Shimano GRX 400 drivetrain performs flawlessly. I've yet to really test it off-road, but I plan on doing this in the next week or so.
Based on my experience so far, I would have no problem in recommending the Ribble Gravel AL e. If you're looking for a gravel e-bike that's not too heavy and can be ridden as a normal bike. Then it's well worth considering.