Suppose you're looking for a cheap, cheerful, budget electric bike with decent power and battery range. The new Duotts C29 might be worth a look. Rocking a 750w hub motor and an impressive 48v 15Ah battery, the C29 has an impressive spec for a sub €900 e-bike. This article looks at the specifications to see if it's a worthwhile option. As always, if we can get a sample for review, we'll update this article accordingly.
Specification
| | |
| --- | --- |
| Motor | 750-watt Rear Hub Motor |
| Battery | 48v 15Ah / 750Wh |
| Range | 50 – 100 km (claimed) |
| Top Speed | 50 km/h (claimed) |
| Gearing | Shimano 21 Speed / 3 x 7 |
| Brakes | Mechanical Disc Brakes (unspecified) |
| Suspension | Coil-Sprung front suspension fork |
| Weight | 26 kg |
| Accessories | Front Light, Kickstand |
| Price | RRP (See below for discount price) |
Pros
750w Hub Motor
Good Value for Money
760Wh battery
29er Wheels
Cons
Budget Components
Only Suitable for mild off-road riding
Fairly Heavy
The electric bike market is awash, with more budget options now than ever in the last few years. Now and again, we get asked to have a quick look over what's on offer. The Duotts brand is relatively new and based in Shenzhen, China – they sell a range of powerful e-scooters and budget electric bikes. Their range is distributed through warehouses in the EU and the UK.
Electric Components
Motor
The Duotts C29 uses a standard 48v brushless, geared rear hub motor. The rated power is an impressive 750 watts, more than is usually found on e-bikes of this price point. We would assume that performance on flat and moderate hills would be strong, with the motor starting to struggle on very steep climbs (20%>).
The electrical system on this e-bike is rated to IP54, which provides a reasonable level of water resistance – riding in showers and light rain should be fine, but sustained, heavy downpours and riding through deep puddles should be avoided.
Display
For rider info and changing assist levels, an LCD GD01 is used – this display is used on several e-bikes we've previously tested. It's clear, easy to use, and provides all the functionality you would expect of a display.
Battery
One area the Duotts C29 excels in is battery size. 760Wh is a good energy capacity for an e-bike of this price. It does use unspecified 18650 cells, which may mean diminished longevity (when compared with a brand-named cell like Samsung or LG). The battery uses a standard Hailong case, so it would be easy to upgrade or replace when the time came.
Regarding range, Duotts claim a range of 50 to 100 km (31 to 62 miles) from a full charge. Based on previous testing of similar-sized batteries, we suggest a realistic range around the 60 km (37 miles) mark. This may be higher or lower depending on rider weight, terrain and power level.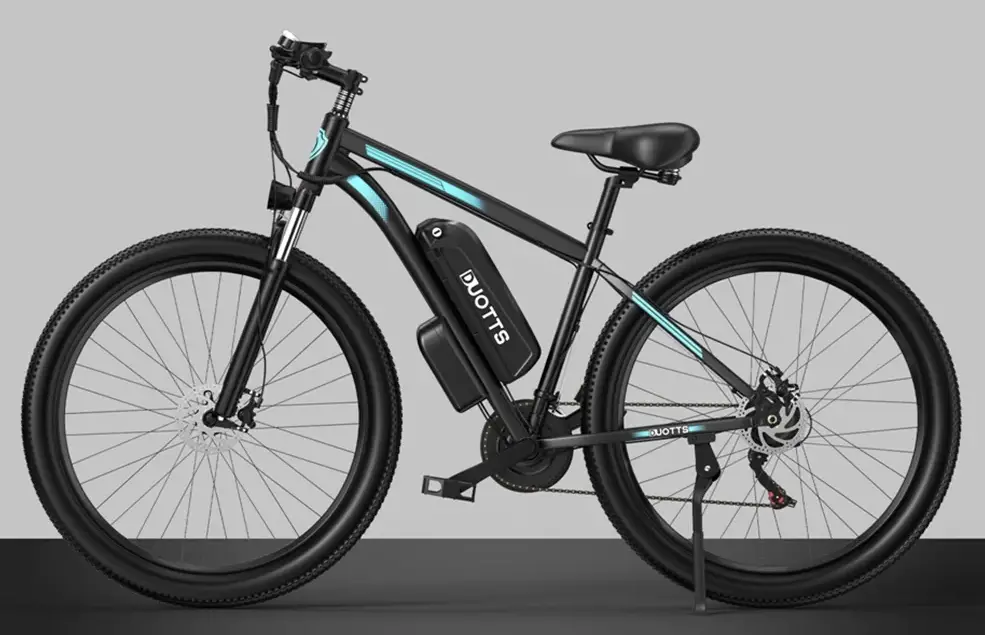 Bike Components
The components used are as expected from an electric bike in this price range. The dependable Shimano Tourney 7-speed rear derailleur has a 14-28 freewheel. Upfront, there's an unspecified front derailleur and triple crankset. Gear shifting is done using Shimano TX50 thumb shifters.
Unspecified mechanical disc brakes provide braking. The rotor diameter is likely 180mm (although not confirmed). These generic disc brakes usually provide fairly unremarkable but predictable braking performance. Expect some annoying brake noise during the initial bedding-in period.
An unbranded, coil-sprung suspension fork is used. This will be suitable for light off-road use only – canal towpaths, gravel, dirt, etc. But, nothing too tough. The forks can be locked out if required, and there is a small amount of preload adjustment.
The frame and finishing kit are made from aluminium, and the frame geometry is fairly typical of an e-bike of this price. There are ergonomic-style handlebar grips and a big gel saddle for added comfort.
Duotts C29 Sizing
Recommended rider height is between 165 cm and 200 cm (5'4 to 6'5) – this is a very broad size range, and we would take it with a pinch of salt! Going by the dimensions below, we would say that either end of those heights will push these sizing limits to the max. As with other similar e-bikes, the frame comes in at a medium size – maybe 5'6 to 6'2 would be a better fit. There appears to be a fair adjustment in the saddle height, and the handlebar stem could be replaced with an adjustable item to improve rider comfort and fit.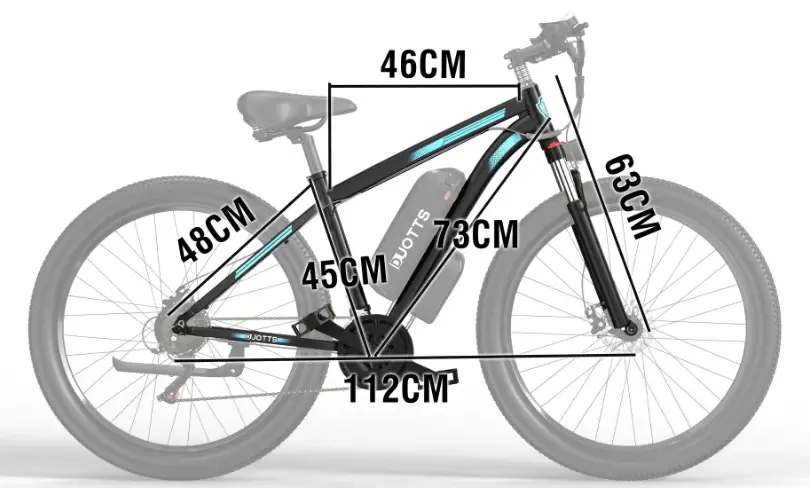 Suitability
The Duotts C29 looks like a good all-rounder – more of a 'hybrid' e-bike than a full-on electric mountain bike. You wouldn't want to take this on technical downhill trails, as you'd ask for trouble. Ride it on compacted gravel or dirt surfaces, and you'll be fine. The 29″ x 2.25″ tyres have a fairly balanced tread pattern, suitable for a mix of on and off-road riding. There should also be a degree of puncture resistance – although we always recommend carrying a spare inner tube and pump on long rides.
Verdict
For the price, we like the look of the Duotts C29. Based on the specifications, it seems good value for money. Battery capacity is above average for the price, and there's a powerful 750-watt hub motor. Everything else about the C29 is fairly generic and unremarkable.
If you are in the market for a budget electric bike with light off-road capabilities a decent battery range, and strong performance, the Duotts C29 is well worth considering.