I've seen these tiny e-bikes before, but have always dismissed them as impractical novelty items. They're not e-bikes or e-scooters but somewhere in the middle. The question is are they a practical micromobility solution? In this article, I'm going to be taking a closer look at the features and specifications of the Himo H1 to see if it's a viable alternative to an e-scooter.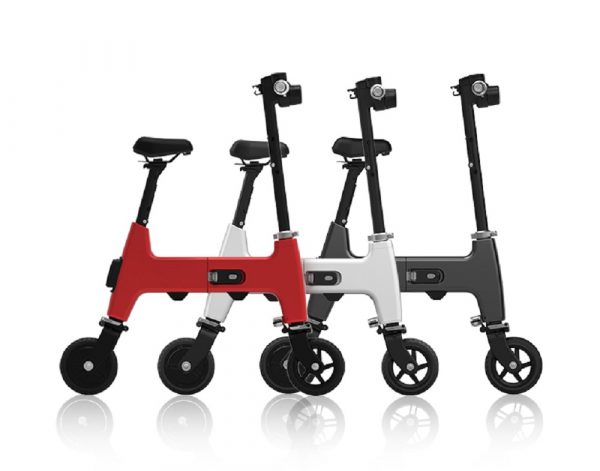 Himo H1 Pros and Cons
Pros:
Very small – can be folded up and carried anywhere.
Ideal for 'last mile travel' – quicker than walking and cheaper than a taxi.
Relatively lightweight – When compared with the average folding e-bike, the 14.5kg weight is about the same as an e-scooter.
Affordable – At under €400, the Himo H1 costs about the same as an e-scooter so it's not going to break the bank!
30km range – with a 36v 7.5Ah battery I would say this is a little optimistic unless the rider is very light and the road surface is flat.
Cons:
Tiny wheels will be susceptible to potholes, cracks and other surface imperfections.
Not suitable for larger, heavier riders (weight limit of 100kg).
Would be illegal to use in countries like the UK (still waiting for these new laws regarding micromobility).
Slow when compared with the average e-scooter – 18 km/h vs 25 km/h
The low power output of 180w means it will only be suitable for riding on totally flat ground.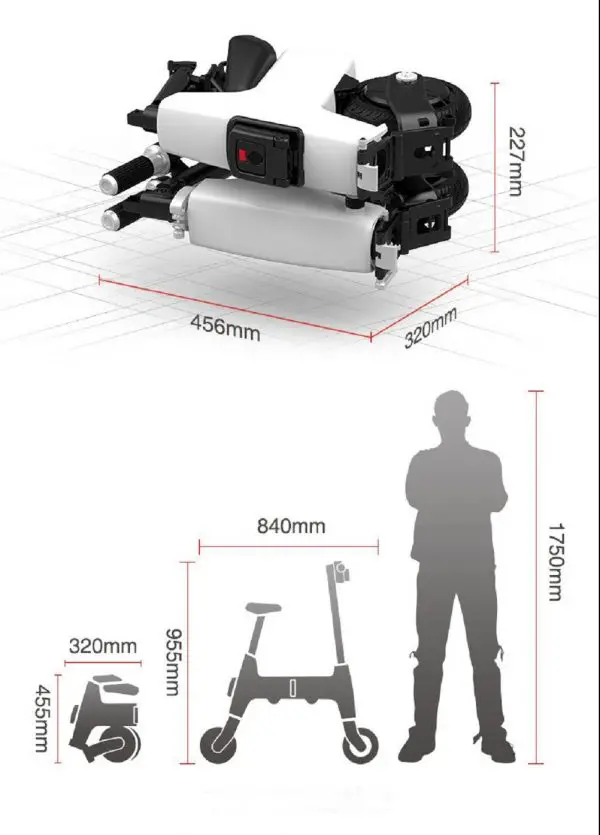 A Micro E-Bikes any Good?
I'm hoping to get my hands on one of these sometime in the near future, so I can better understand how they feel to ride. Although at 185cm and 102kg in weight, I'm not sure how I'd get on riding one of these! I think if you're a smaller rider and don't weigh too much, then a micro e-bike might well be a viable form of transport and useful for short, urban journeys.
The Himo H1 is not going to be suitable for riding on anything other than smooth tarmac. The small wheel diameter will make the H1 susceptible to road imperfections – you're going to have to be very careful riding one of these about town!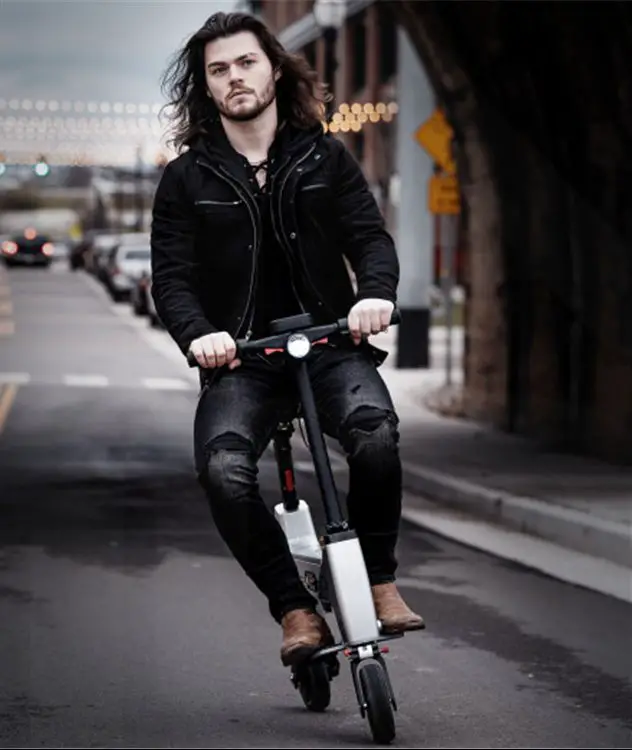 If your commute involves a park and ride, bus or train journey which stops short of your place of work and you don't want to walk the last couple of miles, I reckon this would be a good solution, much, in the same way, an e-scooter is.
Micro E-Bike vs E-Scooter vs Folding E-Bike
In 2022 we're truly spoiled for choice when it comes to personal transportation devices. In the last few years, we've seen the emergence of e-bikes, then e-scooters. These micro e-bikes have been around for a few years now – originally they were seen as a novelty item, but the reality is they are a very useful tool for some commuters.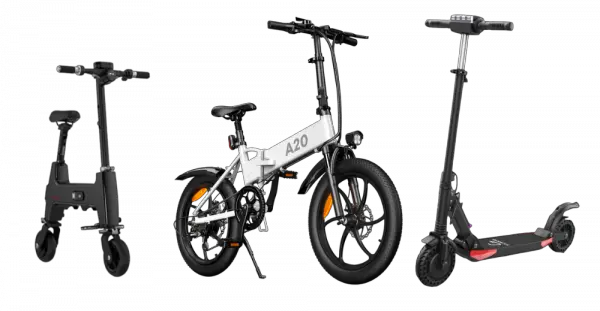 Folding E-Bike
Folding e-bikes are great, but they can be bulky and are usually quite heavy. I'm currently using the Morfuns Eole X folding e-bike and it's a practical electric bike that I use for shopping and general running around on. It's comfortable, has good brakes and handles well. I can ride it for around 50 km on a single charge. But, it weighs in at nearly 20kg and would be overkill for last-mile travel.
Electric Scooter
I think electric scooters are great fun and a really practical solution for commuters and leisure riders everywhere.  Most of the e-scooters I have tested are a little underpowered to be suitable for larger riders. When compared with micro e-bikes they share a lot of similarities, but are generally more powerful, and have larger batteries and slightly larger wheels, making them more suitable for varied terrain and longer rides.
Micro E-Bikes
Where micro e-bikes really excel is their diminutive folded size. The Xiaomi Himo H1 has folded dimensions of 45cm x 32cm and could easily fit in a large bag for transport. A folded e-scooter is quite long and may not be ideal for a crowded train or bus, the H1 is more like carrying an extra bag.
As I've mentioned above, if you only need transport for a couple of miles and you're travelling on well-paved surfaces, then a micro e-bike could be an excellent alternative to an e-scooter or folding e-bike.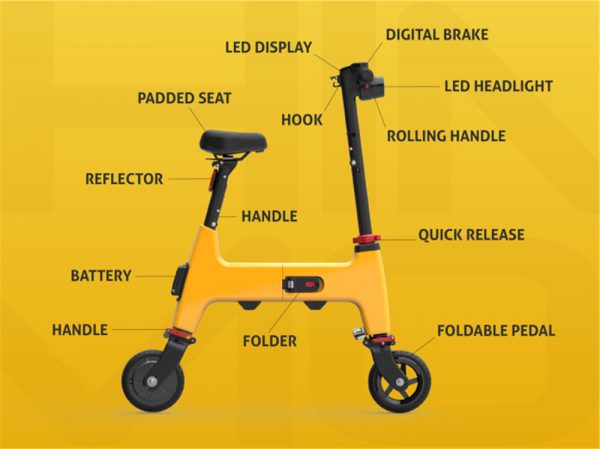 Xiaomi Himo H1 Key Features
Motor: 180w brushless rear wheel motor
Battery: 36v 7.5Ah removable battery
Top Speed: 18 km/h top speed
Display: Clear LED display
Throttle: Throttle control (no pedals)
Braking: Electronic braking (uses motor for braking)
Weight: 14.5kg
Maximum rider weight: 100kg
Folded Size: 450mm x 320mm folded size
Conclusion – Would I Buy a Micro E-Bike?
The simple answer for me is no. It would be totally unsuitable for someone my size and it's very hilly where I live with poor road surfaces. However, if you live in a large town or city that has good cycling infrastructure with smooth surfaces and no hills, then I can see the Himo H1 being a practical alternative to an e-scooter or folding e-bike.
The Xiaomi brand is a global leader in tech innovation and the Himo H1 will definitely be built to a decent standard. I've tested several Himo e-bikes in the past and have always been impressed with the general build quality and reliability.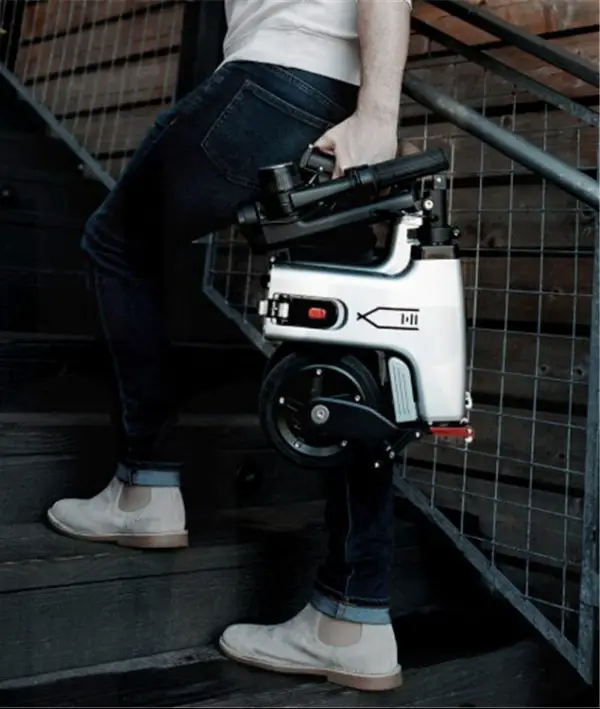 Priced at under €400 it costs about the same as a budget electric scooter and is considerably cheaper than a folding e-bike. If you're looking for a means of transportation, but don't like the idea of an e-scooter, then the H1 would be a great option.
Visit Himo for More Information
Related Articles