Buying an e-bike online can be very hit-and-miss if you don't know what to look for. In this guide, I will recommend 7 of the best electric bikes on Amazon UK based on my experience with these bikes, and I will also include a buying guide to finding the right electric bike on Amazon.
The Best E-Bikes on Amazon UK
Guide to buying an e-bike on Amazon
Buying your first electric bike from Amazon can be a daunting task. There are so many choices that knowing which bike is right for you can be hard. Below, I've included a checklist of important things to consider before taking the plunge.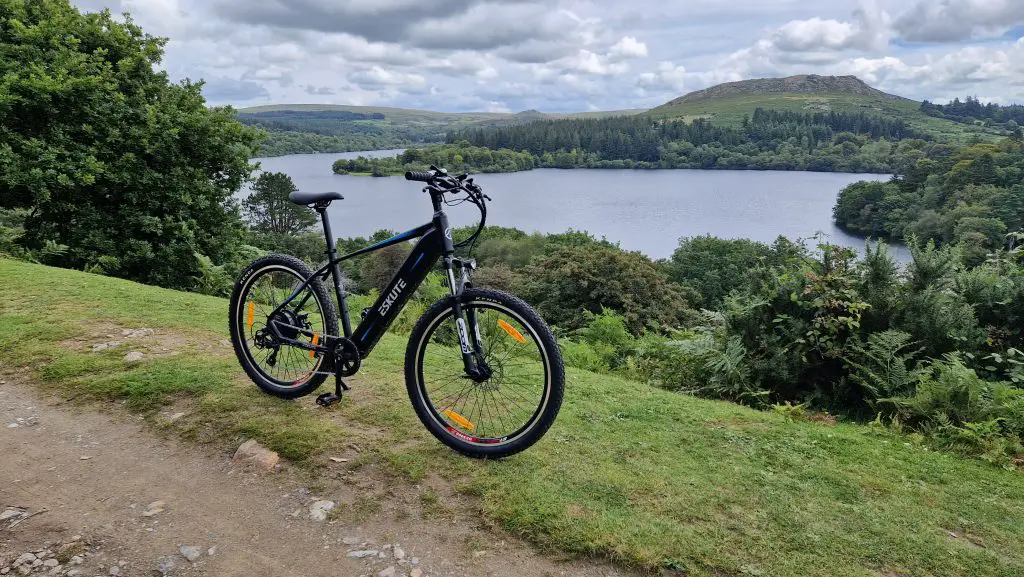 Legality
In the UK, e-bikes are legally classified as 'Electrically Assisted Pedal Cycles' (EAPCs). They don't require a licence or registration as long as they meet certain criteria: the motor shouldn't be able to assist you when cycling more than 15.5 mph, and the power shouldn't exceed 250 watts. Riders must be 14 years or older.
Customer Reviews:
Always check customer reviews. They provide real-world insights into the bike's performance, reliability, and potential issues. Look for e-bikes with many positive reviews, but read through negative reviews to identify common problems.
Types of Motor
Most of the e-bikes available on Amazon use hub motors. These are cheaper and easier to fix if they go wrong. Hub motors are great for city riding but not for steep hills. Mid-drive motors are more complex but produce greater torque for hill climbing and off-road riding. Please read my guide on hub motors vs. mid-drives.
Weight
E-bikes are generally heavier than traditional bikes due to the motor and battery. Consider the bike's weight, especially if you must carry it upstairs or transport it frequently. Fat tyre e-bikes are very heavy and often weigh over 30 kg.
Battery Capacity/Range
Battery range is an important consideration. Check the battery's capacity (amp-hours or Ah) and the estimated range (how far you can go on a single charge).
Remember, factors like terrain, rider weight, and level of motor assistance can affect the actual range. The range calculator below will give you a rough estimate based on a 250w e-bike with a peak power 540w.
E-bike Battery Range Calculator (250w motor)
Estimated e-bike range:
0
km
Intended use
Commuting: Look for e-bikes with pannier racks, mudguards, and lights.
Mountain Biking: Opt for robust frames, good suspension, and off-road tyres.
Touring: Prioritise range, comfort, and storage options.
Sizing
Choosing the right frame size is very important, as riding an e-bike that's too large or small can compromise safety and comfort. Most manufacturers provide a sizing chart. The sizing chart below is intended as a rough guide – please read the accompanying notes.
E-bike Sizing Chart
| Rider Height (Feet & Inches) | Rider Height (cm) | E-bike Frame Size (inches) | Recommended E-bike Size |
| --- | --- | --- | --- |
| 4'10" – 5'2″ | 147 – 157 | 13 – 14 | Extra Small (XS) |
| 5'2″ – 5'6″ | 157 – 167 | 15 – 16 | Small (S) |
| 5'6″ – 5'10" | 167 – 178 | 17 – 18 | Medium (M) |
| 5'10" – 6'1″ | 178 – 185 | 19 – 20 | Large (L) |
| 6'1″ – 6'4″ | 185 – 193 | 21 – 22 | Extra Large (XL) |
| 6'4″ and above | 193 and above | 23 and up | Extra Extra Large (XXL) |
Notes:
This chart is a general guideline. Different e-bike manufacturers might have their own sizing recommendations.
Frame size is typically measured from the bottom bracket's centre to the seat tube's top.
Factors like e-bike design, intended use (mountain, road, city), and rider preference can influence the best size choice.
Women-specific e-bikes might have slightly different geometry, but the sizing based on height remains relatively consistent.
Always consult the e-bike manufacturer's sizing guide or visit a local bike shop for a professional fitting.
Comfort
Most leisure riders want to be comfortable, and you should look for a bike with an upright riding position and some front suspension (for riding off-road)
Accessories
Most of the budget e-bikes available on Amazon come with various accessories. Things like mudguards, pannier racks, lights and kickstands are very useful if you use the bike for commuting.
Warranty
Electric bikes should have a warranty of at least 12 months for electrical components. Some budget brands now offer up to 2 years, which aligns with the big-name brands.
Price
Set a budget, but try to be a little flexible. If, for example, you need a longer range, then it's worth spending a little extra rather than buying a spare battery.
Finally, take your time and research; you'll be well on your way to finding the perfect e-bike for your needs. Happy e-biking!
How do we select our recommendations?
The recommendations below offer good value for money and have good customer feedback on Amazon. In addition, I have tested all these e-bikes myself. I have included links to the full review articles and YouTube videos.
Eleglide M1 and M1 Plus
Best electric mountain bike under £700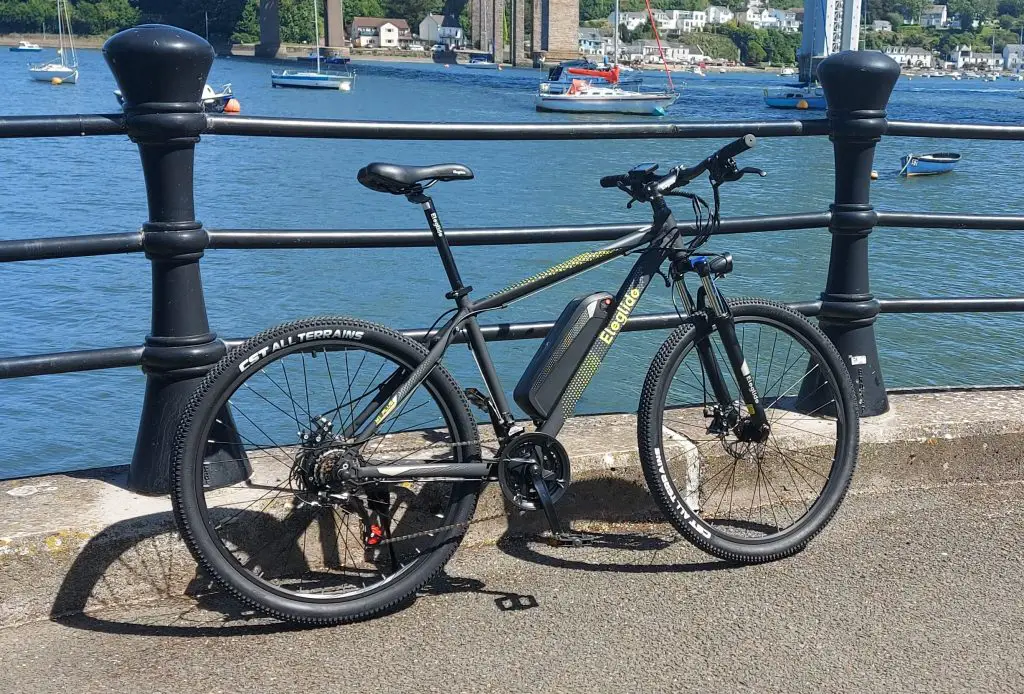 Pros
Great value for money
Not too heavy
Reasonable performance
Cons
Poor braking performance
Delay in pedal assist
Key features
Motor: 250w rear hub motor
Battery: 36v 7.5Ah (M1) 36v 12.5Ah (M1 Plus)
Range: 30-40 miles (M1) 20-25 miles (M1 Plus)
Weight: 21.7kg (M1 Plus)
The Eleglide M1 and M1 Plus are both very popular on Amazon UK. I have tested both e-bikes and although they're not perfect, they offer excellent value for money. The M1 Plus would be my choice as it has a slightly larger battery, but apart from that, they're identical. Power is adequate for moderate hills, and the bike is comfortable with plenty of adjustment in the seat post for short or taller riders.
Watch the video review on YouTube.
---
Eleglide Citycrosser
Best e-bike with torque sensor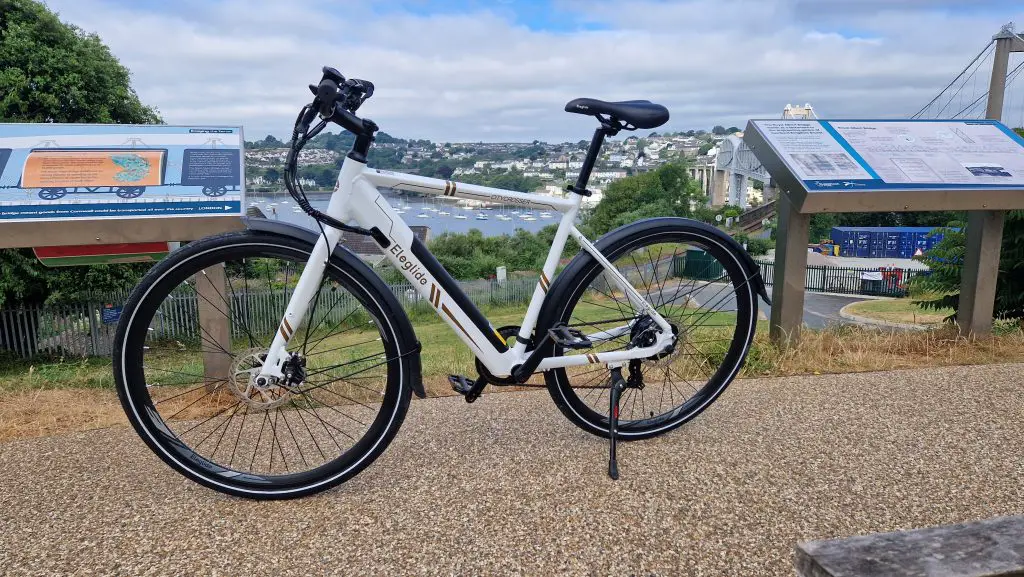 Pros
Torque-sensing pedal assist
Excellent value for money
Lightweight for an e-bike
Cons
Noisy brakes
No front suspension
Key features
Motor: 250w hub motor with torque-sensor
Battery: 36v 10Ah battery
Range: 40-50 miles
Weight: 18.9kg
The Eleglide Citycrosser is the cheapest e-bike available with torque-sensing pedal assist and, in my opinion, is one of the best value e-bikes currently on Amazon. It's relatively lightweight, comfortable and has a good battery range. The Citycrosser has a rigid frame, so may not be suitable for rough terrain, although it's fine for gravel. As for sizing, it comes as a medium frame, so will be suitable for riders from around 5'6″ to 6'2″.
Watch the video review on YouTube.
---
Eskute Polluno Plus
Best electric bike for battery range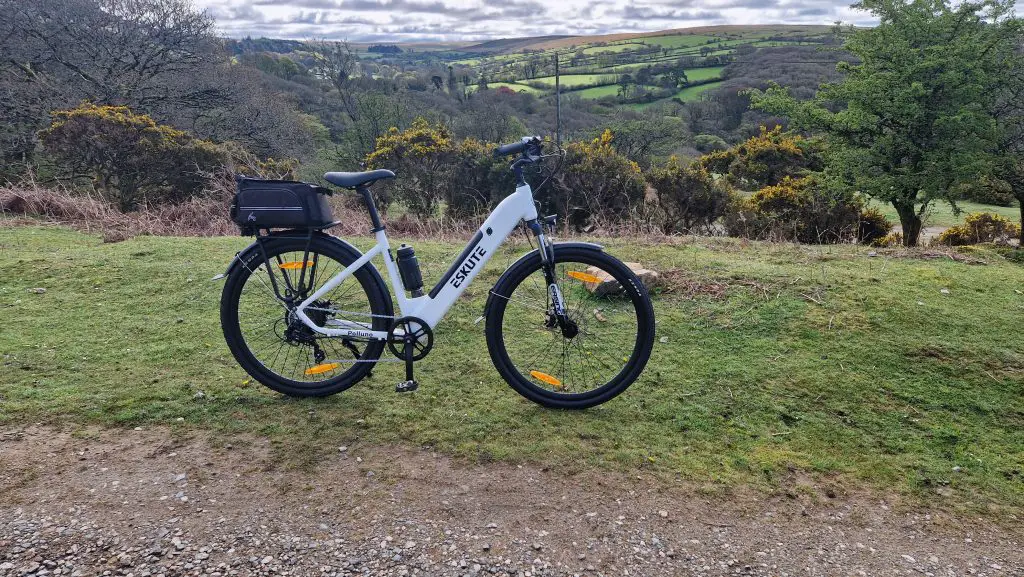 Pros
Bafang hub motor
Long-range battery
Torque-sensing pedal assist
Comfortable for longer rides
Cons
Fairly heavy
Struggles with steep hills
Key features
Motor: 250w Bafang hub motor with torque-sensing pedal assist
Battery: 36v 20Ah battery
Range: 50-80 miles
Weight: 25 kg
The Eskute Polluno Plus is a real mile-muncher, thanks to its 720Wh (36v 20Ah) battery and comfortable riding position. I have ridden over 50 miles in one go on the Eskute and still had a battery remaining at the end of the ride. The Bafang hub motor is smooth and reliable, and its performance is good enough for moderate hills (but struggles on steep hills). The Polluno Plus is great for longer leisure rides or daily commutes and comes with mudguards, a rack, lights and a kickstand.
Watch the video review on YouTube.
---
Eskute Netuno
Best electric mountain bike under £1000
Pros
Bafang hub motor
Samsung-cell battery
Zoom suspension forks
Cons
Brakes felt vague
Pedal assist delay
Key features
Motor: 250w Bafang rear hub motor
Battery: 36v 14.5Ah
Range: 35-40 miles
Weight: 22 kg
Currently priced at under £900, the Eskute Netuno is a great budget electric mountain bike option. It benefits from a Bafang hub motor, a comfortable riding position and a 36v 14.5Ah battery. The battery uses quality Samsung cells, and I tested the range at 35-40 miles using level 4 assist. It's a comfy bike, and the Zoom suspension fork provides adequate damping for light off-road riding or commutes on poorly surfaced tarmac.
Watch the video review on YouTube.
---
Cyrusher XF800
Best electric fat bike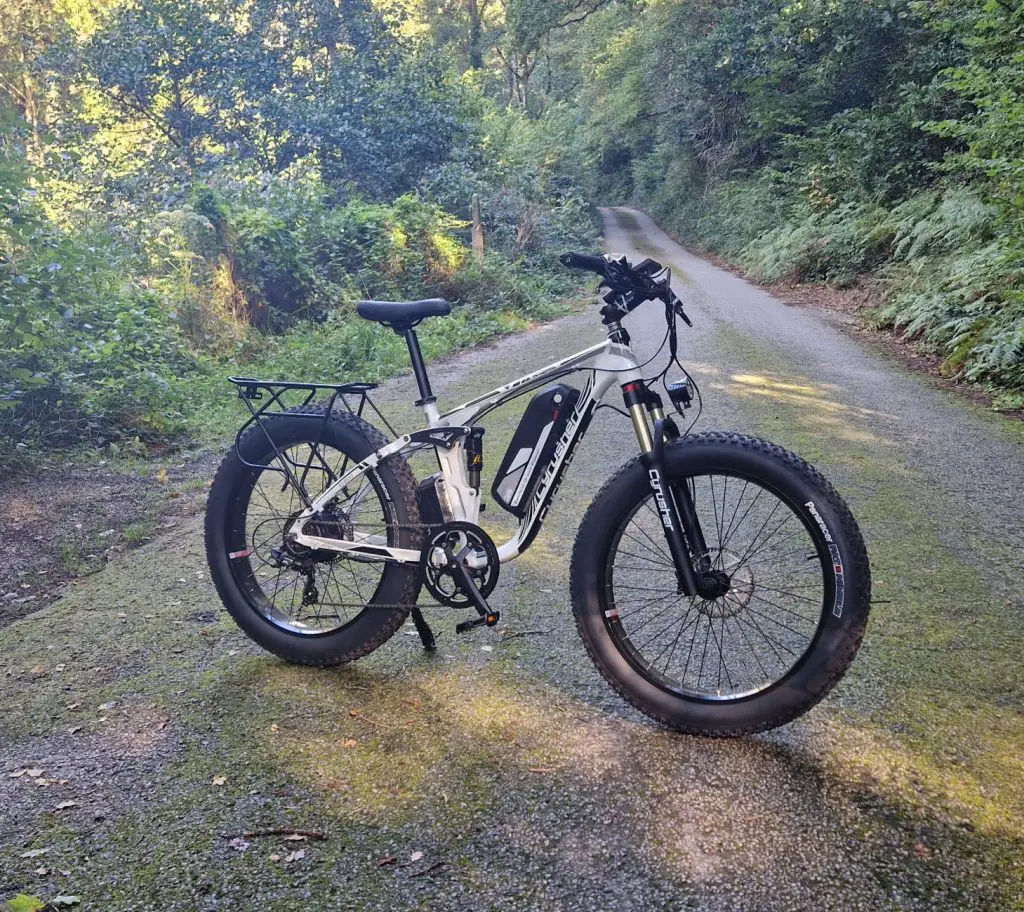 Pros
Powerful Bafang motor
Front and rear suspension
Very comfortable
Cons
Not legal for road use
Low battery range
Very heavy
Key features
Motor: 750w Bafang rear hub motor
Battery: 48v 13Ah
Range: 25-35 miles
Weight: 32 kg
The Cyrusher XF800 is fun to ride and very powerful. This model has been around for a few years and features the excellent 48v 750w Bafang motor with a peak power of over 1000w. The hydraulic brakes offer good stopping power, and the dual suspension gives the bike a magic carpet ride. It's also very comfortable.
Watch the video review on YouTube.
---
Enwge EP-2 Pro
Best folding fat tyre e-bike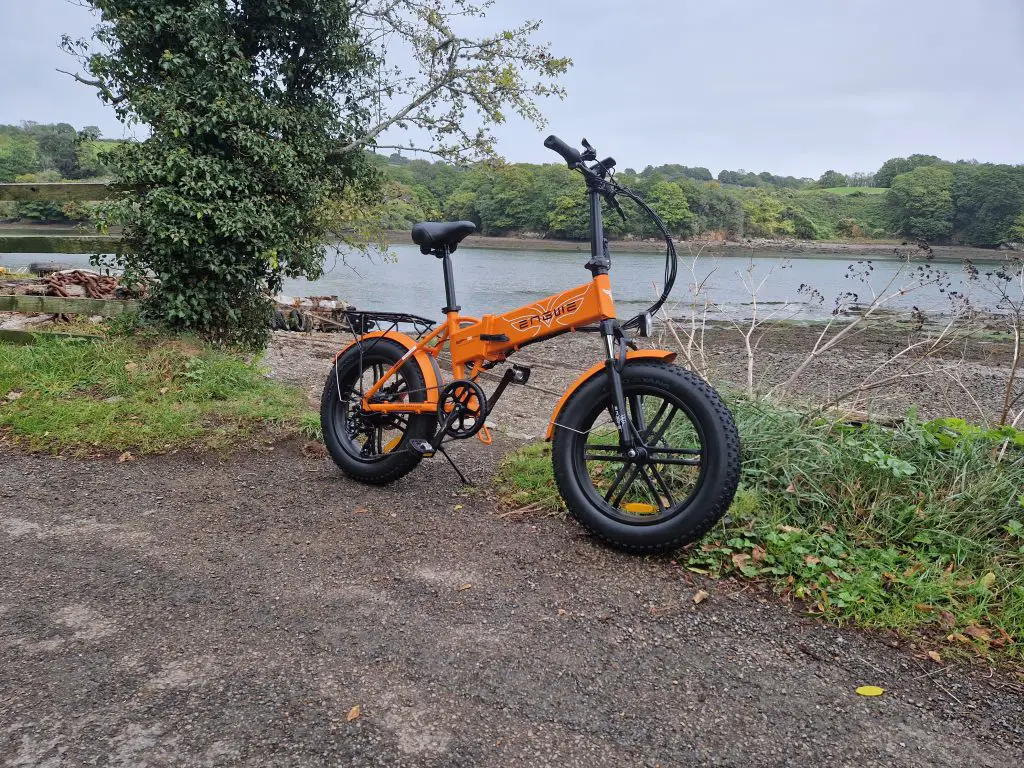 Pros
Powerful hub motor
Foldable design
Comfortable
Cons
Heavy
Not road legal
Noisy brakes
Key features
Motor: 750w rear hub motor
Battery: 48v 13Ah
Range: 20-30 miles
Weight: 31 kg
If you want a foldable e-bike with plenty of power, the Engwe EP-2 Pro is a good choice. The 750w motor has plenty of power for hills or cruising effortlessly along the flat. Battery range is on the low side, but you should still get at least 20 miles from a charge at the lower end. The mechanical disc brakes do the job but are annoyingly noisy.
---
Bodywel A275
Best step-through e-bike under £1000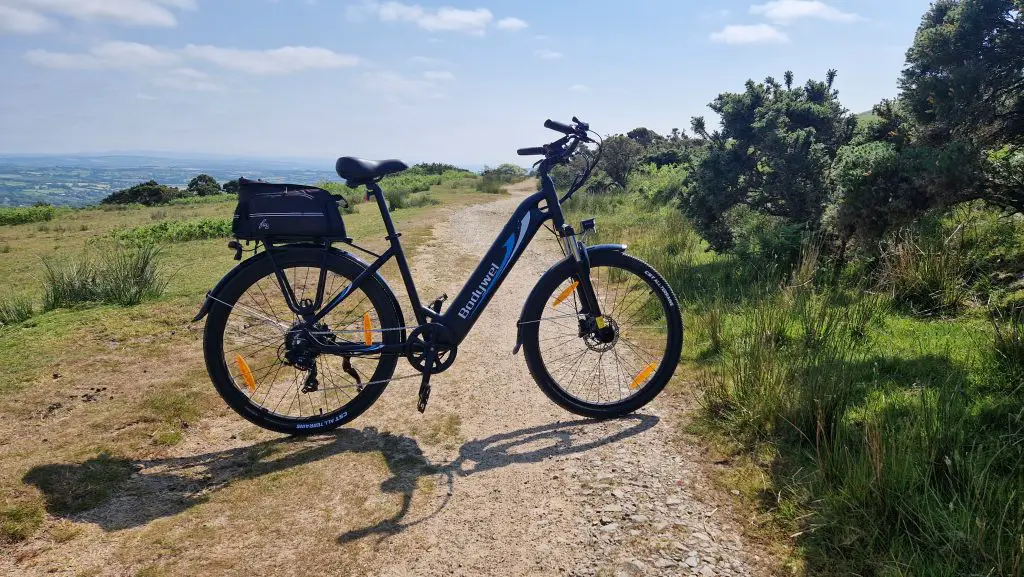 Pros
Very smooth motor
Great battery range
Hydraulic disc brakes
Key features
Motor: 250w rear hub motor
Battery: 36v 15Ah
Range: 40-60 miles
Weight: 24 kg
I enjoyed riding the Bodywel A275 daily for a few months, and it's a great step-through e-bike. The motor is smooth and powerful, and the battery range is surprisingly good. You have the added bonus of hydraulic brakes and a comfortable riding position. The A275 comes across as solid and well put together and would make a great commuter e-bike.