Not everyone wants a heavy e-bike that has loads of gears and a massive battery. If you're looking for a lightweight, nimble and low-maintenance electric bike, then the Gtech Sport Electric Hybrid Bike ticks all the right boxes.  There's also a step-thru version available called the Gtech City. Read my review below to see why these e-bikes continue to be popular in 2020.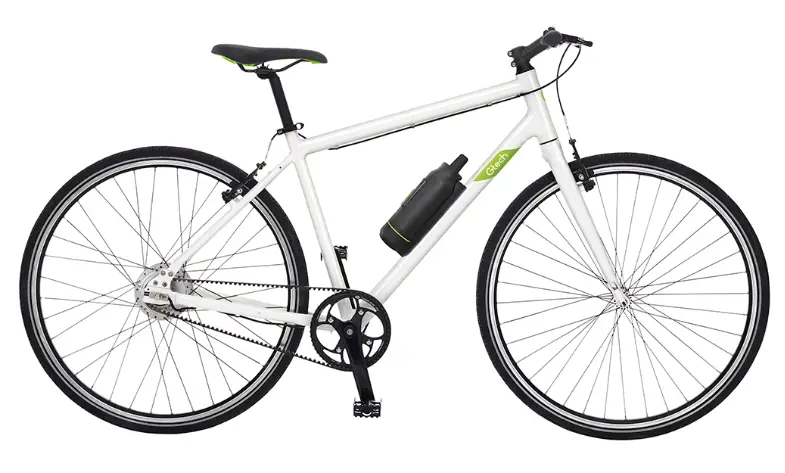 Summary
If you were asked to design the perfect, minimalist e-bike, you would go for single-speed, maybe with a Gates carbon belt drive, a lightweight alloy frame and a small rear hub motor with a compact battery.
The Gtech hybrid Sport meets all the above criteria and is also excellent value for money at under £1000. I managed to borrow one from an acquaintance to see what all the fuss was about, and although the area in which I live is not suitable for a single-speed bike, I was still impressed with what the Gtech had to offer.
Please note: The Gtech Sport is no longer available – a great alternative is the Tenways CGO600 which also is lightweight, single-speed with a Gates Carbon Belt Drive.
Gtech City Electric Bike
There is also a step-through e-bike version called the Gtech City. This uses all the same components as the Sport version, but has a low-step frame and a comfort gel saddle, making it an ideal electric bike for Women or older riders who have trouble with regular frames. It's also slightly smaller with a 17″ frame (as opposed to the 20″ frame of the Sport).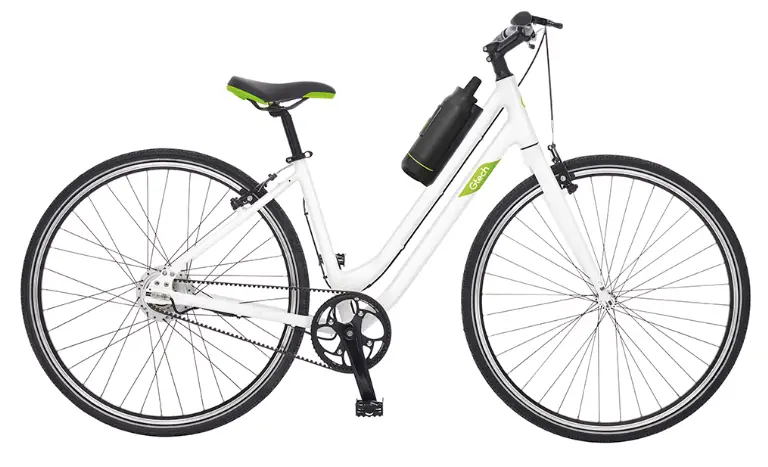 Electric Components
The Gtech Sport Hybrid e-bike is designed to be lightweight and nimble, electric bike components on the other hand are usually quite heavy (particularly the battery). To keep the weight to a minimum, some sacrifices need to be made, and in the case of the Gtech, it's the battery.
Motor
A compact 250w rear, geared hub motor is used on the Gtech,  this type of motor is lightweight, efficient and small. These motors are generally very reliable and should be maintenance-free for the duration of ownership, but it should be noted, that due to the low power and single-speed gearing, the motor will struggle on very steep hills. The Gtech is suited to flat or moderately rolling terrain.
There are 2 levels of pedal assist to choose from – low or high. I found the lowest level was ideal for cruising around on the flat, and high power was excellent for helping with moderate hills.
The pedal assist sensor used on the Gtech is torque-sensing, which means it senses the amount of force you are applying to the pedals and gives you electric assist in proportion to that force. Effectively this measures your effort and amplifies it, giving you the feeling that you've developed super-strong legs!
Battery
The 36v 5.6Ah lithium battery pack only weighs 1.4kg, and a range of 20-30 miles maximum can be achieved. This battery has half the energy capacity of other e-bikes at this price, but it does help keep the total weight of the bike down, plus you can purchase spare batteries if required.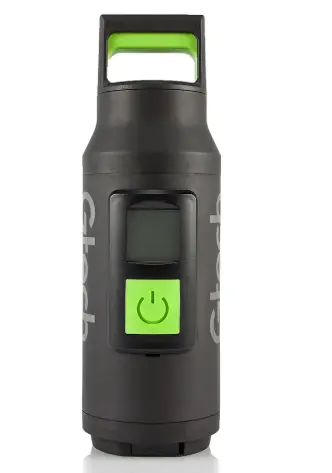 Bike Components
When it comes to lightweight commuter electric bikes, the single-speed and belt-drive system is a great idea. The Gates carbon belt drive uses a specially machined chainring and rear sprocket which produces a silent and maintenance-free drive, and unlike chains, the Gates belt should last the lifetime of the bike. Another great thing about belt drives is you don't need to worry about getting chain oil on your clothes.
Brakes
The Tektro v-brakes work very well in the dry but do become less effective in the wet. As long as they are kept adjusted properly then they will do the job of stopping well enough, this brake arrangement will also contribute to the Gtech's low weight. The great thing about v-brakes is they are easy to adjust, and the brake pads can be easily replaced.
Wheels and Tyres
700 x 38c hybrid tyres are fitted to double-walled alloy rims, making the Gtech Hybrid Sport roll very well indeed. This bike glides over smooth tarmac and also handles slightly rougher surfaces with ease.
Frame
The Gtech's lightweight frame is made from aviation-grade alloy and is tough enough to handle the rigours of city riding but light enough to keep the weight down. All the electric cables are internally routed, making for a very neat finish.
Who is the Gtech Sport Hybrid e-Bike best suited for?
If you're looking for a lightweight electric bike, that requires minimal maintenance, then the Gtech could be for you. Bear in mind that as a single speed, it will not be particularly suitable for commuters that have steep climbs to negotiate. I tested the Gtech on a short 10% gradient, and I still needed to put in a fair bit of effort, but it handled shallower gradients with ease.
The Sport version is only available in a 20″ frame size, so it may not be suitable for shorter riders. However, the easy entry/step-thru frame Gtech City is available in a 17″ frame.
If you're after a reliable weekend recreational e-bike, then the Gtech is perfect for riding light cycle trails and canal towpaths. Because the bike is so light, it's nice and easy to get on and off a typical car rack.
Conclusion
Although the Gtech Sport Hybrid Electric bike is very basic for the price, this is also one of its redeeming features. I know a couple of people who have owned this bike for a couple of years and they are generally very reliable, maintenance-free and they look quite nice as well.
One of my friends has said that originally he used to get around 30 miles range out of the battery, but after a year of daily commuting, this has now dropped back to around 20 miles. This is not unusual for a lithium battery and replacements are available from Gtech customer services.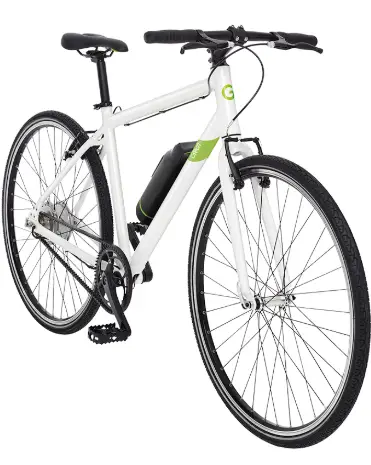 I have ridden one of these around my area in Cornwall, and I can say that it's not suitable for steep hills, unless you stomp on the pedals. If you're riding on fairly flat terrain or moderate hills then it's a breeze to ride.
The motor is smooth, and the Gates belt drive is silent. And if you don't need the electric assist, you can ride it just like a normal bike, without really noticing the extra weight.
Not everyone wants a heavy e-bike with loads of gears. Most of the electric hybrid bikes available at this price weigh 20kg or over, the Gtech comes in at a svelte 16kg!
I like the Gtech, it's simple and effective – no more worrying about changing gear or oily chains. There's no doubt that it's suitable for urban riding. It's fast, nimble, and if you have to carry it upstairs – no problem!