If you're an avid hunter and are looking for a quiet and efficient way to get around, the best hunting electric bikes can be an invaluable tool in the wild.  These bikes are designed to help hunters ride through rocky or hilly terrain and cover a lot of ground. Hunting e-bikes also make it easier to haul larger game compared to a traditional mountain bike and are quieter than trucks.
That said, finding the perfect electric bike for hunting could be a difficult task. This article walks you through some important features to look for in a hunting e-bike and lists 7 options that might suit your needs. At the bottom of this article is our hunting electric bike buyer's guide.
Best Hunting Electric Bikes in 2023
If you're buying an e-bike specifically for hunting, these 7 options are worth considering. All the electric bikes featured below will be suitable for hunting in different scenarios. In 2023, there are more options than ever for hunting-specific electric bikes, and I will be adding to this article in the coming months.
---
Frey Liberty Hybrid Hunter
| | |
| --- | --- |
| Motor Type | Mid-Drive (Bafang M620) |
| Power Output | 1000-watts (1500w peak power) |
| Battery Capacity | 1008Wh |
| Range | 37 miles (claimed) |
| Top Speed | 34 mph (claimed) |
| Suspension | GTMRK 120mm air suspension |
| Brakes | Tektro E730 Hydraulic |
| Gearing | 9-Speed Shimano |
| Weight | 74 lbs / 34kg |
| Availability | Visit Frey Bike |
The Frey Liberty Hybrid Hunter is a rugged hardtail fat tire e-bike featuring the excellent Bafang M620 motor and a 1008Wh battery. This bike is designed for traversing the wilderness with massive 26″ x 4.5″ fat tires, heavy-duty front air suspension fork, 4-piston Tektro hydraulic brakes and Shimano 9-speed gearing.
Coming in at $3350, the Frey is a solid option if you're looking for a tough e-bike for hunting. Plus, with a payload of up to 150kgs, the Liberty can carry everything you need. With up to 160Nm of torque, these Bafang motors are solid performers and come into their own on steep, technical trails.
---
Jeep E-Bike
| | |
| --- | --- |
| Motor Type | Mid-Drive (Bafang Ultra Drive) |
| Power Output | 1000-watts (1300w peak) |
| Battery Capacity | 696Wh |
| Range | 22-44 miles (claimed) |
| Top Speed | 28 mph |
| Suspension | 150mm RockShox Monarch RL | 140mm QK Inverted Air-Suspension |
| Brakes | Tektro 4-piston hydraulic |
| Gearing | SRAM 9-Speed |
| Weight | 70 lbs |
| Availability | Available from QuietKat |
The Jeep e-bike is everything you'd expect from the first electric bike to wear the iconic brand name. Featuring top-quality components, from the SRAM gearing, through to the Rockshox suspension and Tektro 4-piston brakes. The Jeep is a beast of a machine!
In addition to the quality components, the Jeep is powered by one of the most powerful production e-bike motors. The Bafang Ultra produces up to 1500 watts of peak power with 160Nm of torque, making it perfect for riding on rough terrain. Add 26″ 4.8″ tires into the mix, and you've got one of the most capable off-road electric bikes on the market. Plus, with over 300 lbs of carrying capacity, the Jeep e-bike is a perfect choice for hunters.
---
QuietKat Apex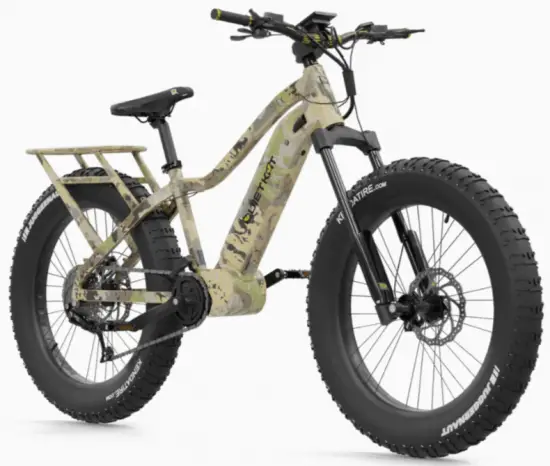 | | |
| --- | --- |
| Motor Type | Mid-Drive (Bafang) |
| Power Output | 750 – 1000-watts |
| Battery Capacity | 768Wh |
| Range | 24-48 miles (claimed) |
| Top Speed | 22-28 mph |
| Suspension | 150mm Inverted Suspension Fork |
| Brakes | Tektro 4-piston hydraulic |
| Gearing | SRAM 9-speed |
| Weight | 70 lbs |
| Availability | Visit QuietKat for more information |
The QuietKat Apex is the perfect choice for outdoor exploration. This powerful e-bike comes equipped with a Bafang mid-drive motor and a budget-friendly component package, making it the perfect choice for hunting and fishing in more rugged terrain. The integrated rack system makes it easy to take all of your gear with you, while compatibility with all QuietKat accessories ensures that you have everything you need to make the most of your adventure. Choose between the 750w or 1000w versions to find the perfect fit for your needs, then enjoy hours of fun and excitement on the open trail.
---
Himiway Cobra Pro
| | |
| --- | --- |
| Motor Type | Mid-Drive (Bafang M620) |
| Power Output | 1000-watts (1300w peak) |
| Battery Capacity | 960Wh |
| Range | 80 miles max (claimed) |
| Top Speed | 25 mph |
| Suspension | Front air suspension fork, rear shock absorber |
| Brakes | Tektro hydraulic 180mm discs |
| Gearing | Shimano 10-speed |
| Weight | 88 lbs |
| Availability | Visit Himiway for more info |
The Himiway Cobra Pro has been designed specifically for covering big miles on rugged backcountry terrain. Featuring a massive 400 lb load capacity and a powerful Bafang M620 mid-drive motor. The Cobra Pro is ready for all you can throw at it!
The battery is a respectable 960Wh with quality LG cells. The claimed max range of 80 miles may be possible on flat roads, but I reckon 50 miles is more realistic for this kind of setup. The Himiway boasts front and rear suspension and a 10-speed Shimano drivetrain with a wide-range cassette. Plus, there are hydraulic brakes and lights.
If you're looking for a high-spec at a sensible price, the Himiway Cobra Pro is a good option for hunters looking for their first e-bike, and well worth considering.
---
Wallke H6
| | |
| --- | --- |
| Motor Type | Rear Hub Motor |
| Power Output | 750-watts (1400w peak) |
| Battery Capacity | 1680Wh |
| Range | 80-170 miles (claimed) |
| Top Speed | 32 mph |
| Suspension | Hydraulic front suspension fork, 2 x rear suspension units |
| Brakes |  Hydraulic disc brakes |
| Gearing | Shimano 8-speed |
| Weight | 90 lbs |
| Availability | Available from Amazon |
The Wallke H6 fat tire folding e-bike offers unparalleled battery capacity. With a whopping 1680Wh courtesy of a dual battery arrangement, the H6 will take you further than any of the other bikes featured here. In addition, there's a powerful 750-watt rear hub motor that has a peak output of 1400 watts. Wallke claims a range of between 80-170 miles. I'd say the latter is unrealistic, but it should comfortably get you 80-100 miles if used sensibly.
It's not just about the battery range. Can the Wallke H6 carry you and all your hunting gear? With a carrying capacity of 350 lbs, it shouldn't be too much of a problem. Another benefit of the H6 is it's foldable, so you can easily fit it in the back of your vehicle.
---
Rambo Rebel 1000W XPC
| | |
| --- | --- |
| Motor Type | Mid-Drive – Bafang BBSHD |
| Power Output | 1500-watts (peak) |
| Battery Capacity | 1008Wh |
| Range | 48 miles |
| Top Speed | 28 mph |
| Suspension | GT Air Suspension fork |
| Brakes | Tektro HD-E725 4-piston hydraulic |
| Gearing | SRAM NX 11-speed |
| Weight | 69 lbs |
| Availability | Buy from eBay |
Another great hunting bike is the Rebel 1000W XPC, boasting a powerful mid-drive motor that packs a punch. It comes with a 48V battery that helps you travel long distances on a single charge. The thumb throttle feature makes pedalling through the wilderness easier, giving you a greater push as you make your way up the incline.
This e-bike allows you to ride as fast as 28 mph and has a weight capacity of 136 kg. Plus, the TrueTimber Viper Camo paint keeps you camouflaged on your hunting expeditions, so you gain more stealth.
---
QuietKat Ranger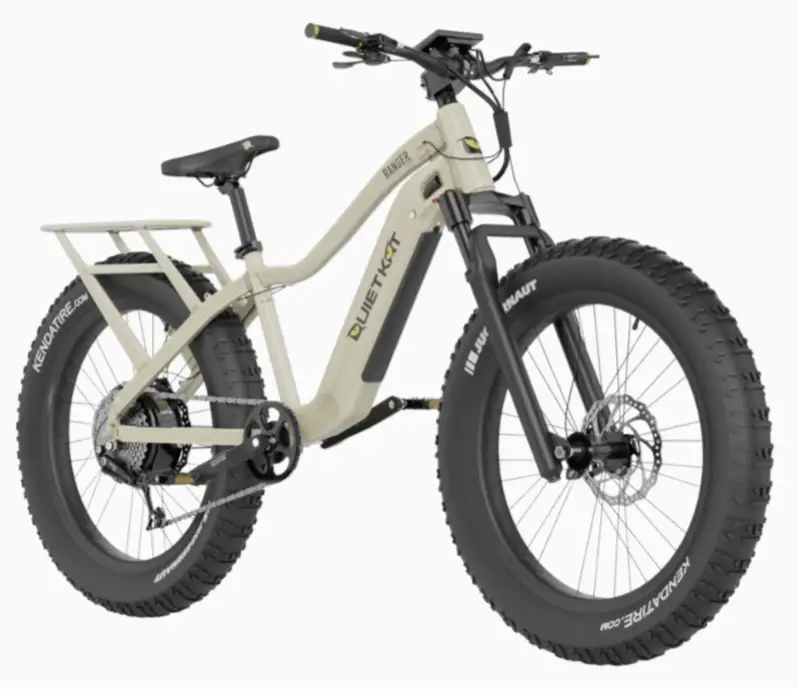 | | |
| --- | --- |
| Motor Type | Rear Hub Motor |
| Power Output | 1000-watts |
| Battery Capacity | 614Wh |
| Range | 19-38 miles (claimed) |
| Top Speed | 25 mph (20 mph 750w version) |
| Suspension | Mozo Coil front suspension fork |
| Brakes | Tektro Mechanical Disc |
| Gearing | SRAM 7-speed |
| Weight | 65 lbs |
| Availability | Visit the QuietKat website |
The QuietKat Ranger is a hunting e-bike with a formidable build and great value for money. Its 48V battery will keep you going even after several hours of riding. Besides this, it offers a good 132 kg weight capacity and a 48-mile range. This durable e-bike includes large tires that make your bike hunt a success, no matter how rocky the terrain is. It also has a stainless steel chain drive that propels you faster.
The only downside is that the rear hub-drive motor might make it slightly difficult to go up hills and inclines. Nevertheless, if you're looking for an electric bike for your casual hunting trips, this is a good option to consider.  
---
Hunting Electric Bike Buyer's Guide
Below I've listed some of the key benefits of using an electric bike for hunting. In addition, I have laid out some important features to consider when buying an e-bike for hunting. Remember, It's important to note that before buying an electric bike for hunting, you should check the local laws and regulations regarding the use of e-bikes in hunting areas. Some hunting areas may have restrictions on the use of motorized vehicles, electric or otherwise.
5 Reasons to Use an Electric Bike for Hunting
Stealthy: Some hunting areas are noise restricted. Most electric bike motors a fairly quiet and emit no more than a slight whine.
Carrying capacity: All of the e-bikes featured above are designed to carry more than just the rider. This makes them perfect for transporting your gear a few miles into the countryside.
Time constraints: If your hunting spot is a few miles from the road, then use an electric bike to get to your destination far quicker than walking.
Cost: If you usually use a quad or motorcycle to get where you're going, the fuel costs will add up over time. E-Bikes are fairly cheap to charge up and most will get you at least 25 miles even if full power is used.
Easier to transport: Although these are heavy by e-bike standards, they'll be a lot lighter and easy to transport than a motorcycle or quad.
What features should the Best Hunting Electric Bikes have?
Motor:  The

 

electric motor

is one of the most important components as it determines the power and performance of your bike. Mid-drive motors (like the Bafang) are much better suited to the kind of off-road riding required of a hunting e-bike. Powerful hub motors are good, but they are much better suited to gentler terrain.

Find out the pros and cons of a hub motor vs mid-drive.
Range: This will be dependent on your battery's energy capacity (in watt-hours) – ideally the higher the energy capacity, the better. Anything over 600Wh should be enough for an hour or two out in the wilderness. But, if you're planning on longer rides then you'll need a much bigger battery or maybe carry a fully-charged spare with you.
Weight Limit: Due to the nature of use, a

higher weight limit than usual is required. At least 120 kg, is preferable for hauling game and hunting gear.

Durability:

Hunting e-bikes need to be durable to help you navigate through rocky trails and rough weather. A warranty of one year and water resistance are key features you shouldn't miss out on.

Tires: If you're going to be negotiating tricky terrain, a fat tire e-bike is going to be the way to go! Fat tires are great for riding over obstacles like tree roots, and rocks and are a must when riding through snow, mud or sandy surfaces.
Add-Ons:

Some e-bikes come with trailers, carts, and

other accessories

that help you carry large game animals and firearms. 
Conclusion
I hope you've found this article useful. As a hunter, having good equipment is a must. And using an electric bike instead of a conventional one will give you greater speed, stealth, and performance when hunting. Plus, it will save you some money in the long run.
If I had to choose the best e-bike for hunting from the above selection, it would have to be the Jeep – as an all-around package, considering the high-quality components and other factors, it's hard to beat. But, that's not to say the others aren't worth a look. They're all going to be a really good option, it depends on your budget, the battery range required, and the kind of terrain ridden on. Find out more about the benefits and negatives of fat tire e-bikes.
With the insights provided in this article, you can now pick an electric bike that meets your budget and requirements. If you would like to know more about e-bikes, here are some e-Bike facts that may amaze you!
Thanks for reading and have a great time hunting on your e-bike of choice!