The PVY Z20 Plus is a new folding electric bike that's set to launch on Indiegogo around May 16th. Billed as 'The Ultimate All-Terrain E-Bike' it's certainly got a lot to live up to. The spec looks promising with a 250w motor (for EU and UK markets), a 792Wh battery and hydraulic brakes. Plus, it will be certified for EN15194 safety standards. If the price is right it could be a great seller. Let's take a closer look at the PVY Z20 Plus and its specifications to see if it's got potential.
Key Features:
250w Rear hub motor (with up to 1000w peak power)
25 km/h and supports unlocking to 50 km/h (subject to local e-bike laws)
48v 16.5Ah / 792Wh Battery
Hydraulic Disc Brakes
Front and rear suspension
CE Certification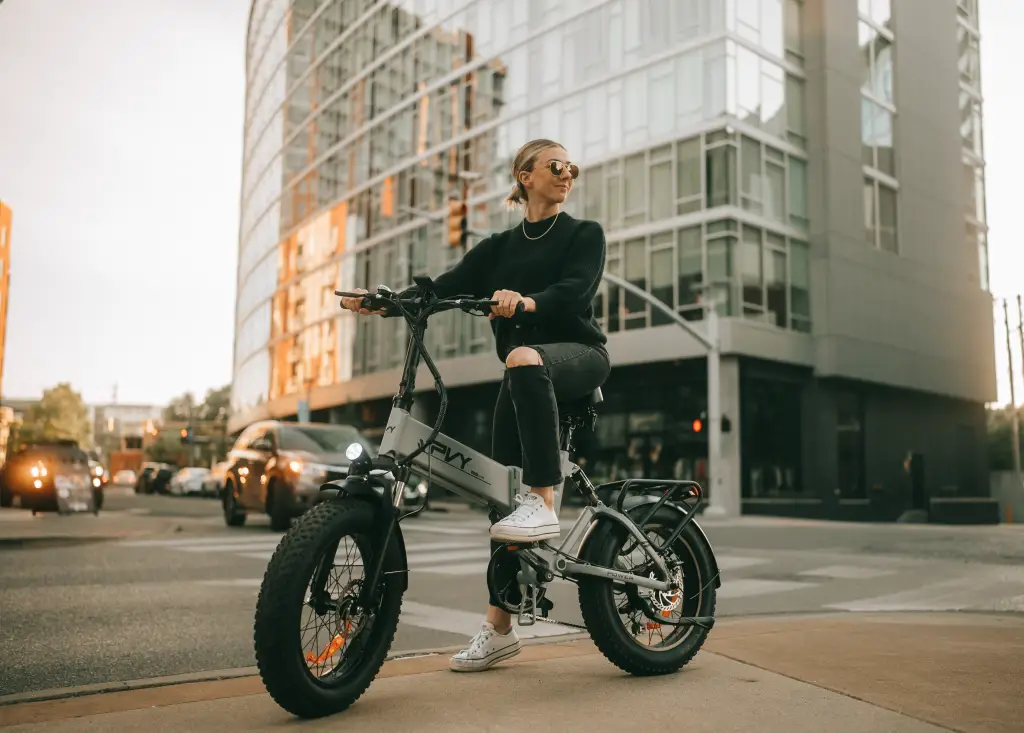 Electric Components
The PVY Z20 Plus comes equipped with a 250W motor rear hub motor that should provide enough power for most daily commutes and leisure rides. It's a typical 48v brushless, geared rear hub motor and has a claimed torque output of 80Nm. These motors are usually rated to higher power outputs but are restricted to comply with European e-bike laws. It's likely that there will be a means to unlock this motor, although this isn't advisable for EU and UK riders.
There's a 48v 16.5Ah battery removable battery which is located in the main beam and accessible by unfolding the bike (similar in design to the Engwe EP-2). The claimed range of between 80-120 km seems reasonable but would depend on the usual factors of rider weight, wind direction, road surface etc.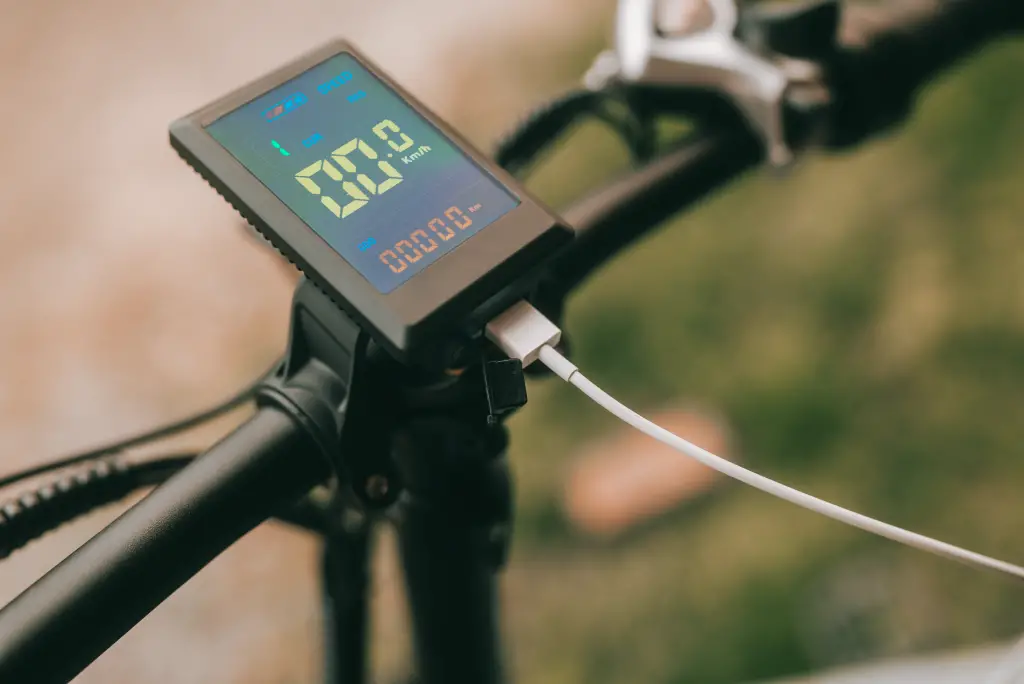 For rider info, there is a rather nice-looking colour display. This is likely to have the usual functionality expected like trip, battery, assist level and speed. There's also a USB charging port so you can keep your phone topped up on the go.
Bike Components
The PVY Z20 Plus is an all-terrain e-bike and features a front suspension fork and single rear shock absorber. This will appeal to riders looking for added comfort and versatility when riding and should improve on-road comfort and off-road handling.
For gearing, there's the standard Shimano 7-speed derailleur with TX50 thumb shifter and a 14-28 freewheel. Good, dependable components and are very cheap to replace if they get damaged.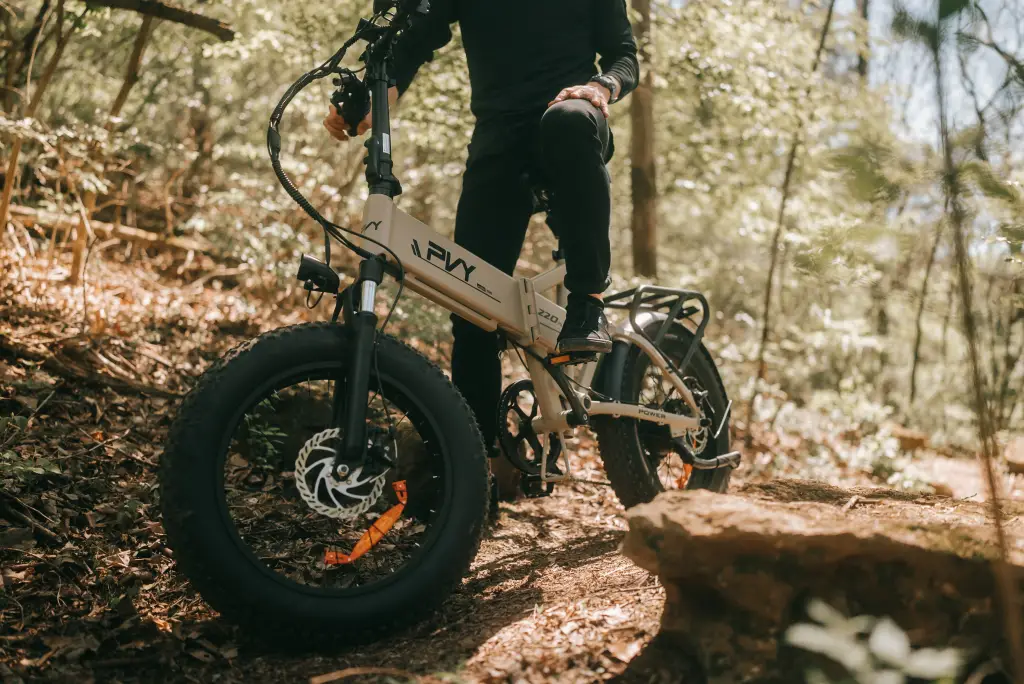 The brakes are hydraulic disc brakes which we are seeing more often now on budget folding e-bikes. It's a nice touch and will improve rider safety and confidence.
Accessories include front and rear mudguards, a heavy-duty pannier rack, a kickstand and lights. For added comfort, there's a large, sprung saddle.
Who Is The PVY Z20 Plus Suitable For?
Commuters, students or anyone who wants the benefits of a foldable fat tyre e-bike for daily riding. The suspension system, big tyres and 80Nm of torque should make the Z20 Plus a good all-terrain e-bike for urban, country and even riding on the beach.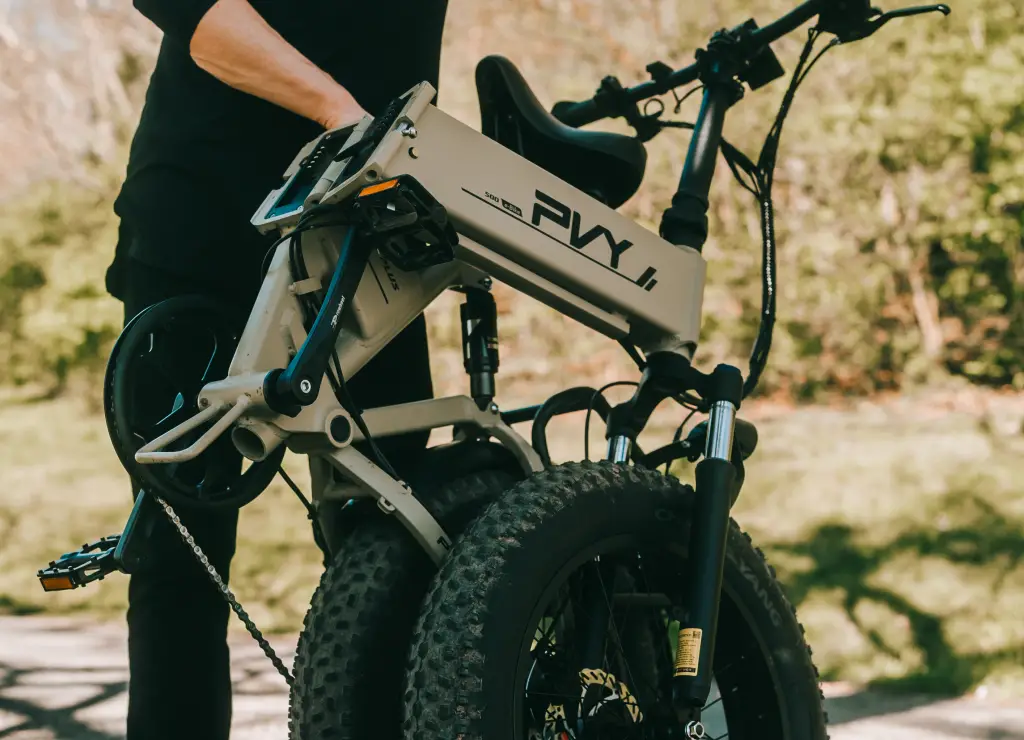 Conclusion
So the big question is, does the PVY Z20 Plus bring anything new to the table in terms of specification and technical features? It's early days yet and I'll have to reserve final judgement until I can get my hands on one. On paper, there's nothing particularly new or innovative about the PVY Z20 Plus but it does look like a decent enough folding e-bike that uses tried and tested technology and components.
What it boils down to at the end of the day is pricing, and if PVY gets the price right, then it could prove to be very popular in a highly competitive e-bike niche. If you want to be part of this new e-bike launch – visit the Indiegogo page here and stay tuned for updates! If I can get hold of a PVY Z20 Plus for a review in future, I will update this article accordingly.
Update: The early bird price is $1499 which equates to roughly £1189 or €1379 – this is on-point for an e-bike with this specification.
Specifications:
Motor: 250w Geared rear hub motor (up to 1000w peak power)
Battery: 48v 16.5Ah
Top Speed: 15.5 mph / 25 km/h (up to 50 km/h unrestricted)
Gearing: Shimano 7-speed
Brakes: Hydraulic Disc Brakes
Tyres: 20″ x 4″ All-terrain
Accessories: Mudguards, Lights, Rack and Kickstand