When you purchase through links in our articles we may earn a small commission. Read our affiliate disclosure.
Back in the summer of 2022, I was sent an Eleglide M1 Plus to review and I was thoroughly impressed with what it had to offer for the price. Last week, I was sent the M1 model to test, and in this article, I'll take a detailed look at the spec and do a direct comparison between the two models.
Eleglide M1 vs M1 Plus – What's the difference?
The M1 and M1 Plus are identical, apart from slightly different colour schemes/graphics and a couple of other things. The M1 Plus has a 36v 12.5Ah battery, whereas the M1 has a 36v 7.5Ah battery. The only other difference is the M1 Plus has an S866 LCD and the M1 rocks a KT LED 880 display.

The lower-spec M1 model comes in at approximately £140 cheaper than the M1 Plus. So, if you don't need the extra battery range and display functionality, then the M1 model makes perfect sense. Below, I'll go into more detail on the M1 and let you know my thoughts based on the initial 8-mile test ride.

Packaging and delivery
The M1 was sent directly from Eleglide and was dispatched from a UK warehouse. The bike arrived within 3 working days of the order being placed. The box was undamaged and inside, the bike was very well protected.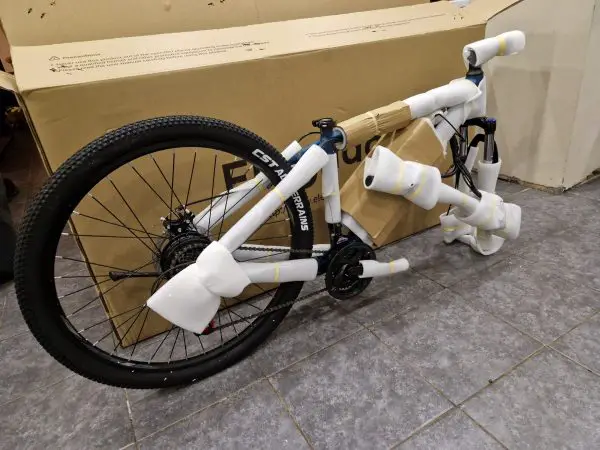 Assembling the Eleglide M1
I always advise getting a competent bicycle mechanic to assemble e-bikes, particularly if you don't have previous experience with this. Eleglide does provide all the tools necessary for the job. Plus, a basic assembly manual which is fairly easy to understand. There are also some reflectors, a derailleur guard and a twist throttle (fitting optional).
Once all the packaging has been carefully removed, you will need to install the front wheel, seat post, handlebar and finally the pedals. There is a retaining bolt screwed into the front fork dropout (to prevent damage in transit). This needs to be removed before the wheel can be fitted.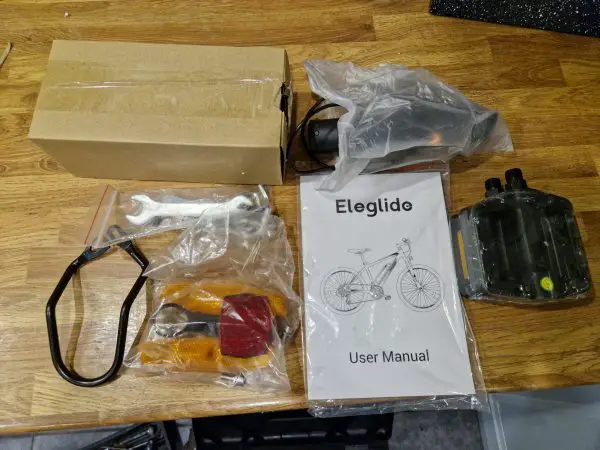 When fitting the seat post, make sure to apply good-quality bike grease to the seat tube. This will help prevent damage/scratches and also make height adjustment easier.
The handlebars will need to be fitted to the stem. Once this has been done, you'll need to align the stem with the front wheel. You'll also need to properly tighten the headset by loosening the two stem bolts (one on each side) and then gently screw in the top bolt without over-tightening.
Finally, fitting the pedals is easy, but remember that the left pedal is a reverse thread. The pedals are labelled 'L' and 'R'. I advise smearing a bit of grease on the threads. This will make it easier to remove them if you decide to fit different pedals in future.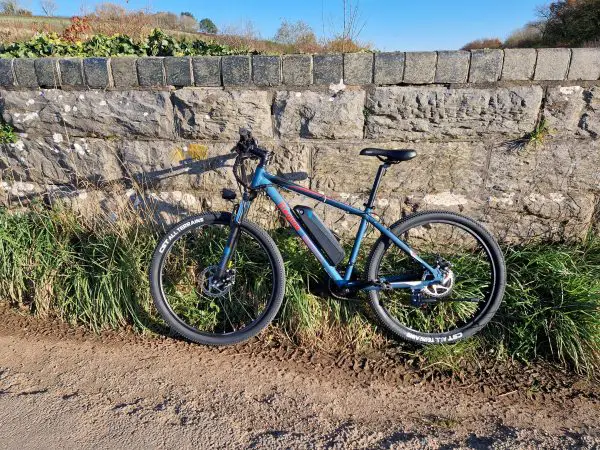 First impressions
I always thoroughly inspect bikes when I unpack them, and the Eleglide M1 had no marks, scratches or paint imperfections. The quality of the paintwork on the frame and finishing kit is good, and certainly on par with much more expensive e-bikes (I've tested) – top marks here!
Once assembled, I weighed the M1, and it came in at half a kilo less than the Plus model at 21.2 kg. This will be down to the slightly lower-capacity battery.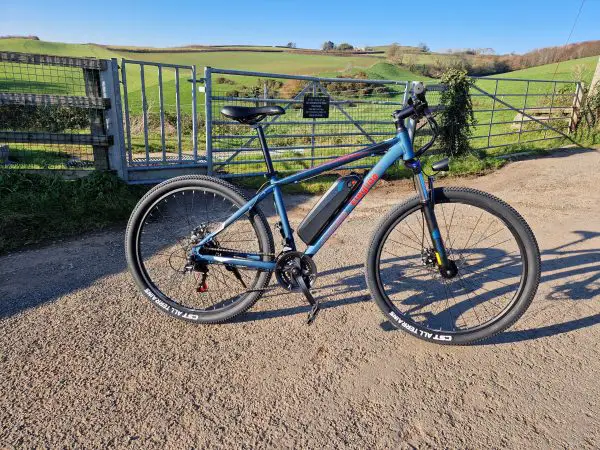 Before taking it for a test ride, I fully charged the battery – the supplied charger had a UK plug, which made a nice change. A lot of e-bikes I receive have EU plugs with adapters. Charging to full took about 4 hours.
Buy direct from Eleglide (EU and UK) 
USE DISCOUNT CODE: NNNELEGLDM1 (EU only)
Eleglide M1 Test ride
I decided to ride one of my regular routes, which is much hillier than one would normally ride. There's one climb of just under a mile (1.6 km)and nearly 300 ft (91 m) of elevation gain and another of half a mile (0.8 km) and 192 ft (58 m) elevation gain. The total ride is 8 miles (12.8 km) with 998 ft (304 m) of climbing.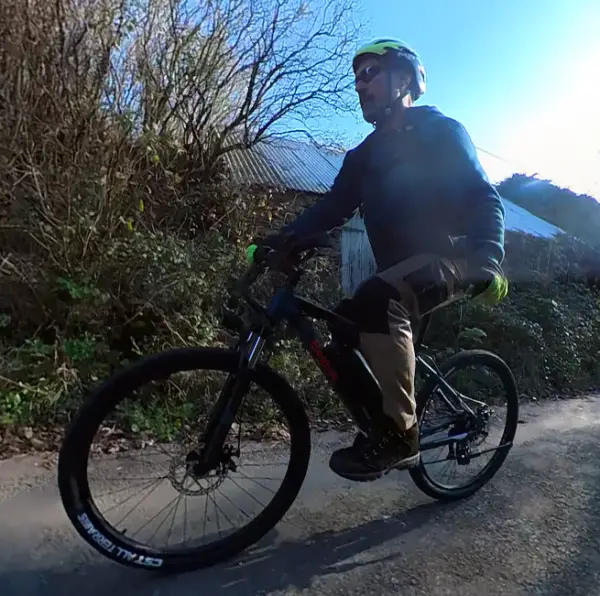 The weather was dry, but cold, with an air temperature of -1 and a brisk north-easterly headwind for a large part of the ride. The elevation gain, low temperatures and wind direction would have a substantial impact on the battery range (see below).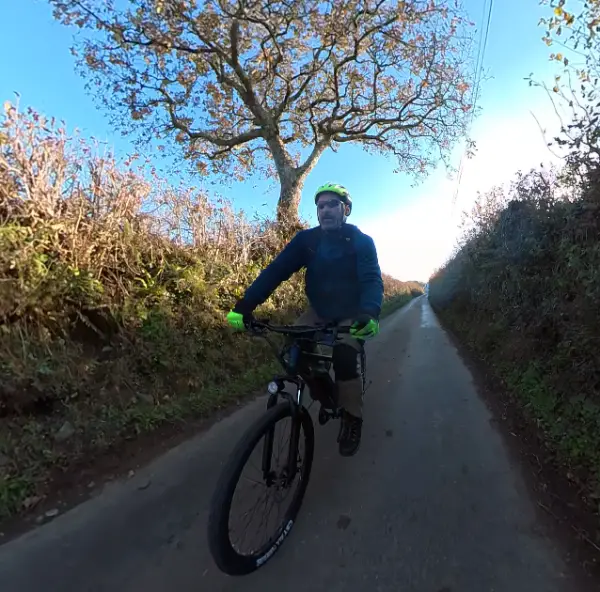 Motor performance
The Eleglide M1 uses a 250w, brushless, geared rear hub motor. It's the same motor as fitted to the M1 Plus. Performance was as expected – fairly unremarkable, but effective enough to make riding into the wind and uphill a lot easier.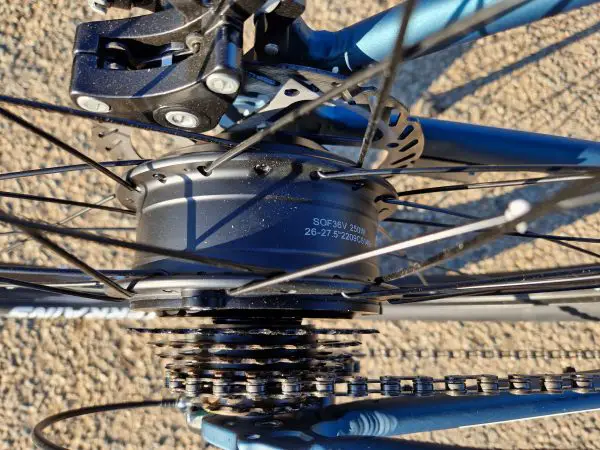 On the long climb with a shallower gradient of around 4%, the M1 took me up there comfortably in assist level 3 (out of 5). On the shorter, but steeper (7.4%) climb, I used assist level 5, but still needed to add a lot of my pedalling effort to get me up the hill. This climb has a brief ramp of nearly 20% and I had to put my back into it!
The flatter sections of the ride were marred by a cold headwind, and where I would normally only use assist levels 1-2, I used 4-5 just to stay within the comfort zone expected of an e-bike.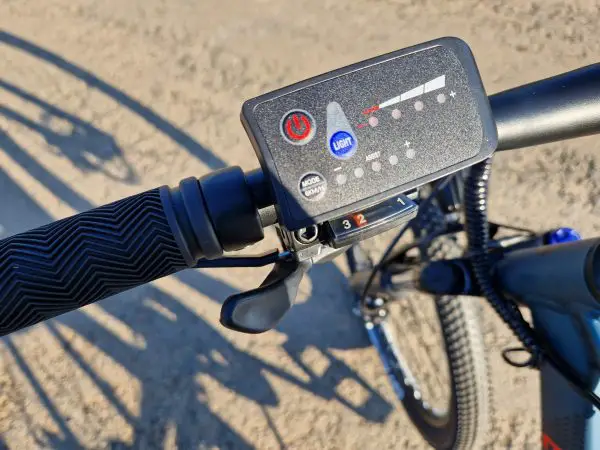 The only negative point with the performance is the start delay on the pedal assist. The M1 Plus also has this problem and I was hoping the M1 might be different. It's not a deal-breaker and it's something you get used to, but a more responsive pedal assist would be better.
Battery range
I didn't have high expectations regarding the battery range, and considering the poor conditions, I think the Eleglide M1 performed admirably. I owned an M1 Plus for a few months and covered several hundred miles on it. My average battery range was 35-40 miles. On this ride, the M1 used 50% of its battery over 8 miles. This may not seem a lot, but with the low 36v 7.5Ah (270Wh) capacity, sub-zero temperatures, hilly route and rider weight (107 kg), I think that's about right.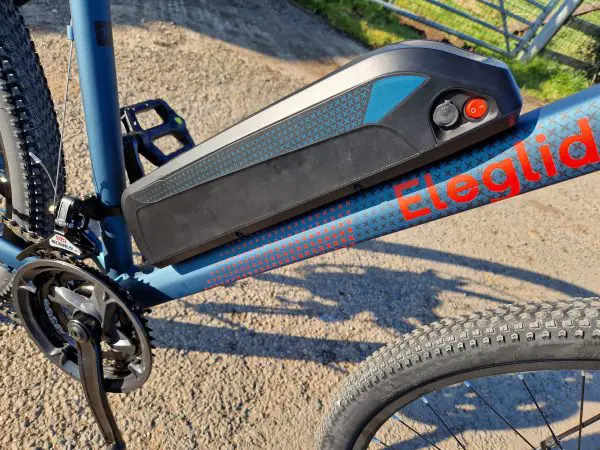 If you were to ride a flatter route in warmer weather with a lighter rider, I think a range of 25-30 miles should be easily achievable. Also, the battery on this test bike is new, and lithium batteries are usually optimised after a few charging cycles.
Gearing
The gearing on the M1 is the same as the Plus model. There is a budget triple crankset with 22 / 32 / 42 chainrings on the front and a 14-28t 7-speed freewheel on the back. A Shimano Tourney derailleur takes care of the rear shifting with a SunRun derailleur on the front. Rear shifting was okay, but not brilliant – it will need adjusting before the next ride (nothing unusual on budget e-bikes). The front is the same – it changes gear okay, but is a bit clunky.  I had the same issue with the M1 Plus, and with a little bit of adjustment had the gears shifting nicely.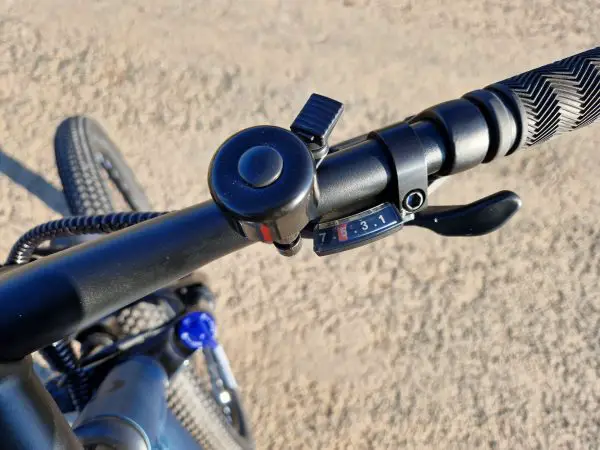 One thing I did like was the M1 has the same Shimano trigger shifters as the Plus model. These are better quality than you would normally find on an e-bike of this price and is a nice touch.
Brakes
These are very basic, cable-operated mechanical disc brakes. On the initial test ride, they did a satisfactory job of stopping the bike. The Eleglide M1 is a budget e-bike and the brakes offer the kind of performance I'd expect at this price point – not brilliant, but acceptable. There was some intermittent squealing and they lacked bite. If you decided to upgrade, something like the Zoom HB100 cable-operated hydraulic callipers offer a big improvement in braking performance.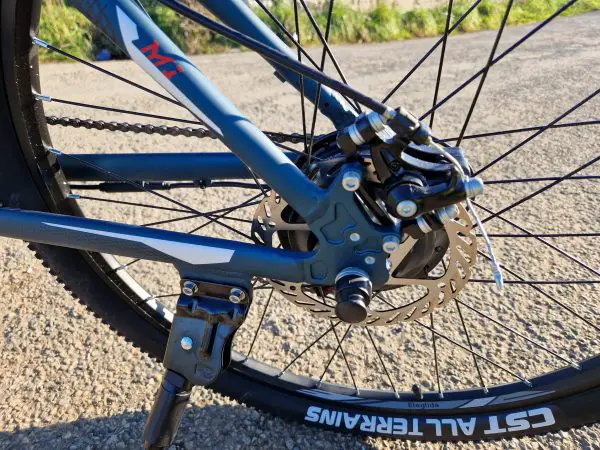 Suspension
A basic coil-sprung suspension fork is the norm for budget electric bikes. The fork fitted to the Eleglide M1 is suitable for commuting on roads with maybe a bit of very light trail riding thrown in. These are very basic forks and will not stand up to any kind of abuse, but they do a decent enough job of soaking up smaller potholes.
Wheels and tyres
The M1 has the same 27.5″ wheels and tyres as the Plus model. CST All Terrains MTB tyres are a good compromise for a mix of riding tarmac and light trails. They seem quite grippy and are fairly puncture resistant – I never had any punctures with long-term use of the M1 Plus. The front wheel bearing didn't feel very smooth and probably didn't have much grease in it, so that's a job that I'd recommend doing to prolong the life of the bearing.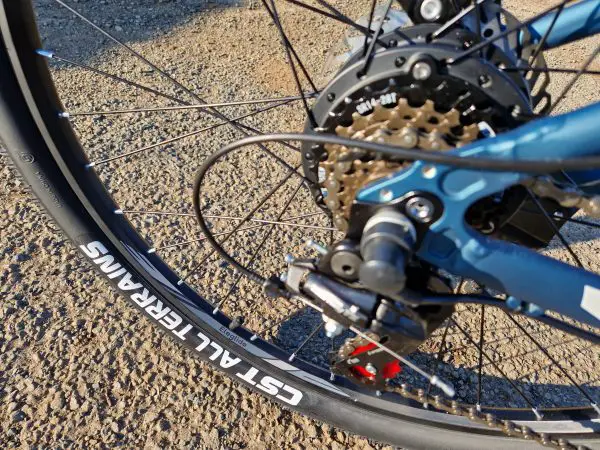 Comfort
Here, the Eleglide M1 scores well. I'm 6'1″ and despite the medium-sized frame, I found the riding position just right. The saddle has the right amount of padding, and there are some nice, wide handlebars with a little bit of back sweep. I didn't experience any discomfort over the test ride. My only complaint is you do feel some of the bumps in the road through the frame (although I kept the forks locked out and had the tyres inflated quite high).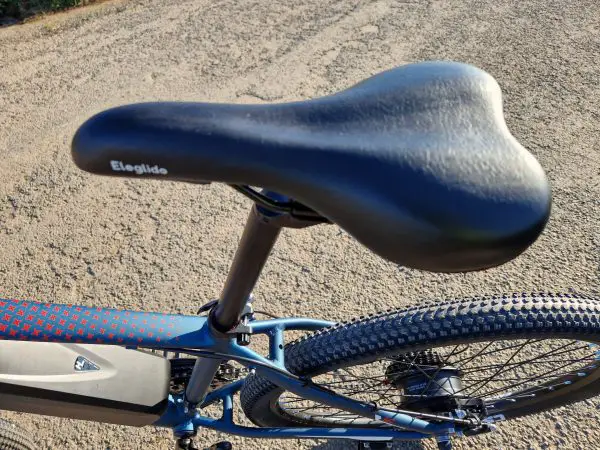 Frame and finishing kit
Considering the Eleglide M1 is one of the cheapest electric bikes you can buy, I'm impressed with the overall quality of the frame and finishing kit. I couldn't find any blemishes or imperfections on the paintwork, and the aluminium seatpost, stem and handlebar all look good. The handlebar is ergonomically well-designed, with a small rise and subtle back sweep.
Accessories
The M1 doesn't have mudguards and a rack, but they can be fitted if required. There's a front headlight, which can be switched on via the display and a kickstand.
Who is the Eleglide M1 aimed at?
If you're looking for a 'no frills' e-bike that's going to get you to work and back on a short commute, then the M1 is going to do the job. It's also going to be suitable for someone looking for a cheap electric bike for leisure riding. I wouldn't recommend it for regular off-road riding or riding very rough terrain as the forks will not be up to the job.
Conclusion
It's easy to be critical of a cheap electric bike like the Eleglide M1, but for the price, you're not going to find a better e-bike. If it's a mid-drive motor, nice gearing, hydraulic brakes and Rockshox forks you want, then you're going to have to spend over £2000.
What the Eleglide M1 does very well is offer an affordable entry into the world of e-bikes. For under £600, you get a new e-bike that's going to make a good workhorse for daily commuting. It will be cheap and easy to service for the DIY mechanic, and components will be cheap and easy to replace as time goes by. You could easily upgrade the battery for more range and fit better brakes if you wanted.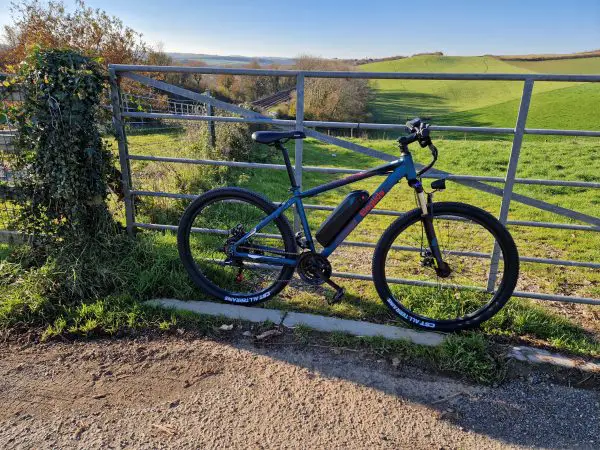 With an e-bike conversion kit and battery costing nearly £400, is it even worth the hassle of converting a bike to electric? For some, this will still seem like a good option, especially if you already own a good donor bike. But, for a lot of people, it's easier to buy an off-the-peg e-bike that's ready to ride. If you're on a tight budget and don't need anything too fancy, then the Eleglide M1 offers unbeatable value for money and is well worth considering.
USE GEEKBUYING DISCOUNT CODE: NNNELEGLDM1 (EU only)
Also available from Geekbuying (UK and EU shipping)
Buy from Amazon UK – check out the reviews