In this article I'm going to be taking a closer look at the DYU D3F mini folding electric bike, and examining the pros and cons of micromobility in an urban environment. The DYU D3F is a compact and lightweight e-bike that's ideal for commuters and urban riders. It has a foldable design, making it easy to store and transport when not in use.
DYU D3F Specification
| | |
| --- | --- |
| Motor | Brushless, Geared Rear Hub Motor |
| Power | 250-watt |
| Battery | 36v 10 Ah (360Wh) |
| Range | 20 – 37 Miles (Lower end throttle / upper end pedal assist) |
| Charge Time | 5 – 6 hours |
| Brakes | Mechanical Disc |
| Gearing | Single Speed |
| Weight | 17.2kg |
| Top Speed | 15.5mph / 25km/h |
| Waterproof Rating | IP54 |
| Folded Dimensions | 1170 mm x 200 mm x 720 mm |
| Unfolded Dimensions | 1170 mm x 500 mm x 990 mm |
| Accessories | Lights and Kickstand |
| Availability | Visit the Official DYU Website |
Pros
Excellent value for money
Easy to transport
Not too heavy
Decent battery range
Legal in EU and UK
Cons
Too small for tall riders
Small wheels
What is Micromobility?
Micromobility generally refers to small, personal electric vehicles like compact folding e-bikes, and electric scooters. These vehicles have several advantages compared to traditional modes of transportation. They are generally cheaper to operate and maintain, as they do not require fuel or have the same maintenance costs as a car. They are also more environmentally friendly, as they produce zero emissions and can help to reduce air pollution in urban areas. In addition, micromobility vehicles are often more convenient for short-distance travel, as they can easily navigate through crowded streets and do not require the user to find a parking space.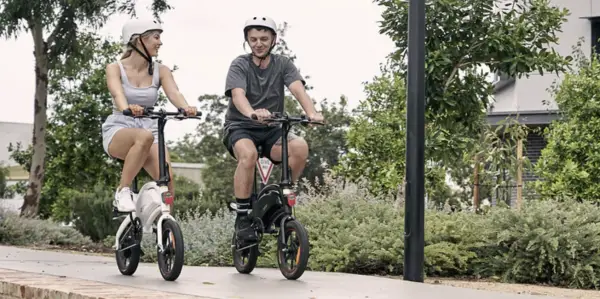 There are some drawbacks to using micromobility vehicles. They're not particularly suitable for longer distances, as they often have a limited range and may not be as comfortable as a regular e-bike for extended periods of use. Plus, the smaller diameter wheels may not cope as well with potholes and uneven road surfaces.
Overall, micromobility is an exciting and innovative trend in urban transportation that offers many benefits and is likely to continue to grow in popularity in the coming years.
DYU are one brand that specialises in micromobility vehicles, and their range of small, urban e-bikes are perfect for students, commuters and leisure riders alike.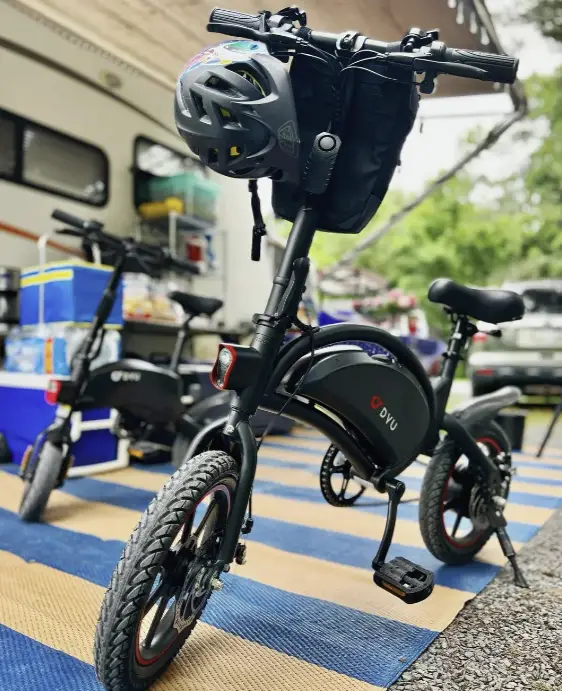 DYU D3F Key Features
The DYU D3F is the perfect example of good micromobility – it's affordable, versatile and has a respectable battery range and enough power to traverse city streets quickly.
Motor
One of the standout features of the DYU D3F is its powerful 250W (550w peak) brushless hub motor, which allows it to reach speeds of up to 15.5 mph (25 km/h). It also has a range of up to 37 miles** (pedal assist) on a single charge, making it suitable for short commutes or leisure rides. **Realistic range may be less, depending on rider weight, temperature and terrain.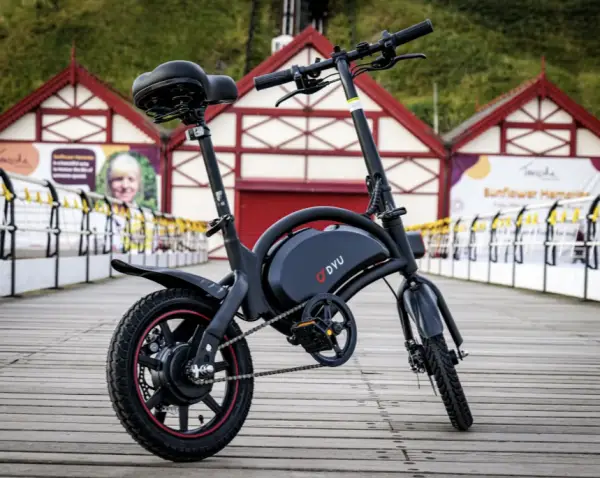 Battery
The DYU D3F comes equipped with a 36V 10Ah lithium-ion battery, that can be fully charged in just 5-6 hours. It also has a LED display panel that shows the remaining battery life, speed, and distance travelled.
Comfort
The DYU D3F is designed with comfort in mind, featuring a padded saddle, adjustable handlebars, and anti-slip pedals. It also has a durable and lightweight aluminium frame, as well as front and rear disc brakes for efficient stopping power.
Accessories
In terms of convenience, the DYU D3F has a built-in headlight and taillight for added visibility, as well as a rear rack for carrying small items. It also has a built-in kickstand for easy parking.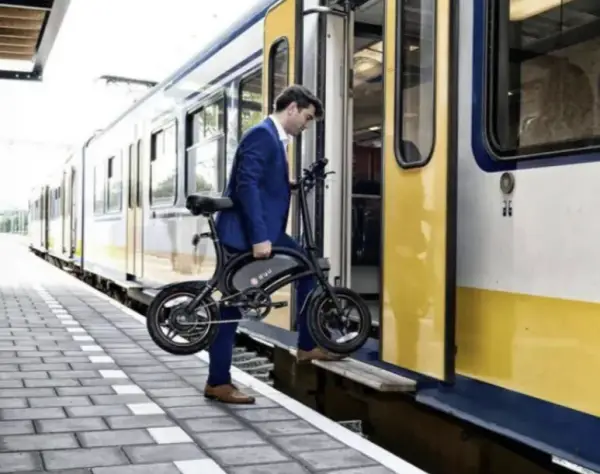 Ease of transport
For storage and ease of transport, the DYU D3F is ideal. Weighing in at 17 kg, it's lighter than most folding e-bikes. Plus, it's easy to carry thanks to its built-in carrying handle.
The DYU D3F is a good alternative to something like an e-scooter. If an electric scooter runs out of battery, you're going to be pushing it. You can still pedal the D3F with a flat battery, or if you want to conserve range you can pedal as normal and save the assist for when you need it.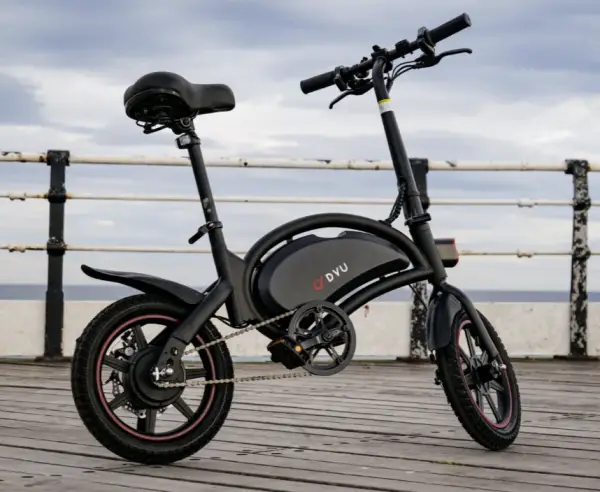 Who is the DYU D3F suitable for?
The DYU D3F isn't going to be suitable for everyone, but if you're just looking for a quick and easy way to get around without breaking into a sweat, this e-bike will be just fine. It's going to be perfect for commuters looking for 'last mile' travel. Plus, I reckon it would be a great tool for students looking to get around campus quickly.
Conclusion
Overall, the DYU D3F mini folding electric bike looks like a great choice for commuters, students and urban riders looking for a compact and lightweight e-bike that is easy to store and transport. It is powerful, efficient, and comfortable, making it a great choice for daily use. Plus, it has a reasonable battery range and isn't going to break the bank!
Thanks for reading. If you currently own a DYU D3F, please feel free to leave a review in the comments section below.
Visit DYU for more information 👇
Discount codes Hello20 or Hello50 (€20 off 1 x bike or €50 off 2 x bikes)  
Related Articles