There's quite a lot of choice in the sub-£1000 folding e-bike market at the moment, so it's refreshing to see a new brand emerge that focuses on customer care and after-sales services.  The new ADO A20 folding electric bike uses proven technology combined with the excellent build quality and a network of supply and services centres in the EU and UK. This article is a preview of the A20 and a full review will be coming soon once I get hold of a sample model to test.
Introducing the new Ado A20 Folding E-Bike
The new ADO A20 folding e-bike had its debut in Frankfurt, Germany, on the 3rd of May 2021 – The A20 is designed to be a versatile folding electric bike which can handle a multitude of terrains from smooth asphalt through to canal towpaths and light off-road riding.
This e-bike will be also launched in the UK, Russian and Ukraine markets in June. With years of experience in the industry, ADO E-Bike is cooperating with more than 20 local distributing partners in Germany, Italy, the UK, Spain, Russia, and Ukraine.
Brief overview and technical specification
The ADO A20 is designed primarily as an urban e-bike with light off-road capabilities.
350W

(

CE version: 250W

)

and 380r/min motor, rated as an off-road power drive, provides excellent obstacle-crossing

ability, and

can easily conquer all urban terrains.

Shimano 7-speed gear system.

Front suspension fork with suspension.

36V10.4Ah (374Wh)  battery with an energy recovery system to improve efficiency and range.

Multi-function LCD.

Built-in USB for charging your smartphone on the go.
Comprehensive after-sales support
One of the main problems electric bike customers can experience is a lack of after-sales service. ADO claim to have tackled this problem by setting up a good servicing infrastructure throughout all the major EU countries with a service centre planned for the UK as well.  
They have also sorted out the logistics side of things with a fast dispatch from local European warehouses and real-time online technical information, advice and guidance. Another great thing they're offering is a replacement e-bike when maintenance is not available (should a fault occur).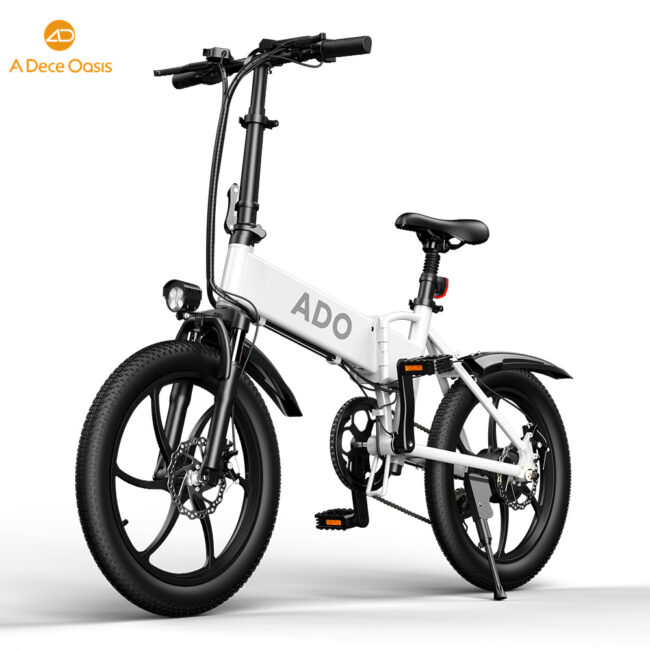 Warranty
 ADO offers a 10-year warranty for the frame and a 1-year warranty to cover all the electrical components – charger, battery, motor, controller, instrument, USB charger, 2 in 1 switch and headlight.
The ancillary components are also covered for 12 months – front suspension fork, seat post, handlebar, stem, brakes, brake lever, crankset, gear shifter and rear derailleur. 
ADO has set up a technical service centre in Germany with a 3,000 square metre warehouse and 400 square metre office. There will also be other maintenance centres in the UK and Poland to provide instant follow-ups to customer repair requests.
Electric components
The ADO A20 uses a brushless internally geared rear hub motor – these motors are designed to be small, lightweight and efficient. This proven technology is likely to provide a long service life with minimal reliability issues.
These motors generally provide a smooth and punchy level of assist – there are 3 levels of electric assist available to the rider via the clear black and white LCD display. This display also features a battery indicator and trip function. There's also a neat handlebar-mounted USB charging point for smartphones and a horn and front headlight (which can be controlled from the handlebar).
Battery
There is a removable 36v 10.4Ah battery which should provide the rider with a claimed maximum range of around 80Km (50 miles) – this will be highly dependent on the rider's weight and the amount of assist used. I would say a realistic range for day-to-day riding would be in the 30-50km (20-30 miles) range. The battery is concealed in the main structural beam and can be easily removed for charging. Charging is claimed to take between 4-6 hours which is about right for a battery of this capacity using a 36v 2A charger.
The cells used are unspecified 18650 and are claimed to be of 'automobile quality' – I have used many batteries over the last few years with unbranded cells and have not had any issues, although I couldn't comment on their longevity.
Bike components
The ADO A20 uses the reliable Shimano SL-TX50 7-speed thumb shifter with Tourney rear derailleur and 14-28 freewheel – this will give the average rider enough gear range for dealing with moderate hills. These components are also very cheap and easy to replace if they ever get damaged further down the line.
Dual mechanical disc brakes should provide adequate stopping power, and although I'm unsure of the brand used I would imagine replacement pads will be readily available.
Suspension fork and seat post
Rider comfort is important when using a bike for the daily commute and the ADO A20 seems well-catered for in this department. There are some coil-sprung suspension forks up front combined with a suspension seat post and gel saddle – this combination should provide some relief from potholes and rougher surfaces.
Wheels and tyres
The wheels are tough 20″ aluminium 'mag wheel' design and should be very robust – no more worrying about broken spokes! The tyres are a nice and wide 1.95″ and have a tread pattern which will make them suitable for road and gravel riding. At this stage, I can't say how resistant to punctures these tyres will be.
Folding design
Looking at the design of the A20 it looks like it can be quickly folded for ease of transportation – I'll be able to confirm this as soon as I have a sample to test.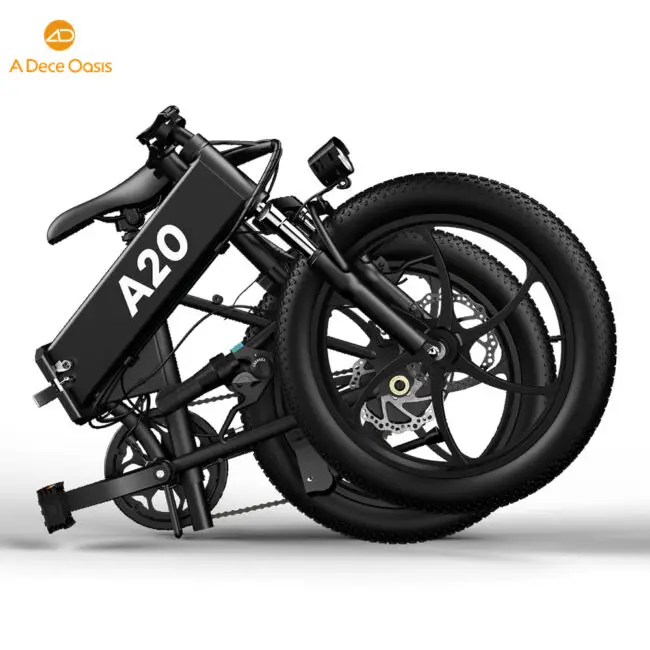 Included accessories
Front and rear mudguards are included in the price and there's also a mini-pump, mobile phone holder and some basic tools.
Who is the Ado A20 aimed at?
Like most folding e-bikes the ADO A20 is going to appeal to both commuters and leisure riders alike. The easy folding design means that it's great for putting in the back of the car to take to a park and ride or going on holiday. Owning an e-bike is also a great motivational tool to help you get fitter by being more active.
ADO are definitely keen to appeal to the urban rider with slogans like "Cross your City, Conquer urban terrain, ADO's electric bicycles are urban/off-road, and can meet the needs of consumers riding on all road conditions".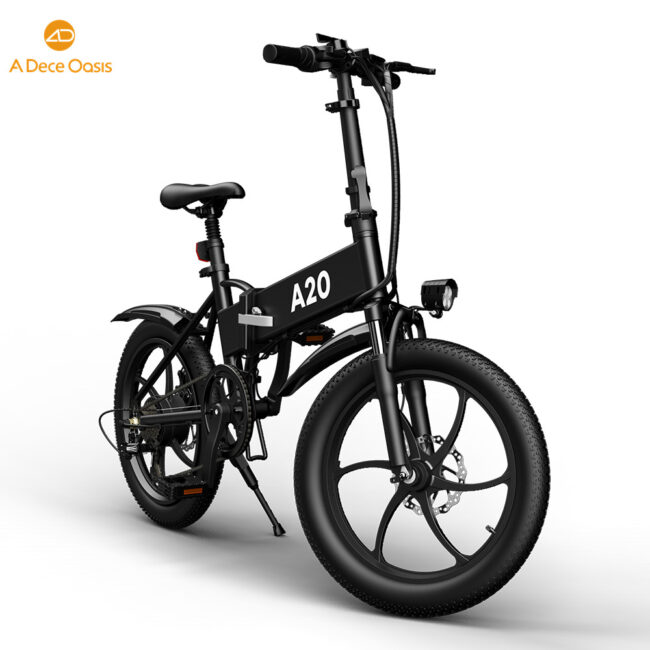 Where can I buy the Ado A20?
The Ado A20 is available in the EU and UK. Plus, it's readily available from e-commerce stores like Banggood and Geekbuying. I have provided links in the table below.
Visit Ado E-Bike for more information on the latest A20+ version
Conclusion
On paper the ADO A20 looks like a great folding electric bike – what's really promising is the customer service on offer. It looks like ADO has really pulled out all the stops and put a big focus on after-sales support and logistics which should help with consumer trust. Obviously it's early days and time will tell if this all works out.
The bike itself looks like great value for money – the components, battery and motor all use a 'tried and tested' format so I can't foresee any major problems in that department.
I hope to be getting hold of a sample bike in the near future and will post a full review with an accompanying YouTube video. Thanks for reading.