As 2021 e-bike models start to be released by major manufacturers, it's obvious there are going to be some interesting technological developments afoot. I've just had a look at one of the latest urban electric bikes, the Cannondale Mavaro Neo 1, and first impressions are very positive indeed. This new range is awash with technology including vehicle proximity warning and CVT transmission with Gates carbon drive.  Read my review for more information on this exciting new e-bike.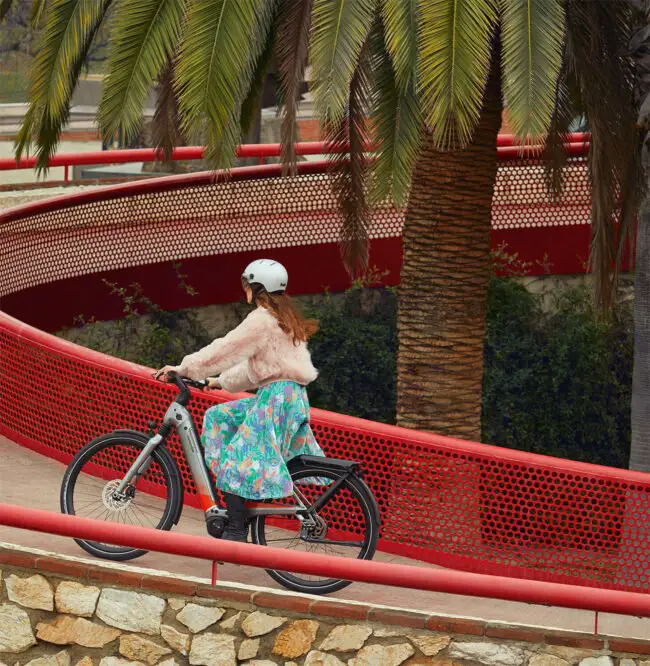 Summary
Given recent developments, more people than ever are thinking about ditching the car, avoiding public transport and using electric bikes.
Over time cycling infrastructure is inevitably going to be improved in our towns and cities. But what constitutes the perfect urban commuter bike?
Enter the new Cannondale Mavaro Neo 1 electric bike. I've had a quick look over the latest flagship model and I have to say things are starting to get interesting in the world of e-bikes.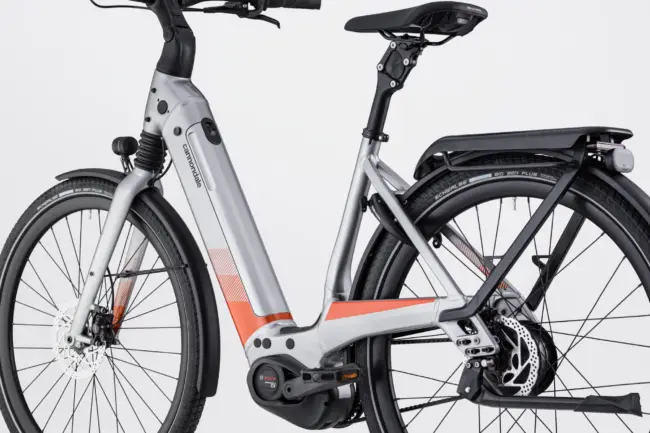 The Mavaro is awash with tech, including a radar proximity sensing system and an all-new constantly variable transmission developed by NuVinci – the Enviolo.
All this technology, unfortunately comes with a hefty price tag, and the Mavaro Neo 1 as tested currently retails at £5000.
The question is, would the average urban commuter be willing to spend this kind of money on an electric bike?
I certainly think there will be a market for this bike, particularly when you consider the kind of savings that can be made by swapping your car for an e-bike. When you crunch the numbers over 12 months, five grand doesn't seem that bad – It's been estimated the average annual cost of running a car in the UK is just over £3000! [source]
Electric components
The electric bike industry has seen Billions of dollars invested in recent years. This has culminated in the development of some very exciting technology. Battery technology has been evolving at a rapid pace, but it's the motors and other ancillary components that seem to be getting better and better.
Bosch CX motor
Bosch's latest 4th generation CX motor was developed with performance in mind. As we are all limited (by law) in the UK, EU and Australia to 250w, the brief for motor manufacturers has been how much torque they can squeeze out of a 250-watt motor.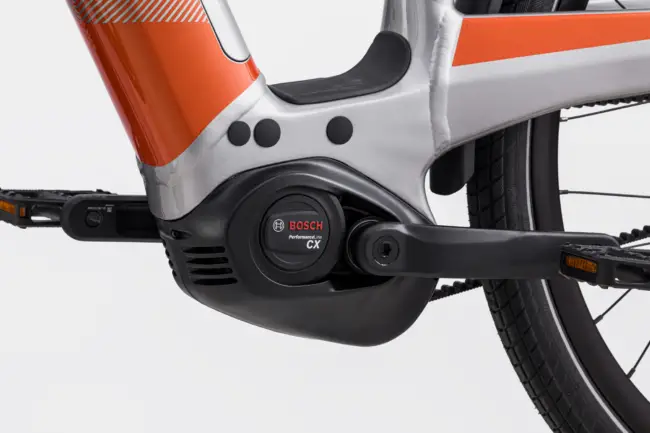 Torque is a measurement of rotational force, and is very important when it comes to e-bike motors. The modern metric measurement is Newton metres (Nm). You can have two electric bikes that both produce 250w of power, but the torque figures can be very different. Picture two 250w powered e-bikes at the bottom of a steep hill, weighing the same with the same gearing and riders of equal weight. One bike has a motor that produces 40Nm of torque the other 75Nm of torque – If both riders complete the climb at the same time, the rider of the higher torque output motor will put in less effort than the other rider because of the greater rotational force produced by the motor.
This is what makes the latest CX motor so great. It was originally developed specifically for mountain bikes and performance-orientated hybrids, but when applied to urban riding it makes life a lot easier when cycling uphill with a couple of panniers full of shopping!
The kind of raw power produced by the Bosch motor makes urban riding great fun!
Display
The latest Bosch Kiox colour display is packed full of unique functions, ranging from Bluetooth connectivity and syncing with your smartphone (via a companion app) to monitoring your heart rate and viewing information regarding battery range and usage.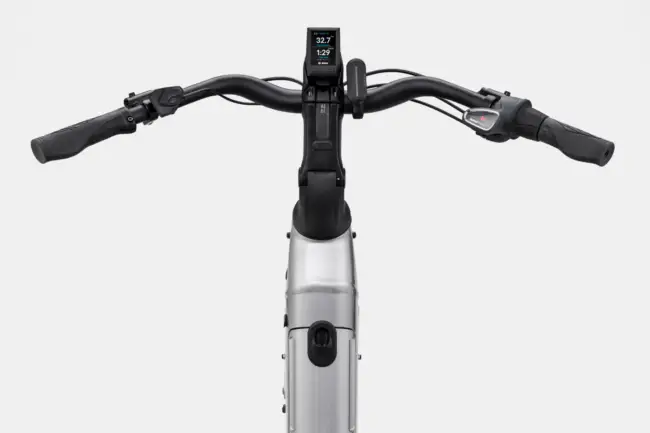 Another groundbreaking feature unique to the Mavaro is the radar-enabled proximity sensors. This technology alerts the rider when there is a vehicle approaching from behind. I suppose you could say this is a bit of a gimmick, as I've always found a decent handlebar-mounted mirror does the job, but I think it's a neat feature all the same.
Battery
Bosch's latest powerpack 625WH (watt hour) battery is standard on all the Mavaro models from the entry-level version to this model. One of the great things about this battery, is range anxiety no longer becomes an issue and a potential range of 100 miles on a single charge is possible – although you would need to be frugal with the pedal assist to achieve this.  To get a better idea of range based on rider weight and other factors, check out the Bosch range assistant.
Bike components
Any good urban bike worth its salt should come equipped as standard with a whole host of accessories. The Mavaro is spoilt in this department. There is every conceivable extra fitted to this bike, including lights, rack, mudguards and kickstand… and that's just for starters!
NuVinci Enviolo CVT gearing
One of the big problems with riding a bike around city streets is making sure you're always in the correct gear. Forget to change down when approaching a junction, and it can be difficult to get going again.
The Mavaro NEO 1 solves this problem by using NuVinci's latest Enviolo constantly variable transmission. What this internally geared hub system does is give you a potentially infinite number of possible gear ratios using the handlebar-mounted twist shifter.
Because of the clever design of this geared hub system, you can seamlessly alter the gear ratios when on the move or stationary. This system works flawlessly and is known for being incredibly reliable, and unlike some other systems, the Enviolo has been specifically designed to cope with the extra power from an e-bike motor.
The Mavaro Neo 1 also uses a robust Gates Carbon belt drive which provides smooth, silent and maintenance-free running. This is a bike you can jump on and ride, and not worry too much about ongoing servicing.
Brakes
Cannondale has gone for the dependable Shimano MT-400 hydraulic disc brakes with a large 180mm rotor up front and a 160mm to the rear. These are decent brakes by any standard and are going to be especially good at bringing this bike to a standstill quickly and safely.
Wheels and tyres
The wheels are Cannondale's own brand double-walled rims with DT Swiss Champion spokes and are wearing the excellent Schwalbe Big Ben city tyres. These high volume 28″ x 2.0″ tyres are perfect for riding city streets and also provide a good level of puncture protection.
Suspension
Front suspension is provided by Cannondale's own Headshok system. I have seen a similar setup on an old Bad Boy and it seems to work very well, and it fits in with the general look of the bike.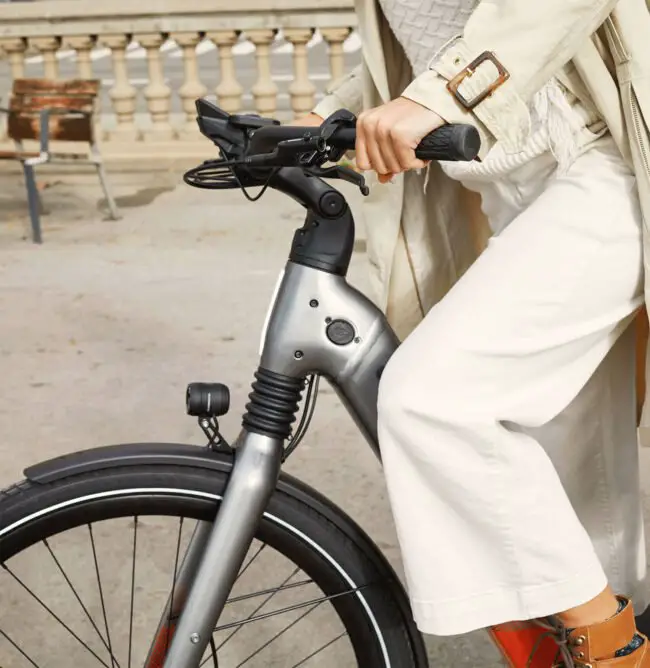 The headshok provides an adequate 50mm of travel and does a really good job of soaking up those road imperfections that we're all too familiar with. Combined with the Schwalbe high-volume tyres it makes for a plush ride.
Frame and finishing kit
The Mavaro uses Cannondale's Smartform C1 alloy construction making it not only light but incredibly tough. Fully internally routed cables give the Mavaro an incredibly clean look.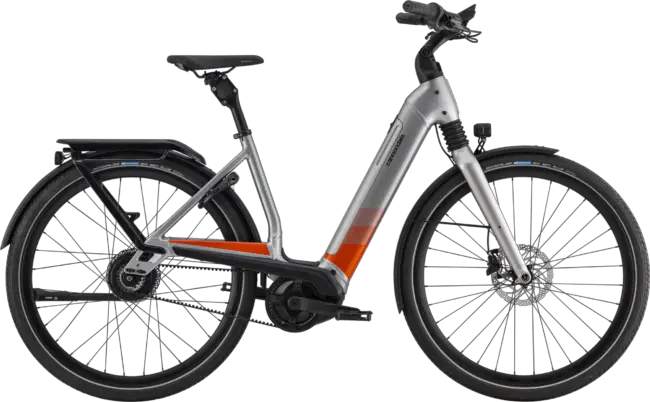 A lot of thought has gone into the design of this bike, and one touch I particularly like is the addition of a parallelogram suspension seatpost – this has to be experienced to be believed, it helps take the sting out of potholes and rough roads and combined with a high-quality Selle Royale Essenza saddle makes for a very comfortable riding experience.
Who is the Cannondale Mavaro Neo 1 aimed at?
The Cannondale Mavaro Neo 1 is aimed at urban riders, commuters and weekend leisure riders. It's going to particularly appeal to anyone who wants to get across the city in style and comfort.
It can also carry quite a bit of luggage if required, thanks to the rear rack. I can see this bike appealing to the growing numbers of people who earn their full-time living working for companies like Ubereat, Deliveroo and Stuart – the initial purchase price can be offset against tax as a capital allowance – it is also likely in future that there will be government subsidies for electric bikes in wake of the COVD-19 crisis.
Other models in the Mavaro Neo range
There are currently three e-bikes in the Mavaro Neo range. The model reviewed here is the most expensive option, but there are cheaper options available.
---
Cannondale Mavaro Neo 2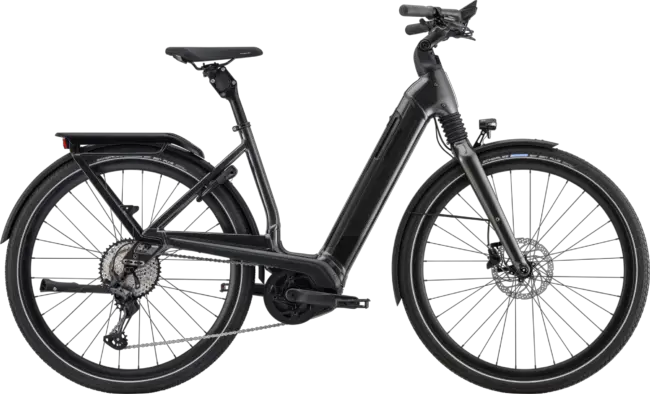 The Cannondale Mavaro Neo 2 is the same bike as the Neo 1 but without the rear-facing radar and a regular derailleur gear system (instead of the Enviolo hub gears). This version uses the excellent Shimano SLX 1 x 12 drivetrain, with a 38t front chainring combined with a massive 10-51 12-speed rear cassette. This will give the rider a massive range of gear and make climbing the steepest of hills a doddle!
---
Cannondale Mavaro Neo 3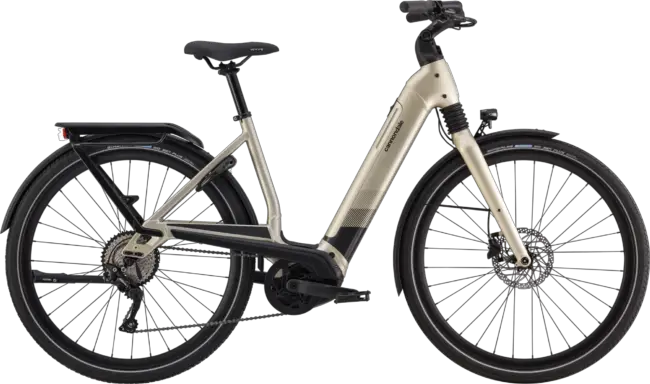 The Mavaro Neo 3 is the cheapest in the range, and although it doesn't have the suspension seatpost, or rear-facing radar of the more expensive model it still has the same excellent Bosch CX motor and 625Wh battery. The only compromise is it uses the older style Purion display, which is perfectly functional, just not quite as high-tech as the Kiox.
This version uses the proven Shimano Deore 1 x 10 drivetrain, which still gives an impressive gear range with its 38t chainring and 11-42 10-speed rear cassette. The brakes have also been downgraded slightly to Shimano MT200, which in my opinion are perfectly suitable for urban riding.
If your budget doesn't reach the giddy heights of the flagship model, this version is nearly £1500 cheaper – and it still does the job just as well!
---
Conclusion
There's no doubt about it, the Cannondale Mavaro Neo 1 is an impressive electric bike.  Some might say the rear-facing radar is a bit of a gimmick when a good rear-view mirror will do the same job.
I think it's a good idea that manufacturers are exploring ways of using technology to keep riders safer, after all as any cyclist knows, the biggest threat to their safety is usually other road users.
As far as the bike itself is concerned, it's the real deal! Everything about this bike oozes style and quality. The Enviolo geared hub combined with gates belt drive is a commuter cyclist's dream – no more worrying about adjusting gear cables or oiling chains. Just get on and ride, day in, day out!
At the heart of every e-bike is its motor and battery and the whole Mavaro Neo range couldn't have been better catered for in this department. The latest Bosch Performance Line CX motor was designed to cope with extreme e-mountain biking – this motor is an absolute gem, and is so responsive it makes riding a delight!
Cannondale put rider comfort high on the agenda when designing the Mavaro Neo. Their Headshok suspension system, combined with high-volume tyres and cleverly designed parallelogram seatpost make for a 'magic carpet' ride.
Final thoughts
Is it worth five grand? That depends on how you view things. If you were to use this for a 30-mile round trip daily commute 52 weeks a year, and ditch the car for all but the longest of journeys, you would probably find that £5000 isn't actually all that bad, when you look at the rising cost of fuel, insurance and other costs associated with running a car.
The Mavaro is supremely comfortable for a bike. Riding it is effortless from the minute you sit down. If you're looking for an electric bike to replace your car, for running errands, commuting or any other short journeys, the Mavaro is hard to beat. I would be tempted if I could afford one!
If you need any advice on purchasing an electric bike, please leave a comment below and I will respond within 24hrs. Thanks for reading this article.
Further Reading