When I was sent the new Kugoo Kirin B2 folding electric bike (courtesy of Geekbuying.com) I wasn't quite sure how I'd get along with it. Bearing in mind, I'm just over 6ft tall and weigh over 17 stone, I was unsure how this seemingly diminutive folding e-bike would handle my weight.  I'm pleased to say that it's a cracking little e-bike and great fun to ride – read my full review below for more information.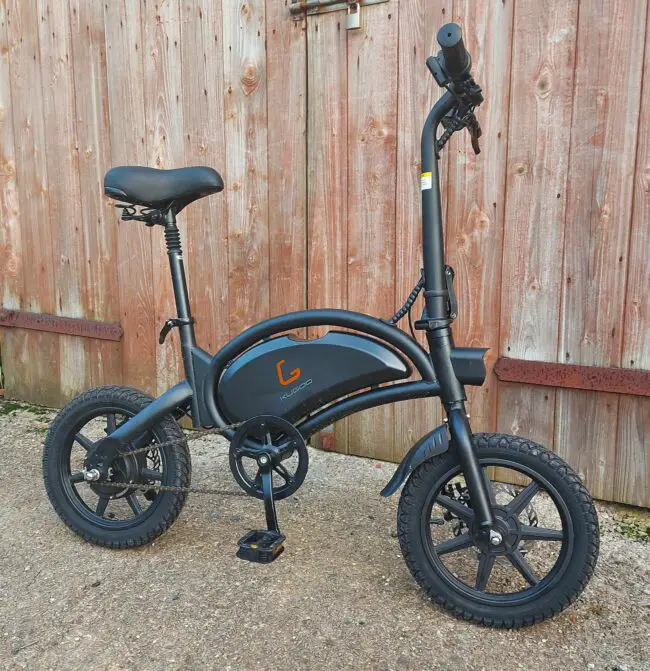 Summary
There don't appear to be many options for a fast and powerful folding electric bike available for under £500 currently available on the UK and EU markets. The new Kugoo Kirin B2 changes this. With a powerful direct drive, 400w rear hub motor and 48v 7.5Ah battery (360Wh) the B2 punches well above its weight in terms of performance and fun factor.
Riding the Kugoo B2 made me smile and it's kind of reminiscent of the old Honda Monkey bike -a little bit too small for a fully grown person, but great fun and handles surprisingly well. I've ridden all manner of electric bikes over the last couple of years, but this one made me grin!
What's in the box?
The Kugoo Kirin B2 was ordered from Geekbuying.com and was shipped from a warehouse in Europe – delivery to the UK was within 7 days, and the box arrived undamaged. The bike itself was very well packaged and protected with foam and bubble wrapped.
Assembly was simply a case of inserting the seat post and unfolding and locking the steering column in place. The Kugoo B2 is supplied with front and rear mudguards (the rear mudguard was in a separate box). There is a 48v 2A charger which comes with an EU plug, but a UK adaptor was included in the package. Other parts and accessories were the pedals, bell, reflectors and interestingly a child's seat, which comes complete with a mounting bracket and footrests. This mounts on the top tube (in front of the rider). There is also a small instruction booklet.
Electric components
When I first charged the Kugoo B2 and took it for a spin, I was quite surprised at how powerful it felt – to me it was more reminiscent of the 1000w rear hub motor conversions I used to do (in terms of performance). On the flat, you open the throttle and this thing just goes and goes. The manufacturer claims a top speed of 45km/h, and I had 28mph showing on my GPS device, so that claim is about right.
Brushless rear hub motor
The motor is neatly integrated into the rear wheel, and looking at the design, and the way it makes power it is a direct drive motor (as opposed to a geared motor). This should ensure long-term reliability.  According to the specification the motor controller is 48v 17A -what that means in layman's terms is a freshly charged 48v battery is producing 54.4v, multiplied by 17 Amps and you have a potential peak power of 924 watts – take into account the 14″ wheel diameter and the relatively light weight of 18kg, and it's not surprising the Kugoo B2 felt very lively indeed.
As far as UK and EU laws are concerned the Kugoo B2 would be classed as a moped as opposed to a pedelec. My thoughts on this are as long as you ride it sensibly and don't draw attention to yourself you shouldn't have any problems.
The twist throttle works very well and provides a very smooth and progressive feed of power. There are also integrated brake cut-off sensors as an extra safety measure.
48v Battery
The 48v 7.5Ah (360Wh) battery is neatly integrated into a frame case and took around 5 hours to charge fully. The manufacturer claims a range of around 25 miles, which I think is realistic if pedal assist is used. I would imagine if full-power throttle is used, then this range would be substantially lower (maybe 10-15 miles).
Bike components
The Kugoo Kirin B2 uses a single-speed drivetrain, with mechanical discs and alloy mag wheels. Everything about this bike is designed to be simple, yet functional.
Drivetrain
Single speed, with heavy-duty chain – ideal for flat or slightly undulating terrain, although I had no problem riding the Kugoo B2 up a 0.2 mile 10% hill. Thankfully the front chainring isn't too big and allows for comfortable cruising at 20-25mph.
Brakes
Braking is provided by front and rear mechanical disc brakes. I was presently surprised at how effective these were at stopping me from a high speed. They lack the bite of hydraulics but do the job well enough.
Wheels and tyres
The alloy mag-wheels seem very tough and durable. The tyres are also quite chunky and will be suitable for a multitude of terrains, including a bit of off-roading and gravel tracks. I can't testify as to their puncture resistance, but I would say they offer moderate protection in this area.
Frame and finishing kit
The frame is tough and well-finished in a matt black paint job. There were no imperfections in the finish and the whole bike had an air of quality about it that belied its sub-£500 price tag. The seat post had a built-in shock absorber – I adjusted this fully as I'm quite heavy. The handlebars are also a nice size. The saddle was very comfortable and had plenty of padding and additional springs (underneath) -perfect for the commuter who doesn't want to wear padded shorts.
Accessories
For a folding electric bike priced at under £500, the Kugoo B2 was well equipped. There are front and rear mudguards, a kickstand and a decent front headlight. This bike is well equipped for the price.
Who is the Kugoo B2 folding e-bike aimed at?
If you're looking for a quick and easy way to get from A to B, without spending a small fortune, the Kugoo Kirin B2 is hard to beat. If you have a short commute to work it's perfect, and the fact it can be quickly and easily folded means that you can take it into your place of work without having to worry about leaving it outside.
Another great use for this bike would be for someone with limited mobility. You can sit on it twist the throttle and go. The motor was powerful enough to haul me up my steep driveway, and I weigh over 17 stone (107kg).
It is quite small, and I think it's better suited to a rider of under 6ft, but even though I dwarfed the bike, I still felt quite comfortable riding it for a shorter distance. The large padded gel saddle and suspension seat post helped to take the sting out of potholes.
Conclusion
This is one of the most affordable electric bikes I've tested over the last couple of years and I have to admit, it's great fun to ride! I wouldn't want to ride a long distance on it, but if I was looking for a cheap and cheerful way to get around locally, the Kugoo Kirin B2 offers unbeatable value for money.
It may not be road legal (in the UK and EU) but despite its surprising turn of power and speed, it handles well and the brakes do a good enough job of stopping it. It's comfy enough and comes across as being very sturdy.  Quite a few of my friends have had a go on it and they all have a big smile on their faces after riding it!
If you want to stay on the right side of the law and are looking for a road-legal folding e-bike, then this isn't for you. If the legal aspect doesn't bother you, then I don't see any reason why you would get stopped or harassed by the law riding this bike, as long as you ride it sensibly, and observe the rules of the road.
At its current price of around £470, it's an absolute bargain. It's fun to ride, even if you're 6ft. The motor is very smooth and quiet and provides a very useful turn off power. It can be used like a moped (twist and go) or the throttle can be used to aid pedalling as and when needed. If you decide to buy one, just be aware of the potential legal implications and don't draw attention to yourself by riding at inappropriate speeds. Ride safe!
Related Articles