NCM make high-quality, but affordable electric bikes, in this review I will explain why I believe the NCM Milano is the best electric commuter bike for the money.
About NCM Electric bikes
NCM electric bikes are owned by Leon Cycle GmbH a German company based in Hanover. Their e-bikes are designed in Germany and manufactured in China.
Specification
The centrepiece of this Electric bike is the X15 geared rear hub motor: This reliable 250W rear electric motor is known for its durability and high torque output, enabling the rider to maintain 15.5mph for long periods. There is no compromise in handling with the small motor centred in the rear hub.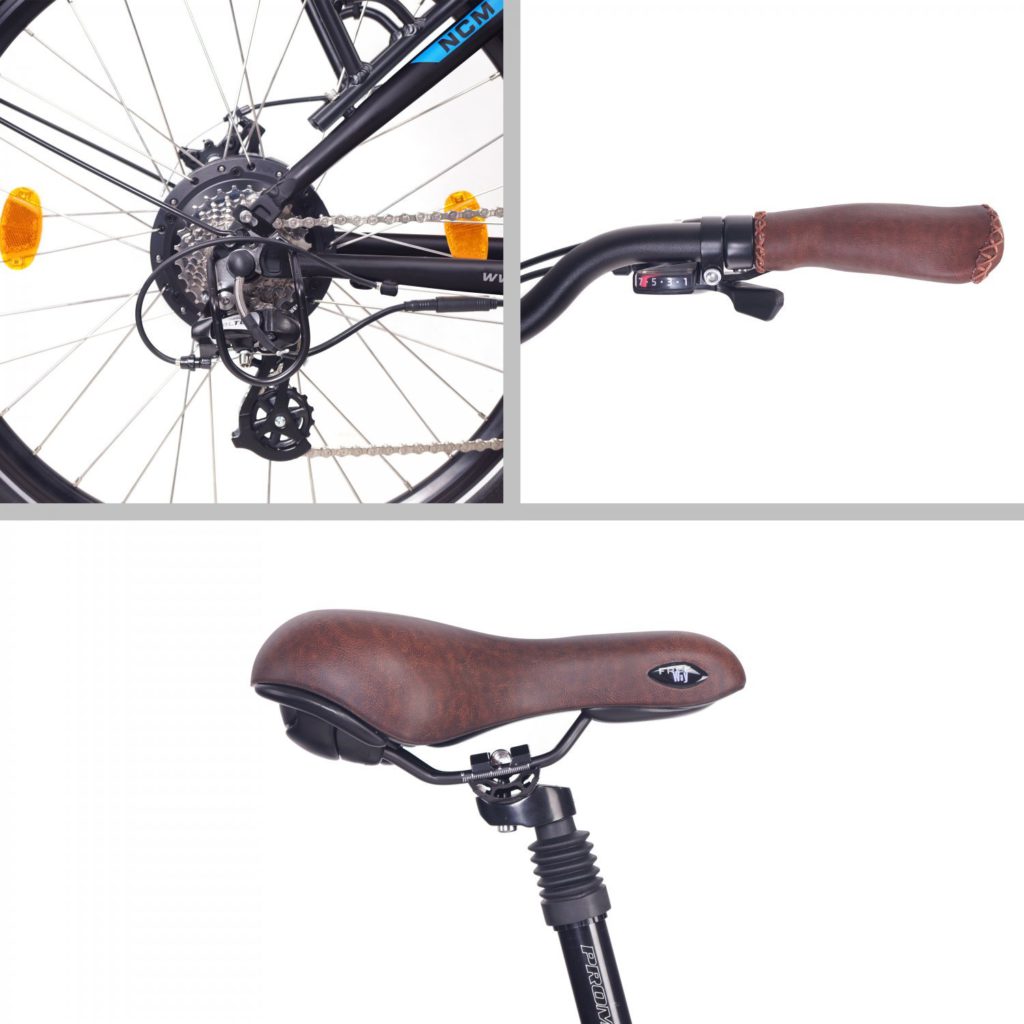 48v13ah Lithium battery pack with USB charging port for mobile devices: Bulky battery packs take up a considerable amount of space, but the Milano's battery is integrated into the down tube of the bike, keeping the weight low and central, which helps to improve stability. The manufacturers claimed a maximum range of 75 miles seems a little optimistic. The total battery energy capacity is 624wh (watt hours), so if you were consuming 20wh per mile, your range would be 31 miles. My friend owns one of these bikes and gets an average range of around 40-50 miles.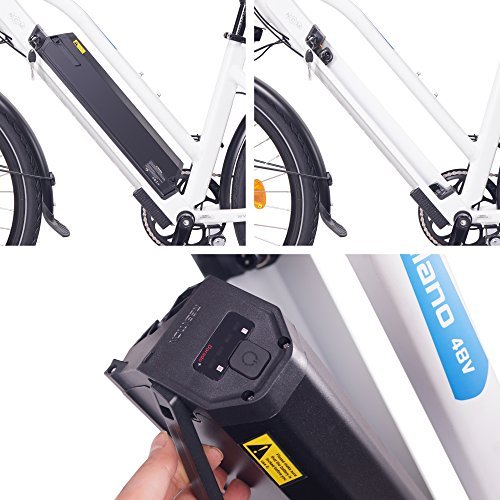 This bike is built for comfort: The Schwalbe touring tyres, Suntour front suspension, adjustable handlebar stem, Selle Royal ergonomic grips and saddle with suspension post all make for an incredibly comfortable ride, even over longer distances. The Shimano 7-Speed gears, index perfectly – shifting is crisp and precise.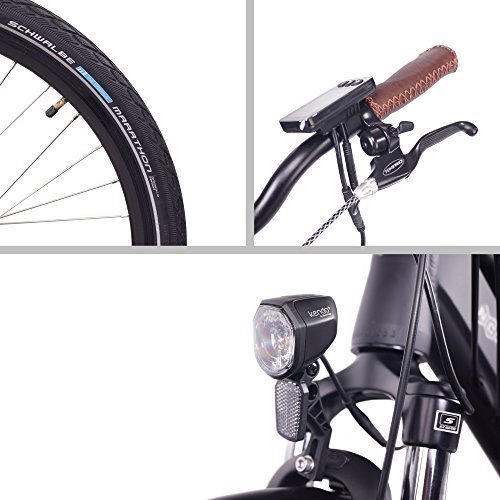 Fully functional control panel display: The Das-Kit LCD gives you all the information you would expect from an e-bike display. including journey time and mileage. It also has 6 power levels of pedal assist, so you can fine-tune the power output to suit your ride.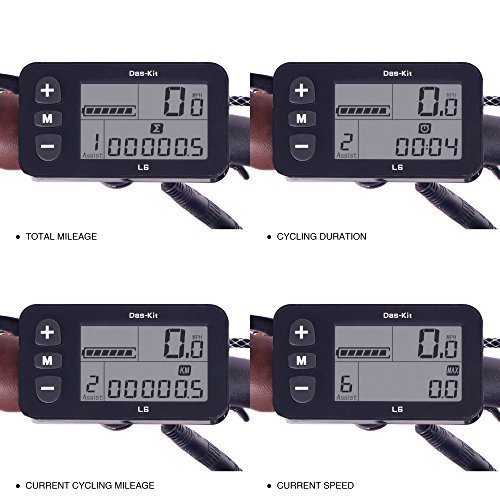 Excellent build quality: The NCM Milano is designed to look great but with no compromise on functionality and safety. The Tektro mechanical disc brakes with 160mm rotors provide adequate braking and the brake levers incorporate motor cut-off switches to ensure safe riding. The front and rear lights work off the battery and provide an extra level of safety – especially when riding in the winter. Internal cable routing finishes off the package neatly and not only looks great but protects the cables from the elements.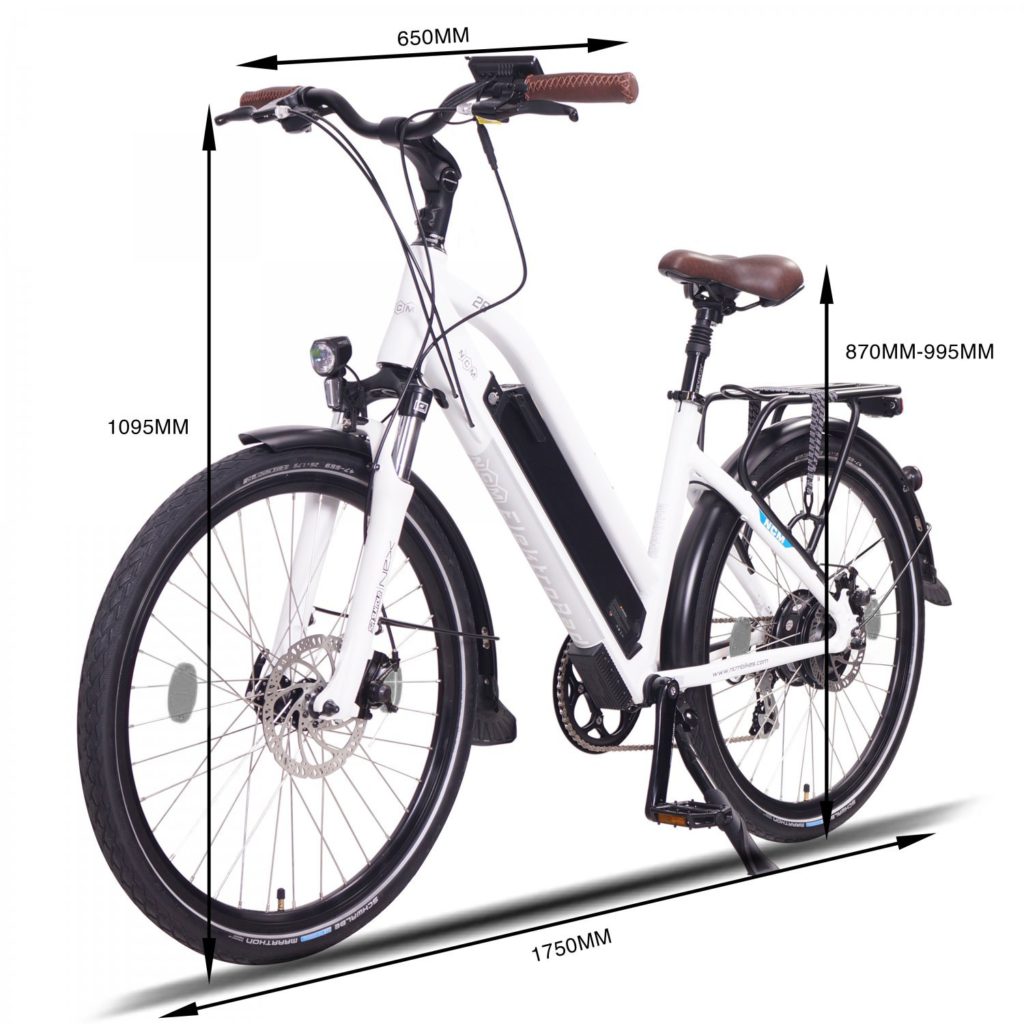 Summary
In my opinion, the NCM Milano electric bike offers exceptional value for money. It is unusual to see such a high-quality, well-made e-bike at this price point. What's more the specification is excellent. The 48v13ah battery will certainly provide users with a realistic range of between 30-45 miles, or 31 miles using the 20wh per mile calculation. The claimed range of 75 miles may be a little optimistic for everyday use – it depends on how much you use the electric assist.
Tektro Mechanical disc brakes should provide adequate stopping power, while the Schwalbe tyres will provide a reasonable amount of puncture protection.
The attention to detail on this bike is great. The internally routed cables and the integrated battery pack make for a very clean finish, something you only usually find on more expensive e-bikes.
The fact that this bike has mudguards, a pannier rack, lights and a kickstand fitted, means that it is excellent for the daily commute in all weathers, or perfect for some weekend touring. The inclusion of a gel saddle and suspension seat post make this bike a truly comfortable and versatile all-rounder.
If you are in the market for an incredibly versatile and affordable e-bike this definitely ticks all the right boxes
The Ride
A friend of mine purchased one of these back in the Summer and he was kind enough to let me take it for a spin. I can honestly say it was a revelation! The gel saddle was incredibly comfortable and the small X15 hub motor was quiet and smooth. It produced a lot of power for such a small motor, making climbing the steep Cornish hills a doddle! The brakes and front suspension were more than adequate for the back lanes of Cornwall.
Conclusion
I really cannot recommend this bike enough. It has to be one of the best value e-bikes on the market at the moment, and the specification is great.
The great thing about this e-bike is that it is a true hybrid – it is equally comfortable being ridden on tarmac or unpaved surfaces. It can even be used for some light off-road riding.
If you are in the market for an incredibly versatile and affordable e-bike this ticks all the right boxes.
Incidentally, NCM's other 48v 250w bike is called the NCM Moscow, I will be reviewing this bike shortly. I have personally worked on and ridden a Moscow, and it is on par with the Milano for the ride and builds quality. It uses identical electric components but in a mountain bike-style frame.