Mini Folding E-Bikes tend to polarise opinions. Some think they're too small, others view them as a practical urban mobility solution. In this Engwe T14 review, we'll look at the specifications and sizing, and see how our reviewer (who is 6 foot tall) gets on with it.
In the interest of full disclosure, the electric bike reviewed in this article was generously provided to me by Engwe UK. This gesture, however, does not influence my opinions, and the ensuing evaluation remains impartial, reflecting my genuine experience and assessment of the product.
Pros
Very Cheap
Punchy Motor
Decent Battery Size
Folds Down Small
Good Accessories
Great for Kids
Cons
Too Small for Taller Riders
Uncomfortable Saddle for Pedalling
Very Heavy
Skip to product specifications
Introduction
The Engwe T14 used for this review, was delivered very quickly from within the UK. Engwe also has warehousing in the EU and US. The bike was received within 3 working days. Everything was well-packaged and the bike required minimal assembly. Instructions are provided, as are a multi-tool, battery charger and bag.
First Impressions and Sizing
I've ridden many folding e-bikes, but the Engwe T14 is quite a bit smaller than what I'm used to. At just over 6 feet and 105 kg in weight, I fall just above this bike's recommended height and weight limit.
The first problem I came across, was saddle height. Even with the seat post adjusted at the maximum permissible height, pedalling for a prolonged amount of time would have been uncomfortable. Secondly, on the top pedal stroke, my right knee made contact with the throttle body/key. I could only pedal with my legs angled outwards, much to the amusement of my daughters!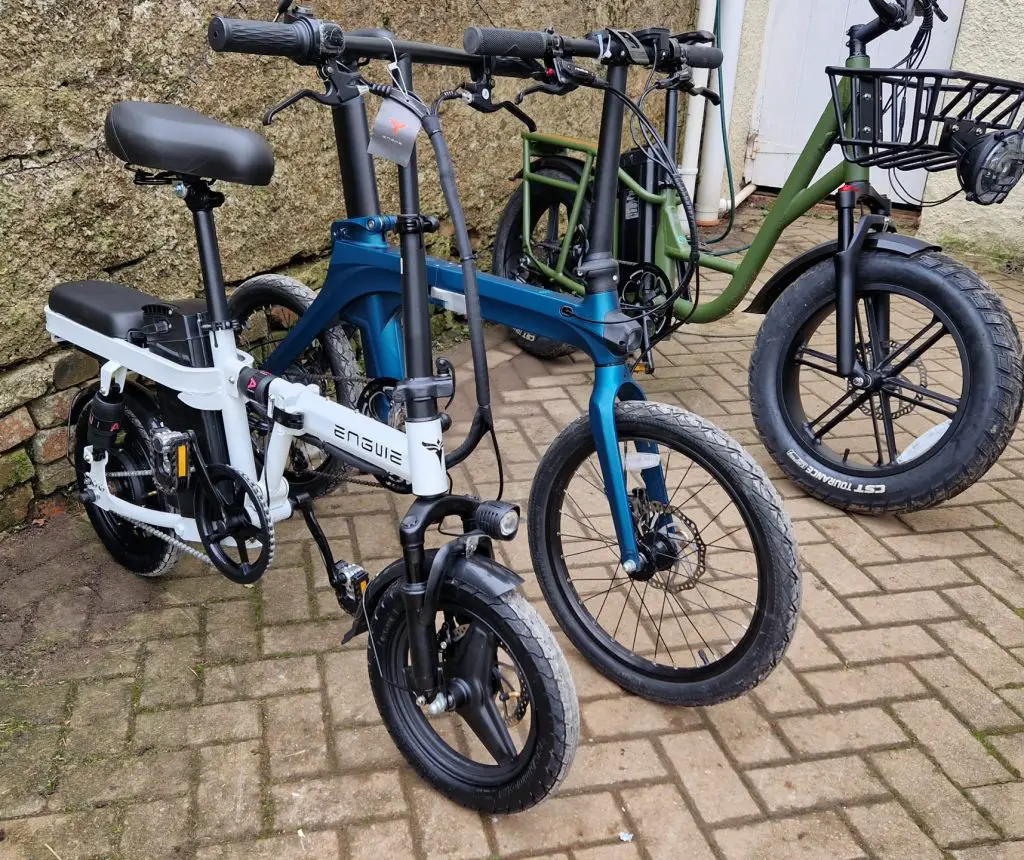 Another comfort issue, I found was the big saddle dug into my inner thighs when pedalling – if I just used the throttle, this wasn't an issue, but in general trying to pedal the T14 felt awkward. This is an e-bike aimed at the shorter rider. Indeed, my daughter who is 5'8″ got on fine with it, and found it very comfortable.
Electric Components
Motor Performance
The motor performance is surprisingly sprightly for a 250-watt motor. As I've stated above, it's much easier just to use the throttle if you're a taller rider. But, the pedal assist does work quite well – there is a slight delay on start-up, but once activated it's nice and smooth. There's no display as such, just a basic LED panel which shows 3 green LEDs for the battery indicator and 1 red LED for power. There are 3 modes – no electric, pedal assist and throttle. There are no variable power modes. A key is used to switch the bike on and off.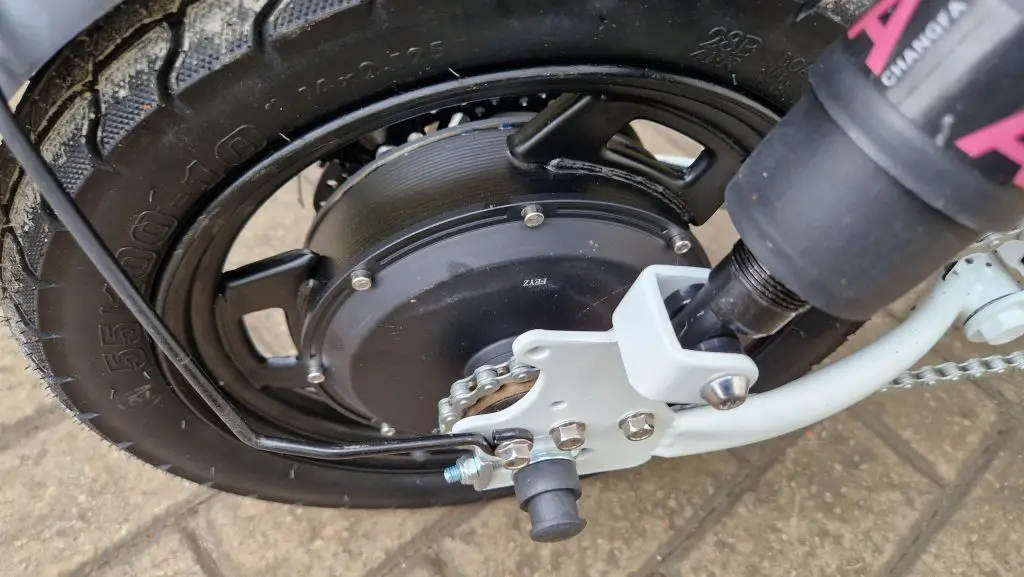 I tested out the Engwe on a network of cycle paths near my home, which has some flat and rolling sections, and some very short, sharp uphill bits. On the flatter parts of the test ride, the Engwe T14 performed admirably, and would quickly reach its maximum speed of 15 mph (verified by the bike computer). You could just cruise around on throttle, and I found it pleasant to ride. Additionally, the motor is very smooth and quiet.
How is the Engwe T14 on the hills? Moderate hills were fine, but the steeper ones provided more of a challenge, and the steepest climb (12%>) left me struggling and breathless. To be fair, the T14 isn't designed to go up steep hills – it's a single speed, and is very heavy, but I thought I'd try it for this review.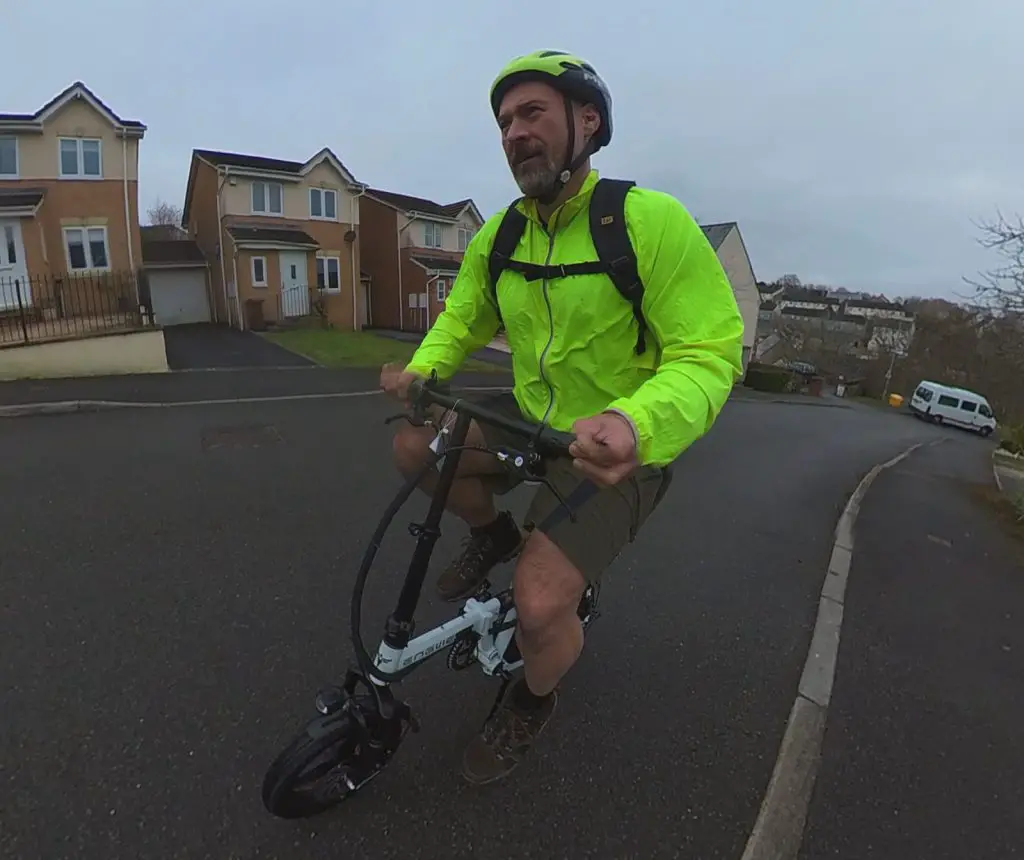 Battery
For a sub-£500 electric bike, the Engwe T14 has a surprisingly good-sized battery. The claimed range of the 48v 10Ah battery is 15 – 49 miles (25 – 80 km). I'd be very surprised to see anyone get anywhere near the upper range. I covered around 3.5 miles just riding around the cycle paths and didn't notice any drop off in performance, and the control panel still showed 3 LED's after the ride. I reckon with a medium-sized adult rider, riding fairly flat paths and using the throttle, you would see 15, maybe 20 miles out of a charge. A bit more may be possible if using the pedal assist.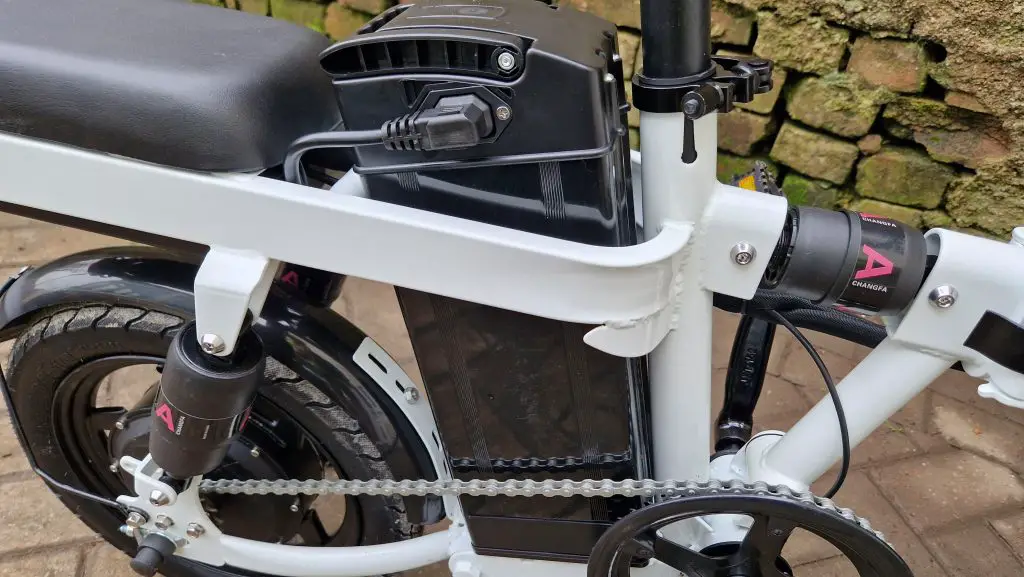 Bike Components
Gearing and Brakes
There's a single gear, which is geared about right for a bike of this size. You definitely won't be pedalling much above 15 mph, but the gearing is just about low enough to climb hills with the aid of the assist.
For braking, there are mechanical disc brakes front and rear. These actually worked okay, and it was easy to lock up the rear wheel when braking. The brakes on the test model were set up for the UK with the front being on the right, and back on the left. The cycle path was covered in leaf mulch, and you needed to be careful with the front brake locking up with hard braking. Typically with cheap mechanical disc brakes, they were quite noisy at times.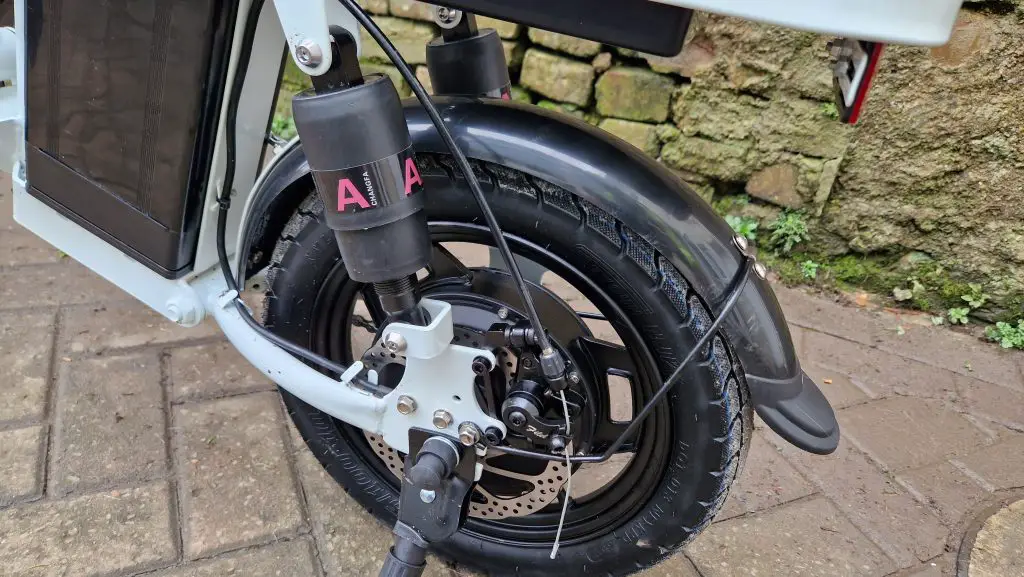 Suspension
Here, the Engwe T14 has more than its fair share of suspension. There's a very small and neat front suspension fork, two rear shocks, a central shock, and even a sprung saddle. This does make the T14 feel quite 'bouncy' to ride, but it does help absorb surface imperfections. I think having all this suspension adds unnecessary complexity and weight to the bike, but some riders may appreciate the added comfort.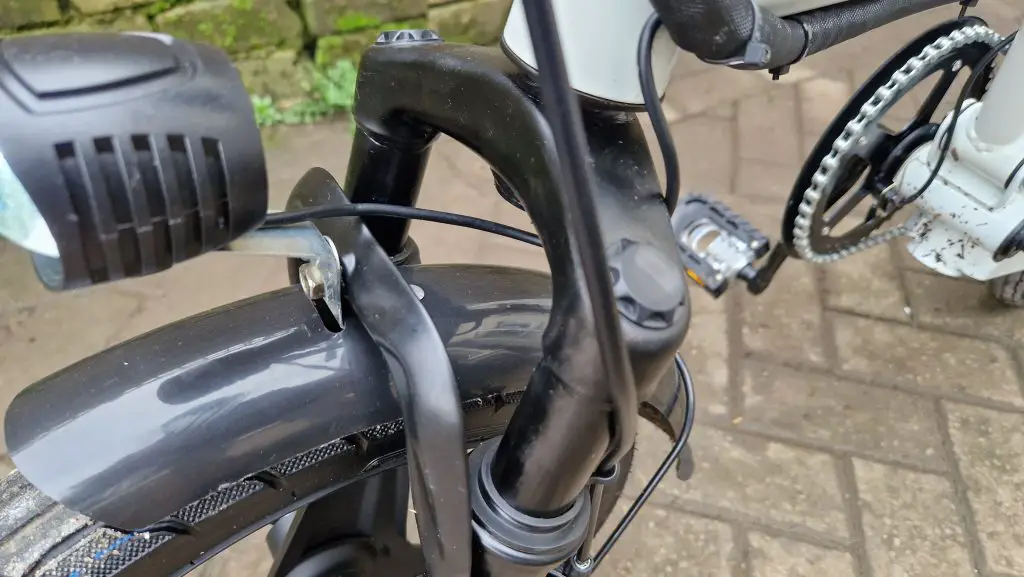 Wheels and Tyres
The 14-inch wheels are a one-piece three-spoke mag wheel design. Mag wheels are a good idea on small commuter e-bikes, as they remove the risk of broken spokes. The tyres on the T14 are 2.125 x 14″ – they roll quite nicely and seem to have a reasonable grip. You will need to take more care avoiding potholes and other road obstacles, as smaller wheels don't cope with these hazards so well.
Accessories
No folding e-bike would be complete without accessories. The Engwe T14 has everything you'd expect to find on more expensive bikes. There are some very neat mudguards, front light, a kickstand and a pannier rack. The rack has a cushion on it, but I'm fairly sure you're not meant to carry passengers on this bike.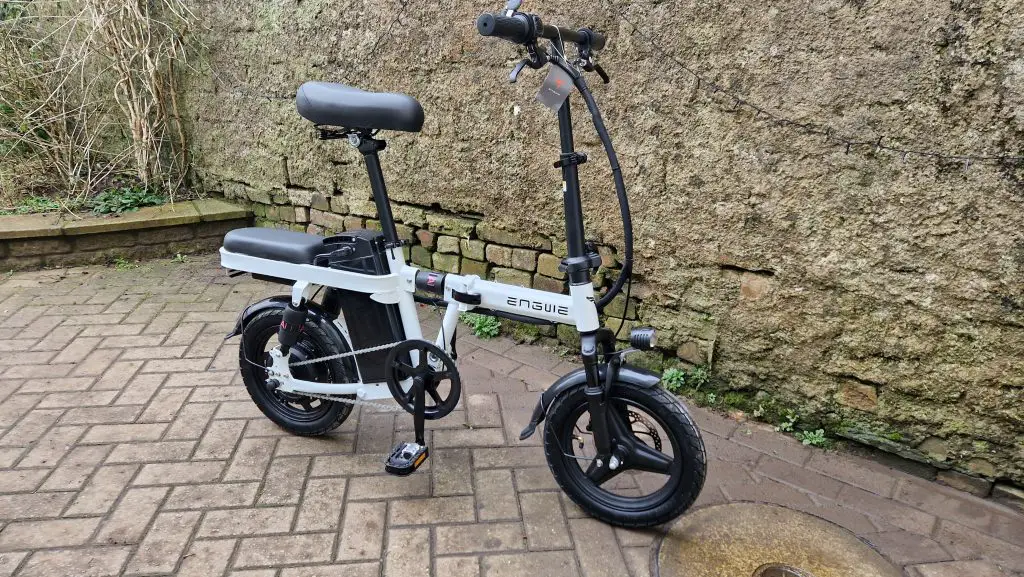 Handling, Size and Weight
If you're riding an e-bike with 14″ wheels for the first time, you must take extra care. These small-diameter wheels don't deal with potholes too well. The surface of the test route was very wet, with lots of muck on the surface, so I couldn't ride too fast. The bike itself takes a bit of getting used to – the narrow handlebars are very close giving quite a cramped riding feel (for me at least). Handling feels a little nervous at first, but it's okay once you get the hang of it.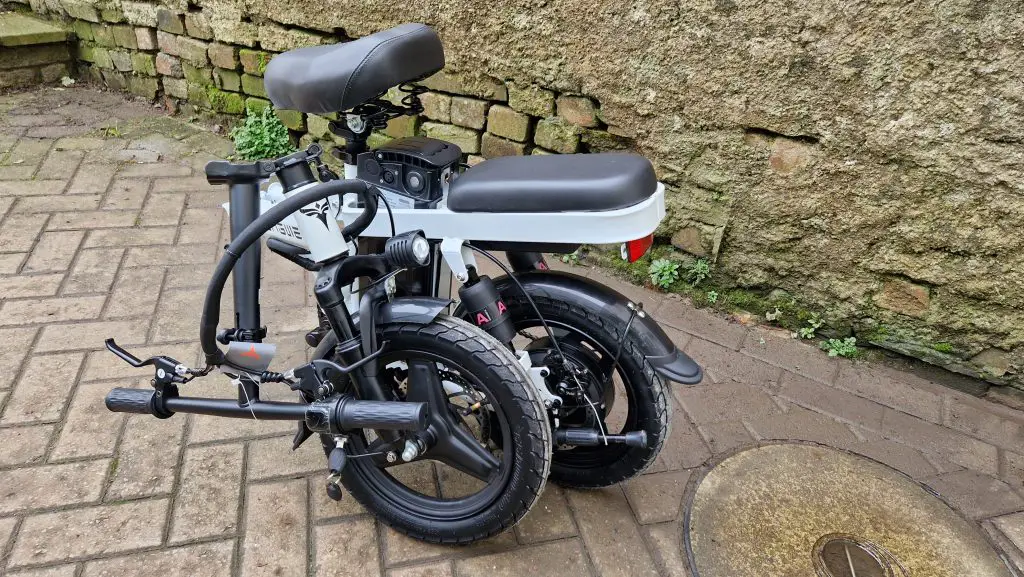 As far as size is concerned it's fairly small and can be folded up to a compact size. Unlike some of the folding electric fat bikes I've tested, you could easily take this on public transport or quickly put it in the back of a car. It's small enough to take into the office with you. The only downside here is weight – I weighed it myself and it is very heavy for a small e-bike. My scales placed it at 27.5 kg, which is way too heavy to be carting around a lot – you wouldn't want to carry this upstairs.
Engwe T14 Price
The Engwe T14 is available for around $629 in the USA, €549 in EU countries and £499 in the UK. It's also available in two colours: White and Grey. I think the T14 offers good value for money at this price. It has a great specification for the price and the performance/battery range is better than expected for an e-bike in this price range.
Who is the Engwe T14 Suitable for?
The Engwe T14 could be a great option for people with limited mobility. If you needed a means to make short trips, and providing there weren't any steep hills, the T14 would be a great runabout. It's certainly a viable option for short commutes, or 'last mile' travel. As with other folding e-bikes, you could put this on the back of your motorhome to use as a way from getting about. It would also be a great way for students to get around campus.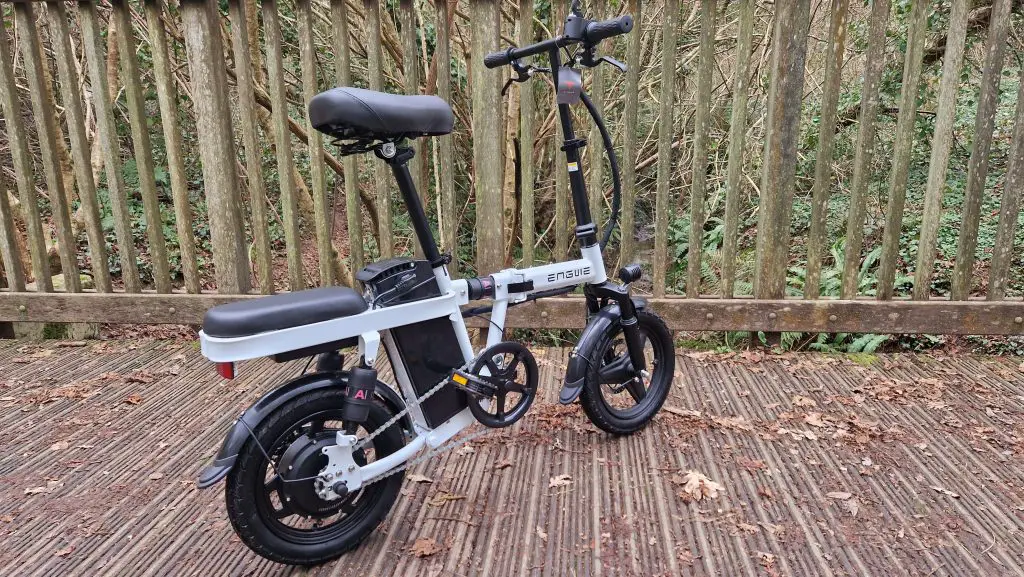 Conclusion
Even though it's a bit too small for me, I quite like the Engwe T14. It's a neat little e-bike, and it will be a viable option for shorter, or younger riders. For such a cheap electric bike it has a great specification, and I'm not aware of another e-bike in this price bracket that has all the features of the T14.
Mini folding electric bikes can offer a cheap and practical solution for urban mobility. There are compromises, but, if you can live with the weight, small size and you don't want to spend a fortune, I think the Engwe T14 is hard to beat for the price and well worth considering.
Specifications
| | |
| --- | --- |
| Motor Type | 250-watt 48-volt Brushless Rear Hub |
| Battery | 48v 10Ah / 480Wh Generic cells |
| Battery Range | 15 – 49 miles / 25 – 80 km (claimed) |
| Top Speed | 15.5 mph / 25 km/h |
| Weight | 28 kg |
| Maximum Load | 99 kg / 220 lbs |
| Gearing | Single Speed |
| Brakes | Mechanical disc brakes with cut-off sensors on brake levers |
| Suspension | Front coil-sprung suspension fork / Central shock / Twin Rear Suspension Shocks |
| Accessories | Mudguards, Kickstand, Pannier rack, Headlight, |
| Price When Reviewed | £499 (UK) €549 (EU) |
For more reviews of Engwe Electric Bikes, check out the links below:
We hope you found this Engwe T14 review useful. If you have any questions relating to this bike, please leave a message in the comments section below.