ebikechoices is supported by its audience. When you purchase through links on our site, we may earn a commission. Learn more
In this article I'm going to be looking at a selection of some of the best electric bikes under £500 to see if they're any good or should you save up and get something more expensive?
If you want to buy an e-bike, but are on a tight budget, you have a couple of options – you could convert a bike you already own to electric or buy a cheap electric bike. Once you get below £500 your options become quite limited unless you buy second-hand.
What sort of electric bike can I buy for under £500?
Any electric bike available for under £500 is going to have a very basic specification – this means one gear, mechanical disc brakes and a compact or folding design. If you're a larger rider you may find riding these bikes uncomfortable for more than a couple of miles. You'll also be looking at a fairly low battery range of around 10-20 miles.
These bikes are generally suited to smaller riders, who are using them for shorter commuters or personal mobility around town. I've ridden a couple of the bikes featured below and I personally wouldn't want to do more than a few miles on one. Having said that, if you need a 'no frills' electric bike for short errands then they all do the job.
The e-bikes featured below are all close to or under £500 but prices may vary slightly due to currency fluctuations.
---
1. Fiido D3 Pro Folding E-Bike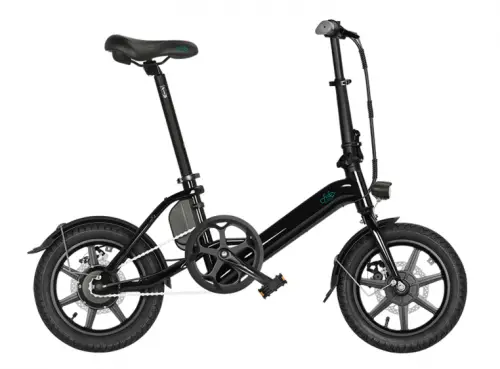 Fiido make some very good folding electric bikes and the D3 is their entry-level model. It features a compact, foldable design with 250w hub motor and 36v 7.5ah battery – this should give a range of anything up to 25 miles (40km). Accessories include mudguards, and headlight.
---
2. Kugoo Kirin B2 Electric Bike
The Kugoo Kirin B2 is one of my favourites featured here. It uses quite a powerful 400w brushless hub motor with a 48v 7.5Ah battery. I had one of these to test for a while and it is quite a fun little bike to ride. It's also surprisingly comfortable, thanks to the gel saddle and suspension seat post. There's dual mechanical disc brakes which work okay, a kickstand, mudguards and integrated headlight. Read my full Kugoo Kirin B2 review here.
---
3. Onebot S6
Another excellent budget folding e-bike, the Onebot S6 uses a 250w motor with 36v 6.4Ah battery. I have ridden one of these and I was impressed with the build quality and performance. The Onebot S6 is usually available for between £500 – £600 and sometimes less if it's on offer.
---
4.  Windgoo B20 Electric Bike
The Windgoo B20 is one of the cheapest e-bikes on this list and is usually available for under £400. It features a 250w hub motor and 6Ah battery. If you're not bothered by its diminutive size, the Windgoo would be ideal for short, urban commutes.
---
5. Niubility B16 Foldable E-Bike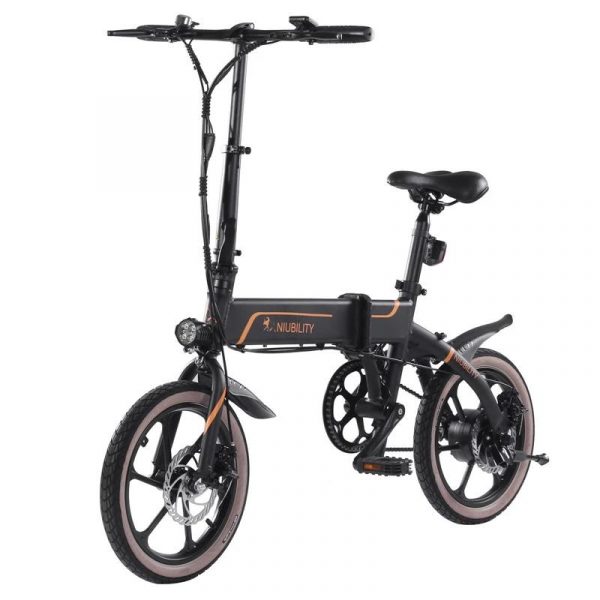 I really like the look of the Niubility B16 folding e-bike at the current price of €550 it's good value for money. The B16 uses lively 350w hub motor with a respectable 42v 10.4Ah battery which should be good for a range of 40-50km.
Buy from Geekbuying (EU countries only at present)
---
7. Dohiker KSB14 Folding Electric Bike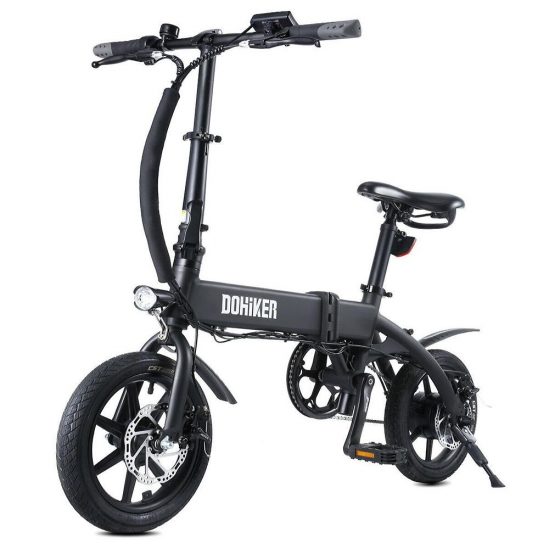 Another great little e-bike for commuting is the Dohiker KSB14 – currently priced at under €500 and with a 36v 10Ah battery and 250w motor, the KSB14 is very good value for money.  There's also the usual accessories including headlight, kickstand and mudguards.
---
8. Assist Hybrid E-Bike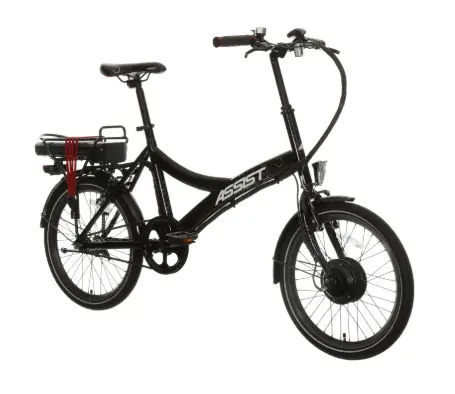 The Assist Hybrid available exclusively from Halfords UK is their cheapest electric bike and is currently on sale for just under £500. Unlike the other bikes featured here, it doesn't fold and it uses a 250w front wheel hub motor. The battery is very small at 4.8Ah, but should still give a realistic range of 10-15 miles on a charge.
If you're just after something to run errands on or short commutes, this would be ideal, plus it comes with Halfords warranty of 2 years on electric components.
---
Conclusion
Are any of these cheap electric bikes any good? It all boils down to your personal choice. They all perform as you'd expect and are just fine for short, urban commutes or rides. Where things start to unravel is when you want to go further afield. Battery range is low and the lack of gears will make climbing steeper hills a challenge (even with the e-assist switched on).
Size is also going to be a problem for some riders. I'm just over 6 foot and I've ridden the Kugoo B2 (pictured below), apart from looking ridiculous, after a few miles things start to get uncomfortable – I reckon these small bikes would be perfectly suitable for shorter riders.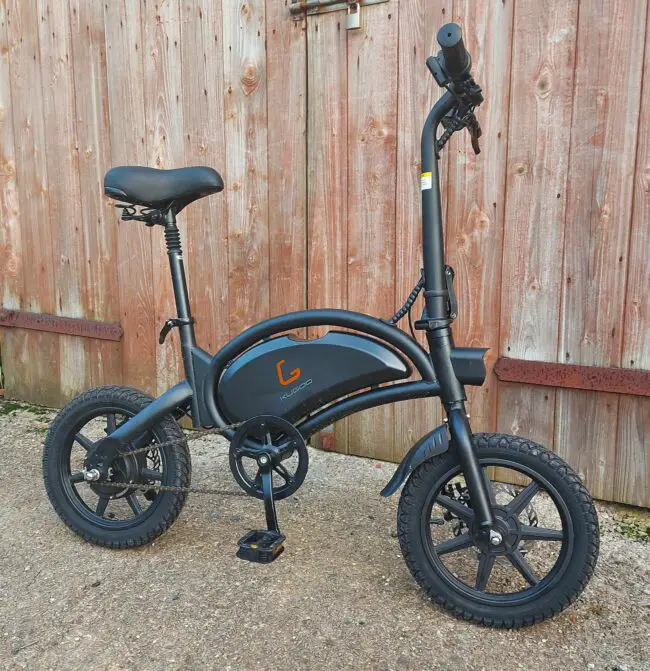 If you're looking for an e-bike for longer distances with more variation in terrain, then I'd strongly recommend spending more than £500 and maybe have a look at some of the cheap electric mountain bikes available.
Thanks for reading, if you have any questions or comments, please leave below and I will reply within 24hrs.