Folding e-bikes are great for commuting but also make excellent leisure bikes. They're usually lighter and smaller than their conventional counterparts, making them much easier to transport. In this article, I will look at 9 of the best folding electric bikes available for under £1000.
The 9 best folding electric bikes for under £1000
Folding Electric Bike Buying Guide
Folding e-bikes are just like traditional folding bicycles with the bonus of electric assist. They can usually be folded up in under a minute and easily taken on public transport or placed in the back of your car to enable you to travel the last few miles to work easily! Below, I have listed some technical terms and their meaning.
Pedal assist
There are two types of pedal assist used on folding e-bikes. The first and most common is cadence assist. This measures pedal crank rotation and provides electric assistance when the cranks start turning. This type of assist has a very on/off feel and is not particularly refined. The second is a torque sensor. This is more sophisticated and measures pedalling force. It provides a much smoother, more reactive assist and improves motor efficiency.
Power output
The power output in watts relates to how much work an electric motor can perform. To clarify things a little, 750 watts is equivalent to one horsepower. In all European countries and Australia, the current maximum continuous power output allowed is 250w – most of the e-bikes featured below will provide higher peak power in the full-power mode for a limited time; this is allowed by law, and it is the continuous rating (250w) that's important.
Battery
Most batteries on folding electric bikes are either 36 or 48 volts. The higher the 'Ah' rating, the greater the energy capacity and range. For example, a 36v 10ah battery would have a total energy capacity of 360 watts-hours (36v x 10ah = 360Wh). If you consume 10Wh per mile, your battery should last 36 miles. This mileage would vary depending on the power used, the weight of the rider and the terrain ridden on.
What Makes a Good Folding Electric Bike?
Folding e-bikes should be fairly lightweight, easy to fold and have enough battery range for at least 10 – 20 miles of assisted riding. It's also helpful if they can still be pedalled if the battery runs out.
Easy to Transport
Since the whole point of buying a folding electric bike is the ease of transport, it is worth considering how quickly and easily it folds up and the weight. Electric bikes are considerably heavier than their conventional counterparts, mainly due to the added weight of the battery, motor and other ancillary components. Most of the bikes featured below weigh at least 18kg, some weighing over 20kg – roughly the same weight as a bag of sand.
Power output
Since most folding electric bikes are used for town or city riding, power output isn't as crucial as on regular e-bikes. 250w – 350w is usually more than enough power for short-distance city commutes.
Battery range
As mentioned above, battery range isn't as important on a folding electric bike as they are usually used for short-distance commutes or getting from public transport to places of work. Most folding e-bikes will have enough battery power for 15 – 20 miles of electric assistance. Some models may go even further.
E-bike Battery Range Calculator (250w motor)
Estimated e-bike range:
0
km
Accessories
A folding e-bike must have all the accessories needed for urban riding. Lights are especially important, but having mudguards and a pannier rack is good.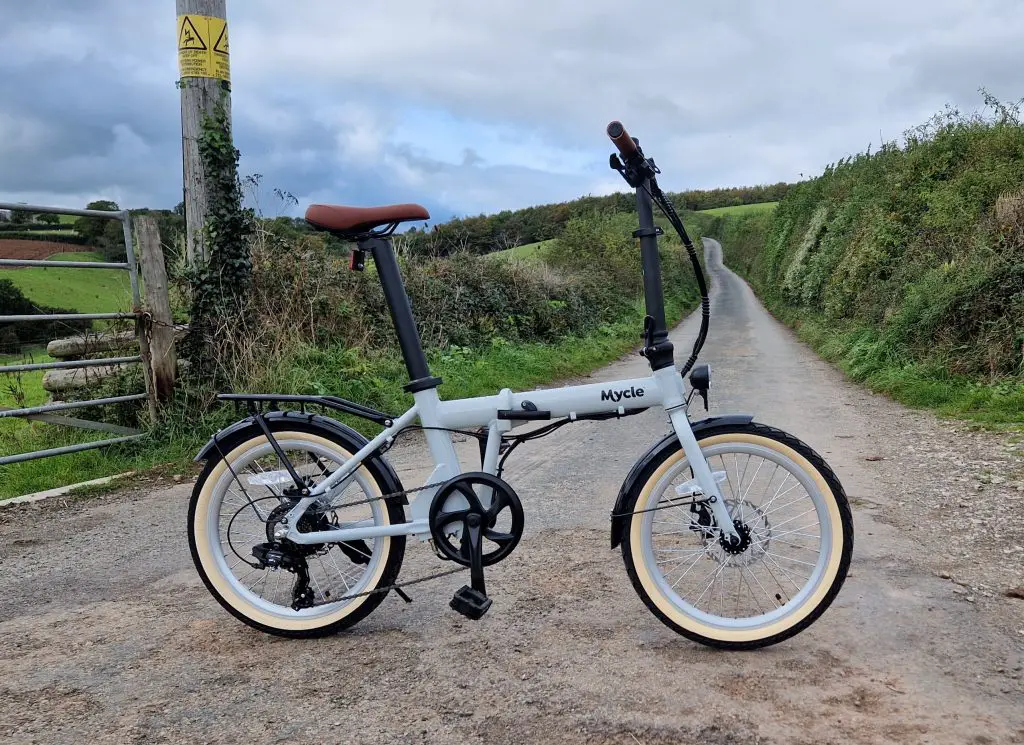 Our featured e-bikes are just a fraction of the massive choice available. Our expert has chosen the folding e-bikes below based on personal experience, value for money and customer reviews. The list below features folding e-bikes suitable for different uses, from off-road riding to covering extra long distances. If you have any questions about the bikes featured here, please leave a message in the comments section at the bottom of this article.
---
PVY Z20 Pro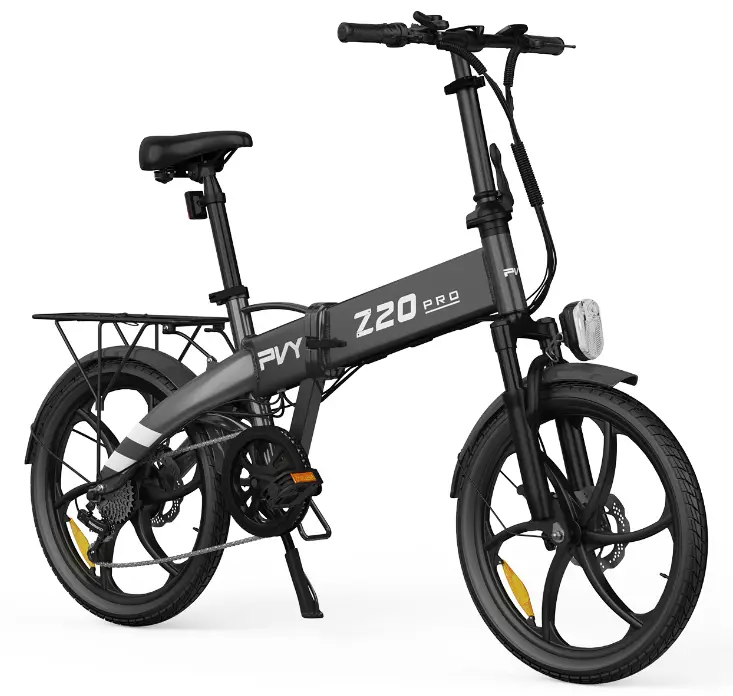 Key specifications
Motor: 250w rear hub motor
Battery: 36v 10.4Ah
Range: 25-35 miles
Brakes: Mechanical disc
Gearing: 6-speed
Weight: 22 kg
Price: £699
The PVY Z20 Pro is an affordable folding e-bike that has great specifications. There's a smooth 250w rear hub motor and 36v 10.4Ah battery for power. It's a very well-put-together e-bike and complies with the EN15194 safety standards.
Accessories include colour-coded mudguards, a kickstand, a front light and a pannier rack. There are mag wheels which eliminate the chances of broken spokes and puncture-resistant tyres. The PVY is a great little e-bike at a budget price.
Watch the YouTube video review.
---
Fiido L3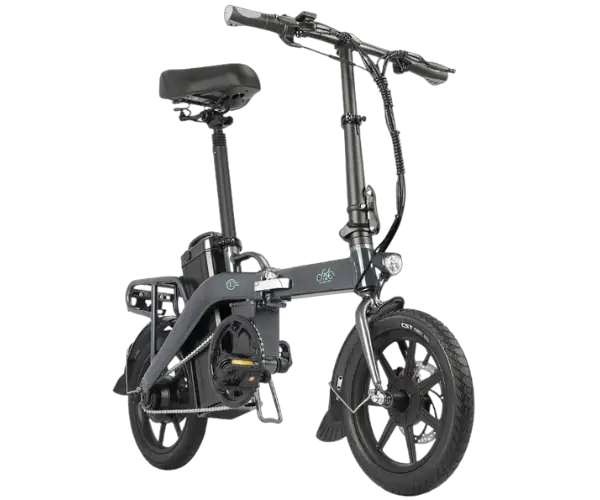 Key specifications
Motor: 350w rear hub motor
Battery: 48v 23.2Ah
Range: 70-100 miles
Brakes: Mechanical disc
Gearing: Single speed
Weight: 23 kg
Price: $999 / £899
Nothing can come close to the Fiido L3 if the battery range is important. Featuring a massive 48v 23.2Ah battery, the L3 can have a massive range between charges. Although the claimed range is over 100 miles, riders can expect a real-world range of 60-70 miles, unheard of in the folding e-bike category.
Despite its single gear, the 350-watt 48v motor is livelier than expected, providing punchy acceleration and surprisingly strong hill-climbing abilities. The only downside is weight; at 23 kg, it's the heaviest of the bunch. But you won't find another folding electric bike with this range.
---
Decathlon Tilt 500E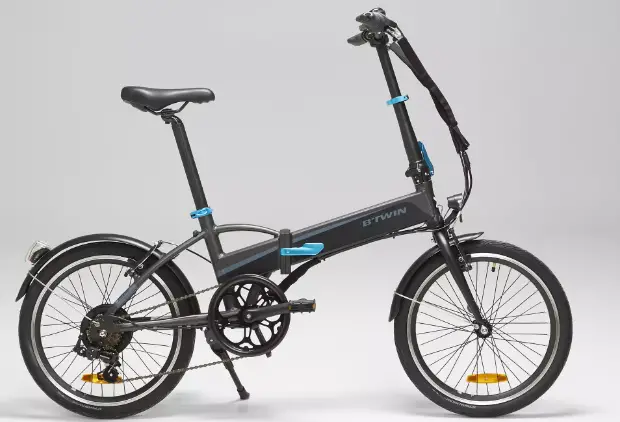 Key specifications
Motor: 250w rear hub motor
Battery: 24v 7.8Ah
Range: 35 km
Brakes: Rim brakes
Gearing: 6-speed
Weight: 18.6 kg
Price: £699.99
The Decathlon Tilt 500e may be getting a bit long in the tooth now, but it still offers excellent value for money. It may only use a 24-volt system, but it's hard to beat if you're just after an e-bike to save on taxi fares for the last few miles of work travel.
Decathlon offers a lifetime warranty on the frame, and the electric components are covered for up to 2 years from purchase. If you're after a 'no-frills' folding e-bike for shorter journeys, you won't go wrong with the Tilt 500e.
---
Raleigh Stowaway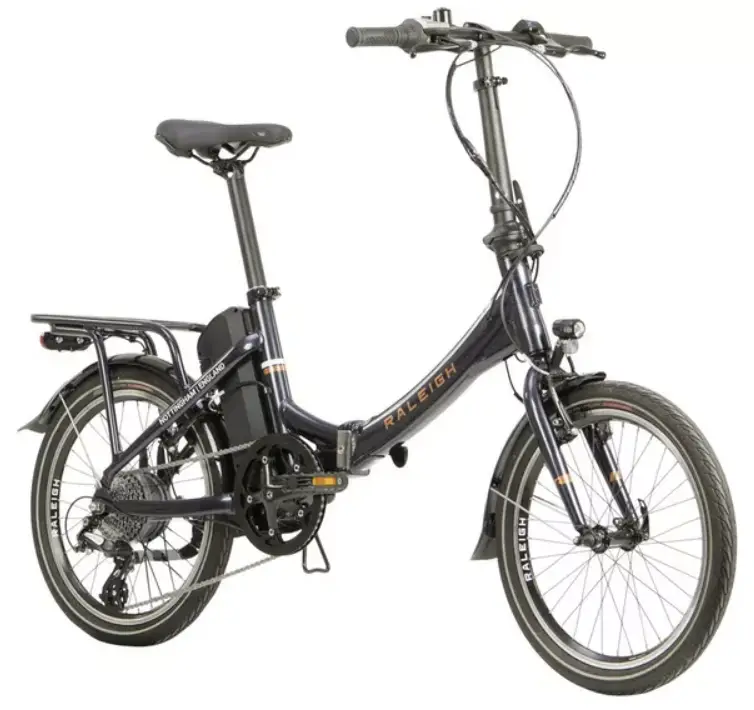 Key specifications
Motor: 250w rear hub motor
Battery:36v 6.8Ah
Range: 25-30 miles
Brakes: Rim brake
Gearing: 7-speed
Weight: 20 kg
Price: £999
If you're looking for a stylish and affordable folding e-bike, then the Raleigh Stowaway is a great choice. The Raleigh has everything you need in a folding e-bike – simple design, decent motor and battery combo, mudguards, rack and lights.
The Stowaway is a popular option from a well-known brand and is ideal for shorter commutes or even a spot of weekend leisure riding.
---
Ado A20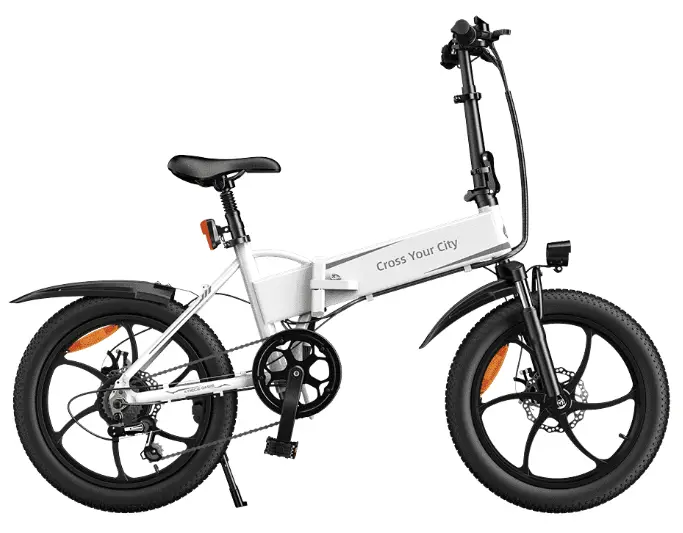 Key specifications
Motor: 250w rear hub motor
Battery: 36v 10.4Ah
Range: 80 km (claimed maximum)
Brakes: Mechanical disc
Gearing: 7-speed
Weight: 21 kg
Price: £769
The Ado A20 is a great option for commuters looking for a comfortable and practical folding e-bike with a decent battery range. Ado E-Bike has quickly established its brand within the UK and EU markets and emphasises after-sales service and rigorous safety testing of its e-bikes.
The A20 is one of their best-selling models and has a really good spec for the price. The 250-watt motor is powered by a 374Wh battery, and the bike comes with mechanical disc brakes, front suspension, mudguards, rack, lights and kickstand. If you need a versatile folding e-bike that is well-equipped and can handle varying terrain, the Ado A20 is well worth considering.
---
Fiido D11
Key specifications
Motor: 250w rear hub motor
Battery: 417Wh
Range: 62 miles/100 km (claimed maximum)
Brakes: Mechanical disc
Gearing: 7-speed
Weight: 17.5 kg
Price: £999 / $1099
If you're after something more sporty looking,  there's not much choice in the sub-£1000 folding e-bike market apart from the excellent Fiido D11. Weighing in at just 17.5kg, it's one of the lightest folding electric bikes on this list.
Performance from the 250w motor is lively, and the 36v 11.6Ah battery should guarantee a range of up to 40 miles (64km). It's really fun to ride, and the nimble handling is especially suited to urban riding. If you're into more spirited riding, then the Fiido D11 would be a good choice.
---
Carrera Crosscity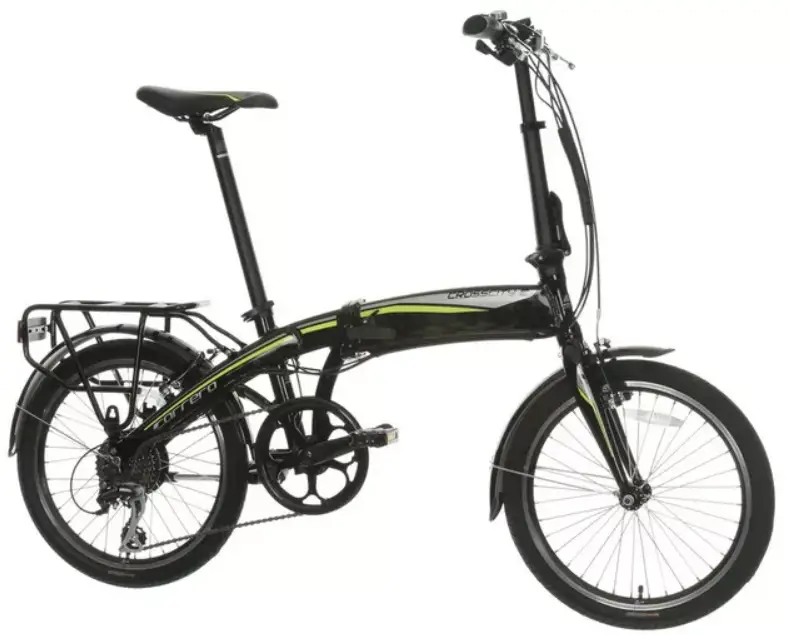 Key specifications
Motor: 250w rear hub motor
Battery: 36v 8.7Ah
Range: 25-30 miles
Brakes: Rim brakes
Gearing: 8-speed
Weight: 18 kg
Price: £949
The Carrera Crosscity has been a best-seller at Halfords for two years and is very popular. It's a simple yet functional design, with everything you'll need on a folding commuter e-bike. There's a smooth 250-watt rear hub motor with a 313Wh battery and a potential range of up to 30 miles between charges.
The Crosscity also features an 8-speed drivetrain, giving plenty of gear range for tackling hillier routes. It's still a great option in 2023, with a Halfords 2-year warranty and a national network of service centres.
---
Fiido M1
Key specifications
Motor: 250w Rear Hub Motor
Battery: 450Wh
Range: 62 miles/100 km (maximum claimed)
Brakes: Mechanical disc
Gearing: 7-speed
Weight: 25 kg
Price: $999
The Fiido M1 is a great option for riders tackling more challenging terrain. Featuring 20 x 4″ tyres, a 250-watt motor and a 36v 12.5Ah battery, the M1 is ideal for negotiating city streets or rough country lanes. The combination of fat tyres with front and rear suspension makes for a plush and comfortable ride.
It's a good choice as a commuter bike – there's enough battery power for a realistic range of 40 miles, and the 250-watt motor will flatten all but the steepest of hills. The M1 is excellent value for money, and if you need a folding e-bike that can handle rougher terrain, it's one of the best at this price point. Check out the best folding electric fat bikes.
---
Mycle Compact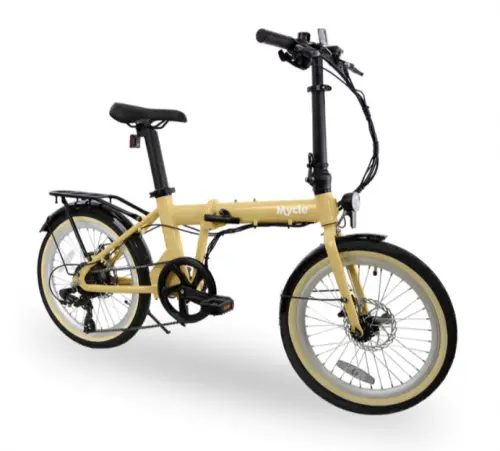 Key specifications
Motor: 250w Rear Hub Motor
Battery: 36v 6.4Ah
Range: 30 km
Brakes: Mechanical disc
Gearing: 7-speed
Weight: 17.5 kg
Price: £999
Mycle is a London-based e-bike company with a great ethos and a good range of affordable electric bikes. The Mycle Compact is not only excellent value for money (currently on offer at £999) but is very stylish and has great build quality. A brushless 250w geared hub motor and a 36v 6.4Ah seat post battery provide power. The assisted range is around 20 miles, ideal for shorter, urban rides.
The mechanical disc brakes work well, and the Microshift 7-speed Shifter with Shimano derailleur provides consistent gear shifts across the range. All Mycle e-bikes are assembled in the UK and go through final quality control and testing before being sent to customers. Shipping is from within the UK, so you can be guaranteed to receive your bike quickly. Check out the full Mycle Compact review article.
Watch the YouTube video review.
---
Conclusion
There's no clear winner in the best folding electric bike under £1000 category. All the e-bikes featured in this article have good points. If long distances are your thing, then the Fiido L3 is unbeatable. Decathlon's Tilt 500e is still a firm favourite for a cheap and cheerful last-mile ride. My favourite would have to be the Fiido D11, but I'm biased as I currently own the similar Fiido X. It's a cracking bike with light and nimble handling and good battery range.
Whatever you decide, riding folding electric bikes is fun, and you get a bit of exercise into the bargain. Plus, they can save money in the long term and provide a viable alternative for commuting by car or public transport.
Thanks for reading this article, and if you need help deciding which folding electric bike is best for your needs, please leave a comment below – I will try to answer all questions within 24 hours.