Bike computers are a great way to provide you with accurate, real-time data when out riding your e-bike. They're also good for recording your rides and tracking your progress through fitness apps like Strava. In this Coospo BC107 review, I'll share my thoughts on this budget bike computer.
Coospo is a Chinese brand that specialises in fitness tech, particularly cycling. They sell a range of bike computers, heart rate monitors plus, speed and cadence sensors.
In this review, I'm going to be sharing my views on their BC107 bike computer, which I recently purchased after my Wahoo Elemnt Bolt stopped working after four years of use. I had already been using a Coospo heart rate monitor for over a year without problems, so I thought their computer must be worth trying.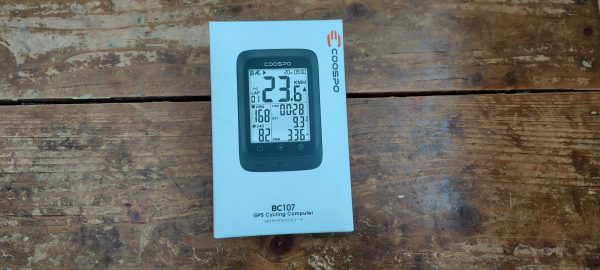 First Impressions of the Coospo BC107
I ordered my Coospo BC107 from Amazon UK, and it arrived the following day. The box contained the computer, an out-front handlebar mount, and a stem mount. Plus, a charging lead and instruction manual.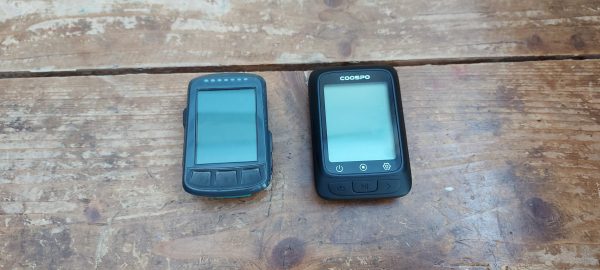 The BC017 itself is a little larger than the Wahoo and it looks well-made. It's fairly lightweight at 68g and has a micro-USB charging port at the back of the device (protected by a rubber flap). A quick, short press of the power button and the Coospo starts up – the display is nice and clear/easy to read.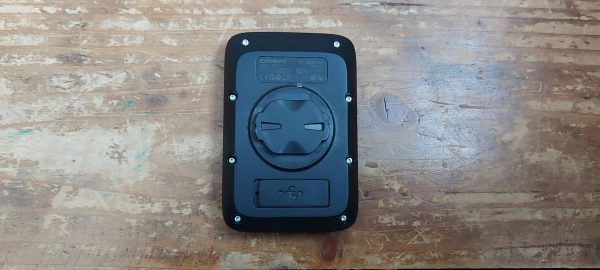 How to set up the Coospo BC107
Everything was nice and straightforward to set up. I downloaded the app from Google Play, opened an account via the app, and paired it with the computer. If you use Strava, it's very easy to set permissions – you do it from the Coospo app and log in to your Strava account to confirm the permission.
I read a lot of criticism of the app in the reviews, but I found it works just fine. Providing your Bluetooth is switched on, the app should discover the bike computer quickly. The phone I'm using the app on is a Samsung A71 4g with the latest updates.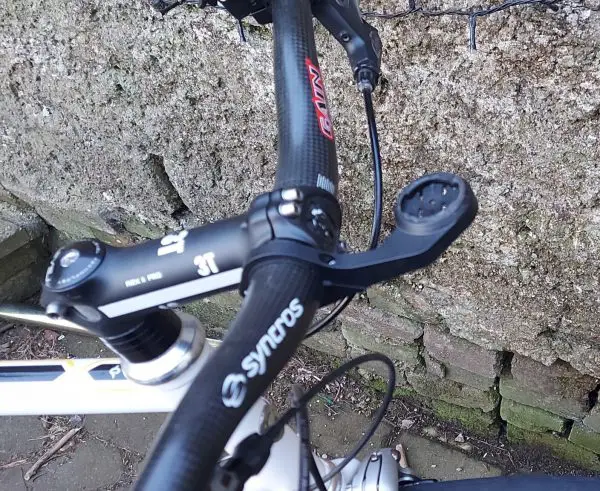 Setting up external ANT+ sensors couldn't be easier – you press and hold the right key (settings button) and the screen will start flashing with a P1. Then you short press the middle button and after a short delay, your sensors should register. If you have a cadence sensor fitted, you will need to spin the cranks for it to be discovered, if you have a speed sensor fitted to the hub, just spin the wheel. Once the sensors are registered on the screen, short-press the left button (power key) and it should save your sensors.
If you want reasonably accurate data on calorie usage, then you can add your height, weight, age, etc into the app and it will calculate this using heart rate data.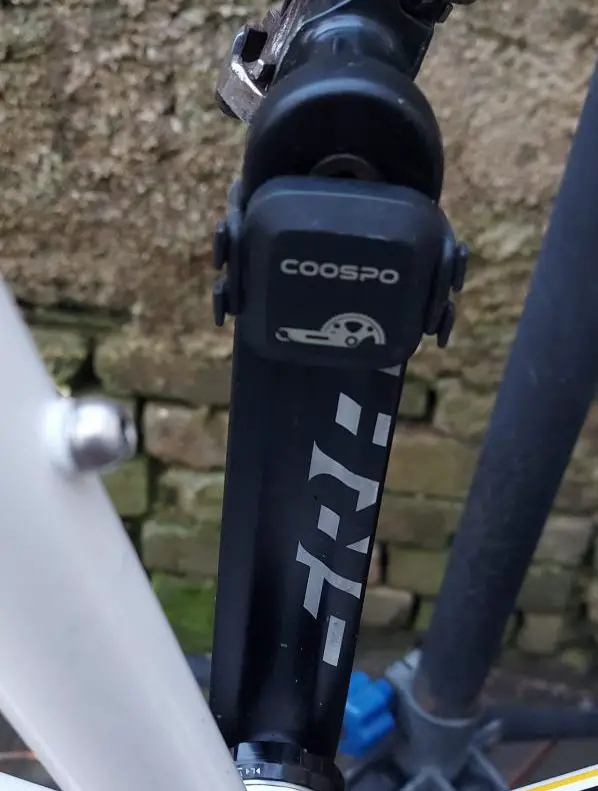 Setting the wheel size is nice and easy – you press and hold the settings button until P1 flashes, then press the right button again to get to P2, and then press the middle key. To set the correct wheel diameter you will need your wheel size and tyre size – Coospo provides the numbers in the manual. Once I'd entered the correct number (according to the manual) I was good to go. P3 and P4 set the time zone and metric/imperial respectively. P5 is power calibration (if you're using a power meter).
Using the Coospo BC107 for your ride
Once you've set up your sensors (if you have any) it's just a case of pressing the middle button – there is a short countdown and then the device will start recording your ride.
When you're stopped it will pause and the speed will flash until you start moving again. There are three screens you can use. The default screen gives you your speed, time, distance (of the ride) and % gradient you're riding.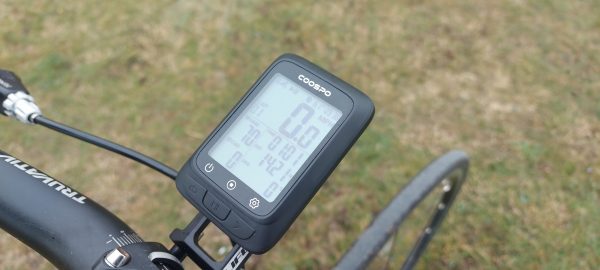 The second screen gives you your average speed, altitude, how much you've ascended (in feet or metres) and average gradient. Screen three displays the maximum speed you've reached, calories burned, total mileage travelled and maximum gradient climbed.
I've now used the Coospo BC107 for a total of 437 miles over 17 rides – it has successfully recorded all the rides and the data uploaded to Strava is no more or less accurate than from the Wahoo. Considering the Wahoo Elemnt cost me nearly five times as much, that's pretty impressive.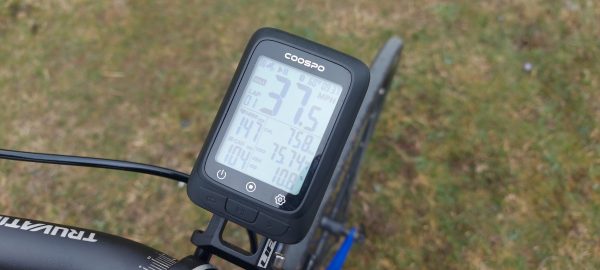 You don't need to have the device connected to the app when using it. When you've finished your ride, long-press the middle key and it will save it on the device. The next time you open the app with the computer nearby, it will automatically detect the latest ride – you then need to upload the ride data from the BC107 to your phone and it should automatically be uploaded to Strava.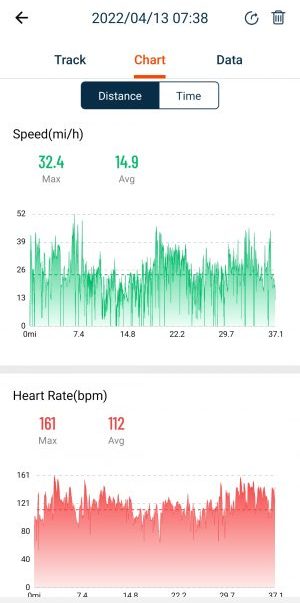 The app also records copies of your ride and will display lots of data including some very neat charts of different metrics (like heart rate, cadence, etc.)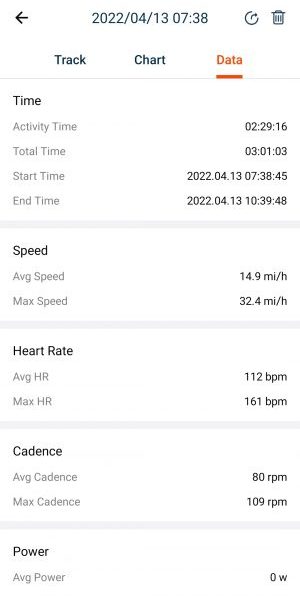 Battery life seems to be very good for the price. The manufacturer claims up to 28 hours on a charge, which seems a little optimistic. My Wahoo could manage about 24hrs at a stretch. I reckon it should manage at least 15-20 hours – I've used it for 5 days back to back and it still had two bars left on the battery indication (roughly 10 hours of usage).
Wet weather – the BC107 is advertised as water resistant. I've no reason to doubt this as I have ridden a couple of times in the wet for a couple of hours and the device is still working fine. The true test will be a full British winter!
Conclusion
I've only been using the Coospo BC107 for just over two weeks, but so far, so good. I'm impressed with it so far. It does everything I need it to and it seems very accurate and hasn't lost any ride data (yet). The only thing it doesn't do (that the Wahoo did) is GPS navigation which is fair enough at this price.
The Coospo BC107 is going to be particularly useful if you're using an electric bike for fitness and want to monitor your progress. If you're after a cheap bike computer to track your rides and monitor your progress, this is as good as it gets at this price. It looks good, seems reliable and it's fairly easy to use. I'd have no problem recommending the Coospo BC107.
Update 01/03/2023: During several months of use the Coospo BC107 didn't let me down once. I still have it as a spare but have since replaced it with the latest Wahoo. If you're after a cheap bike computer, it still gets the big thumbs up👍
Available from Amazon in various countries
If you own a Coospo BC107 bike computer, please share your thoughts in the comments section below.