I've just taken delivery of the latest Himo ZB20 Max folding electric bike, and in this review, I'm going to be covering all aspects from delivery, how the bike was packed and importantly give you a detailed appraisal of the components. Plus, I'll be giving you my thoughts on performance, comfort, handling (on and off-road) and real-world battery range.
I plan on using the ZB20 Max as a general runabout and will be adding a cargo trailer for shopping trips and other errands – I'll be posting regular updates here as things progress.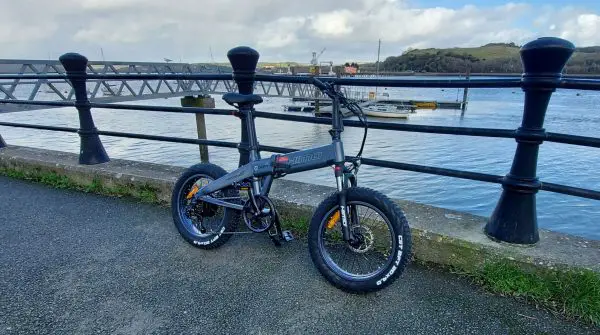 Brand Summary
Anyone familiar with the Himo brand of electric bikes will know they offer excellent quality at an affordable price. I've previously test-ridden a few e-bikes in their range and have always been suitably impressed. This latest version is fully EN15194 compliant meaning it meets the legal requirements of a pedelec in the EU and UK.
Himo are the first Chinese brand to have full CE certification on all of their products. All Himo E-Bikes also conform to the important EN15194 – this covers electrical and mechanical safety standards.
Himo is putting a big emphasis on looking after their European customer base, with a 3000 square metre central technical service centre in Germany and three maintenance centres in Germany, the UK and Poland. There's also a decent warranty of 12 months on electrical components and 10 years on the frame.
For quick shipping to all European destinations, Himo has distribution warehousing in the following locations: Germany (Brushal), Poland (Mazowiechie), the United Kingdom (Lancashire), Spain(Madrid), and Italy(Rome).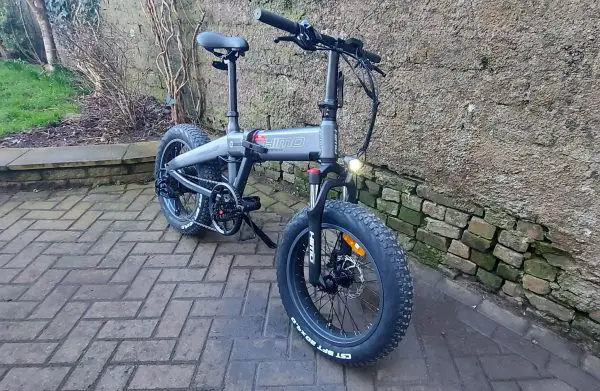 Delivery and Packaging
I received my Himo ZB20 Max within five working days and the bike was incredibly well-packaged in a large box. All the key components were well protected, as were the frame and any other vulnerable parts.
I'll be shortly uploading a video to YouTube of the unboxing – this bike is quite heavy and I would certainly recommend two people to make the task easier.
Test Ride – First Impressions
It's been a while since I've ridden a fat tyre e-bike and it took a bit of getting used to. I usually ride a road bike and a hybrid e-bike, and this felt cumbersome in comparison. But, this is not an electric bike designed for riding at 25mph and is better suited to cruising at lower speeds.
As expected there's a lot of noise from the tyres (akin to a Land Rover) and the steering initially felt a little nervous. Once I'd gotten the hang of it, everything was fine.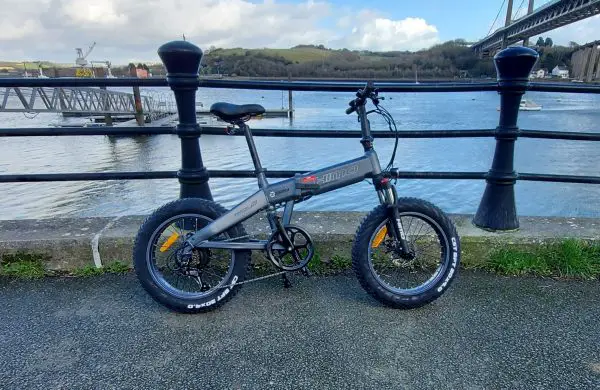 Performance was better than expected. The pedal assist is very smooth and doesn't kick in with a jolt, but builds progressively. I was also very impressed with the quietness of the motor. Riding up a climb with an average 6-8% gradient was fairly effortless.
The brakes performed as expected, they stopped the bike quickly enough and I'm sure they'll improve once bedded in properly. Gears shifted well using the old-style Shimano thumb shifter.
Comfort was another level! The combination of the fat tyres, front suspension and padded saddle made for a very plush ride. I'm looking forward to putting in quite a few miles on the ZB20 Max and will update this article in future with real-world battery range.
Electric Components
Motor: The Himo ZB20 Max uses a brushless geared 250w rear hub motor that's powered by a 48v 10.4Ah battery. This all-new model is fully EN15194 compliant, meaning it's legal to use in the UK and EU countries. The rated torque is 32Nm which is about right for a 250w hub motor in this design.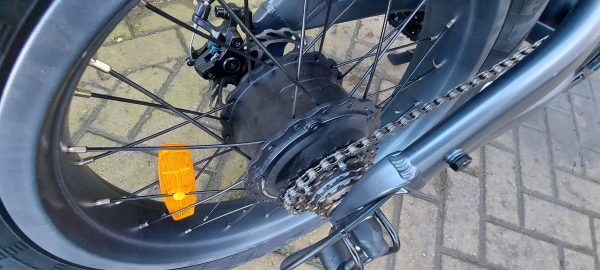 Pedal assist sensor: Pedal assist is cadence-based, meaning it's activated by pedal crank rotation. The Himo has an updated motor control unit which has an improved pedal assist algorithm, making the assist feel smoother and more natural.
Display: This bike features an excellent 500s display unit which is clear to read and has great functionality. There are 3 power assistance modes to choose from, a battery indicator, power indicator, speedometer and trip function. This display is IPX7  waterproof meaning it will be fine to use in heavy rain. In my experience, this particular display is generally very reliable, and even if were are issues (outside of warranty) a replacement is cheap and easy to source.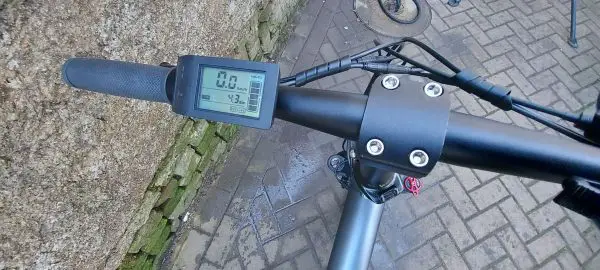 Battery: There's a decent 48v 10.4Ah battery, which fits neatly inside the frame (out of harm's way). This battery has all the latest BMS safety features including overcharge/discharge protection, over current, temperature and short circuit protection. A 48v battery will achieve 250w by drawing less current (amps) when compared with a 36v system – this means the motor will run cooler and be more efficient (plus increased reliability).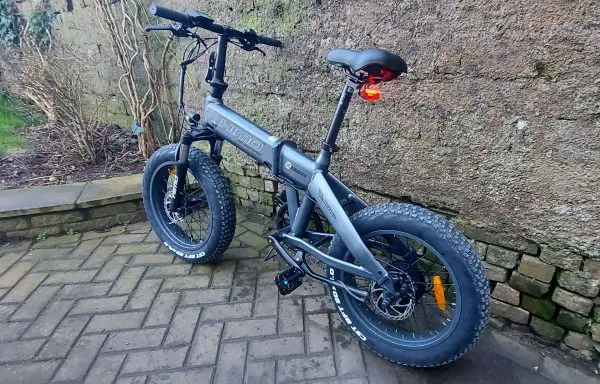 Bike Components
Gearing: A Shimano Tourney 6-speed derailleur with thumb shifter, provides reliable gear shifting. There's a 14-28t freewheel and large front chainring giving a decent gear range for a bike of this kind.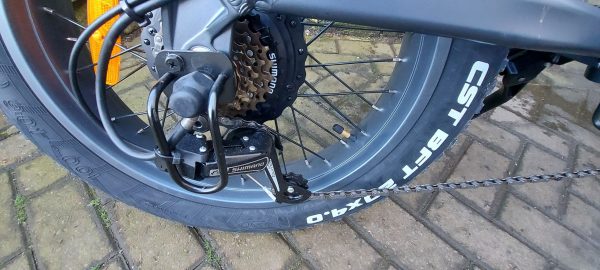 Brakes: The front and rear mechanical disc brakes work just fine, but as I'm going to be towing a trailer, I'll be upgrading to hydraulics – I will be fitting a pair of Zoom HB-100 hydro-mechanical brakes which offer a substantial improvement on braking for not a lot of money.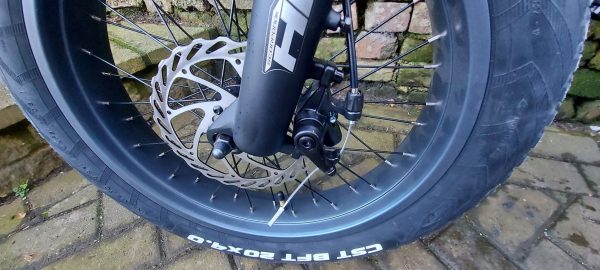 Suspension: There's a decent front suspension fork of the coil-sprung variety, which will be ideal to soak up potholes and rougher terrain. These forks have a hydraulic lock-out function and can also be adjusted for preload. They'll be okay for moderate off-road riding, but not big jumps.
Wheels and Tyres: The 20″ wheels look tough and with the 4″ wide tyres I'm expecting the ZB20 Max to be a versatile machine capable of riding off-road on difficult terrain. I plan on putting the Himo through its paces by tackling a long off-road route on Dartmoor (in the UK).
Accessories: The ZB20 Max comes with a useful array of accessories including some very nice metal mudguards, kickstand and lights. Plus, there's a tyre pump which fits neatly inside the seat post tube.
Frame and finishing kit: I love the frame, it looks and feels like it could stand up to a lot of abuse – it's covered by a 10-year warranty and has undergone stringent safety tests. The seat post has plenty of adjustment for taller riders – I'm 185cm and there was plenty of adjustment left. Finally, the handlebars are a little narrow for my liking, but this is to facilitate easy folding. As I won't be folding this much, I'm going to fit some wider MTB handlebars. The saddle is good quality and has plenty of padding, adding to comfort.
Buy the new Himo ZB20 Max from Himo EU
Specifications:
Brand
HIMO
Type
20 x 4.0 Inches
Model
ZB20 Max
Color
Grey / Sand
Dimensions L×W×H
Overall unit:1620mm x 625mm x 1095mm
After folding:1000mm x 620mm x 760mm
Package Size
 
Operating Temperature
-10~40°C
Storage Temperature
-20~50°C
Net Weight
28kg
Gross weight
36.5kg
IP Rating
IPX5
Max. Speed
25km (15.5mph)
Transmission
Shimano 6 Speed
Assisting range
<80km
Shock-absorption
Front fork hydraulic switch
Brake
Front: Mechanical disc brake
Rear: Mechanical disc brake
Charging time
about 6 hours
Payload
≤100kg
Material
Aluminium alloy
Handgrip Material
TPR
Foldable
Yes
Adjustable of height
Yes
Throttle lever
NO
Small bell
Mechanical bell
Brake handle
left/Right
Mobile Phone Charging Station
/
Drivenmethod
/
Material
Aluminium alloy
Hub type
spokes hub
Size
20 *4.0inch
Tire
Rubber pneumatic tire
Brake
Mechanical disc brake
Drivenmethod
/
Material
Aluminium alloy
Hub type
spokes hub
Size
20 *4.0inch
Tire
Rubber pneumatic tire
Brake
Mechanical disc brake
Material
Aluminium alloy
Type
Main Girder Folding
Parking
Parking stand
Battery location
Built-in main girder
Reflect Sticker
yellow
Max Steering Angle
60°(each side)
Battery Number
/
Air pump
Yes
Foot Pad Material
Nylon
Foot Pad Type
Folding
Carrying handle
NO
Material
Lithium battery
Type of batteries
Removable portable charging
Front and rear mechanical disc brake
52 PCS
Rated Voltage
48V
Charge cut-off voltage
54V
Rated Capacity
48V/10.4Ah (499Wh)
Charging Temperature
0~40°C
Battery Management System
Over-heating, Short circuits,
Over-current, Over-charge protection
Input Voltage
100~240V, 50/60Hz
Output Voltage
54V
Output Current
2A
Output Power
118W
Brand
\
Motor Type
Hall Brushless Gear DC Motor
Rated Voltage
48V
Rated Power
250W
Max. Power
\
Torque
32 N.m
Rated speed
236 r/min
Turn On/Off
Visible button on the speed control handle
Riding Modes Switch
Front Light Switch
Display Type
HD LCD Display
Display Contents
Speed, mileage, Gear, glitch
Electronic booster starting point
20″ x 4.0 Inches tyres with Integrated moulding hub
Under voltage protection
41±2V
Over current protection
15±2A
Front and rear mechanical disc brake
250W Power rate Gear Motor with 236 r/Min speed
Front fork hydraulic shock absorber
Front and real mechanical disc brake
 
Who is the Himo ZB20 Max E-Bike aimed at?
The Himo ZB20 Max is so versatile it's going to appeal to a broad range of riders. The Himo will make an excellent daily commuter e-bike or could be used for weekend leisure rides. Thanks to the fat tyres, the ZB20 Max will be ideal for riding on snow, sand or mud. It would also be great as an urban e-bike – I'm going to be using mine as a general runabout, with the odd excursion up to the moors.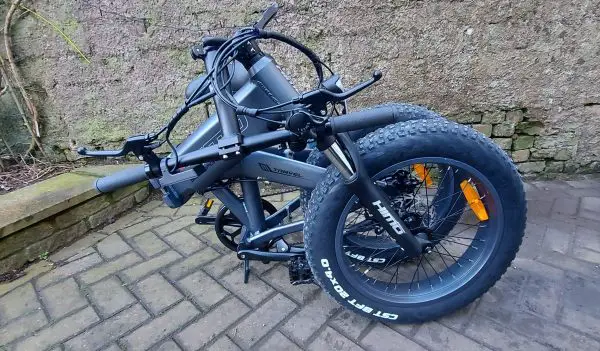 Folding the ZB20 only takes a matter of seconds, but be warned – it's very bulk and heavy at 28kg and I wouldn't want to try carrying this on public transport.
Where can I buy the Himo ZB20 Max?
Fortunately, the Himo ZB20 Max is available in most countries. I have included links below to all the main eBay stores. Plus, links to the popular Chinese e-commerce platforms Geekbuying and Banggood – these companies usually ship from the EU and UK.
Conclusion
My initial impressions of the Himo ZB20 Max are very favourable. I can't fault the finish and build quality, it comes across as very tough and well-built. Over the coming weeks, I'll be expanding upon this review with more photos. I plan on tackling some longer rides and it'll be interesting to see how much range I can squeeze out of the battery.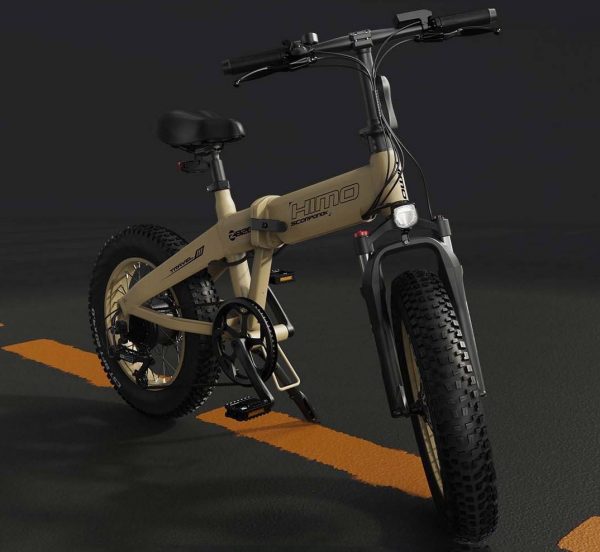 It's a great-looking bike and is available in the matt grey paint of my bike or a nice sand colour (above). The frameset looks robust and it's good to see a 48v system being used. The performance is very good for a 250w considering the heavy weight of the bike (and rider), and I'm very impressed with the smoothness of the PAS and very quiet motor.
The only downside to this bike is the weight and size – it may be a folding e-bike, but it's a beast of a machine. It looks a lot bigger in the flesh and it's very heavy. In my opinion, it's not going to be practical to cart around town on public transport, unless you're a powerlifter!
When compared with the competition, the Himo ZB20 Max is great value for money and I'm looking forward to putting plenty of miles in on mine.  If you're looking for a versatile, all-terrain folding electric bike, then I would highly recommend the Himo!
The Himo ZB20 is also featured in my article featuring 8 of the best folding electric fat bikes.
Visit the official Himo website for more info.
Thanks for reading. if you have any questions, please leave a comment below.