In this article, I will be looking at 8 of the best tyres for electric bikes based on my own personal experiences and opinions. I will be focusing on general hybrid e-bike tyres suitable for leisure and commuting as certain disciplines like e-MTB, e-Road and e-Gravel will require specific tyres.
What E-Bike tyre is best for you?
There are several considerations when buying a suitable electric bike tyre. For the general leisure and commuter rider, puncture resistance will be high on the list as well as being able to handle multiple surfaces like asphalt, canal towpaths and other unsurfaced cycleways.
The requirements of tyres vary greatly between disciplines. For example, if you ride a road bike and your cycling is performance-orientated then you'll want a lightweight tyre that has a low rolling resistance. Mountain bike tyres will need to offer good grip in a variety of tough off-road conditions.
For the general e-bike rider none of the above are particularly important although you will want a good 'jack of all trades' tyre that will be adaptable to different surfaces and weather conditions. Weight and rolling resistance aren't quite so important when you have the benefit of electric assist.
Why puncture resistance is important on e-bikes
Puncture resistance is also an important consideration. A lot of tyres fitted as standard to e-bikes offer only minimal protection. Changing an inner tube can be fiddly, especially if you're at the side of a road or in town.
If your electric bike has a front or rear hub motor then changing a tyre is not so straightforward. You will need to unplug connectors and usually need a certain size spanner to remove the wheel from the drop-outs.
This is why I'm a big advocate of puncture-resistant tyres like the Schwalbe Marathon Plus (top of my list). These tyres will greatly reduce the chances of such a thing happening and allow you to enjoy your ride.
E-Bike Tyre Sizing
It's important to make sure you buy the right sized tyre for your e-bike. All electric bikes use the same sizes as their regular counterparts. The main wheel diameters are listed below.
700c (28″) – Found mainly on road bikes and some hybrid/commuter bikes
29er – The same diameter as above but usually wider / higher volume for MTBs
650b (27.5″) – This size is found mainly on mountain bikes, gravel bikes and some hybrid bikes.
26″ – Found on older mountain bikes and some cheaper e-bikes.
Tyre width is also an important consideration as some bikes will have limited clearance for larger tyres. Most modern e-bikes can take fairly wide tyres except higher-end road-specific e-bikes – these will usually have a limit of around 32mm.  Common sizes for 700c hybrid tyres are 35mm, 38mm, 40mm, and 42mm. Some hybrids like the Trek Allant +7 will be fitted with even wider tyres (up to 50mm).
For a  more in-depth analysis of tyre sizes please check out the excellent Sheldon Brown website.
Below is my list of 8 of the best tyres for electric bikes
Generally speaking, e-bike tyres are reasonably priced. Most manufacturers now make e-bike-specific tyres which will have greater puncture resistance and tougher sidewalls to cope with the extra weight of an electric bike. There are quite a few Schwalbe tyres on this list as I have a lot of positive experience with these tyres.
1. Schwalbe Marathon Plus🏆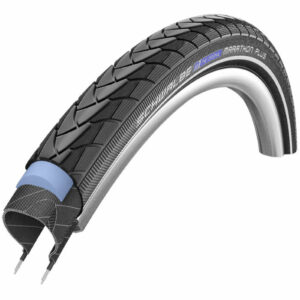 The Schwalbe Marathon Plus tyre has always been my 'go-to' tyre for my early electric bikes and my touring bikes. I can't praise this tyre enough with over 15,000 miles logged on various bikes over mixed terrain without a single puncture. The Marathon Plus is widely regarded within the bike touring community as one of the most durable tyres there is.
What makes the Schwalbe Marathon Plus so suited to electric bikes is its tough 5mm thick SmartGuard layer and reinforced side walls. The Marathon Plus is also rated for e-bike use by the manufacturer and is supplied fitted to quite a few higher-end electric bikes.
There are a couple of negatives like the weight and feel, plus some people find them hard to fit (although I've never had this problem). I agree they're heavy and you do notice it on a regular bike, but with an e-bike this isn't an issue. As far as feel is concerned it depends on what pressure you ride them at. I generally use these tyres at around 65psi (700×35) and find they are just fine.
Wet weather performance is also good, although you should always take care in the wet just after you've fitted them. The Marathon Plus also has a reflective sidewall band to improve rider visibility at night.
Conclusion
If ever I go bike touring or I just want a tyre that I feel confident isn't going to puncture at the first sign of a thorn or piece of glass then the Schwalbe Marathon Plus is excellent. It's not 100% puncture proof, but no tyre is. In my experience (and others) it's about the most puncture resistant tyre on the market today – it's also available in various sizes from 20″ through to 28″.
---
2. Schwalbe GT365
I had these tyres fitted to my Vitus Mach E electric bike and have covered nearly 2000 miles without a puncture. The Schwalbe GT365 offers a similar level of puncture protection as the Marathon Plus but has a more aggressive tread that is suitable for mixed-terrain riding. I have even taken my Vitus on rough, muddy trails in the winter and these tyres are excellent.
Conclusion
The Schwalbe GT365 is a great puncture-resistant tyre for e-bike riders thinking of exploring off the beaten track. Whilst they are capable of light off-road riding, they also roll incredibly well on the road. Currently available from Wiggle in 700x38mm, they are also available in other sizes.
---
3. Continental Contact Travel
Another great tyre that I've used on both electric bikes and touring bikes is the Continental Contact Travel. These tyres are designed with the long-distance rider in mind. They're not only very puncture resistant but they also roll very well and aren't too heavy (350g lighter than the Marathon Plus).
The version I have fitted to one of my bikes is the 700x37c which measures 35mm when on the rim. As with the Marathon Plus, I've not had any punctures using these tyres although I have only covered a fraction of the miles.
Conclusion
The Continental Contact Travel is another very popular tyre with bike tourers thanks to its durability and all-terrain capabilities. The fact is, it's quite light (for a touring tyre) and rolls well on the road is a bonus. The most recent version is also e-bike rated.
---
4. Continental Contact Speed
The Continental Contact Speed is aimed at the urban rider who wants a fast-rolling performance-orientated tyre with the added benefit of puncture protection.
I had a pair of these fitted to one of my bikes and found them to be very grippy in the wet and also quite capable on gravel tracks. They also provide nice cushioning from road imperfections. The Contact Speed is also recommended for e-bike use and is available in 700c sizes 35mm and 42mm.
---
5. Vittoria e-Randonneur G2.0 Road Tyre
The Vittoria e-Randonneur G2.0 is a great all-purpose tyre that's designed to perform well on multiple road surfaces and in all weather conditions. A favourite amongst cycle tourists, the Randonneur is renowned for being incredibly robust and puncture resistant as well as providing relatively low rolling resistance. If you're after a good all-rounder for your electric hybrid bike then the Vittoria Randonneur G2.0 is a good choice, whether commuting or leisure riding.
---
6. Continental E Contact Plus Road Tyre
Another great tyre from Continental – the E Contact Plus is designed specifically to cope with the extra weight of an electric bike and is even rated up to 50km/h meaning it's suitable for S-Pedelecs and higher performance e-bikes.
Puncture resistance is a very important factor when buying an e-bike tyre and the E Contact Plus has the highest level of protection currently offered by Continental. This will make this tyre especially suitable for urban commutes or long leisure rides on unpaved surfaces.
---
7. Schwalbe Marathon E-Plus
This is the first electric bike-specific tyre available in the popular Schwalbe Marathon Plus range. Previous tyres in this range have been recommended for e-bike use, but Schwalbe has taken things one step further with the E-Plus using their advanced Addix E compound for improved grip on poor/wet road surfaces and including the highest level 7 puncture protection.
If the Marathon E-Plus is as durable as the original then I would have to highly recommend this tyre for your e-bike, especially if things like glass and thorns are common where you ride.
---
8.Schwalbe Big Ben Plus MTB Tyre – GreenGuard
The Schwalbe Big Ben Plus is an excellent choice if you own a mountain bike but use it on the road more than off. Off-road tyres tend to produce higher rolling resistance and are quite noisy. Quite often riders choose e-MTBs simply because the suspension can offer a plusher ride on the road. MTB-specific tyres don't perform best on tarmac so it's worth fitting tyres like these for reduced rolling resistance and a smoother, more quiet ride.
One of the benefits of reduced rolling resistance will be a slighter better battery range so it's worth considering these from an efficiency perspective. These tyres will still be just fine for canal towpaths and woodland trails.
The Schwalbe Big Ben Plus MTB Tyre features a 3mm GreenGuard protection strip and reinforced sidewalls, which will make the Big Ben a good choice for the rigours of day-to-day riding.
---
Conclusion
The tyres selected here are only a small selection of some of the tyres currently available for electric bikes. My personal favourite would have to be the Schwalbe Marathon Plus simply because it offers a good balance between very high puncture resistance, rolling resistance and general feel.
I've also covered a lot of miles on the Schwalbe GT365 – this is a great tyre that performs equally as well on the road and off. I have ridden on some fairly muddy moorland trails with these tyres and they performed better than expected. They also have the benefit of excellent puncture protection.
Continental make some very good e-bike tyres and the ones listed above are my personal favourites. The Continental E Contact Plus is a particularly good all-rounder.
Vittoria tyres are also very durable. I have had their tyres fitted to a couple of bikes in the past and I found them fast-rolling with good puncture protection.
Ultimately deciding which tyre is best for your electric bike depends on how and where you ride. If you ride mainly off-road then you will want something with a more aggressive tread. If you have an MTB but ride mainly on tarmac then something like the Schwalbe Big Ben would be ideal. If you use your electric bike for commuting then I'd recommend the Schwalbe Marathon Plus.
Thanks for reading and if you have any e-bike tyre-related questions please leave them in the comments section below or please join our new forum community and start a thread.