With the Spring fast approaching our attention is turning to weekend adventures with the family, and in this article I'm going to be looking at 8 of the best kid's trailers for electric bikes available in 2023.
Can you tow a Child's trailer with an e-bike?
Providing your e-bike is not some crazy, illegal speed machine, then it's perfectly safe to tow a Child's trailer with an e-bike. Electric bikes sold in the UK and EU are limited to 15.5mph (25km/h) and the assist is only activated when pedalling. In the US federal law is 750w and 20mph, although laws can differ between states and some use a three-tier system.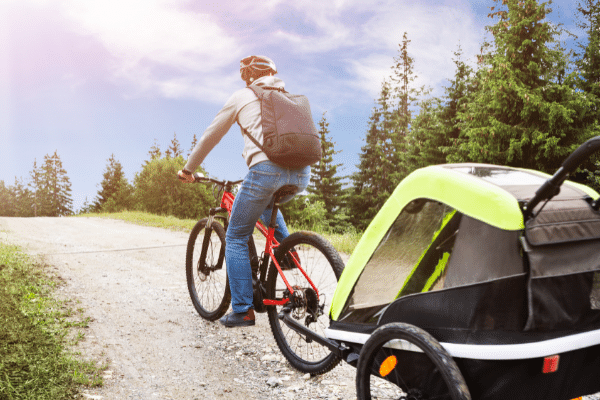 What e-bike is best for towing a Child's trailer?
The answer depends on the kind of rides you plan on doing. If you're going to be riding on fairly well-surfaced and flat cycle ways, then you don't need anything too fancy – a 250w hub motor will suffice. If, on the other hand you're thinking of being more adventurous and maybe tackling some off-road trails with a few steep hills thrown in, then you'd be looking at a good quality mid-drive motor like a Bosch or Shimano Steps.
⚠Small 250w hub motors aren't suitable for towing heavy loads up long, steep hills. You could risk damaging the motor or controller.
As for the kind of bike to use for towing a child's trailer,  I would personally go for a hybrid e-bike – these are usually rugged and versatile and designed to be ridden on or off-road. Check out the best electric hybrid bikes for under £3000.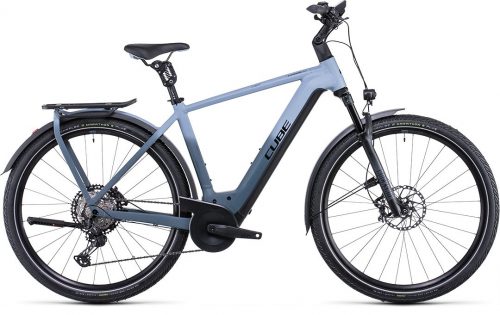 One thing you'll want to be certain of and that's good quality brakes. This isn't such a problem when cruising on the flat at low speeds, but if you're riding terrain with significant downhill sections then you will need very high-quality hydraulic brakes fitted.
Gearing will also be an important consideration if there are going to be hills involved. Mid-drive motors transfer the power from the electric motor through the bike's drivetrain and insufficient gearing will put excessive strain on the motor. Think of it like a car – you wouldn't drive up a steep hill towing a trailer in 4th gear! Ideally, you'd want a bike with a big gear range at the back – something like an 11/12 speed 11-42 or  11-51 cassette.
The 8 Best Kid's Trailers for Electric Bikes in 2023
And so on to my list of the best kid's trailers for e-bikes. All the trailers have been selected based on customer reviews, value for money and suitability for the task. As a father of five daughters, I've done plenty of towing in my time and it's great fun!
---
Burley Bee Bike trailer
With its lightweight design, the Burley Bee Child's bike trailer is perfect for e-bike riders looking to haul their little ones around in safety and comfort. Featuring passive suspension, an adjustable five-point harness system, UPF 50+ tinted windows and plenty of cargo space, this bike trailer is perfect for families on the go. And with 20" push button wheels, it's easy to quickly pack it down for transportation. Currently available for £269.
---
Homcom 2 Child Trailer (Best under £100)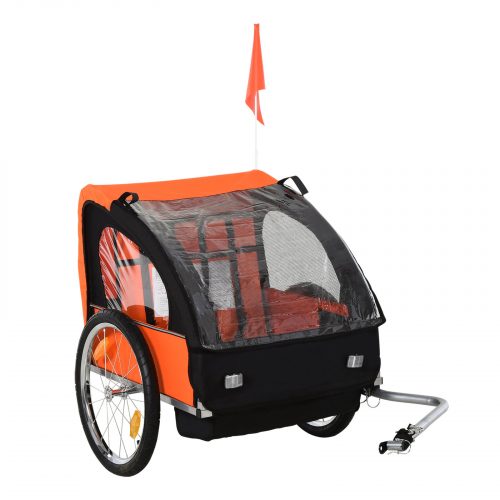 If you're looking for a fun outdoor activity to do with your little ones, look no further than the HOMCOM 2 child's bike trailer. With room for two children and equipped with five-point safety harnesses, this trailer will keep your kids safe while they explore the world around them. Don't be fooled by the cheap price, the Homcom 2 is a best-seller and has hundreds of positive reviews from satisfied customers. It's ideal for use with e-bikes on well-surfaced cycle trails.
---
Raleigh Entrepid 2-Seater Child Trailer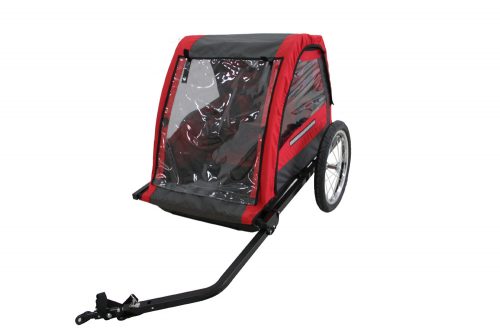 The Raleigh Entrepid Kid's bike trailer is perfect for taking your child with you on all of your outdoor adventures. With a durable design and 16″ wheels, this trailer can go anywhere you go. The UV-proof fabric will keep your child safe and comfortable, while they watch the world unfold around them. It's a high-quality and great-value trailer from a well-known brand. Currently available for just over £200.
---
Bellelli Bike Taxi Child Bike Trailer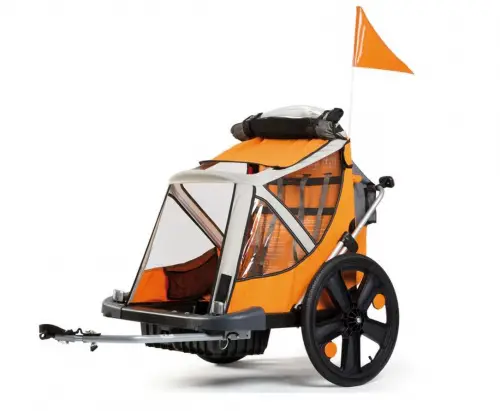 If you're looking for a safe and comfortable way to take your children with you on your bike rides, the Bellelli Bike Taxi Child's Bike Trailer is a great option. With plenty of padding and protection from the elements, your little ones will be happy and content as you explore your neighbourhood or ride through the park. Plus, it's easy to assemble and fits most e-bikes, so there's no excuse not to get out and have some fun! The Bellelli is currently available for £250.
---
Thule Chariot Cross Double Bike Trailer🏆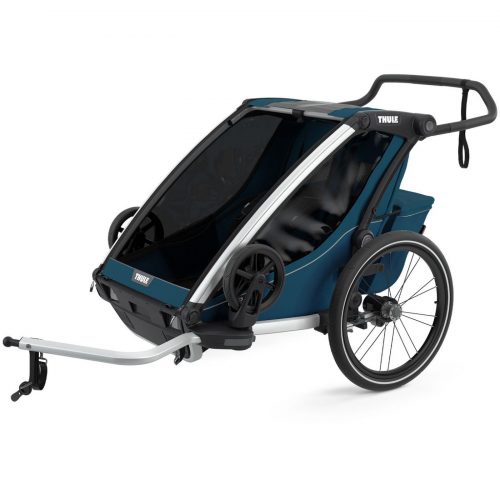 The Thule Chariot Cross 2 Child Trailer is a highly-versatile kid's trailer that's specially designed for four different activities, cycling, jogging, and strolling and it can even be adapted for skiing use. This model is perfect for bringing one or two kids along with you on your next adventure and delivers fantastic comfort and stability. Finally, it is fitted with a compact folding system which makes storage a breeze; perfect for those who like to travel light.
If you're looking for an all-in-one solution to taking your children with you on outdoor adventures, the Thule Chariot Cross 2 Child Trailer should be at the top of your list! Find out more below.
The Thule Chariot Cross 2 is the most expensive child's bike trailer on this list at £999, but it's an incredibly high-quality and durable product.
---
Hamax Traveller Child Bike Trailer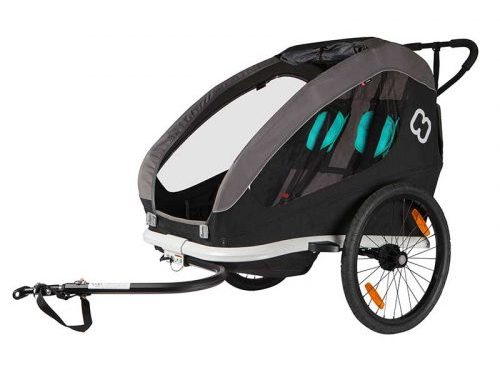 Hamax Traveller child's bike trailer is a great investment for any family with young children. This trailer is safe, easy to use and can be converted into a stroller in just seconds – perfect for those weekend trips to your local bike trails. If you are looking for an affordable, reliable bike trailer that will make travelling with your kids easier than ever, then look no further than Hamax Traveller! Currently available from selected retailers at £369.
---
Hamax Outback Twin Kid's Bike Trailer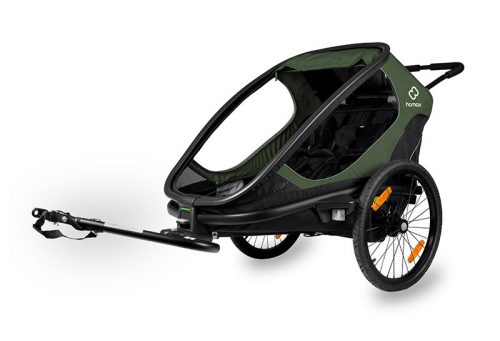 If you are looking for a versatile trailer that can be used in multiple ways, the Hamax Outback Twin is a great option. With its solid aluminium frame and easy multi-sport conversion, this trailer can be used for biking, strolling, jogging, or skiing with your little ones. For added safety, the front of the trailer features the unique "Safe Connection Point" which securely connects to various types of wheels. To learn more about this product and other features it offers, check out the links below (currently available for £824).
---
Hamax Avenida Twin Child Bike Trailer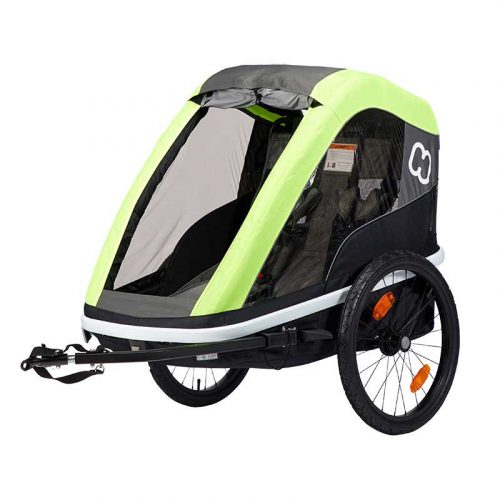 The Hamax Avenida is the perfect child carrier for toddlers who love to ride around in style. This lightweight and durable bike trailer provides a smooth ride and comes with all the features you need to make your weekend outings safe and enjoyable. If you're looking for a high-quality, multifunctional carrier that will grow with your family, the Hamax Avenida is worth considering.  Currently available for £499.
---
Conclusion
So, there you have it – our top eight picks for the best kid's trailers for electric bikes. It depends on your budget and needs as to which one is the best fit for you, but we are confident that any of these will provide excellent value for money. If you have any questions or want us to recommend a specific trailer based on your requirements.
If you need any help or advice finding the right e-bike/trailer combination, please feel free to comment below.