Looking for a way to take your faithful companion with you on your next bike ride? Check out our selection of the best dog trailers for electric bikes currently available in 2023. These trailers are designed for comfort and practicality, so you can be sure your dog will enjoy the ride. And because safety is a top priority, all of these trailers are constructed with sturdy materials that will keep your pet safe in any weather condition. So why leave your best friend at home when you can take it with you on your next adventure? Read on for our top picks.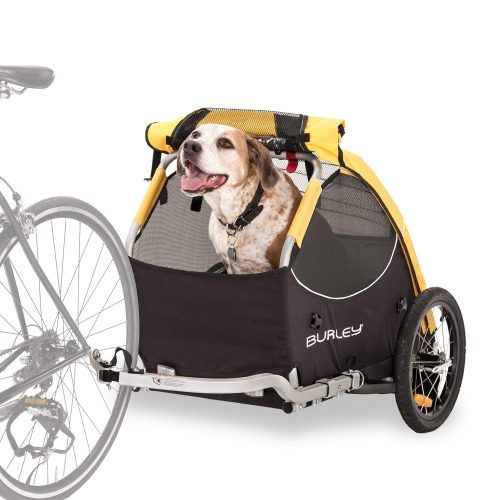 What to look for when purchasing a dog trailer for your electric bike
All of the dog trailers listed below are specifically designed to carry your pet in comfort and safety and are constructed from aluminium or steel. Having a rain cover is important, especially if you get lots of rain and colder weather (like here in the UK). You will need to make sure your dog can't jump out whilst in transit, so an enclosed carrier is recommended. It's also very important that there's ample ventilation in case the weather is hot.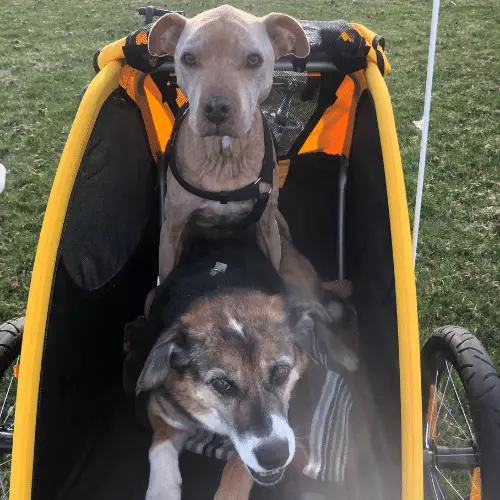 The benefits of using a dog trailer for your electric bike
If you enjoy riding your electric bike daily and have a dog, why leave him at home when you can take him with you? If you live in a city but have to ride to your nearest green space, a trailer is a great way to take your dog to the park for a nice walk (rather than taking the car). If you like to go on adventures and go away for long weekend rides or even do a spot of touring, taking your dog with you is great for companionship!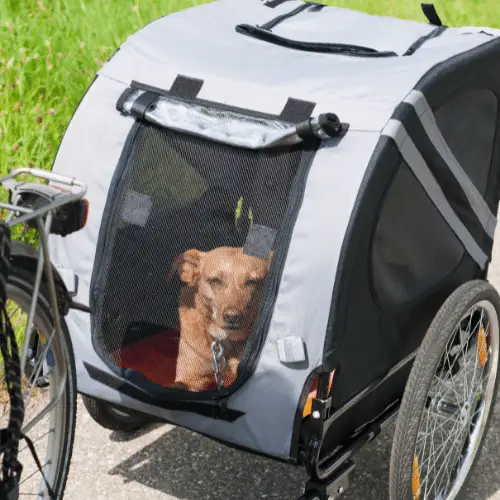 What is the best e-bike to use for towing a dog trailer?
A hybrid/trekking style e-bike is going to be the best option for towing a dog trailer, simply because they're designed to cope with rugged terrain and are generally of robust construction. I would personally recommend something with a mid-drive motor (for steeper hills) but a hub-powered electric bike will be just fine for gently undulating terrain. Hydraulic disc brakes will provide better braking, especially on descents.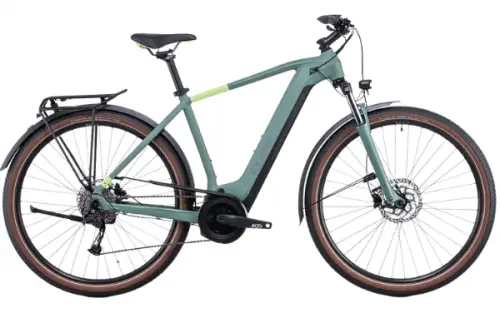 Compatibility – Most of the trailers featured below are designed to work with a standard rear wheel quick-release mechanism, so they may not work with a rear hub motor-powered e-bike. Most cheaper rear hub electric bikes have a larger diameter axle so the connection interface might need to be modified (or an adapter fabricated).
If your e-bike has a front hub motor or mid-drive motor, then compatibility shouldn't be an issue, unless your bike has the modern 'thru-axle' hubs.  As thru-axle bolts are usually a specific length, tailor-made for the bike, it may be more problematic trying to fit a trailer to one of these bikes.
The top 6 best dog trailers for electric bikes are.
So, on to my top picks for the best dog trailers for electric bikes currently available. All the trailers listed below have been selected based on specification, value for money and positive customer feedback. These trailers are specifically designed for carrying your pet safely and in comfort.
---
Novel DoggyRide Dog Bike Trailer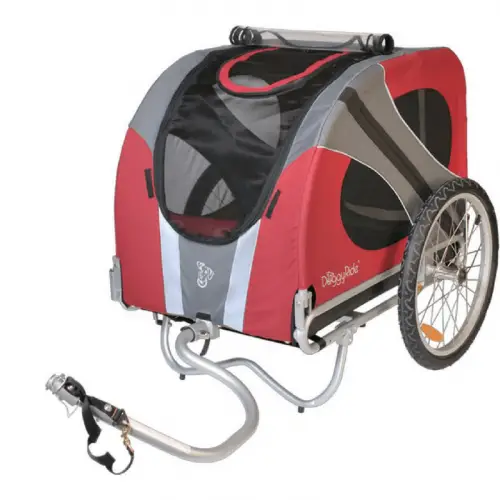 The Novel DoggyRide dog bike trailer has been designed with your pet's safety and comfort in mind. The anti-slip bottom ensures that your dog stays safe and secure, while the roof opening with sunscreen provides plenty of ventilation on those warm days. And if you ever need to convert DoggyRide into a stroller or jogger, the optional kits are easy to use. Plus, when you're not using DoggyRide, it folds easily for storage. We want you and your furry friend to be happy, so there's a 1-year product warranty through the manufacturer. All in all a great trailer and excellent value for money at £470.
---
DoggyRide Mini 2020 Dig Bike Trailer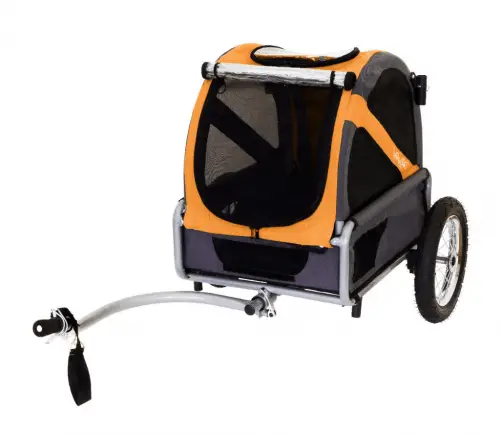 If you're looking for a great way to get your dog some exercise, and you enjoy bike rides, the DoggyRide Mini Bike Trailer is perfect for you! This trailer is designed specifically for smaller dogs, and it has a storage pouch in the rear so that you can take all of your doggy's necessities with you on your ride. The sunroof also lets you keep an eye on your furry friend as you pedal away. High-quality construction from a brand that cares about pets and great value at £280.
---
Burley Tail Wagon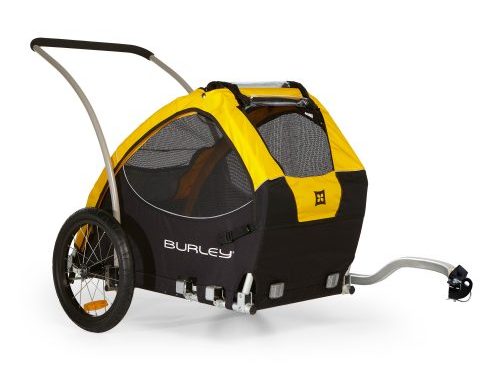 What better way to show your furry friend some love than by taking them on outdoor adventures with you? The Burley Tail Wagon dog bike trailer is the perfect way to include your pet in all of your favourite activities. With a flip-down tailgate for easy loading and a suspended, removable floor for easy cleaning, this trailer makes it easy to take your pet along on any outing. Plus, optional stroller kits are available for go-anywhere convenience. So get out there and enjoy the great outdoors with your best bud by your side! Burley is an excellent brand who are renowned for producing some top-notch bike trailers and the Tail Wagon comes highly recommended!
---
Pawhut 2 in 1 dog bike trailer 🏆 (Best value for money)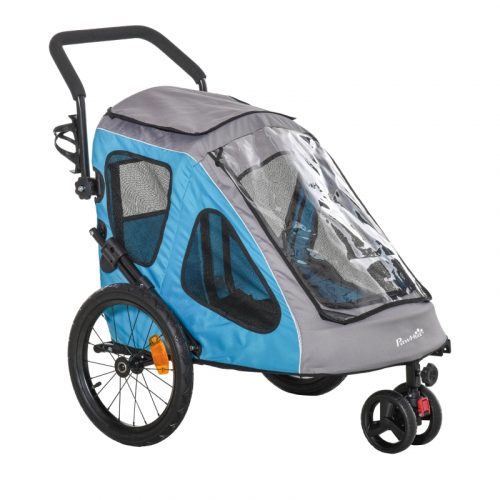 The Pawhut 2 in 1 dog bike trailer is perfect for taking your faithful companion on outdoor adventures. Whether you're out for a jog or hitting the trails on your bike, this trailer will keep your dog safe and comfortable. It features a sturdy construction with an Oxford fabric cover to protect from the sun and rain, and it has a tow bar that's extra thick and strong for added safety. At £169 it represents fantastic value for money and is my top choice for best all-rounder.
---
Pawhut steel dog bike trailer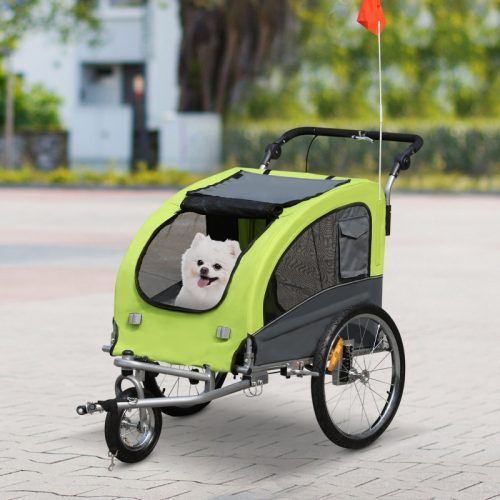 If you're after an easy way to get your smaller dog out and about, the Pawhut steel dog bike trailer may be just what you need. This sturdy trailer attaches easily to your bike and comes with a compartment made from Oxford fabric with a PU cover for light weather resistance. Your dog will appreciate the mesh windows that allow air to circulate on those hot days, and your pet will love being able to take in all the sights and smells while you ride. Priced at just £81, the Pawhut steel dog trailer is a worthwhile investment so you and your companion can spend more time together.
---
Veeler 2 in 1 dog bike trailer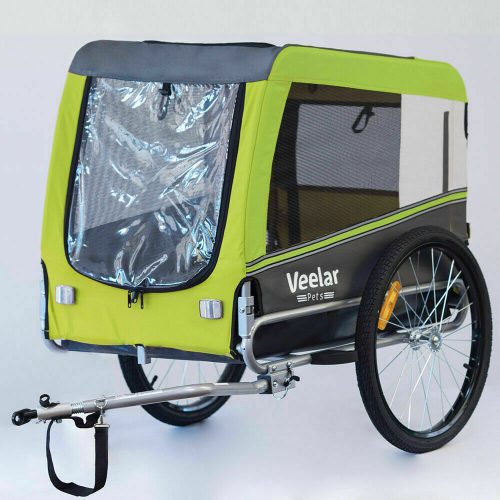 If you're looking for a way to get in your daily bike ride, or even just take your pet on a stroll, the Veelar Large Dog Bicycle Trailer & Stroller is the perfect option. This trailer is designed with both you and your pet in mind, featuring an extra-wide wheelbase for stability and a lower centre of gravity for easy manoeuvrability. Plus, it's easy to convert from trailer mode to stroller mode, making it the perfect choice for any activity. Available from eBay for just £149, the Veeler is great value for money and has some excellent customer feedback.
---
Conclusion
So there you have it, our top six best dog trailers for electric bikes. We hope you've found this article useful and that it helps you make your decision about which trailer to buy. There's nothing like sharing your e-biking adventures with your pet and all of the trailers featured here offer excellent value for money and quality – now you'll never have to leave your faithful companion at home again. Here's to future adventures!
If you have any questions or experiences of your cycling with a pet, please be sure to share them in the comments below.