When you purchase through links in our articles we may earn a small commission. Read our affiliate disclosure.
If you're on the lookout for an electric mountain bike that won't break the bank, you're in luck! We've put together a list of the best electric mountain bikes currently available for under £1000. While these bikes may not be designed for technical downhill riding, they are versatile hybrid bikes that can handle a mix of on and off-road riding.
With recent price increases, some of the e-bikes featured below have crept just over the £1000 barrier. But, we think they're still worth including on this list.
Things to Consider When Buying a Cheap Electric Mountain Bike
1. Intended Use
If you want to tackle challenging downhill terrain, strewn with tree roots, rocks, jumps etc. Then none of the bikes in our selection below will be suitable. You'll need to spend a lot of money on a capable e-MTB, and preferably go for a well-known brand like Cannondale, Specialized, Giant, Scott or Cube.
If you need a versatile 'leisure bike' or an e-bike for commuting, with some light forest trails and unpaved roads thrown in, then the bikes below will be suitable for that purpose. As most of the e-bikes on our list are at the budget end of the scale, the components will generally be 'entry-level'. This doesn't necessarily mean they aren't any good, but they won't stand up to the rigours of hard off-road riding. As long as you understand this before making a purchase, you won't go wrong.
2. Electric Motor
All of the electric mountain bikes featured in this article use geared hub motors. Power output will generally be 250w to comply with UK and EU e-bike laws, although there are some exceptions. If you decide to purchase an electric bike that produces more than 250w and use it on the road or in public spaces, you run the risk of having your bike confiscated and several points on your driving licence.
Geared hub motors are generally very reliable, but the internal nylon planetary gears can wear over time, especially if you're regularly riding steep climbs or carrying lots of extra cargo. Thankfully, these motors are cheap and relatively easy to repair if this happens.
3. Battery
Battery range is determined by several factors: The total energy capacity of the battery is in watt hours (Wh) – a 36v 13ah battery has a total energy capacity of 468Wh, meaning that at a constant 468 watts, the battery will be depleted in one hour of riding.
You can work out roughly how much mileage you will get based on how many watt hours per mile you are consuming, this figure will differ greatly depending on the power of your motor, what power level you are in, rider weight, wind direction and terrain (hills). Example: If you consume an average of 20Wh per mile, a 36v 13ah battery would be depleted in 23 miles. The higher the Ah rating, the greater the energy capacity and hence a greater range.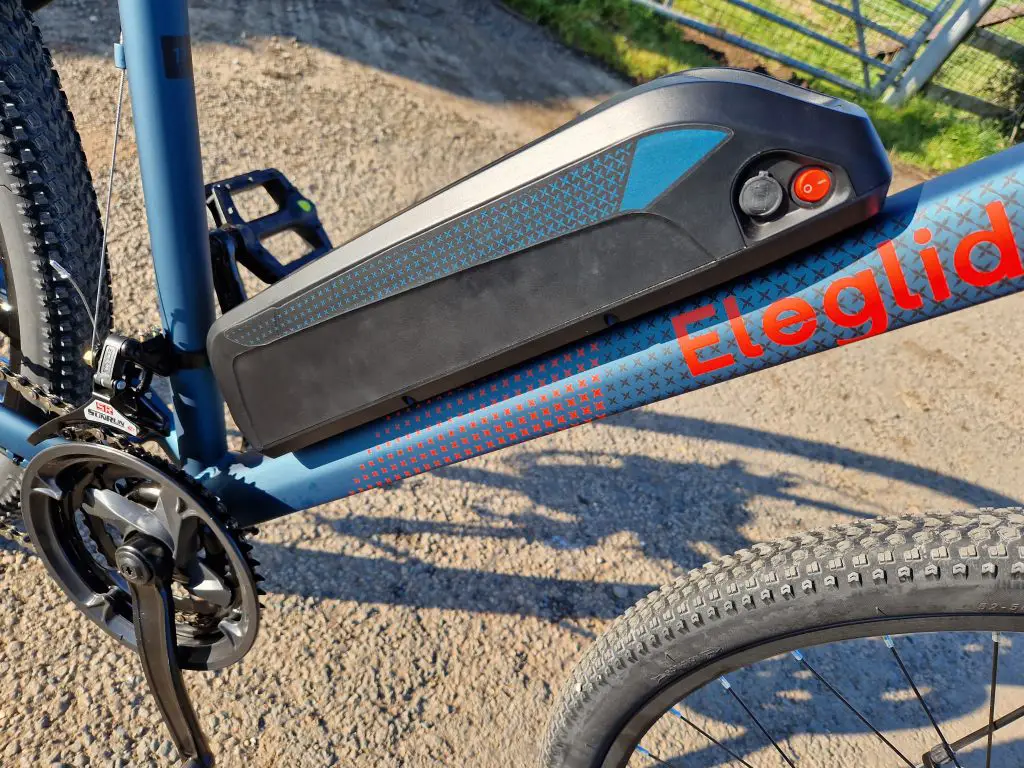 4. Sizing
With a couple of exceptions, most of the electric mountain bikes in this price range are only available in one size. Manufacturers sizing claims can sometimes be inaccurate. Generally, budget e-MTBs seem to be an 18-inch frame size – this equates to a medium frame. If you're under 5ft 5″ or much above 6ft 2″, you may need to consider an e-bike that's available in more specific sizing options.
What are the best electric mountain bikes for under £1000?
The electric mountain bikes featured below are popular and generally have excellent feedback from buyers. They offer an affordable entry into the world of e-bike riding which is a good thing – the more people out riding, the better!
---
1. Eleglide M1 Plus🥇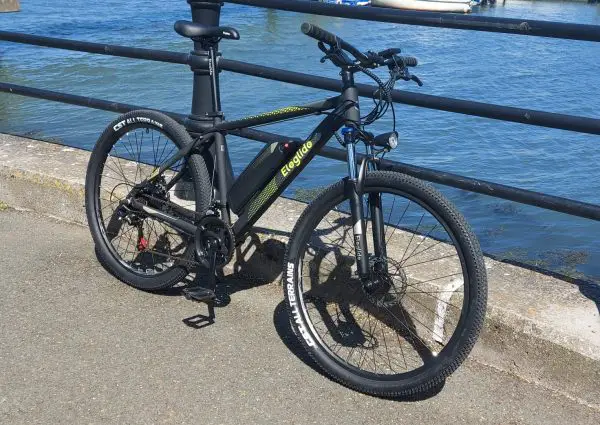 I've just been sent an Eleglide M1 Plus to review, and I'm impressed with what this bike has to offer for the price. I've ridden lots of budget e-bikes, some good, some not so good. But, I can say that the Eleglide M1 Plus has impressed me! I won't go into too much detail here as I am going to be writing a separate review article.
To give you a summary – I like the riding position, it feels very comfortable. The build quality and finish is excellent. The bike is EN15194 compliant so it's road legal in the UK and EU. It uses nice Shimano trigger shifters (unlike most cheap e-bikes that use thumb shifters). Gear shifting is precise, the mechanical disc brakes work very well and the motor is smooth and very responsive. Plus, there are 5 power levels to choose from. The M1 Plus has a 36v 12.5Ah battery – I haven't tested the range in full yet, but I'm expecting 30-40 miles from a charge.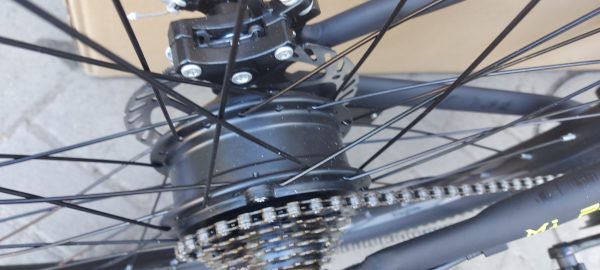 The bike was sent from a UK warehouse and arrived within 2 days of dispatch. It was very well packaged and included a full toolkit with comprehensive and easy-to-understand assembly instructions. Read the full Eleglide M1 Plus review.
If you are thinking about the slightly cheaper M1 model, check out my Eleglide M1 review here.
£619.99 after coupon code: NNNM1PUK (UK only)
€719.99 after coupon code: NNNM1PEU (EU only)
Buy from Geekbuying.com UK and EU stock and shipping
Buy direct from Eleglide (EU and UK) 
---
2. Eskute Voyager Electric Mountain Bike
Second, on my list is the Eskute Voyager electric mountain bike. I was first introduced to the Eskute brand last year back when the company sent me a Voyager to test and review.
The Eskute uses a good quality Bafang hub motor with a 36v 12.5Ah battery – this integrates neatly into the frame and can be charged in situ or removed.
Performance-wise the Eskute goes very well indeed, I have done a few 25-mile rides with 2000ft of climbing and some off-road riding, and it performs just as good as other brands costing a few hundred pounds more. As with all the e-MTBs in this article, I wouldn't recommend it for hard off-road riding, although it does cope well enough with light to moderate off-roading.
I usually still have 1-2 bars of battery left after these rides, so I reckon the average range for commuting or city riding would be 35-40 miles, which isn't too bad for the price.
Gearing is Shimano Tourney 7-speed with a 14-28 freewheel and 42t front chainring. The brakes are Zoom mechanical disc brakes and work just fine for the casual rider. You can read my full review of the Eskute Voyager here.
The Voyager is long longer available and has been replaced by the Netuno – it looks the same but benefits from a more powerful battery (36v 15Ah) with Samsung cells. It costs £1199, but I think the extra is worth it considering the improved battery spec.
Buy the Eskute Netuno here – Discounted price: £999
---
3. Decathlon Rockrider E-ST100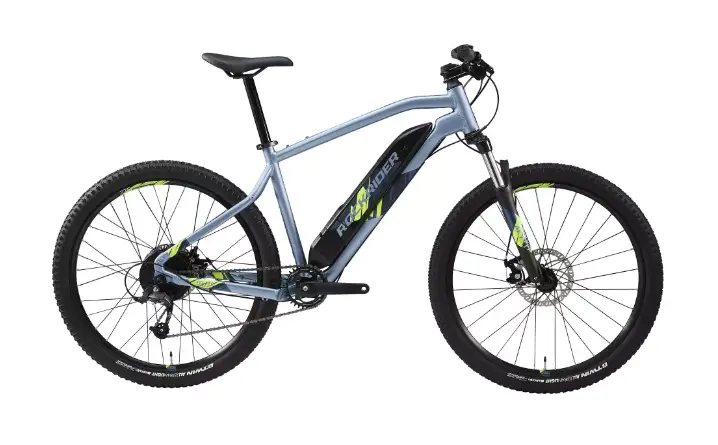 Another great-value electric mountain bike is the Decathlon Rockrider E-ST100. This is the French brand's entry-level e-MTB and comes with some very neat features for a sub-£1000 e-bike.
The electric components are fairly standard at this price point – there's a 250w rear hub motor with a 380Wh battery and cadence-based pedal assist.
The components are very good quality considering the price. There are Suntour XCT suspension forks with 100mm of travel,  the gearing is perfect for off-roading and features a wide-range 8-speed 11-34 cassette with a trail-busting 32t front chainring. The 27.5″ MTB wheels are shod in 2.2″ tyres. Stopping power is provided by Tektro TDK28 mechanical disc brakes.
Out of all the bikes featured on this list, the Rockrider has the best off-road riding credentials and a very good specification for the price. For more information, read my Rockrider E-ST100 review.
---
4. Swifty AT656 Electric Mountain Bike
The  Swifty AT656 is another great value electric mountain bike that uses a 250w rear hub motor with a 36v 9.6Ah battery – this battery uses high-quality Panasonic cells so should have better longevity than other batteries that use generic cells.
Just like the Eskute, the Swifty uses, entry-level Shimano Tourney TY-21 7-speed gearing and mechanical disc brakes. The wheels are 27.5″ with CST all-terrain tyres. Front forks are coil-sprung and will be okay for some light off-road riding or negotiating rough country lanes.
With a claimed range of 35 miles per charge, the Swifty AT656 would also make a good daily commuter bike.
---
5. Himo C26 e-MTB
The Himo C26 is one of the best electric mountain bikes on this list, especially when you consider the price. I've tested a few Himo e-bikes in the past and I have always been impressed with the over quality and feel of their bikes.
This model is as well-made as it looks with a sturdy aluminium frame, neatly integrated battery pack and 26″ wheels with Kenda all-terrain tyres.
A 250w hub motor activated by a pedal assist sensor provides strong electric assist and the excellent 48v 10Ah battery should give a real-world range of around 35-40 miles.
There's very tidy internal cable routing and a multi-function display. A headlight and kickstand finish the package off nicely.
Like all the other e-MTB's here, the Himo C26 will be suitable for urban riding, commuting and leisure rides in the country with some moderate off-road and gravel riding.
I'm impressed with what the C26 offers for the price and it's worth considering.
Buy from Geekbuying.com UK stock and shipping
---
6. DDFGG Electric Mountain Bike
The DDFGG electric mountain bike is available from Amazon and is a decent enough budget option – it's a bit cheaper than some of the other bikes here and if you're after a basic, no-frills electric bike with basic components then it's not a bad choice.
It has a triple front chainring with a 7-speed freewheel giving a total of 21 gears. There's also coil-sprung front suspension, mechanical disc brakes a kickstand and a headlight – there's also a provision to fit a pannier rack and mudguards if required.
The DDFGG e-MTB uses a 250w, rear hub motor and 36v 8Ah battery which should give the rider a realistic range of around 20-25 miles out of a charge.
For an electric bike at the cheaper end of the scale, it's not bad at all and is worth thinking about if you're on a tight budget. This e-bike will be fine for canal towpaths, light woodland trails or general day-to-day commuting.
---
7. Ancheer electric MTB 27.5″
Ancheer e-bikes have been manufacturing best-selling, budget electric mountain bikes for a few years now and the reason for their success is they provide affordable, no-nonsense e-bikes that do the job.
There's nothing particularly special about these e-bikes, they just provide a cheap and cheerful entry to the world of electric bike riding. The Ancheer 27.5″ electric mountain bike has 21-speed gearing, a 250w motor and a 36v 10Ah battery.
It's a bit cheaper than some of the other bikes here and all the components are very basic – I've tested a few Ancheer e-bikes over the last few years and they're always okay. If you're after affordable transport to get from A to B you won't get much better value than this.
---
8. Ado A26 Electric Mountain Bike
The Ado A26 electric mountain bike produces double the power of the other e-bikes featured here – for that reason, I can't recommend it for road-legal use as it would fall outside of UK and EU EAPC laws.
With a power output of 500w and a 36v 12.5Ah battery, the Ado A26 offers the 'best bang for your buck' and if you're looking for a cheap, higher-performance e-MTB to use on private land, then this is the bike for you.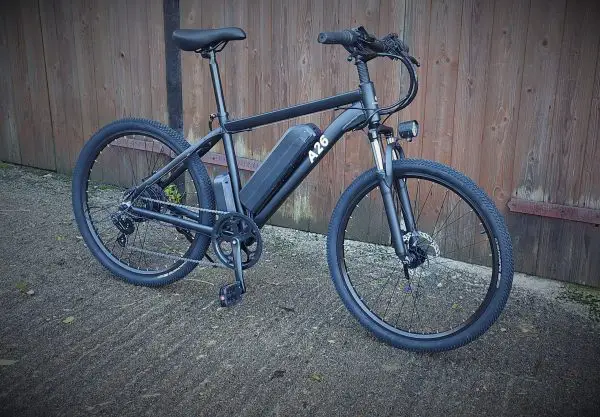 It has a top speed of 35km/h (21mph) and should give a battery range of approximately 30-40 miles depending on how much power is used. Ado e-bikes are quite a new brand and their range of electric bikes has been receiving good feedback from customers.
All the components are of a similar quality to other bikes featured here and the Ado A26 will be just fine to use on mild to moderate off-road terrain. It's worth considering if you have access to private land and you're after something with a bit more of a grin factor.
Buy from Geekbuying.com UK and EU stock and shipping
---
Conclusion
All of the electric bikes featured in this article offer very good value for money – although it's important to remember none of these e-bikes are 'proper' electric mountain bikes and if you treat them as such they aren't going to last very long. You're going to need to spend a lot more money for an e-MTB that will handle tough off-road riding.
Treat them more like hybrid bikes, and only ride them on light off-road trails and you shouldn't have any problems. They'll all make excellent commuter e-bikes as even though they have cheap front suspension, this will be great for dealing with potholes and other road imperfections.
Is there a clear winner and do I have a favourite? My first impressions of the Eleglide M1 Plus are very good. For its current discounted price of £689.99, it's an absolute bargain. Even at its regular price of £749, it offers unbeatable value. The Eskute Voyager is a great bike, but its replacement the Netuno now costs just over £1000. The styling and build quality of the Himo C26 are excellent. The Decathlon E-ST100 offers an excellent specs for the price and has very positive customer reviews.
The DDFGG is by far the cheapest on this list and has favourable customer reviews making it an excellent choice. I also really like the look of the Swifty, plus it uses a high-quality Panasonic battery which is unusual to see on electric bikes at this price.
If you're after something with a bit more oomph, then the Ado A26 with its 500w motor would be a great choice, but remember it's not road legal and riding one of these on the road could land you in hot water, with penalty points on your driving licence.
Thanks for reading and if you have any questions regarding buying a cheap electric bike, please feel free to leave a comment below – I usually reply within 24hrs.
👉 If you're on a tight budget, Check out the best electric bikes for under £500.