Folding electric bikes continue to increase in popularity, as savvy commuters realise the benefits of having an easily transportable e-bike to complete the last couple of miles of their daily commute. The B'TWIN Tilt 500 from Decathlon has been around for some time now and is one of their best-selling e-bikes. I've had a go on one of these on more than one occasion, and I think they're great value for money. Read my review below for more information.

Summary
Electric bikes come in all shapes and sizes and cater for all disciplines. The electric folding bike is probably one of the most practical everyday applications for an e-bike.
The benefits of a folding bike are obvious. I have taken my touring bike on trains many times, and it can be a right pain as there are limited spaces available on most trains in the UK, and unless you book a space in advance you, may find yourself waiting for a train with available space.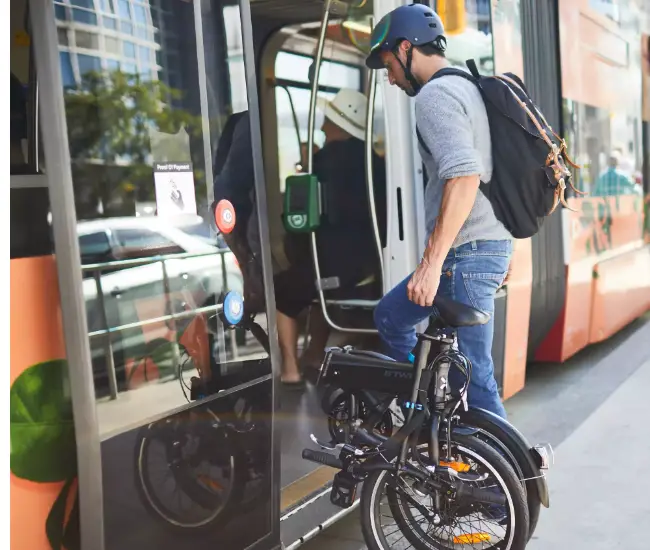 Folding bikes completely remove this concern, as they can be quickly folded and stored relatively easily.
The B'TWIN Tilt 500 is not only fully foldable, but it's also quite a capable little electric bike, that can be adapted to riders of all sizes.
Electric components
The B'TWIN Tilt uses the lightest components possible to make this bike easier to transport. A small, but high-torque 250w rear hub motor is powered by a 24v 7.8Ah lithium battery pack. Although this battery has quite a low energy capacity, it is still enough to give the rider up to about 20 miles of assisted pedalling. Which should be more than enough range especially if you are using it in an urban environment.
The battery pack is removable and neatly concealed within the frame of the bike.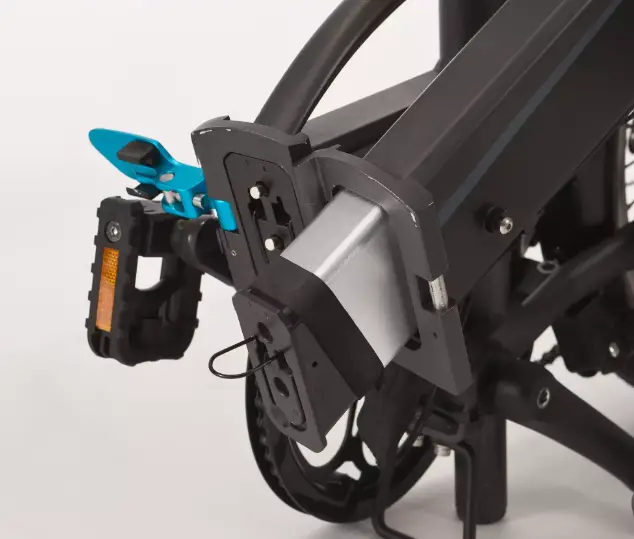 There is a basic LED display and control panel, which gives basic information like battery remaining and level-off assist. There are 3 levels of assistance to choose from – eco, normal and sport.
The Tilt 500 uses a simple cadence pedal sensor, meaning as soon as you start turning the pedals the motor will kick in.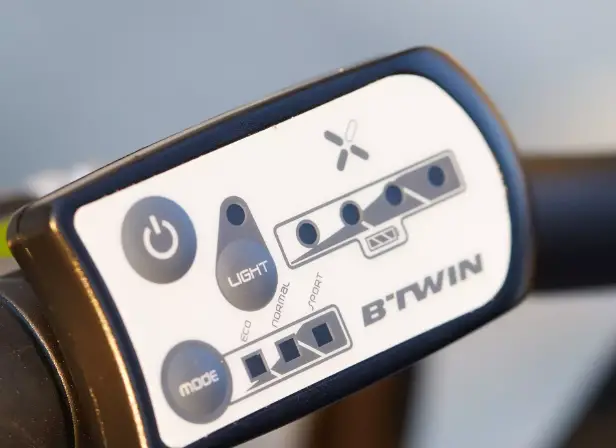 Having ridden these bikes before, my first impression was the motor packed quite a punch considering its small size and modest battery. Bearing in mind I'm not a small chap, I thought it coped very well when negotiating moderate hills. My only complaint was the gearing is not suited to very steep climbs (more on that below).
Bike components
Decathlon has kept things to a bare minimum on the B'TWIN Tilt 500. There is a large 52t front chainring with a 6-speed rear freewheel which is operated by a grip shift and dependable Shimano Tourney rear derailleur.
My only complaint in this department is the size of the front chainring. Bearing in mind, the assist cuts out at 15.5mph (25 km/h) a 52t chainring seems like overkill. Another consequence of having such a large chainring is steep hills become more difficult to negotiate (even with the assist maxed out). I would have gone for something like a 42t front chainring which would have still allowed 20-25mph pedalling at a high cadence, but more importantly much better gearing for climbing steep hills.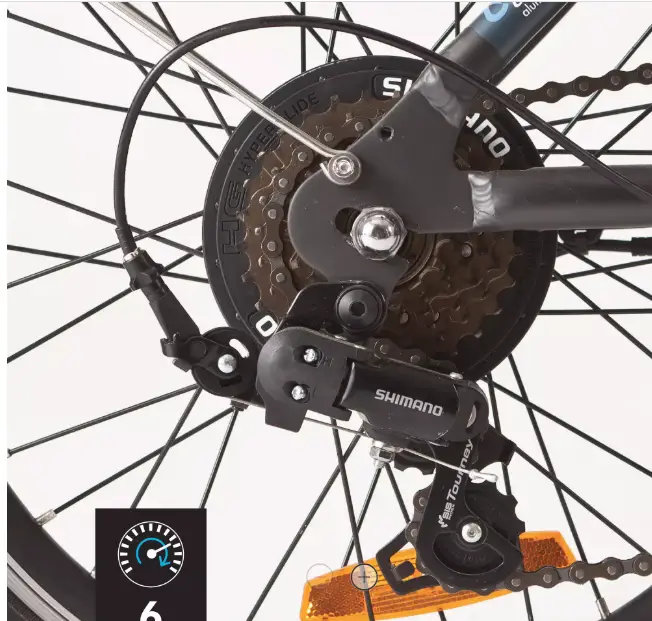 The brakes are B'TWIN branded v-brakes which do a decent enough job of stopping the bike, although they lack the bite and stopping power of hydraulic disc brakes, as long as you are aware of their limitations you will be fine.
The wheels are typically 20″ and seem quite tough. There are also puncture resistance 1.75″ tyres fitted which provide a reasonable degree of comfort.
Mudguards and LED lights finish off the package nicely, meaning that there are no worries if you find yourself riding in fading light. The lights can be activated by a button on the control panel,
How quickly does it take to fold down?
The Tilt 500 folds down just as quickly and easily as a regular folding bike, and after a bit of practice you can have the bike folded down within 60 seconds. See the video below.
Who is the B'TWIN Tilt 500 aimed at?
The great thing about a folding electric bike is it can appeal to almost anyone. Whether you are looking for something to take you on the last couple of miles of your commute through to a student who wants to get around campus quickly or you're just after a bike to run errands on, the B'TWIN Tilt 500 does the job.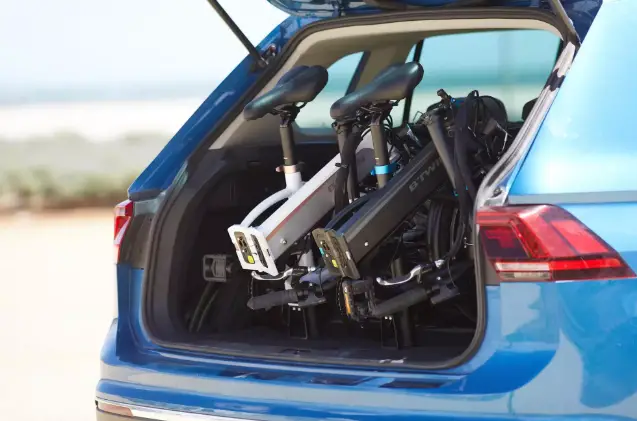 If you are after something that can cover higher mileage then this probably isn't for you. And although it's comfortable enough for shorter journeys, I wouldn't want to travel more than 15 or 20 miles on it.
B'TWIN Tilt 500 vs Carrera Crosscity folding electric bike
The nearest rival I can think of in terms of price and specification to the B'TWN Tilt 500 is the Carrera Crosscity folding electric bike from Halfords.  It does have a slightly more powerful battery and benefits from having 8-speed gearing, giving the rider a bit more gear range for hill climbing. The Crosscity also uses the excellent Bafang 250w hub motor.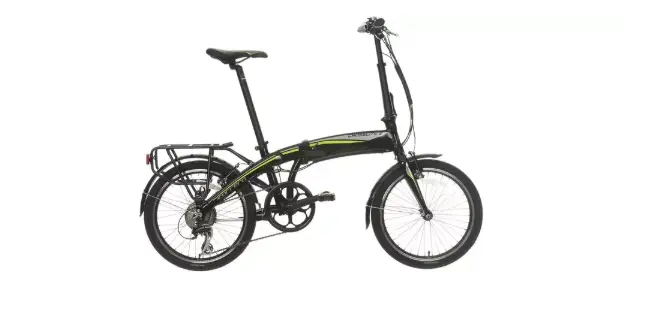 Having ridden both bikes, there isn't anything in it performance-wise. Both bikes are well-built and offer excellent value. The Carrera is about £150 more than the B'TWIN at the time of writing. Both bikes also weigh in at around 18kg. What it boils down to is your budget and how much range you're looking for.
Conclusion
The B'TWIN Tilt 500 is one of the best value folding electric bikes available, and at its current price is a bargain. Like all Decathlon electric bikes, the Tilt is a well-put-together bike at an affordable price. As a folding e-bike it does the job perfectly, and is currently Decathlon's number one-selling e-bike with hundreds of reviews from customers.
Some people may find it a touch on the heavy side at 18kg, but that is about as light as you're going to get on a folding e-bike at this price.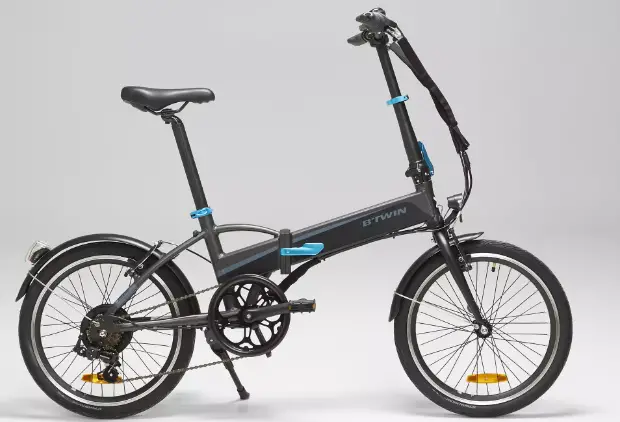 As far as riding one is concerned, I wouldn't personally want to spend too much time in the saddle, but that is not what this bike was intended for. As a runabout or commuter bike it is ideal, and the fact it can be folded so quickly and easily makes it a great buy for the rider who uses public transport from time to time.
If leisure riding is your thing and you want a couple of e-bikes you can just throw into the back of your car without having to worry about fitting a cycle rack, then the Tilt is also perfect for that purpose.
When I rode this bike, I took it on some pretty rough country back lanes and in fairness it handled them surprisingly well! You could ride canal towpaths or even do some (very) light trail riding on this bike.
I'm giving the B'TWIN Tilt 500 the big thumbs up – it's a great little e-bike at a reasonable price.