Boardman has been producing some excellent bikes over the last few years, and I always had a feeling that when they entered the e-bike arena they would carry on that trend. Having already ridden their excellent electric hybrid bike, I was keen to try out the Boardman ADV 8.9e adventure/gravel/road bike. This e-bike uses the same Fazua Evation motor as its flat bar sibling. Read my full review below for more details.
Buy the Boardman ADV 8.9e Electric Road Bike from Halfords
Summary
Electric road bikes have seen a massive expansion in popularity over the last couple of years This is thanks in part to the development of lightweight ebike motor drive systems like the Fazua Evation and Mahle X35 ebikemotion.
The early mid-drive and hub motor systems commonly found on electric bikes were quite heavy, as were the lithium batteries that accompanied them. Thanks to recent advances in both e-bike motor and lithium battery technology – motors and batteries are now much lighter and can be better integrated into electric bike design.
To the casual observer, the Boardman ADV 8.9e looks just like a regular road bike. The only giveaway is the slightly larger downtube, which accommodates the 252Wh battery and motor drive system.
As I stated in my review of the Boardman electric hybrid bike, the great thing about the Fazua system is it can be easily removed. Meaning you can have an e-bike for the daily commute and a regular road bike for weekend riding.
Check out the best electric gravel bikes in 2023
Electric Components
Fazua Evation
The German-made Fazua Evation has revolutionised the electric bike motor. The Fazua Evation was released at the end of 2018 and was designed specifically with the electric road bike in mind.
The Fazua motor gearbox is neatly integrated into the bike's bottom bracket, and you insert the motor drive unit into the gearbox.
The small 250-watt-hour battery connects to the top of the drive unit and can be easily replaced – a spare battery is available if more range is required.
The electric assist system is controlled by a remote control handlebar-mounted keypad. There are 10 LEDs showing the battery level. These change colour depending on what pedal assist mode you are in. White is zero,  green is low, blue medium and purple is maximum assist.
The Fazua motor is best suited to the rider who only requires e-assist on occasion – for climbing hills and to provide some extra help for longer rides. As the battery is of quite a low energy capacity, it would be ideal for commutes of up to around 30 miles (with the assist on constantly).
The total weight of the Fazua system including the battery pack is just 4.6kg. If you fancy riding without the extra weight of the electric motor and battery, you can easily remove it, fit the (optional) alloy cover and away you go!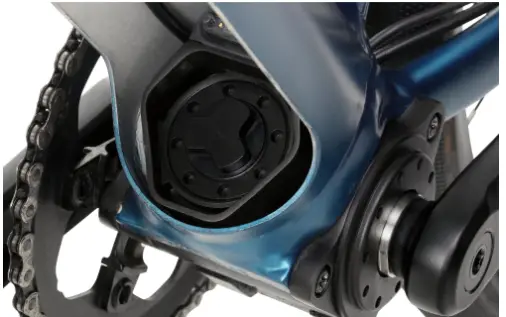 It should be noted that you don't lose the whole 4.6kg when you remove the motor and battery, as the gearbox that is integrated into the bottom bracket weighs 1kg, but you still lose 3.6kg – which makes a lot of difference.
Performance
The quoted maximum torque figure of 60Nm feels about right. The performance feels similar to the Bosch CX motor in tour mode. When the assist is switched off or the maximum assisted speed of 15.5mph is reached, the motor de-couples from the gearbox, and there is no extra pedalling resistance – it feels just like riding a normal bike.
I rode this bike for around 8-9 miles of the hilly Cornish countryside, and when the motor was off, I didn't really notice the extra weight, in fact, I could quite happily ride the ADV 8.9e with the motor switched off for miles and it wouldn't bother me.
I also rode the ADV for a couple of miles with the motor removed, and it felt a lot lighter and zippier than my vintage Dawes Galaxy touring bike
The pedal assist on the Boardman ADV 8.9e is so smooth and subtle, it feels like you have strong wind behind you. I had my Wahoo Elemnt Bolt bike computer fitted, and I was going uphill considerably faster than usual, but with half the effort.
Fazua Rider App
The Fazua rider app is an excellent accompaniment –  It has the following features:
GPS navigation, tracking and trip information
Motor power, remaining battery capacity, distance to empty, etc.
Speedometer, cadence, rider power, rider torque, etc.
Technical overview and battery charge information
Support functions, incl. direct access to Fazua Service
Ability to share rides with friends
Summaries and analysis of the data post-ride
The app is compatible with Andriod and Apple IOS, and it does provide some useful information, plus some of the more technical stuff like rider power, cadence and torque. You can also track ride data and share it with friends.
The addition of GPS navigation is a great feature. But remember, you will need to get a suitable smartphone holder for your device – the Quad Lock is probably the best phone holder available for bikes.
Conclusion of the Fazua Evation System
I prefer the Fazua Evation to the Mahle X35 ebikemotion system found on the Orbea Gain and other electric road bikes. I do like the X35 system, but having a motor and battery that can be removed in seconds means you can enjoy the best of both worlds. You no longer need an electric bike for commuting and a regular bike for weekend rides – you can have both in one!
Battery
The small 36v 7ah (250Wh) battery is lightweight and easy to plug directly into the drive unit. The range of the battery will depend on the rider, and how often the e-assist is used.
As with the Hybrid version, there is no reason, why you couldn't squeeze 100 miles out of a single charge if you only used the assist for 30% of the ride.
For a daily commute to work, and using varying assist levels, I would say a range of between 30-40 miles should be possible.
Bike Components
Gearing
The Boardman ADV 8.9e uses the excellent SRAM Apex 1 x 11 drivetrain. Upfront There is an FSA-CK746 crankset with an  FSA 44t chainring and a wide range 11-42 cassette and the rear.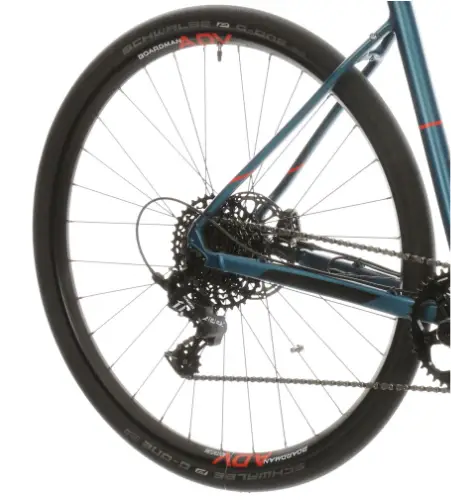 This groupset is designed specifically for gravel/adventure bikes and will ensure a decent range of gears for climbing steeper hills. The package is finished off with a high-quality KMCE11 e-bike specific chain.
Brakes
The SRAM Apex hydraulic disc brakes combined with 160mm rotors provide confident braking, no matter what surface you are riding on. I felt these brakes did the job perfectly.
Wheels and Tyres
The wheels are Boardman branded tough double-walled rims with thru-axles front and rear. There are 28 spokes on the front and 32 on the rear.
The tyres are Schwalbe G-One Speed, 700c x 38mm gravel tyres, which will offer a good level of puncture protection and are excellent on a multitude of surfaces
The finishing kit is all, good quality Boardman branded components, with flared drop bars and a Fizik Tundra saddle.
Full Specification:
| | |
| --- | --- |
| Approximate Weight (KG): | 16kg |
| Brake Type: | Hydraulic Disc Brakes |
| Discipline: | Adventure |
| Forks: | Boardman ADV-E full Carbon, 1 1/2″ to 1 1/8″ tapered steerer |
| Frame Material: | Alloy |
| Gender: | Unisex |
| Maximum Rider Weight: | 120kg |
| Maximum Speed: | Assistance to 15.5mph |
| Number of Gears: | 11 |
| Pedals Included: | Yes |
| Recharge Time: | 3 hours |
| Suspension: | Rigid |
| System voltage: | 36V |
| Wheel Size: | 700c |
| Amps: | 7Ah |
| Battery: | Fazua 250Wh |
| Battery Charger: | Fazua Charger Supplied |
| Battery Features: | Fazua removable integrated battery |
| Battery warranty: | 2 Years / 500 charges |
| Bottom Bracket: | Fazua Evation |
| Cassette/Freewheel: | SRAM Apex PG1130 – 11-42T |
| Chain: | KMC E11 |
| Chainguard: | No |
| Chainset: | FSA CK-746 Fazua, 170mm |
| Component warranty: | 2 Years Electrical components, 1 Year other components (excluding wear and tear) |
| Crank Arm: | Alloy |
| Display: | Speed, Cadence and Torque |
| Display Features: | 3 Assistance Modes |
| Drive Type: | Fazua Evation |
| Electric Bike System: | Fazua |
| Fork travel: | N/A |
| Front Brake: | SRAM Apex Hydraulic Disc |
| Front Hub: | Boardman 6 Bolt Disc, 100x12mm Thru Axle front, 142x12mm Thru Axle rear |
| Gear Shifters: | SRAM Apex 1 |
| Geometry: | Adventure |
| Grips: | Velo Bar Tape – Black |
| Handlebar Type: | Boardman Alloy, 400mm size SM, 420mm size MD, 100mm size LG & XL |
| Handlebars: | Flat |
| Headset: | FSA No. 42 ACB |
| Maximum Range: | Up to 60 miles range |
| Motor Type: | Fazua Evation Central Motor |
| Mudguard Mounts: | Yes |
| Mudguards Included: | No |
| Pannier Mounts: | Yes |
| Pannier Rack: | No |
| Pedals: | Wellgo with Toe Clip |
| Quick Release Front Wheel: | Yes |
| Quick Release Rear Wheel: | Yes |
| Rear Brake: | SRAM Apex Hydraulic Disc |
| Rear Hub: | 142x12mm Thru Axle rear |
| Rear Mech: | SRAM Apex 1 |
| Removable Battery: | Yes |
| Rims: | 28h Front, 32h Rear |
| Saddle: | Fizik Tundra |
| Seatpost: | Boardman Alloy 31.6mm |
| Sensor Type: | Speed, Cadance and Torque |
| Stem: | Boardman Alloy, 80mm size SM & MD, 90mm size LG, 100mm size XL |
| Type: | Electric Adventure Bikes |
| Tyre Size: | 700 x 38mm |
| Tyres: | Schwalbe G-One Speed Folding, 700 x 38mm |
Frame and Forks
The Boardman smooth weld alloy frame is just beautiful, with internal routing and a relaxed geometry, this is a nice frame. The Fazua motor system neatly integrates into the oversized down tube, making the bike look like a regular bicycle.
High-quality carbon forks, help dampen road buzz, and thru-axle, forks keep things stiff upfront. The headset is a high-quality FSA  No. 42 ACB.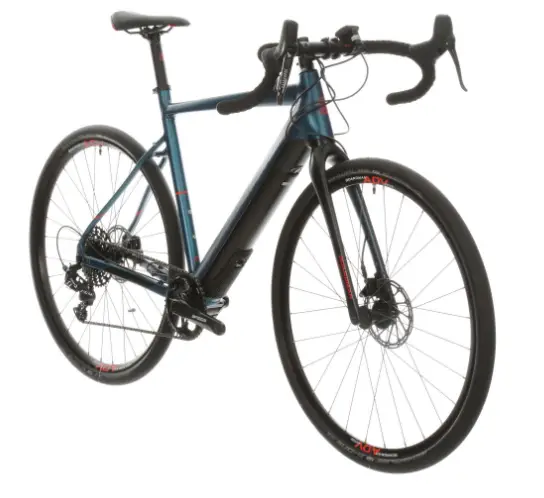 Who is the Boardman ADV 8.9e aimed at?
I would say the Boardman ADV 8.9e is aimed at road cyclists who are after a bit of assistance once in a while. A bike like this is versatile and can be used on road or gravel tracks. It's even going to be a good e-bike for bikepacking trips.
At just under £2500 it may not suit everyone's budget. But it is the cheapest Fazua-powered electric road bike currently available. There are also provisions for fitting mudguards and a pannier rack making it an ideal commuter or touring bike.
Reliability
The Fazua Evation e-bike system is fairly recent, I haven't been able to find too much information about long-term reliability. I think it's safe to say for the moment, that this drive system is going to be fairly reliable. I have already ridden quite a few Fazua-powered e-bikes and they all work flawlessly.
As with all their bikes, Halfords provide a 2-year warranty on all the electric bikes they sell, so customers needn't worry. Plus, if the motor ever did develop an electrical fault, you can remove it and use it as a normal bike. Something you would not be able to do with a Bosch-powered bike.
Conclusion
I prefer riding road bikes, so the Boardman ADV 8.9e was right up my street! Having ridden several different makes models of e-bikes using the Fazua system (including the Carbon fibre Cube C:62) I have to say, the Boardman is the best value by a long stretch.
You will struggle to find any other e-road bikes using this system for much under £3000.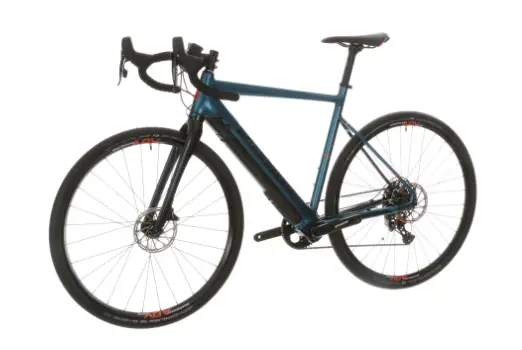 Just like the hybrid version, this bike won't be for everyone. Some say the motor doesn't give enough assistance. I felt it produced ample help, but I am in reasonable shape and ride between 50-100 miles per week on a regular road bike.
If you are looking for an electric bike to give you more of a kick, it may be worth looking at an e-bike with the Bosch CX, Brose, Shimano Steps or Yamaha Sync drive motors. These all produce substantially more torque and will perform better on hill climbs and have longer battery ranges.
If you're looking for a versatile and practical electric road bike that can be used as a normal bike from time to time, the Boardman ADV 8.9e would be an excellent choice.