I have always been a big fan of Decathlon bikes, and now they have well and truly entered the e-bike world with a fantastic range of electric bikes. The new Decathlon Riverside 500 E Hybrid Electric Bike is one of their best all-rounders. I believe it could knock the Carrera Crossfire E, from Halfords off the top spot in the £1000 – £1400 price bracket. Read my full review for more information.
Summary
I have owned a B'TWIN Riverside 900 before, and I converted it to electric myself using a Tongsheng TSDZ2 mid-drive motor. I thought it would only be a matter of time before Decathlon released their electric version, and they did! Enter the Riverside 500 electric bike.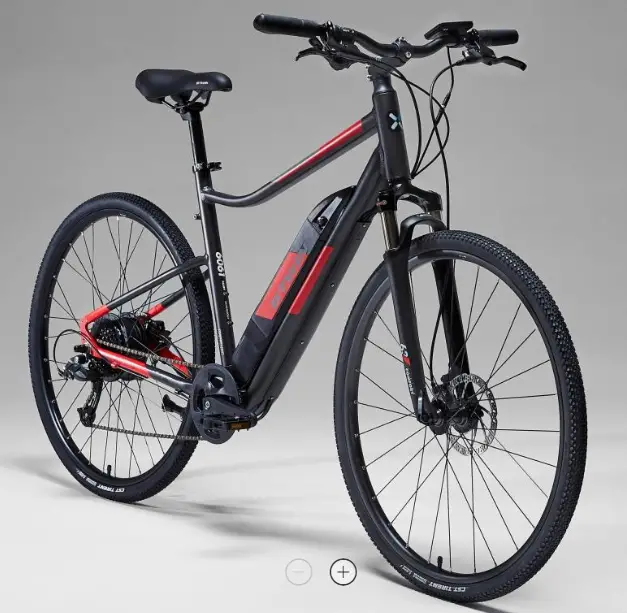 Decathlon has recently dropped the B'TWIN brand name from a lot of their bikes. So this new bike is just known as the Riverside 500.
Anyway, moving on. Is the Riverside 500 hybrid electric bike any good? Well at first glance, it looks to be another excellent value e-bike from Decathlon. You have to give credit where it's due, and I must say that I am very impressed with their new range of electric bikes.
The frame uses the same unisex design as the Riverside 900 I owned, except for an area on the downtube where the battery is installed. The rest of the bike looks fairly similar. And the paint finish is what we have come to expect from Decathlon bikes – generally very good indeed.
This new model has a 250w rear hub motor, with a decent 36v 11.6ah battery pack and a torque-sensing system for the pedal assist.
It is great to see torque sensing pedal assist on a sub £1500 hybrid electric bike. This brings it into line with Halfords popular Carrera Crossfire E.
On sale at £999 Visit Decathlon for more information
Electric Motor
The Riverside 500 uses a 250w unbranded rear hub motor. It's smooth and produces enough power as and when needed. The manufacturer claimed rated torque for this motor is 42Nm which is about right for a small geared hub motor.
The great thing about hub motors, is they are generally very reliable, and I would imagine that this one is no exception. It produces a nice amount of power when needed, and it can also be pedalled normally when the motor is switched off.
One thing I didn't expect to see on this bike was the addition of a torque sensor. These are usually found on more expensive bikes like the Carrera Crossfire E.
Torque-sensing pedal assist measures the amount of force being applied to the pedals and gives you the right amount of assistance in proportion to how much effort you are putting in. The bottom line is it makes for a much more subtle transition to electric-assist when you start pedalling. It also means the motor is giving you optimal power when you need it.
Another common trait of a torque sensor, is it will generally increase the efficiency of the motor, thus increasing your battery range.
The torque sensor on the Carrera Crossfire E measures force through a sensor fitted to the crankset – Suntour's patented ATS or Active Torque-Sensing system. The torque sensor used on the Riverside 500 is, in my opinion slightly more sophisticated, and measures torque via force being applied through the bottom bracket (the main crank bearing that the crankset and crank arm connect to).
As far as power is concerned, the high-torque, geared hub motor fitted to the Riverside, has a surprising turn of power in boost mode, making easy work of those annoying hills!
Display
The Riverside 500 e-bike uses a very tidy and compact LCD display, which is located on the left-hand side of the handlebar. There are 4 power levels available – zero assist, economy assist, standard and boost. Using boost mode constantly will deplete the battery the quickest.
As far as displays go, it's fairly basic, but it provides all the information most riders will ever need – Speed, assist level, battery range and a trip computer.  The display is also clear to read and easy to use via the keypad, which is located conveniently next to the left-hand grip.
Battery
Another good feature of the Riverside 500, is the battery has a very reasonable 36v 11.6ah (417Wh), which should give an assisted range of around 40-50 miles. This figure may be higher or lower, depending on how much assistance you use, your weight and the kind of terrain you're riding on.
This battery fits neatly into the frame, and uses the same side exit system as other batteries used on Decathlon e-bikes
Gearing
The Riverside 500 has a 1 x 8-speed set-up, with a 36t chainring on the front and a wide range 11-34 8-speed cassette at the rear.
The derailleur and gear shifter are B'TWIN branded components. My bike had the same components, and in my opinion, they work as well as their Shimano equivalents. I never experienced any problems with indexing and gear changes were always crisp and smooth.
I like the fact they have kept the gearing quite low, a 36t chainring will still allow you to pedal up to around 25 mph (albeit at a high cadence). But if you are exploring the countryside and riding canal towpaths, you don't really want to be going much faster than 15 mph anyway.
Brakes
The Tektro hydraulic brakes are fairly entry-level, but more than adequate on a bike of this type. I have personal experience with these brakes, and they do the job. I'm quite heavy at 110kg, and I never once experienced brake fade when negotiating steep descents.
Wheels and Tyres
The rims are double-walled alloy with alloy hubs and sealed bearings. All B'TWIN branded components and fairly durable. I covered nearly 400 miles on a Riverside 900, mainly through Cornish country lanes, and not once did the wheels need truing up, despite some unplanned encounters with pot-holes!
The 700 x 38c CST Tirent hybrid tyres have a reasonable degree of puncture resistance and should provide decent grip on a multitude of surfaces.
Front Suspension
The front suspension is the popular Suntour NCX SF17, which has 63mm of travel. Once again, I can vouch for these forks as they were fitted to my Riverside 900. They're the perfect hybrid / trekking suspension fork, and more than suitable for gravel tracks, and rough country lanes.
These forks can be locked-out and also adjusted for stiffness. It should be remembered that as with any hybrid fork, there are limits to the amount of abuse they can take. If you plan on doing a lot of off-road riding, you would be advised to get the E-ST500 Electric mountain bike (which is the same price).
Finishing Kit
All the finishing kit is standard Decathlon, B'TWIN branded components. The seat post, stem and handlebars are all made of aluminium. The saddle is their own brand Ergofit. I find these saddles to be quite comfortable, even on longer rides.
Frame
The 6061 Alloy frame on the Riverside 500 e-bike is of good quality and Unisex design, it is quite stiff, and feels surprisingly responsive for a hybrid bike. The frame also benefits from Decathlon's lifetime guarantee.  The geometry is a typical hybrid, making for a very relaxed, upright riding position.
Who is this bike aimed at?
I would say this electric bike is aimed squarely at commuters and leisure riders. It would make a great daily commuter bike. Mudguards and a pannier rack can be easily fitted and the comfortable upright riding position will make any longer ride a pleasant experience.
The 417Wh (watt hours) battery should easily give a range of between 30-40 miles on a single charge, making a daily 30-mile round trip commute fairly effortless. If you were feeling more adventurous you could use it for a spot of weekend bikepacking.
As a leisure bike, the Riverside 500 is excellent. Its unisex design, means that if you're a couple you can buy two of these and go off exploring the countryside together. The versatility of this e-bike means that you can always venture off the beaten track, without worrying too much about gravel tracks or woodland trails.
Versatility is what makes a good hybrid bike, and in all honesty, I think the Riverside 500 ticks all the right boxes.
Conclusion
The more I look at Decathlon's new range of electric bikes, the more I think they have produced some absolute gems!
The R&D folks at Decathlon's headquarters in Lille,  have thought things through. The Riverside 500 electric bike is not only a good e-bike, by any standard, but it is incredibly good value for money.
A direct comparison with the latest Carrera Crossfire E from Halfords was inevitable. Let's have a quick look, shall we?
Riverside 500 Electric Bike vs Carrera Crossfire E
250w rear hub motor
36v 11.6ah battery
Hydraulic disc brakes
8-speed Shimano gearing
Torque sensing pedal assist
Weight: 22.5kg
Buy the Crossfire E from Halfords
Decathlon Riverside 500 Electric Hybrid Bike 2020 model
250w rear hub motor
36v 11.6ah battery
Hydraulic disc brakes
8-speed B'TWIN / Microshift gearing
Torque sensing pedal assist
Weight: 21.95kg (medium frame)
On sale at £999 Visit Decathlon for more information
As you can see, there isn't a lot to choose between the two bikes, specification-wise. The Carrera Crossfire E is specifically available in a Women's frame, whereas the Riverside 500 has a unisex frame design.
Having ridden both bikes, what do I personally think? To be honest there isn't a lot in it. I am biased towards the Decathlon bike, even though there is hardly any weight difference when compared with the Crossfire. It just feels a bit lighter and more responsive.
The plus point with Halfords of course, is there is one in every large town and city in the UK, while Decathlon stores are a bit few and far between.
I prefer the look of the Riverside 500, it is a very well-designed and thought-out bike. Ultimately, if it comes down to price, then the Decathlon bike is a bit cheaper. If it was my money, I would go for the Riverside.
If you have a Halfords and Decathlon nearby, I would go and check both bikes out in the flesh and see which one suits you best.
If you own a Riverside 500 electric bike and would like to leave a review and comment, please do so below.