Gravel bikes are incredibly popular at the moment and it was only a matter of time before the 'direct to consumer brand Vitus entered the fray. Their popular Substance model has been a great seller for a few years now, and for the 2021 season, they have just released two e-assist versions – the Vitus E Substance electric gravel bike available in an aluminium or carbon frame. At a first glance, they both look to be competitively priced. Read my full review below for more information.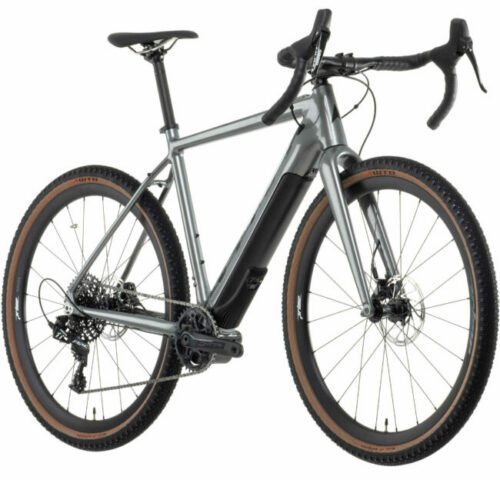 Images courtesy of Chain Reaction Cycles
Summary
Vitus is a French bicycle brand with a long and proud history. In recent years they were acquired by the CRC / Wiggle group and are now sold exclusively through their websites.  Vitus only entered the e-bike market a couple of years ago, but they have quickly established themselves as a brand that produces quality, well-designed e-bikes at very reasonable prices.
I own a Vitus Mach E hybrid bike and it's transformed my cycling, enabling me to ride greater distances more regularly. I only ever use the lowest power setting to take the sting out of the relentless steep hills in my area, and still find I get a really good workout.
The new Vitus E Substance gravel e-bike range is a welcome addition to their already impressive line-up of full-suspension mountain bikes. Priced at £3999 (for the carbon) and £2999 respectively they both offer good value in the face of the competition.  Both versions use the latest 1 x 11 SRAM with the 10-42 rear cassette combined with a 38t front chainring giving plenty of range for steep, technical climbs.
Visit Chain Reaction Cycles for the latest 2022 version
Electric components
Both models use the latest version of the excellent Fazua Evation electric bike drive system. For those of you unfamiliar with this system, it is the only one available that can be removed, thus reducing the bike weight by a further 3.6kg. The only component that remains in place is the bottom bracket motor gearbox. Low weight is the key with the Fazua system and the alloy E Substance only weighs 15.3kg which is very light by e-bike standards. The carbon frame version is even lighter at just 14.7kg.
Fazua Motor
The Fazua Evation is one of my favourite e-assist systems. It is quiet, lightweight and unobtrusive. At a first glance, you wouldn't even realise the E Substance was an electric bike. The Fazua motor produces around 40Nm of torque and a peak power of 400 watts in full power mode, although the nominal output is 250w. This amount of extra power when fitted to a lightweight e-gravel bike makes for a lot of fun.
Pedal assist is provided by a torque and cadence sensor. The torque sensor measures the amount of force you are applying to the pedals and amplifies your effort. This is an extremely rewarding experience and makes you feel like you have really powerful legs. The upshot of this is, you can ride further for longer and not feel so exhausted afterwards. Make no mistake, it's not a free ride – you can still get an incredibly good workout, and maintain a cadence of 80-100 rpm while keeping your heart rate in that important fat-burning zone.
Another great feature of the Fazua motor is when it reaches the maximum 15.5mph (25km/h) assist limit the motor de-couples thus providing the rider with zero resistance through the pedals. The Fazua motor won't be for everyone though as it's designed to enhance your riding and not dominate it – you will still need to put in a bit of effort on the steeper climbs. It lacks the overall grunt of systems like the Shimano Steps E8000 or Bosch CX Performance Line, but they are slightly heavier and cannot be removed.
Battery
For weight saving and aesthetics, the Fazua system uses a small 252Wh (watt hour) battery. This will give a maximum assisted range of 50-60 miles in the lowest power setting, and only about 25-30 miles in the higher setting. But having the assist on all the time isn't the name of the game with these bikes.
They are designed to help you tackle hillier and longer routes than you usually would. Riding a Fazua-powered e-bike with the power switched off is not much different than riding a regular bike (albeit a weighty one). The extra weight only becomes a burden on hills, and then you can use the e-assist to give you that little nudge. I have a couple of friends who have squeezed over 100 miles out of a single charge using the power only when they need to.
Bike components
Both models of the Vitus E Substance use the very latest SRAM gearing along with gravel-specific 650b rims, and a quality finishing kit. These e-bikes are pure gravel, from the frame geometry through to the flared drop handlebars.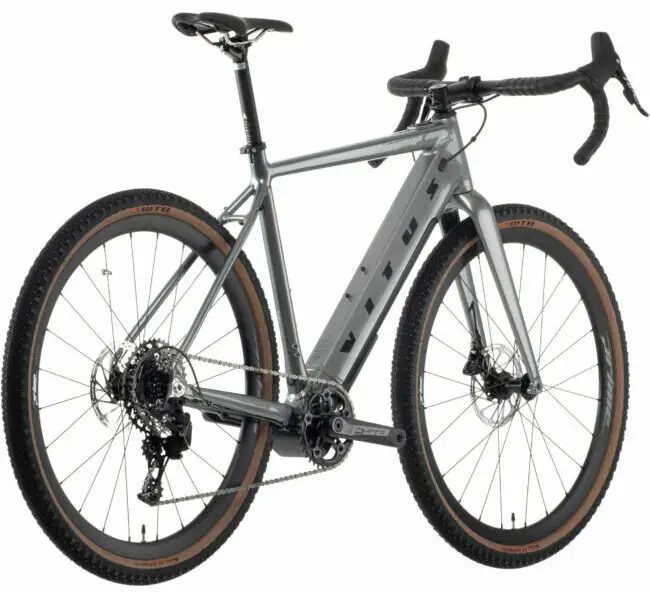 Gearing
Vitus have gone for the very latest incarnation of SRAM APEX 1 x gearing with the XG freehub which allows a 10-42 11-speed cassette combined with a climbing-friendly 38t FSA chainring. SRAM Apex is known for its flawless shifting quality and massive gear range. For riders used to having a double up front with an 11-28 cassette at the rear, riding a 1 x set-up can take a bit of getting used to as the jumps between gears are much more noticeable. Nonetheless, I have come to prefer 1 x systems for their simplicity and reliability.
Brakes
The SRAM Apex 1 flat-mount hydraulic brakes are proven in the world of gravel biking and will guarantee the rider assured braking on long descents. Both bikes have 160mm rotors fitted front and rear.
Wheels and tyres
The Prime Kanza 650b gravel-specific wheelset is a solid performer and comes with the obligatory 100mm (front) and 142mm (rear) thru-axles.  The rims are tubeless-ready and are supplied fitted with the excellent WTB Venture TCS 650 x 47 gravel tyres.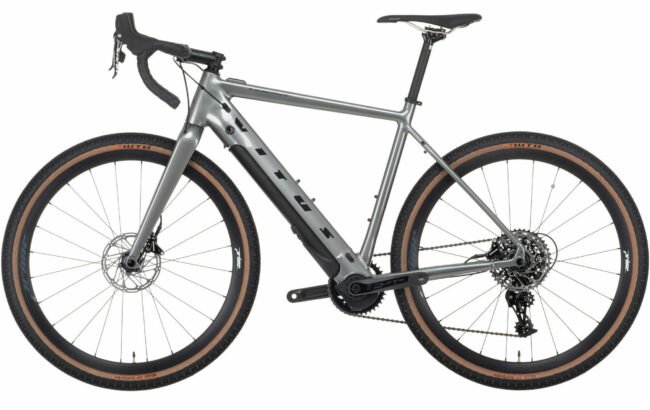 Frame and finishing kit
Both frames are of good quality and have classic gravel bike geometry. The alloy frame is neatly finished with smooth welds, internal cable routing and a full carbon fork. The finishing kit including the saddle is all Vitus branded and looks to be well manufactured.
Geometry & Sizing
Model / Size
S
M
L
XL
Seat Tube – CT
501
525
560
590
Seat Tube – CC
441
465
500
530
Virtual TT
510
532.2
560
590
Front Centre
581
595
604
634
Wheelbase
1006
1020.6
1031.3
1060.4
Headtube
120
145
170
205
Fork Rake
48
48
48
48
Fork Length
395
395
395
395
HT Angle
70.5
71
72
72
ST Angle
74.5
74
73
73
Chainstay
435
435
435
435
BB Drop
72
72
72
72
Crank length
170
0
0
0
Max Tyre Size
650 x 47c / 700 x 42c
650 x 47c / 700 x 42c
650 x 47c / 700 x 42c
650 x 47c / 700 x 42c
Stack
541.4
565.8
586.9
623.6
Reach
359.9
369.6
381
399.3
Stand Over Height
775.8
794.4
807.2
825.4
Stem length
80
90
100
110
Handlebar Width
400
420
420
440
Height
163 – 170
170 – 178
178 – 185
185 – 192
Inside Leg
70 – 74
74 – 82
82 – 86
86 – 90
Bottom Bracket
Fazua Evation
Fazua Evation
Fazua Evation
Fazua Evation
Headset
Tapered 1 1/8″ > 1 1/2″
Upper: IS41.8/28.6
Lower: IS52/40
Tapered 1 1/8″ > 1 1/2″
Upper: IS41.8/28.6
Lower: IS52/40
Tapered 1 1/8″ > 1 1/2″
Upper: IS41.8/28.6
Lower: IS52/40
Tapered 1 1/8″ > 1 1/2″
Upper: IS41.8/28.6
Lower: IS52/40
Seat Post
350mm x 27.2mm
350mm x 27.2mm
350mm x 27.2mm
350mm x 27.2mm
Who is the Vitus E Substance Adventure Bike aimed at?
As with all electric gravel bikes, the Vitus E Substance Adventure is going to appeal to a broad range of riders. Whether you're looking for a fast, drop-handlebar commuter bike that can be used all year round and on poor road surfaces or you want an e-bike for bikepacking, the E Substance is an incredibly versatile machine.
I have said this before with Fazua-powered bikes, you can have two bikes in one. Ride it when you want with the motor installed, or if you fancy going for an unassisted ride it takes a matter of seconds to remove the drive system and battery – you will need a Fazua downtube cover though (to protect the motor couplings and connectors from muck) these are available separately for around the £70 mark. Removing the motor drive unit and battery will reduce the total weight of the bike by 3.6kg.
The 252Wh battery does have a low energy capacity when compared with the likes of Bosch and Shimano Steps motors, but the electric assist system is aimed more at riders who only require assistance once in a while or as a means to reduce fatigue on longer hilly rides.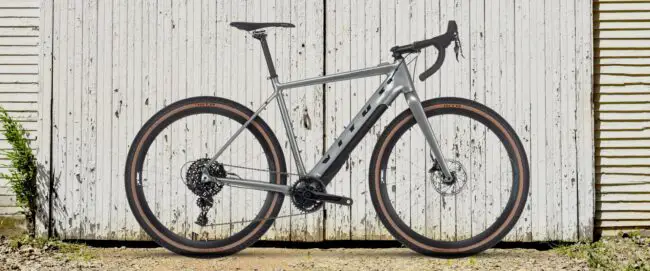 Conclusion
I'm a big fan of Vitus, I've ridden various models of their regular bikes and e-bikes. My e-bike is a Vitus and I'm very impressed with the overall build quality and finish. The E Substance Adventure range is competitively priced which is just as well, as the competition is very tough in the world of gravel e-bikes. They are up against the likes of the excellent Ribble CGR AL e and the slightly cheaper Boardman ADV 8.9e, then there is the excellent Cairn E-Adventure (which I hope to be testing soon).
I think the E Substance Adventure will be a great seller in 2021. It has great specification – the gearing is perfect for a gravel bike with the latest SRAM XG 10-42 11-speed cassette combined with the 38t FSA chainring. The rest of the components are durable and proven – the Prime Kanza 650b wheelset is a good seller on CRC and Wiggle and the WTB tyres can be run tubeless making them perfect for the lower pressures required for off-road riding.
There is about £1000 difference between the alloy and carbon framed models and not even 1kg in weight. I would say the alloy version offers the best value for money, although some riders may prefer the feel of carbon over rougher terrain and be willing to fork out the extra.
All in all, I'm giving the Vitus E Substance Adventure the big thumbs up – I have included it in my list of the best electric gravel bikes currently available. I will try and get hold of one for a proper test and YouTube video review (watch this space).
Buy the latest 2022 version from Chain Reaction Cycles
If you have any questions about this or other gravel e-bikes, please feel free to leave a comment below – I usually reply within 24 hrs.