ebikechoices is supported by its audience. When you purchase through links on our site, we may earn a commission. Learn more
Are cheap electric bikes any good? Budget e-bikes can be a bit hit and miss – there's always plenty of choice when trawling through Amazon or eBay, but it can be difficult to separate to good from the bad. In this Eskute electric bike review I'll take a closer look at this sub-£1000 e-bike to see how it stacks up against the competition.
Summary
Eskute have been kind enough to send me one of their affordable electric mountain bikes to test and review. This article is based on my initial impressions, but I will be putting in some miles on the Eskute Voyager in the coming weeks to see how it fairs.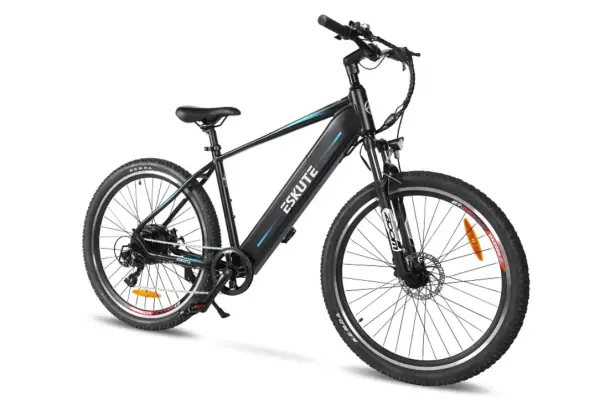 First impressions
My first impressions of the Eskute Voyager are favourable – the bike was received in good condition and I was particularly impressed with the way the bike was packaged (see photo below). Once the bike was unpacked and all the protective foam removed, assembly took roughly 10-15 minutes. There is a small PVC bag of tools supplied which is a thoughtful touch and it was just a case of fitting the handlebars (to the stem), fitting the front wheel and charging the battery fully (the battery is supplied partially charged due to shipping regulations).
Out of the box everything worked just fine, although I'm quite fussy with things like gear indexing and brake adjustment so I fine-tuned the rear derailleur and re-adjusted the brakes a little. I also found the tyres were a little under inflated for road use and pump them up to 40psi (rear) and 35psi (front).
Check out the new 2022 e-bikes from Eskute
It's quite a sturdy looking bike with neat internal cable routing and integrated battery which gives the Voyager a look and feel of something more expensive. It should be noted that the Eskute is only available in one size and the supplied seat post was not quite long enough for my 6'1″ frame, so I have ordered a longer 30.4mm x 350mm seat post (original is 300mm), but apart from seat height everything felt comfortable including the gel saddle.
The frame is a unisex design with a low stand-over height and I would say there's plenty of scope for adjusting the bike for riders between 5'2″ and 6 foot, even my 12 year old daughter could comfortably ride it!
I'm very impressed to see a Bafang rear hub motor paired up with a 48v 10Ah battery at this price point (latest version has a 36v12.5Ah). In my experience the Bafang hub motor is one of the most reliable and performance is going to be good enough for most leisure riders or commuters.
Electric components
It's refreshing to see a well-known branded hub motor on a bike at this price – anyone familiar with the Bafang hub motor will know that it's one of the most tried and tested hub motors available and can be easily repaired in the unlikely event it does develop a fault.
Performance is lively for a 250w motor and climbing the steep 8-10% hill at the top of my driveway is effortless – the motor is also very quiet and smooth in operation which adds to the experience. As soon as you start pedalling the small motor kicks in giving a really helpful push.
Battery
Having a 48v battery fitted has more advantages than you'd think – the total energy capacity is 480Wh (watt hours) which should give a realistic range in the region of 40 miles for the average rider. One of the main benefits of a 36v vs 48v is the latter will require less current (amps) to achieve the same power output as an equivalent 36v motor – the upshot of this is less heat build-up and great efficiency.
The latest batch of Eskute Voyager E-Bikes have a 36v 12.5Ah battery fitted – this marginally reduces the total energy capacity to 450Wh (from 480Wh). Although I prefer a 48v battery a 36v battery isn't going to be detrimental in any way to the performance of the bike.
Display
The Eskute has a thoroughly decent LCD display for the price – there are 0-5 levels of assist with '0' being no assist or throttle mode (if you choose to fit it) and 1-5 pedal assist. There's also a speedometer, battery indicator, trip function and real-time power output in watts.
Eskute Voyager electric bike test ride
At the time of writing I've ridden the Eskute for around 25 miles, 5 of which was off-road and I'm very impressed with the performance so far. In level 1 the Bafang motor produces a useful amount of assist which will be more than adequate for riding on the flat at slower speeds. In level 3 it really comes alive and makes pedalling virtually effortless on the flat and much easier on 8-10% climbs.
Battery range has been as expected for my first longer outing – I have covered a total of 25 miles, including some off-road riding using a mixture of levels 1-5. The battery indicator was showing one bar when I got back home. This isn't too bad considering I weigh 17 stone and the longer ride involved over 1800ft of climbing with about 5 miles off-road.
Considering I used the assist constantly on the above ride, there was still one bar left on the battery indicator. I reckon with a lighter rider and not such a hilly route a range of 35-40 miles should be achievable – I will put this to the test in the near future and post an update here.
Electric Mountain Bike or Hybrid?
The term 'electric mountain bike' is usually applied to any e-bike with wider knobbly tyres and front suspension, but it's important to distinguish between a 'proper' e-MTB and budget one – although the Eskute Voyager will be perfectly capable of some light off-road riding, it's not designed for tackling challenging trails and definitely no jumps.
I have taken the Eskute on some fairly rough terrain and it handled reasonably well considering the budget forks and brakes. There were a couple of occasions when descending some rocky single track that the suspension felt a bit rickety – but this was to be expected from a budget e-bike. Having said that it was fun to ride off-road and  although the brakes felt a little vague they did the job.
I tried the bike out on a couple of short steep climbs and descents on very loose gravel and the motor got me up them without any issues. The Kenda tyres do the job and provide adequate grip.
I do the above ride regularly on my non-assisted gravel bike and it was interesting to compare – my average heart rate is usually around 120bpm with a max of 160bpm, on the Eskute it was down to 107bpm average with a max of 148bpm so I still got a pretty good workout.
Bike components
Gearing
The Shimano Tourney 7-speed gearing with  SL-TX50 thumb shifter is entry-level but perfectly functional. The 40t front chainring combined with 14-28 gear freewheel doesn't really offer enough range for serious off-road riding, whilst the 14 x 40 high gear means that at just over 20mph your pedalling cadence will be 90 rpm. Some riders may find this gear range somewhat limiting, but for the average recreational rider I can't see it being a problem.
It's going to be perfectly fine for light off-road use and general commuting or leisure riding. Shimano Tourney gearing is the mainstay of budget bikes the world over and works absolutely fine – shifting is precise and it's also easy to adjust. There's also a useful derailleur protector to prevent it from getting damaged. The drive chain is by KMC which is a premium brand.
The good thing about these components is they're incredibly cheap to replace if they do get damaged – you would be looking at around £10 to replace the shifter and £15-£20 for the rear derailleur.
Wheels and tyres
27.5″ alloy rims are supplied fitted with decent Kenda K1027 27.5 x 2.10″ tyres – again it's nice to see a familiar brand of tyres fitted to a budget e-bike. These tyres do have a bit of puncture protection, but if you're planning on using the bike a lot I would be inclined to fit a pair of Schwalbe Marathon Plus tyres for maximum puncture protection.
Brakes
This bike is set-up with the front brake lever on the left and rear on the right. The Zoom mechanical disc brakes are entry-level and despite the fact they weren't bedded-in** when I first rode the bike, they worked okay.  The brake levers have integrated motor cut-off sensors which act as an additional safety feature.
If you wanted to upgrade to hydraulic brakes, you can pick up a set of Clarks Clout for around £50 – but you would lose the brake motor cut-off functionality. If you wanted to keep the cut-offs you could always fit some Zoom HB100 brakes – these are hydraulic brakes which are cable-actuated. They're a good compromise between the brakes fitted and full hydraulics.
**50 mile update – now the brakes are bedded in they actually work quite well. Although they lack the bite and modulation of hydraulics they will be more than adequate for most riders.
Front suspension
The front suspension of the Eskute Voyager is the basic coil-sprung variety – they look very similar to Suntour XCT although there's no branding on them. There is a preload adjustment and lock-out feature which is nice to see on an e-bike of this price.
Do they work? As with everything else on this bike as long as you don't try any silly business like jumps and technical downhill descents the suspension works fine. It provides a welcome relief from things like small tree routes and pot holes.
Frame and finishing kit
Considering the price, the 6061 alloy frame is very well finished with good paintwork, neat welds and nice internal cable routing. The geometry is definitely aimed at leisure riding with an emphasis on rider comfort. For a 'mountain bike' the front end is very tall and has a steep head angle.
As I have stated above, the seat post is too short at 300mm for the taller (6ft+) rider – the diameter is 30.4mm and I found a longer one on Amazon. The handlebars are 630mm which will be fine for most riders, but I prefer bars that are slightly wider so I fitted a 680mm handlebar I had knocking about.
Accessories
The Eskute is supplied with various useful accessories – there is an LED headlight which runs off the battery and is controlled by a switch on the handlebar (which also has a horn) and there's a side stand and mudguards(I haven't fitted these yet).
Who is the Eskute Voyager electric bike aimed at?
The Eskute Voyager electric bike is going to appeal to a wide range of riders who are looking for an e-bike on a budget. I think the Voyager would be perfect to be used as a daily commuter bike or simply for enjoying countryside rides on the weekend. The large MTB tyres and front suspension also make it a decent e-bike for light off-road riding, however if you're looking to tackle more challenging terrain then you would be better off saving up for something more appropriate.
If you're after an e-bike for primarily commuting on city streets the Eskute Wayfarer looks like a good alternative to the Voyager – it benefits from full mudguards, pannier rack and lights.
Conclusion
With most big brand e-bikes now coming in at over £2000, it's really nice to see a decent and affordable electric bike available for under £1000. I'm really impressed with what the Eskute Voyager has to offer for the price. It's not going to win any awards for innovation, but that's not the point! You will be hard pushed to find another e-bike at this price that uses branded components and a Bafang hub motor with 48v battery.
The Eskute offers decent performance combined with a respectable battery range – I've covered about 25 miles on it so far, and I'm impressed with the overall quality. Also it's surprisingly good fun to ride off-road, as long as you don't push it too hard!
I have tried riding the Voyager without the assist on and it rides fine, there's no discernible pedalling resistance from the Bafang motor – it just feels like pedalling a heavy mountain bike.
If the Eskute is used as intended and not abused, I don't see any reason why it wouldn't last for a good while. It's easy to find fault with a cheap e-bike especially when used to riding something costing more than double the price. Apart from being a bit on the heavy side, I think the Eskute faired very well indeed considering the price.
Are cheap electric bikes any good? There's definitely some bad ones out there but based on my first impressions of the Eskute Voyager, I would have no hesitation in recommending it to anyone looking for a budget e-bike – it's a great all-round package that punches well above its weight and offers excellent value for money.
Thanks for reading this article and if you have any questions regarding the Eskute electric bike, please leave them in the comments below (I usually answer within 24 hrs). Also If you own an Eskute, please feel free to leave your own review below.