When you purchase through links in our articles we may earn a small commission. Read our affiliate disclosure.
I've just been made aware of another relatively new brand of budget e-bike available in the EU. Accolmile electric bikes look like great value for money – their range includes mid-drive city / hybrid e-bikes a lightweight road-orientated e-bike and a rather interesting selection of hardtail and full-suspension mountain bikes. In this article, I'll take a closer look at the specifications of each model.
Summary
Accolmile e-bikes are based in Hong Kong and were started by three engineering friends who turned their hobby into an electric bike brand. Their range of electric bikes includes several mid-drive variants at an affordable price. I have included all their e-bikes of interest, although they also have a couple of decent folding e-bikes in the range. Most of the e-bikes featured below are EN15194 certified and comply with EU pedelec laws.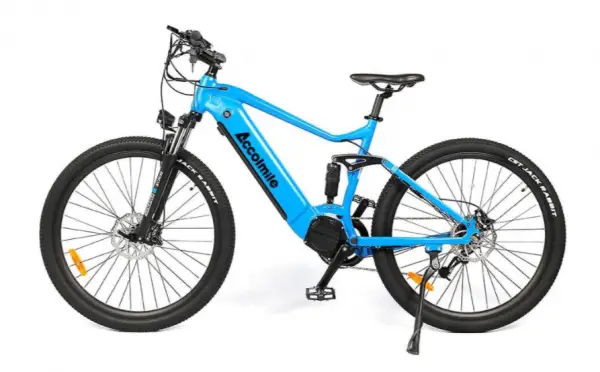 ⚠I have listed the prices in euros, but it looks like they do ship to the UK. I couldn't find any info on their website regarding shipping fees to the UK, but it's safe to assume if the bike is coming from Europe, there will be a 20% duty to pay on top.  Even with the 20% on top, they still look like very good value for money.
---
1. Accolmile Step-Through Electric City Bike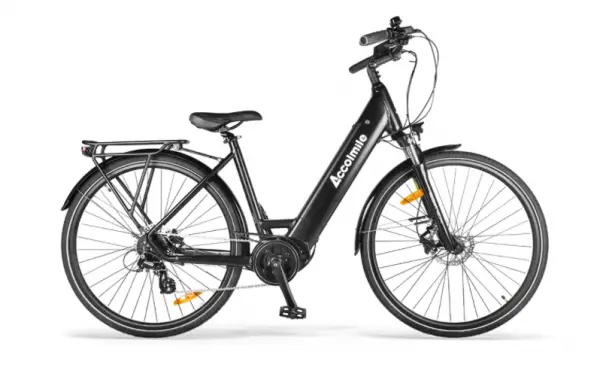 Priced at under €1300, the Accolmile step-through electric city bike offers exceptional value for money. It's basically a full-loaded commuter/leisure e-bike that uses a decent Bafang M200 torque-sensing mid-drive motor and a 540Wh battery. Plus, there's Shimano 8-speed gearing, hydraulic disc brakes, lights, mudguards and a pannier rack. This kind of specification is usually only reserved for e-bikes costing nearly twice as much!
The step-through frame design will make this model a good e-bike for older riders as the easy entry and low standover height will make getting on or off the bike a doddle! I haven't had a chance to ride one of these yet, but looking at the spec, I'd say it's well worth considering.
Buy direct from Accolmile (EU Shipping)
Also available from Aliexpress
---
2. Accolmile Road E-Bike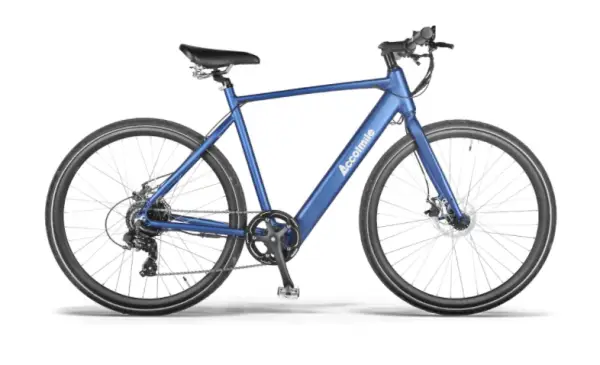 When it comes to fairly lightweight, road-orientated e-bikes, prices usually start at over €1000. The Accomile road e-bike costs less than €850 and has a very respectable specification. Weighing in at 18kg, the Accolmile isn't the lightest e-bike in its class. But, considering the price it's certainly a much cheaper offering than some of the competition.
The internal battery is 360Wh and uses quality Samsung cells, and there is a proven and reliable Bafang rear hub motor. The brakes are Zoom mechanical disc brakes and gearing is Shimano 7-speed. If you're after a lighter electric bike for fitness riding, commuting or a shorter journey this looks just the ticket!
Buy direct from Accolmile (EU Shipping)
Also available from Aliexpress
---
3. Accolmile Antelope Trekking City E-Bike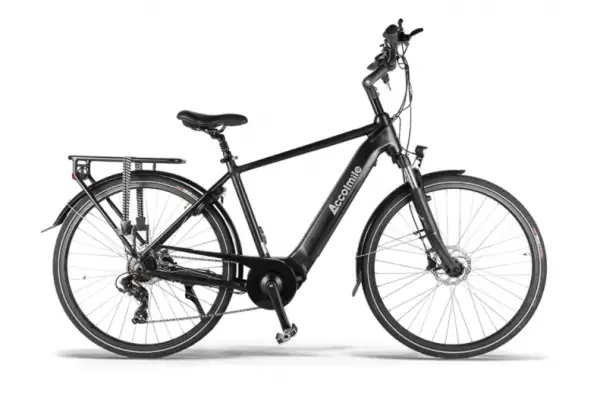 The Accolmile Antelope is a 'fully loaded' trekking / hybrid electric bike for under €1400. This e-bike has literally everything you would get on something like a Cube Touring Hybrid One 500, for €1000 less.  The motor is a dependable Bafang M200 torque-sensing mid-drive which is on par with the Bosch Active Line Plus when it comes to performance (65Nm torque). The battery is a removable 36v 15.6Ah.
Bike components are Shimano 7-speed gearing, hydraulic disc brakes, suspension fork (adjustable), pannier rack (with bungee straps), mudguards, lights, kickstand and even a security lock! This really is an impressive specification considering the price and electric components.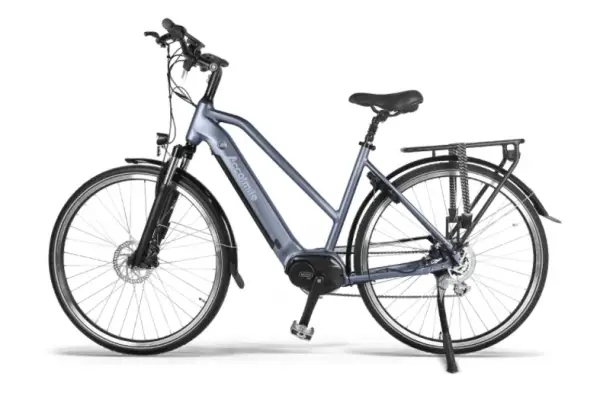 The Accolmile Antelope is also available in a trapeze frame variant which will be suitable for riders who prefer a lower standover height. The Antelope is similar in specification to the step-through version above.
Buy direct from Accolmile (EU Shipping)
---
4. Accolmile Hardtail Tail Electric Mountain Bike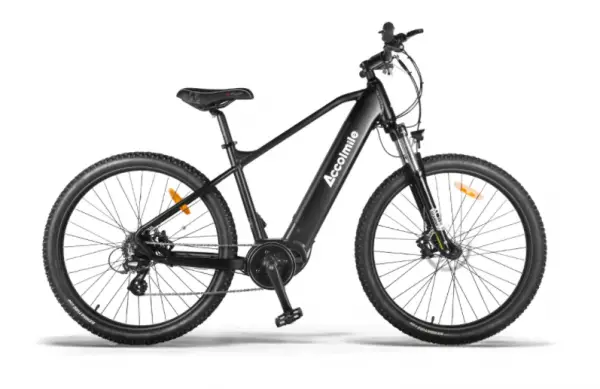 If you're looking for a cheap, mid-drive electric mountain bike, the Accolmile hardtail e-MTB is well worth a look. Priced at under €1700, it's extremely good value for money. This model features a 250w Bafang M200 mid-drive motor with a 540Wh battery. Bike components are fairly decent and include Shimano Altus 8-speed gearing, hydraulic disc brakes and a suspension fork (coil-sprung with lock-out).
I would say this e-bike will be fine for mild to moderate off-road use and should be ideal for exploring woodland trails and gravel paths. The bike has quite a tall front end which will give the bike a nice and comfortable riding position.
Also available from Banggood.com (EU Shipping)
---
5. Accolmile Cola Bear Full Suspension Electric Mountain Bike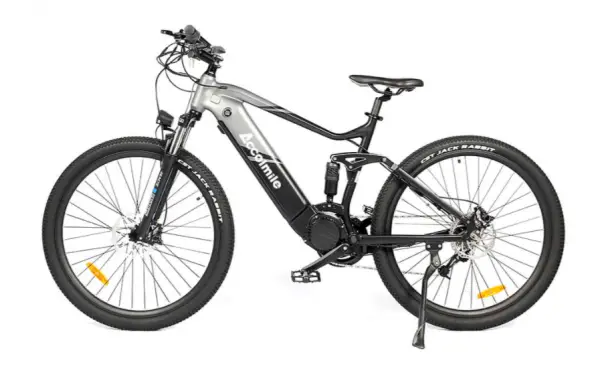 The Accolmile Cola Bear full-suspension electric mountain bike is available in a 500w version for the more adventurous rider. The Cola Bear uses the proven Bafang BBS02B 48v mid-drive motor and a 624Wh battery. This version would not be road legal in the EU or UK but would be fine in the US.  There is also a 250w version available.
I have a lot of experience with the Bafang BBS02B, and it's generally a very reliable unit. The pedal assist sensor isn't quite as sophisticated (as the Bafang M200 torque sensor) as it just measures pedal rotation (cadence), giving the motor a very on/off feel. Performance-wise it should be impressive – this 500w version will produce peak power approaching 1000w with up to 120Nm of torque.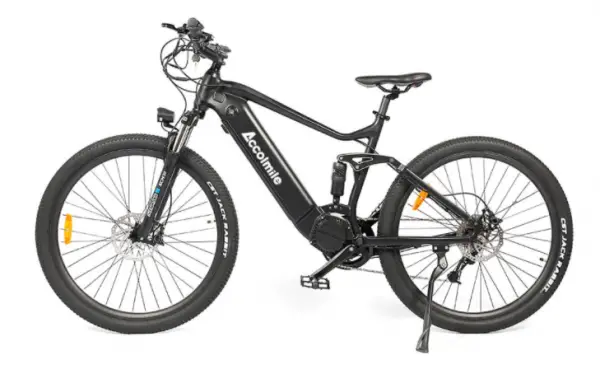 The rest of the components look decent enough, considering the budget price. Forks are Suntour XCM, gearing is Shimano Altus 8-speed and there are hydraulic disc brakes. I'm not familiar with the brand of rear shock absorber, but it's fair to say this e-bike will be fine for moderate off-road riding, but I certainly wouldn't want to push it too far. For less than €1800, it's going to be popular, and being a Bafang BBS motor it will be easy to get hold of parts and fix should it ever go wrong out of warranty.
If you're looking for a powerful e-bike for riding off-road, there's nothing out there that can touch this for the price. You could build your own e-bike using a Bafang motor kit, but here's one ready-made!
---
Conclusion
So there you have it, the Accolmile range of electric bikes. Based on the specifications alone and going by the few customer reviews available, I'd be really interested to get my hands on one for a review. The Bafang M200 is a good mid-drive unit, certainly comparable to the Bosch Active Plus in terms of performance. All the hybrid / trekking versions are very well kitted out for the price. The hardtail e-MTB looks pretty decent too. The Accolmile Road e-bike is exceptional value for money at under €850.
The Cola Bear full suspension e-MTB looks interesting – the Bafang BBS02B is a solid performer, but the cadence-based pedal assist system is very dated now.
If you own or have recently purchased an Accolmile electric bike, I'd love to hear your thoughts. Please feel free to leave a review in the comments section below.