In this article, I'll be looking at the best electric bike conversion kits for mountain bikes. I'll be examining the suitability of these kits in the context of off-road riding, plus looking at the benefits of adding e-assist to your bike for commuting or casual leisure riding.
Mountain bikes are one of the most popular types of donor bikes used for electric conversion, and the best e-bike conversion kit for an MTB depends on its intended use. Riding off-road can take its toll on any bike and there are several things to consider when fitting an electric conversion kit.
 ⚠Legal considerations
Some of the e-bike conversion kits featured below produce more power than is road legal in some countries. It's worth remembering that in the UK, EU and Australia there is a 250w continuous power limit and this law applies to any use in a public space (including trails). If you're using the bike on private land, it's not an issue.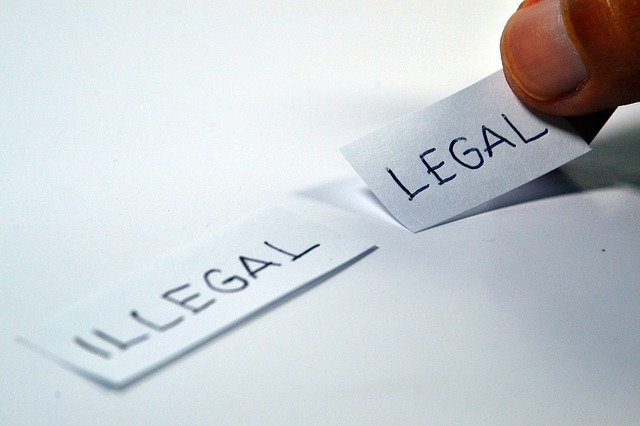 In the UK an electric mountain bike is defined as having pedal assist, no throttle and a 15.5mph (25km/h) assist cut-off point. Technically you can fit a throttle to a used bike as the law was changed in 2016, although the maximum assist and power limit still applies.
When you're dealing with the kind of power output found on the Bafang BBSHD and CYC X1 Pro the performance is getting into electric motorbike territory.
Kind of Terrain Ridden on
Mountain bike riders have varying degrees of skill and ability – I've converted bikes for experienced riders and novices alike. The requirements are going to be different for a rider who is tackling technical ascents and descents when compared with a weekend leisure rider who's riding hard-packed gravel and forest fire roads.
Gearing
If you're fitting a mid-drive and expect to be tackling steep, technical climbs then a 14-28  7-speed freewheel isn't going to give you a low enough gear and the motor will be working very hard. Ideally, you want a 9, 10, or 11-speed gear system with a wide-range rear cassette. I would think along the lines of an 11-40 to 11-46 cassette. These size cassettes are readily available 0n 9-11 speed drivetrains.
Unfortunately, most mid-drive kits have an offset chain line due to the motor design. This may affect shifting quality, particularly in the lower gears. For optimal shifting, you may need a chainring adapter that brings the chain-line inbound slightly.
Choosing the Right Mountain Bike for Electric Conversion
This isn't quite as easy as it sounds. A lot of modern mountain bikes have thru-axle hubs which would rule out a hub motor, and some MTBs have pressfit bottom brackets which would limit the choice of a mid-drive motor.
Both the Bafang and Tongsheng mid-drive motor kits featured below are only compatible with a standard BSA threaded bottom bracket shell. I've listed some of the common threaded bottom brackets found on mountain bikes.
Shimano cartridge bottom brackets (anything with a 68mm – 73mm BB will be fine)
Shimano Octalink
SRAM Powerspline
Shimano Hollowtech II (Deore, XT)
SRAM GXP
Another important consideration is where you're going to fit the battery. On a larger hardtail frame, the battery would usually fit in the triangle and be mounted on the bottle bosses. On some frames, these bosses are too far back (towards the seat tube) and it's quite common to need to drill an additional hole in the battery mounting plate, or even mount the battery back to front.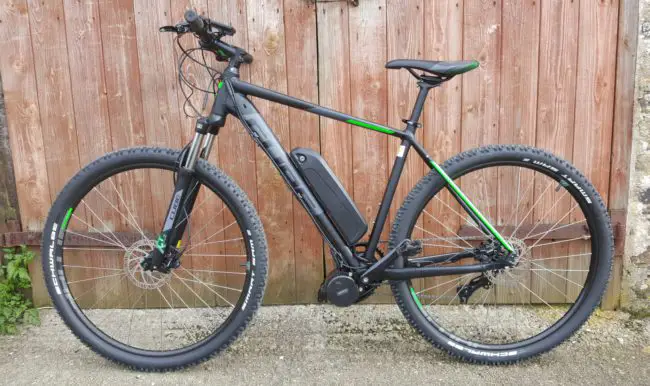 Where do you Fit the Battery on a Full Suspension MTB?
Full-suspension mountain bikes can be a lot more challenging.  They rarely have enough space to fit a battery due to the rear suspension unit. You can mount the battery on the top tube, although this will significantly reduce stand-over height, and the extra weight of the battery can make the bike feel top-heavy.
Some people choose to mount the battery on the underside of the downtube, but this too presents its problems – if you have a fair bit of travel in your front forks then the tyre may rub on the battery casing when braking downhill or going over bumps.
A seat post-mounted battery would work in some instances unless you have a dropper post fitted. Another option is to carry the battery in a backpack with a long power lead, but I'm not a fan of this because of potential safety hazards (particularly if you fall off). The best option would be to have a smaller, custom-built battery pack that fits neatly into the frame.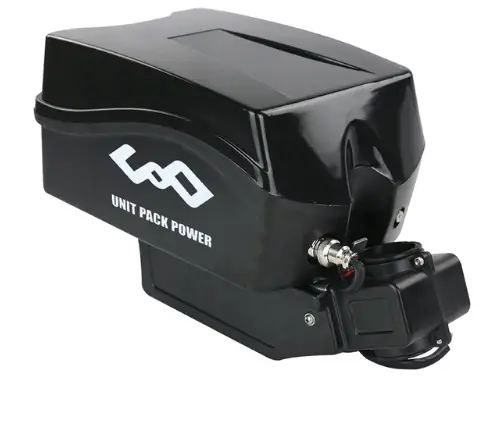 The Best Electric Bike Conversion Kits for Mountain Bikes 2023
I have installed most of the electric conversion kits below onto mountain bikes in the past except the CYC X1 Pro. Remember to check compatibility with your MTB before placing any orders, and if you're in doubt please use the comments section below and I will be able to tell you whether your bike will be suitable or not.
---
Bafang Mid-Drive Conversion Kit
The Bafang mid-drive motor has been around since 2014 and has undergone several internal/electrical revisions since then, but the exterior and basic design have remained largely unchanged.
There are currently six different power configurations available:
What makes the Bafang mid-drive suitable for a mountain bike?
There are several key reasons the Bafang mid-drive is suitable for an electric mountain bike conversion.
Motor location: Having the motor fitted in the bottom bracket keeps the extra weight (4.2kg) low and central which will help the bike's handling characteristics.
Power transfer: Power from the motor is transferred to the rear wheel via the drive chain and gears. This allows the motor to spin much faster, which helps to make it more efficient and produce higher torque.
Customisable settings: One of the great things about the Bafang mid-drive is the ease with which it can be 'configured' by the rider. Using the optional USB programming lead and free, easy-to-use software you can fine-tune the pedal assist characteristics to suit your personal needs.
Performance
The Bafang mid-drive is hard to beat when it comes to performance. The BBS02B 750w and BBSHD 1000w produce impressive amounts of assistance in the higher power levels, more akin to a small electric motorcycle. Below, I've detailed the maximum peak power available from all the Bafang variants.
| Bafang Motor | Battery | Peak Power |
| --- | --- | --- |
| BBS01B 250w | 36v (42.2v x 15A) | 633w |
| BBS01B 350w | 36v (42.2v x 18A) | 759w |
The voltage figures in brackets are for a fully-charged battery. Note: As the voltage drops, so will the power.
| Bafang Model | Battery | Peak Power (Watts) |
| --- | --- | --- |
| BBS02 500w 36v | 36v (42.2v x 25A) | 1055w |
| BBS02 500w 48v | 48v (54.4v x 18A) | 864w |
| BBS02 500w 52v | 52v (58.8v x 18A) | 1058w |
| BBS02 750w 48v | 48v (54.4v x 25A) | 1200w |
| BBS02 750w 52v | 52v (58.8v x 25A) | 1470w |
The voltage figures in brackets are for a fully charged battery. Note: As the voltage drops, so will the power.
| Bafang Motor | Battery | Peak Power |
| --- | --- | --- |
| BBSHD | 48v (54.4v) x 30A | 1632w |
| BBSHD | 52v (58.8v) x 30A | 1764w |
The voltage figures in brackets are for a fully-charged battery. Note: As the voltage drops, so will the power.
This performance is great in a straight line but can be a hindrance on steep, technical climbs. The reason for this is the pedal assist is activated by a basic cadence sensor, and has a very on/off feel to it. This can be a bit disconcerting on very rough terrain.
Bafang mountain bike compatibility
The motor shaft on the Bafang is only compatible with mountain bikes that have a BSA thread bottom bracket of no more than 73mm wide. Quite a lot of modern, high-end MTBs have pressfit bottom brackets – as the name suggests, these are pressed into the frame. A pressfit BB shell will have a diameter that's larger than the motor shaft, and quite often wider as well. It is still possible to use a reducer shim (for 68-73mm pressfit BBs) but for wider 86mm-90mm bottom bracket shells, the motor shaft will not be long enough.
Conclusion
Is the Bafang mid-drive e-bike conversion kit suitable for a mountain bike? I think it is to a degree. If you're doing long climbs and fairly moderate single-track descents then it's great. Problems start to arise when things get more technical, particularly on climbs. You'll never be short of power as even the 250w produces a good level of assist.
The motor does tend to hang down a little, making it more vulnerable to impacts from things like rocks. The motor can also work its way loose in the bottom bracket shell and may need regular tightening.
All the feedback I've received from customers over the years rates this motor very highly for off-road use. For more information, check out the full reviews in the links above.
✅Buy the Bafang Mid-Drive👇
Tongsheng TSDZ2
If you're looking for a natural assist feel more akin to the Bosch or Shimano Steps e-assist systems (but without the cost) then the Tongsheng TSDZ2 may be for you. It uses a torque sensor which measures the force being applied to the pedals.
The Tongsheng TSDZ2 is available in the power configurations below:
36v 250w (full Tongsheng TSDZ2 review here)
36v 350w
36v 500w
48v 350w
48v 500w
52v 750w  ⚠ These versions are not approved by Tongsheng and have firmware that's been modified by the vendor.
What makes the Tongsheng TSDZ2 suitable for a mountain bike?
Torque-sensing pedal assist: One of the main problems with the Bafang is the on/off nature of the assist – this can make negotiating technical trails at slower speeds interesting, to say the least. With the Tongsheng you don't have this issue as you need to be putting force through the pedals before the motor will kick in. This translates into a much more natural and intuitive electric assist, making the rider feel much more in control.
Small and lightweight: The Tongsheng TSDZ2 is also physically smaller than the Bafang, meaning there's more ground clearance which reduces the risk of damage from rocks or large tree roots. This motor is also over half a kilo lighter than the Bafang.
Motor location: Just like the Bafang, the TSDZ2 fits in the bottom bracket and transfers power to the rear wheel via the chain. Mid-drive e-bike motors are used on all high-end e-MTBs.
Performance
As far as performance is concerned, the Tongsheng is much more sedate than the Bafang. If you want an electric motor that's going to complement your abilities, while still giving you a good workout, then the TSDZ2 is excellent.     
| Motor | Battery | Peak Power |
| --- | --- | --- |
| Tongsheng TSDZ2 36v (250w variant) | 36v (42.2v x 16A) | 675w |
| Tongsheng TSDZ2 48v (500w variant) | 48v (54.4v x 16A) | 870w |
The voltage figures in brackets are for a fully-charged battery. Note: As the voltage drops, so will the power.
Tongsheng TSDZ2 mountain bike compatibility
The mountain bike compatibility criteria are the same for the Tongsheng TSDZ2 with a couple of exceptions. There is very limited clearance between the motor shaft and the housing. This means if you have any cables going underneath the bottom bracket shell, you will need to re-route them. Because of this reduced clearance you will not be able to install it on a pressfit BB shell, even with a reducer shim.
Conclusion
The Tongsheng TSDZ2 e-bike conversion kit is an affordable way to transform your old mountain bike into a capable e-MTB. What I like about this motor is the fact it's not a free ride. You still have to put in some effort to get the full benefit of the electric assist.
It's not quite as robust as the Bafang and the blue primary gear is a particular weak point, especially when used in a demanding off-road environment.  The blue gear takes about an hour (and a bit of patience) to replace.
Performance-wise it doesn't have the raw power of the Bafang, but the electric assist is much better suited to off-road riding, particularly technical ascents.
Check out my Tongsheng vs Bafang comparison here.
✅Buy the Tongsheng TSDZ2👇
Links to Buy the Tongsheng TSDZ2
---
CYC X1 Pro 5000w Mid_Drive Motor
This kit is designed for the serious enthusiast who wants a super-powerful electric motor that can be easily customisable and also provide the fluid, natural feel of a torque sensor.
The CYC X1 Pro is the only kit featured here that I've not installed. It's a very specialist e-bike motor, capable of producing up to 5000w of power with 250Nm of torque.
One of the things that make the CYC X1 Pro suitable for a mountain bike is the mounting options. Unlike the Bafang and Tongsheng, you can install the CYC on a mountain bike with a pressfit bottom bracket, thanks to the way the motor mounts to the bike.
One of the great things about the CYC X1 Pro is the fact it's made to be easily customisable by the end user. Although most riders buy the CYC for its impressive performance, you can use a 36v battery and tone down all the settings if required. The X1 Pro is a flexible system which you can tailor to your own specific needs.
The CYCMotor Ltd was started by a group of electric bike enthusiasts whose primary aim was to produce the best e-MTB conversion kit on the market. It's quite expensive when compared with the likes of Bafang, but as far as performance and customisation are concerned, it's on another level.
This motor is currently available in limited quantities from some vendors in the UK, EU and US. It's a very niche product aimed at the performance e-MTB market, and because of the high potential power output would only be suitable for off-road use.
---
Yose Power Rear Hub Motor E-Bike Conversion Kit
For the budget-conscious rider who just wants a simple, easy-to-install electric bike conversion kit the Yose Power kit offers exceptional value for money. This kit uses a simple rear hub motor which is typically laced into a 26″, 27.5″ or 28″ rim.
This has to be the most reliable electric bike conversion kit I've installed over the last few years. I have never experienced any major problems and the Yose Power hub motor has proven to be very robust.
Installation is fairly straightforward and if you can change a tyre, you should be able to fit this conversion kit. They even supply a tool kit and cable ties.
Is the Yose Power e-bike kit suitable for a mountain bike?
For mild to moderate off-road riding, the Yose Power electric conversion kit will be more than adequate. The small rear hub motor produces a surprisingly decent amount of assist and because the motor is in the wheel, nothing is hanging down that's going to get knocked.
It isn't going to have the pulling power of a mid-drive motor and small hub motors can struggle on really steep climbs, but for more relaxed leisure riding they're ideal.
Compatibility
Yose Power offers its conversion kit in several different wheel sizes and front / rear motor options. I wouldn't recommend the front motor for off-road situations, although it would be fine for generally riding/commuting.
If your bike has modern thru-axles, then the Yose Power kit would not be compatible. The rear wheel fits standard 135mm quick-release drop-outs and the front wheel 100mm.
Conclusion
The Yose Power kit is an excellent option if you're on a budget. It's not suitable for hard off-road riding but will be fine for general leisure riding and gentler terrain. It is much more straightforward to install than a mid-drive and reliability is excellent. Read the full Yose Power review here.
Yose Power has fulfilment warehouses in the UK and EU and also supplies a range of batteries to complement their conversion kits.
Buy direct from Yose Power – use discount code BH2E24BXQH
Visit the Yose Power eBay shop
---
Final thoughts
When it comes to converting your mountain bike to electric, there's no 'one size fits all' – it depends on your bike and intended use. If you are a serious mountain biker looking for something that's going to give you a similar level of performance and feel to the Bosch motor, then the Tongsheng TSDZ2 is a good option. It's nowhere near as smooth and sophisticated, but it costs a fraction of the price.
The Bafang BBS motors offer a wide range of performance options and can be easily re-configured by the end user. I've installed more Bafang mid-drive motors on mountain bikes than any other motor and they continue to be very popular.
If you're looking for something a bit different, then the CYC X1 Pro is an amazing motor, capable of handling massive amounts of power – this is a motor for enthusiasts and should only be installed on a mountain bike that has good quality brakes and components.
Finally, we have the Yose Power e-bike conversion kit. This is a great option if you don't want to break the bank and are just looking for a cheap and reliable way to convert your mountain bike to electric. There are lots of benefits and negatives to choosing a hub motor vs mid-drive, but if you're on a budget, they're hard to beat!
Thanks for reading and if you have any questions relating to this article, please feel free to use the comments section below. I usually reply within 24hrs.