When you decide to fit a conversion kit to your bike, it is inevitable at some stage in the future you will need to find replacement parts.  To make life easier I have compiled several product tables for e-bike parts and accessories for all the popular brands including Bafang and Tonsheng mid-drive motors as well as essential parts for most of the popular electric bike hub motor kits.
All the parts listed in this article come from reputable suppliers that I use regularly for my electric bike conversion business. They ship globally and you can expect delivery usually in 14-21 days (in some cases less).
E-Bike Spares, Parts and Accessories
***If, like me, you are a dog lover, check out this website for some great reviews of bike trailers for dogs.
Electric bike components explained
Electric bike kits are composed of various different parts, all of which play an important role in the continued function of your e-bike. If you are new to the world of DIY electric bike conversions, it is always useful to know what roles these parts play (and where to buy them).
1. Electric bike controller
The electric bike controller is an essential part of the whole system and your e-bike will not function without it (it can be thought of as the brains of the system).  The controller has multiple functions including regulating the voltage and current as well as taking important data from pedals sensors, torque sensors, speed sensors and the handlebar display.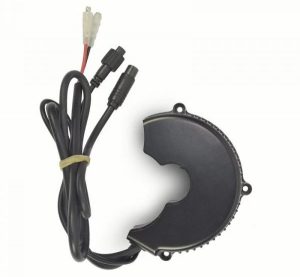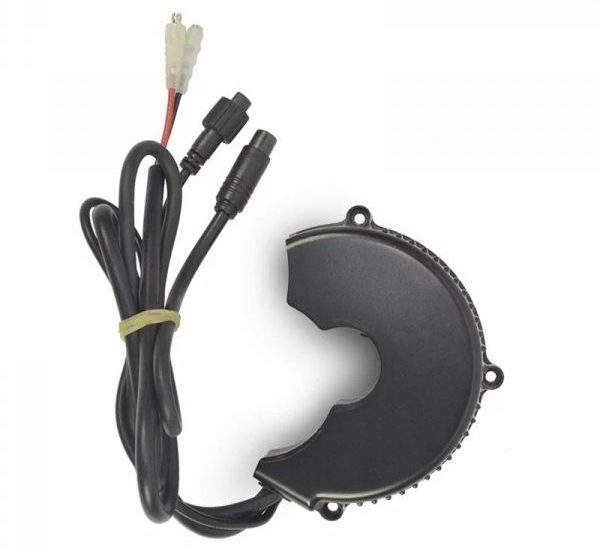 A controller will also determine how fast your e-bike will be. For example, a 36v 15A controller when used in conjunction with a 36v battery will give you a maximum peak power output of 540 watts and a 48v30ah controller using a 48v battery (with 30A BMS) will give you a peak power output of 1440 watts. Note: the peak power output will be slightly higher on a fully-charged battery.
There are several reasons you may wish to change your controller. Sometimes the controller may just fail and need replacing, or you may want to increase the power output of your bike.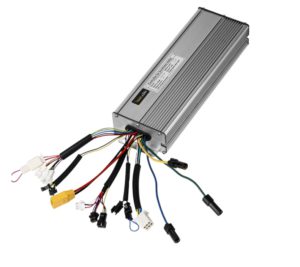 If you have purchased a 250w hub motor kit with a 36v 15A controller, you may feel you need more power to help you on the hills. A moderate increase in power can be achievable just by changing the controller. A 36v 22A controller would increase your nominal peak power to 792 watts.
If you decided to increase the power output, you would need to check the specification of your battery. Some cheaper batteries will only be able to handle a continuous current on 15A, so you would also need to upgrade your battery to one with a 25A BMS (battery management system).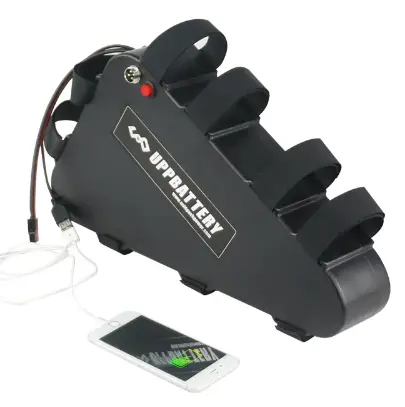 If you wanted even more power, a 48v 22A controller would give you a peak power output of 1056 watts. You would need to change your battery to a 48v with a 25A BMS.
One very important thing to remember is a 250w geared hub motor is designed to handle a finite amount of power and I would not recommend going to go too high with the power output as you would compromise reliability. The extra energy generated by a higher voltage / current controller will increase wear on the motor's planetary gears.
2. Electric bike display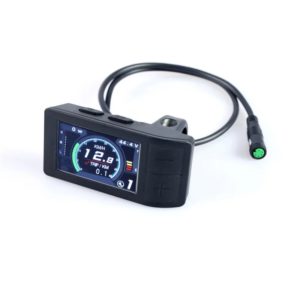 An e-bike display will have a number of functions (depending on the model): Speed, power level, mileage, power output and even GPS navigation. There have been big improvements in recent years, notably full-colour displays and increased functionality. Bafang displays allow the user to choose up to 9 levels of pedal assist, which is great as you can gently increase the power available to suit your riding.
3. Pedal Assist Sensor
There are two different types of pedal sensors found on e-bikes: Cadence and torque sensing.
A cadence-based pedal sensor measures your pedalling rpm and gives you assistance as soon as pedalling starts. Most modern pedal sensors will ramp the power back once a high pedalling rpm is reached.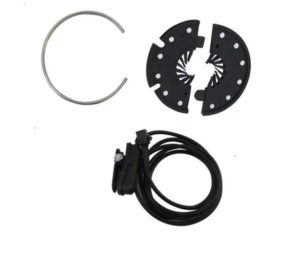 On the Bafang mid-drive motor the pedal sensor is integrated into the motor unit. On a hub drive motor, the sensor would usually be a plastic disc with a ring on 5-12 magnets and a pick-up sensor.
The magnetic disc is usually mounted on the non-drive side on the square-tapered part between the crank arm and bottom bracket, with the pick-up sensor aligned with the disc and mounted less than 5mm from the magnets.
A torque-sensing pedal assist sensor is generally more intuitive and gives you assistance proportionate to the amount of force you are applying to the pedals. These types of pedal sensors are usually fitted to factory-produced electric bikes. Like the cadence-based pedal sensor, torque sensors usually reduce power at higher pedalling speeds.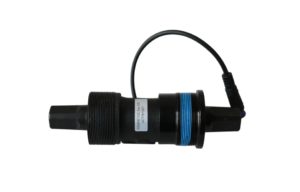 The Tongsheng TDZ2 mid-drive motor uses an integrated torque sensor and there are torque-sensing bottom brackets available for hub motors. These replace the bike's existing bottom bracket and usually, a hole needs to be drilled in the bottom bracket shell (on the bike frame) for the sensor lead – this needs to be done carefully and a rubber grommet inserted into the hole as to prevent damage to the sensor lead.
4. Speed Sensor
Certain motors require an external speed sensor – primarily the Bafang and Tonsheng motors, but also some hub motor kits. The pedal assist will not work properly on the Bafang without a correctly installed speed sensor and will throw up an error code.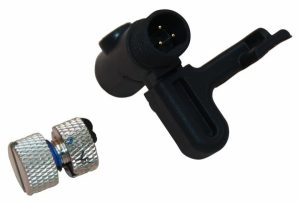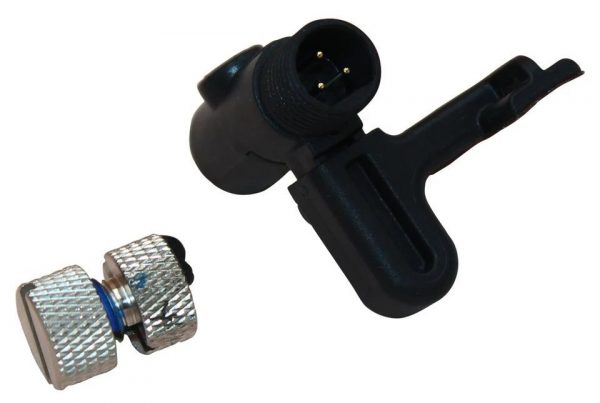 A speed sensor is usually mounted on the chainstay and a small magnet is fitted to one of the spokes to align with the sensor.
The speed sensor has a couple of functions, one is to provide an accurate speed reading for the display and the other is to provide data to the controller for pedal assist.
5. Gearshift Sensor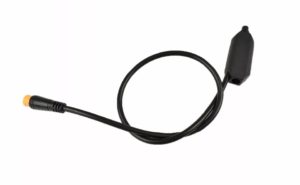 Not long after the Bafang mid-drive was released, it quickly became apparent that the extra power being transferred through the bike's drive-train was causing premature wear to the chain, derailleur and gear cassette (particularly on the more powerful models).
The Bafang gearshift sensor was released soon after, and it works by threading the rear shifter cable through the hole in the sensor. When shifting through the gears it senses movement in the cable and briefly cuts the motor to enable smooth gear changes and thus prevent wear on the gear components.
Having a gear sensor is even more important if you have an internally geared rear hub like a Shimano Nexus or Alfine, as these hubs weren't really designed to handle the torque of a BBS02 or BBSHD.
6. Throttle
Most e-bike kits come with throttles. There are different types of throttles available: The most common type is a thumb throttle. These are easy to fit on the handlebar and allow for the electric motor to be used independently if the pedal assist.
Throttles are very useful to get you going, especially if you have knee problems that make pedalling from a standstill difficult. They can also provide you with a break from pedalling if you get tired.
It should be noted that it is unwise to use throttles on long, steep hills (unless your motor is very powerful) as the extra load can cause heat build-up and result in the controller or motor failure.
Other types of throttle available are twist and half-twist throttles the same as would be found on a motorcycle. These throttles work well but can interfere with gear shifters.
7. Brake cut-off sensors
These are nearly always provided with e-bike kits. They function as an auxiliary safety measure to cut power. Fitting these is a matter of personal preference. On torque sensing systems they are not necessary, but with more powerful motors that have a throttle control, it may be wise to have them fitted just in case the throttle sticks open.
There are different kinds of brake cut-offs. The types usually provided with kits are simply brake levers with a simple switch and a lead coming off the lever that plugs into the wiring loom (or directly into the controller). These kinds of brake sensors are only suitable for cable-operated brakes and would not work with hydraulic brakes.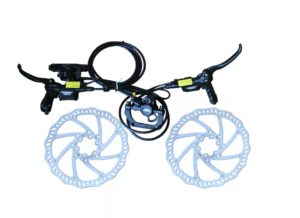 There are sensors available for hydraulic brakes, these work by sticking a magnet to the brake lever and aligning the sensor so that when the brakes are pulled in the magnet moves away from the sensor and cuts the motor out. In my experience, these kinds of sensors can be difficult to fit on certain brakes and are also prone to getting knocked out of alignment.
If you really feel you need the cut-off sensors, it would be worth buying a complete set of special hydraulic brakes with the sensors fitted. These will add to the cost of your build but will give you a much cleaner, more professional finished product.
8. Wiring Harness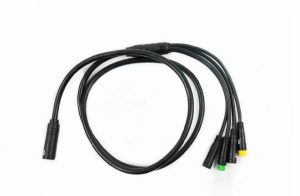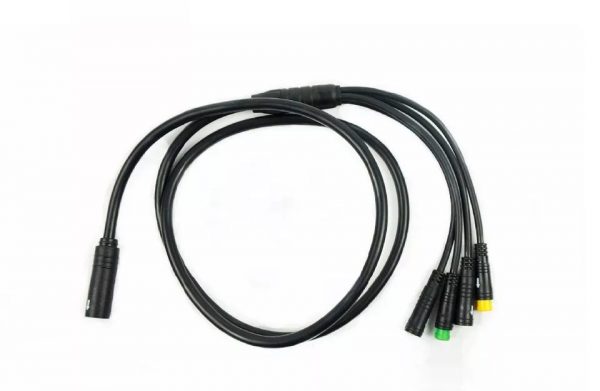 This is basically a wiring loom that connects various components, usually from the handlebar back to the controller.
Summary
Nearly all electric bike parts and accessories are manufactured in China, and if you are happy to wait a couple of weeks then there are great savings to be made buying directly from suppliers on Aliexpress.
I am an affiliate for Aliexpress and earn a small commission for referrals from my website, you will pay exactly the same price as if you visited their site directly and the commissions I receive help to support the upkeep of my website.
Bafang Parts
The table below contains all of the Bafang motor parts you will ever need. All the parts listed below come from reputable suppliers and are shipped globally to most countries.
Find and compare prices on Bafang motor parts and accessories
A lot of Bafang parts are also now available through eBay
Tongsheng Parts
The Tongsheng parts listed below all come from trusted suppliers with international shipping to nearly every country
Find and compare prices on Tongsheng motor parts and accessories
Visit eBay for more Tongsheng parts
General electric bike parts
Click on the link below for a selection of essential motor parts to fit most generic e-bike kits. These include upgraded controllers, colour displays, torque sensors and much more. Global shipping applies and all the sellers I have personally used myself.
Find and compare prices on general e-bike conversion kit parts and accessories
If you are after a particular part, leave a comment below and I will try and source it for you.