I often get asked the question, is the Swytch electric bike conversion kit any good? In this review, I'll take a closer look at the kit and company and share my thoughts with you.
About Swytch
The Swytch e-bike conversion kit is the brainchild of Oliver Montague. The idea for the kit first came about in 2017, and after a successful $500,000 crowdfunding campaign the Swytch e-bike kit was born.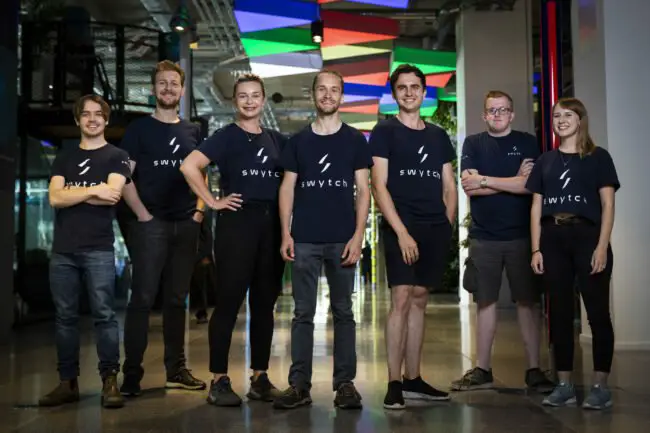 20190716 Copyright James Robinson
What's special about the Swytch e-bike kit?
The huge success of the Swytch kit doesn't particularly lie in the technology, it's more about the simple way in which it has been implemented.
Fitting an electric bike conversion kit can be a very daunting task, particularly if you've never done anything like that before. There are usually lots of cables to plug in (and tidy up), and it can take hours to fit a kit correctly.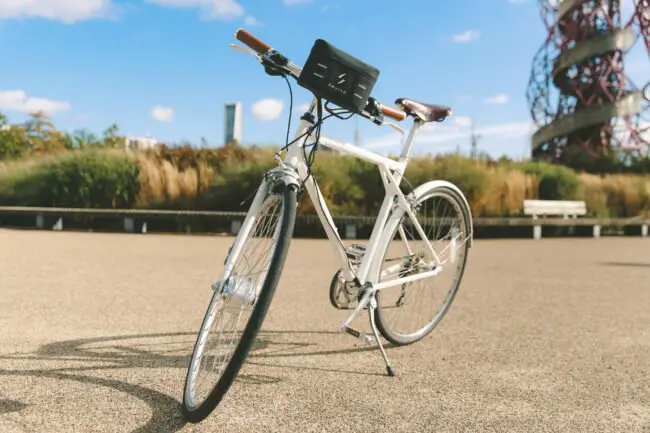 What the guys at Swytch have done is simplified the whole process, meaning that practically anyone can fit one of these kits with little to no prior experience.
There's nothing new or ground-breaking about the motor. It's similar in design and functionality to something like a Bafang hub motor – it uses tried and tested hub motor technology that's been around for years. It's the way the technology has been packaged, making an e-bike conversion kit for the masses.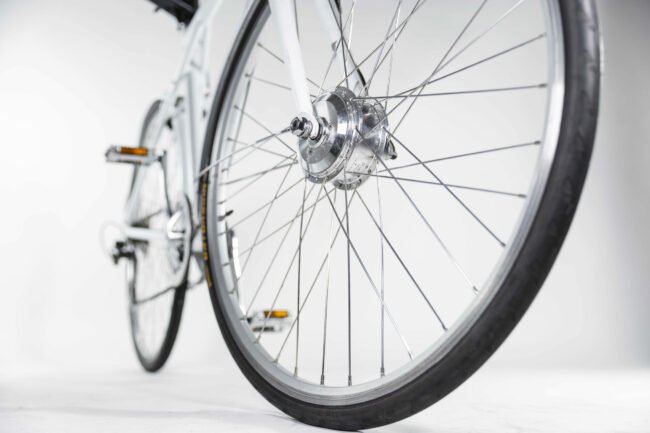 Another great thing about the Swytch conversion kit is the light weight. A lot of e-bike kits can add a fair bit of weight to your bike, but the Swytch has been designed to be very light indeed. The motor itself only weighs in at 1.5kg and the total package (including battery pack) weighs just over 3kg, making it one of the lightest e-bike conversion kits currently on the market.
Will the Swytch e-bike conversion kit fit any bike?
The short answer to that question is no. There are several things to take into consideration before ordering a Swytch kit.
First, you need to make sure your front fork has traditional quick-release drop-outs. These are found on a majority of cheaper hybrid, road and mountain bikes. But when you get to the higher end of the market you start to see thru-axles – if your bike has these, then this kit will not be compatible.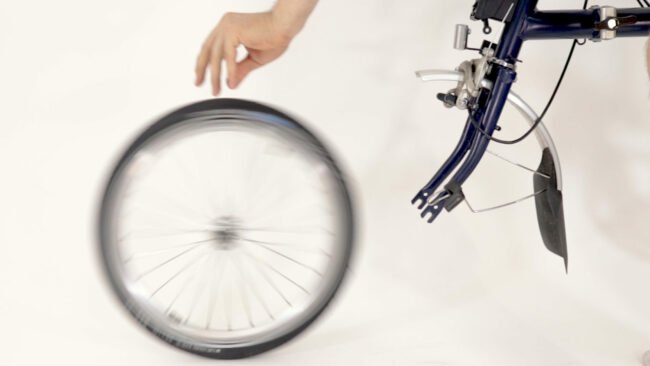 Another consideration is your bottom bracket – this is the bearing that is in the frame and your crank rotates on. The Swytch kit is compatible with a threaded, sealed cartridge bottom bracket with a square-tapered axle. Again, these are found on most cheaper bikes, but if you have anything expensive or fancy then the chances are you have a pressfit or external bearing bottom bracket (Shimano Hollowtech II or SRAM GXP).
How do you install the Swytch electric bike conversion kit?
This conversion kit comprises three main components: 
A front hub motor that's laced into a rim – most wheel sizes are catered for including Brompton (16″).
Pedal assist sensor – this is a standard PAS sensor that has a snap-together sensor ring, meaning you don't need to have a crank-puller to remove your crank arm.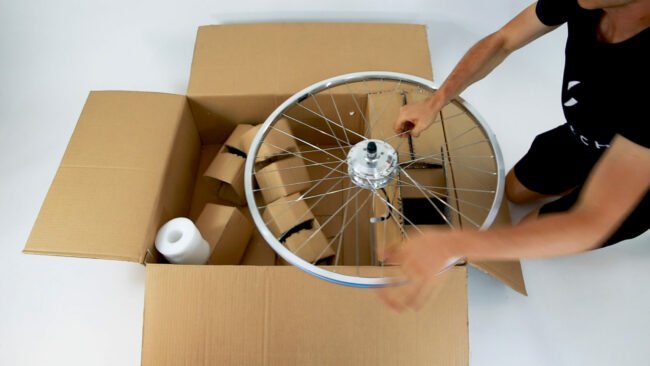 Combined battery pack, controller and control panel – this is the genius of the Swytch conversion kit, with no separate battery, display and controller to worry about. Everything is neatly packaged into a small bag that fits onto your handlebars via a mounting bracket.
Installing a Swytch electric conversion kit couldn't be more straightforward:
You start by removing your existing front wheel and take off the tyre, inner tube, rim tape and brake disc (if you have disc brakes fitted). You mustn't forget to fit the rim tape to the new wheel.
You then swap everything over to the Swytch wheel. Once fitted, inflate your tyre to the required pressure and install the wheel in the front fork drop-outs.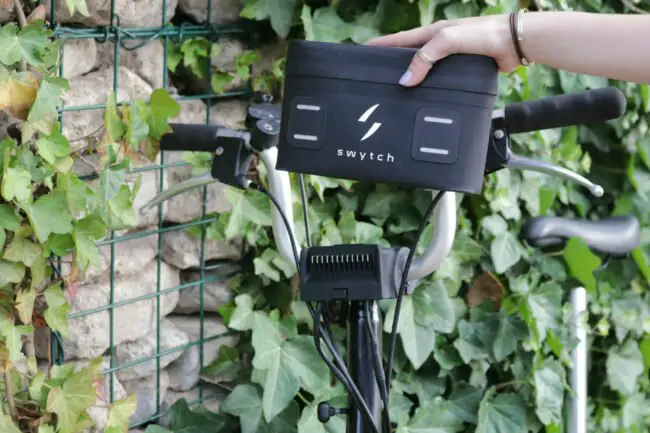 Next, fit the pedal assist sensor disc. There is a split magnetic sensor ring that has a circular metal clip to hold it in place. Once this has been done it's simply a case of fitting the sensor itself. This needs to be positioned so the sensor is aligned with the magnets on the ring – there should be no more than a 2-4mm gap between the sensor and the magnetic ring. The sensor can be held in place with the supplied cable ties or strong double-sided tape.
Finally, fix the battery/controller pack mounting bracket to your handlebars, attach the battery pack, plug in the motor power lead, and pedal sensor lead and tidy the cables up with zip ties. Make sure the nuts on the motor axle are tightened sufficiently (but do not over-tighten).
And that's it! Your bike is now an e-bike and ready to ride (make sure the battery is fully charged before first use).
What do I think about the Swytch conversion kit?
I think it's an excellent idea. Quite often I read criticisms saying it's overpriced and the battery is too small. But I'd have to disagree. Not everyone is mechanically-minded and can fit a Bafang or Tongsheng mid-drive motor. Some people just want to convert their trusty stead without all the fuss of removing bottom brackets and dealing with stripped crank threads. If you want a kit that's easy to fit, the Swytch scores full marks and is one of the best e-bike conversion kits available for ease of installation.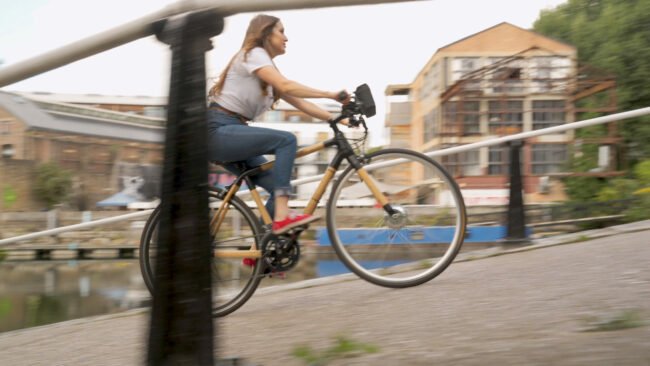 It's true, there are a lot of really good conversion kits out there for less money. My particular favourite is the Yose Power kit. But none are as quick and easy to fit as the Swytch.
There's also the argument that you can buy a ready-made electric bike for less than the price of the kit, which is true. But remember, that most electric bikes at this price point use fairly low-end components and are generally very heavy – it's not unusual to have e-bikes weighing 20-25kg. If you fitted the Swytch to an aluminium-framed hybrid bike, you'd be looking at a weight closer to 17kg all-in. Plus you get to keep and ride the bike you love.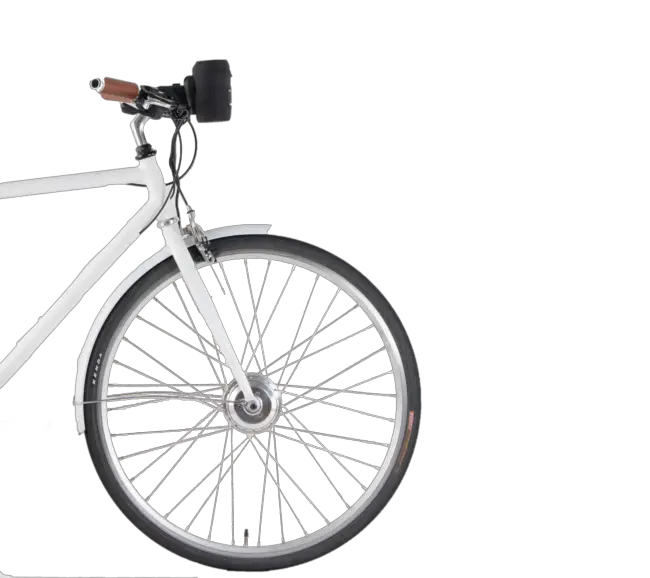 Regarding the battery, there are two options: The 7Ah (pro version 250Wh) and 5Ah (eco version 180Wh) – if you just want to use the assist to help with hills, but most of the time you're happy to poodle along without the motor then both these batteries will suffice for the average town or city rider with an estimated assisted range of 30 miles for the pro version and 20 miles for the eco version.
Because the kit is so light to start with, it's not going to stop you enjoying your bike when the assist isn't active. Also, the small hub motor produces zero resistance with the motor off.
There was a market for a quick and easy-to-fit e-bike conversion kit and the guys at Swytch have completely nailed it! Thanks to some very clever marketing and a great design, the Swytch has gone on to be a global best-seller. And I for one am pleased that a small British company is doing well.
Visit the Swytch website for more information
Check out more electric bike conversion kit reviews 
Thanks for reading. If you have any questions relating to this article or you'd like to leave a review of the Swytch e-bike conversion kit. Please feel free to use the comments section below. I usually reply within 24hrs.