What happens when two of the best-selling mid-drive electric bike conversion kits go head to head?  In this TSDZ2 vs BBS02 comparison I'll take a closer look at what both kits have to offer, their differences and the pros and cons. Over the last couple of years I have installed more than a hundred Bafang mid drives, and more recently around thirty Tongsheng systems.
Both the Tongsheng TSDZ2 and the Bafang BBS02 are market leaders in mid-drive electric bike conversion kits, with the latter having a substantially larger slice of the pie. Although both motors share similarities, they're also quite different in many ways. For this reason, they appeal to different riders. The BBS02B 750w is quite a brute, and produces loads of grunt, whereas the TSDZ2 is more refined and sedate in the way it produces power. Either way, they are amongst the best e-bike conversion kits on the market.
Bafang BBS02B
The Bafang motor is well-established, and despite some ongoing reliability issues, still offers the most bang for your buck. A BBS02 750w will kick out close to 1500w with a 52v battery fitted. This will transform your humble bicycle into a high-performance speed machine (but the 52v battery may compromise reliability). I always recommend sticking with a 48v battery, unless you are willing to shell out for replacement controllers.
| Bafang Model | Battery | Peak Power (Watts) |
| --- | --- | --- |
| BBS02 500w 36v | 36v (42.2v x 25A) | 1055w |
| BBS02 500w 48v | 48v (54.4v x 18A) | 864w |
| BBS02 500w 52v | 52v (58.8v x 18A) | 1058w |
| BBS02 750w 48v | 48v (54.4v x 25A) | 1200w |
| BBS02 750w 52v | 52v (58.8v x 25A) | 1470w |
The voltage figures in brackets are for a fully charged battery. Note: As the voltage drops, so will the power.
The pedal assist system (PAS) on the Bafang motor acts like an on/off switch. As soon as the pedals rotate a few degrees, the motor kicks in. The pedal assist on all the Bafang BBS motors can be fine-tuned with controller programming and careful selection of the 9 available power levels.
With this method of pedal assist you just have to turn the pedals to get assistance, you don't have to put a lot of effort in. It is possible to climb a 25% gradient in a low gear with the power level set to 9. All you will be doing is spinning the pedals, the motor will be doing most of the work!
The BBS02 has a lot of potential for fine-tuning. Being able to reprogram this motor is a real bonus.
It should be noted, that compared to a normal bike the Bafang is harder to pedal when the motor is switched off.  This is not so much of an issue when cycling on the flat, but if you find yourself out of battery power, pedalling up a steep hill can be practically impossible.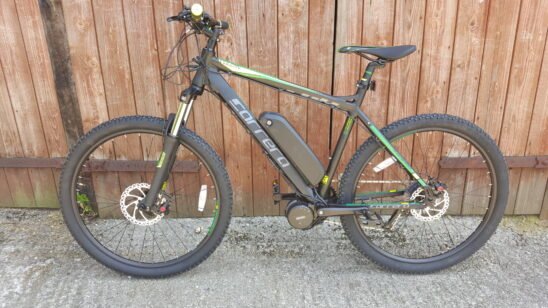 The BBS02 has a lot of potential for fine-tuning. Being able to reprogram this motor is a real bonus, and in some cases necessary. In my experience, the factory pedal assist settings are not very good, in particular the way the pedal assist stops and starts. Thankfully these can be changed in a matter of minutes by connecting your motor to your laptop using a Bafang USB lead and this free open-source software.
---
Tongsheng TSDZ2
The Tongsheng TSDZ2 has been around for a while now, and early reliability issues seem to have been resolved. It is now a very viable alternative to the Bafang BBS02.
The main difference between these two motors is the pedal assist. With the Tongsheng it is not a free ride. You are rewarded with more power only if you put the effort in.
The Tongsheng uses torque sensing pedal assist. This gives you motor assistance proportionate to how much force you are applying to the pedals. This makes for a very intuitive system right out of the box. Even using the 48v750w version**, you still have to put some degree of effort into pedalling for the motor to work. I like this, as it feels a like a Bosch motor on steroids!
| Motor | Battery | Peak Power |
| --- | --- | --- |
| Tongsheng TSDZ2 36v (250w variant) | 36v (42.2v x 16A) | 675w |
| Tongsheng TSDZ2 48v (500w variant) | 48v (54.4v x 16A) | 870w |
The voltage figures in brackets are for a fully-charged battery. Note: As the voltage drops, so will the power.
The progressive surge of power you get in sport mode does make you feel like the bionic man! The motor feels more like an extension of your own cycling abilities.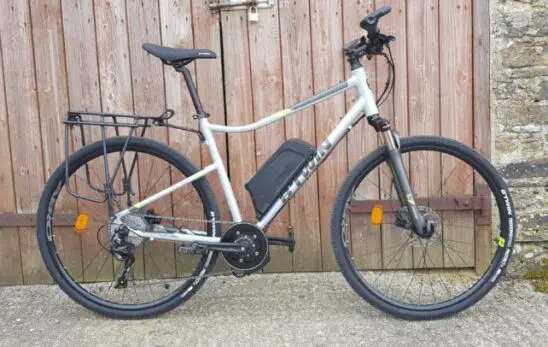 If you prefer to ride at a high pedalling cadence, it is worth noting that these motors do not produce any noticeable assistance above 90 rpm. The initial burst of power fades quickly when these high cadences are reached, even though force is still being applied to the pedals.
With the motor switched off, the Tongsheng wins, hands down over the Bafang. Although there is some increased pedalling resistance, it is nowhere near as noticeable as on the BBS02.
If the BBS02 is the lazy man's electric bike conversion kit, then the TSDZ2 is for people that don't mind working up a bit of a sweat. Although the 500w and 750w versions are substantially quicker than their lower-powered counterparts, you still have to put in some effort to get the motor working.
The only downside with the Tongsheng motor is programming the controller. It is possible but it is not as straightforward as with the Bafang, also you are limited to only 4 different levels of assist versus the Bafang's 9 levels.
Tongsheng does not officially sell a 750w version of the TSDZ2 – such versions have modified firmware and may be susceptible to reliability issues.
---
Bafang BBS02B Pros and Cons
The Bafang BBS02B is a great motor. But, like all things electric, there are potential problems to be aware of. On the whole, I would say the BBS02B is one of the best e-bike conversion kits available, but its suitability depends on your personal needs. If it's raw power you're after and hill-busting torque, then the BBS02B is a tough act to follow!
Pros
The very responsive pedal assist
9 levels of pedal assist
Good spare parts availability – find out where to buy Bafang parts
Programmable
Well established brand
Very powerful
Cons
Some reliability issues persist
Pedalling resistance, when the motor is switched off
The motor may need periodic tightening
More expensive than the Tongsheng
Feels more like an electric motorcycle (not a bad thing, if that is what you are looking for)
Stock controller settings are not very intuitive
Tongsheng TSDZ2 Pros and Cons
If you're looking for an e-assist that rewards you for the effort you put in, then the Tongsheng TSDZ2 is ideal. This motor enhances your riding ability whereas the Bafang can completely take over! The TSDZ2 is the closest thing you will get to a Bosch or Shimano Steps. And, although it's nowhere near as refined, it's pretty damn good for the price!
Pros
Intuitive torque sensing system
Easier to pedal than the Bafang when the motor is switched off
Lighter than the Bafang
Can provide a 'more natural' cycling experience
Very efficient motor / increased battery range
Parts availability is good – find out where to buy Tongsheng parts 
Great value
Cons
A certain degree of pedalling effort is required to start the motor – this may not be suitable for everyone
Programming is possible, but not as straightforward as the Bafang
Only 4 levels of assistance
Very limited clearance between the motor axle and bottom bracket
The motor does not give any noticeable assistance at high pedalling cadences.
The blue nylon primary gear can be prone to premature failure
Although the torque sensor is generally reliable, it has been known to fail.
Wider q-factor
Conclusion – TSDZ2 vs BBS02 Is There a Clear Winner?
Both the Bafang and Tongsheng motors are excellent in their own way, but which motor to choose really boils down to your own personal preferences.
If you want an enhanced cycling experience, with the motor feeling like an extension of your own ability, then the Tongsheng is definitely the way to go. If you have a medical condition that limits your ability to pedal hard, or you just want an e-bike that does most of the work, then the Bafang may be more suitable.
Both of these motors are great fun and will transform your riding experience! If I had to make a choice, based on my own personal experiences, then I would have to choose the Tongsheng over the Bafang. I've had the benefit of covering lots of miles on both motors and I just prefer the feel of the torque-sensing pedal assist. Plus, I like the neat installation and increased efficiency of the motor. I still love the Bafang though, as it just destroys hills without effort!
Where Can I Buy the Tongsheng and Bafang Motor Kits?
Both the Bafang and Tongsheng are global best-sellers in the field of e-bike conversion kits, and as such are widely available. Tongsheng availability has been limited on Aliexpress recently, due to a patent lawsuit (from Bafang). Both motor kits are still available on eBay and Amazon in most territories. I have provided links below to sellers with good feedback on all main e-commerce platforms.
Bafang BBS02B 
---
Tongsheng TSDZ2
Links to Buy the Tongsheng TSDZ2
---
Thanks for reading, please feel free to leave a comment below – I usually respond within 24hrs