Making the change from rear derailleur gears to hub gears can be one of the most beneficial upgrades you can do to your e-bike. In this article, I'm going to be looking at 5 of the best internal gear hubs for electric bikes and explore the pros and cons of such a setup.
Hub Gears vs Derailleur on an Electric Bike
There are lots of advantages to hub gears vs derailleur on an electric bike, which I have listed below in more detail:
Low maintenance: One of the main advantages of using a hub gear is greatly reduced maintenance schedules. Most hub gears are in sealed units that require a periodic fluid change (like the gearbox in a car). It's a fairly straightforward job for the home mechanic or bike shop and intervals are usually several thousand miles.
Less risk of damage: Derailleurs can be easily damaged if you fall off your bike, they are also easily damaged if you do a lot of off-road riding. No such problem with hub gears as everything's tucked neatly out of harm's way.
Less noise: Hub gear systems are much quieter than derailleur gears, and if you can fit a Gates belt drive, they are virtually silent.
Potential to use belt drive: This isn't quite so straightforward as a frame modification is required to fit a belt drive. This involves cutting the drive-side rear seat stay and installing a frame splitter for the belt to go through. This can be expensive and needs to be done by an accredited professional.
Change gear while stationary: There's nothing worse than coming to a standstill only to pull away in the wrong gear. With a hub system, you can change gear whilst stationary, making them really good for urban riding.
Reliability: Internal hub gears are well-engineered and will usually last tens of thousands of miles before requiring rebuilding. In the case of Rohloff, the guarantee is a lifetime.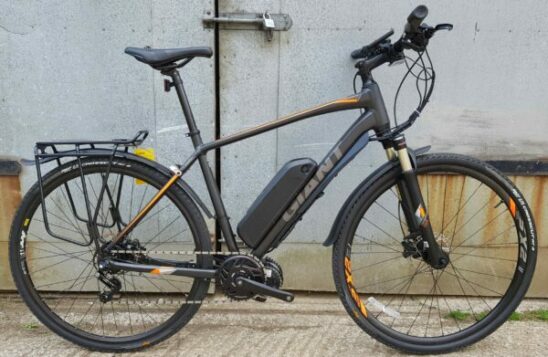 Negatives of Hub Gears on E-Bikes
There are a few negatives when it comes to using hub gears on an e-bike. In most cases, the positives outweigh the negatives, but it's worth being aware of them all the same.
Weight: This is really negligible, and not really that much of an issue with an e-bike. Internally geared hubs will always weigh a little more when compared with a traditional derailleur set-up.
Repair: Although the hub gears featured below are all very reliable (especially the Rohloff), in the event there is an issue with the hub, it's not going to be a straightforward fix as is usually the case with derailleur gears.
Wheel removal: If you're sensible, you will have puncture-resistant e-bike specific tyres like the Schwalbe Marathon Plus fitted. But, even these aren't bulletproof! If you do find yourself with a flat tyre, removing a wheel with a geared hub isn't as straightforward and requires a bit more faffing about.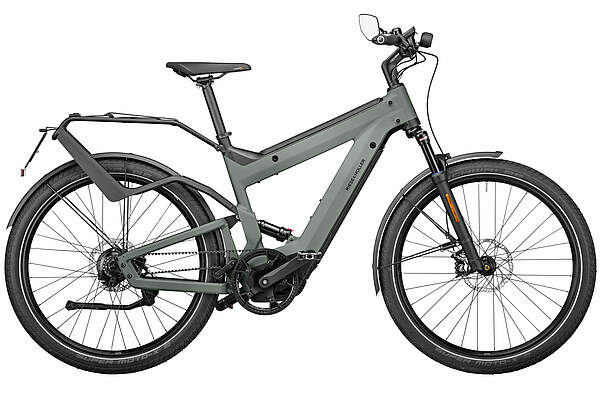 Can I Fit Hub Gears On My E-Bike?
This really depends on the kind of electric assist system you have on your e-bike. You can fit hub gears on an e-bike with either a front electric motor or mid-drive motor but not a rear hub motor (for obvious reasons).
You will need a chain-tensioning system and most hub gears systems feature a tensioner that looks a little like a small derailleur but its main purpose is to maintain the correct chain tension at all times.
The 5 Best Internal Hub Gears for E-Bikes
All of the internally geared hubs featured below are of the highest quality and are used either as OEM components on certain e-bikes or fitted after-market. I have personal experience with the Shimano Nexus 8 as well as the  Alfine 8 and 11 (Di2) – I've successfully installed the Nexus 8 and Alfine on high-powered mid-drive electric bikes without compromising reliability (of the hub).
---
Rohloff Speedhub 🥇 Lifetime warranty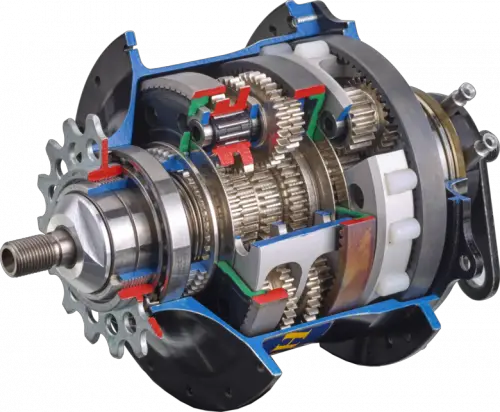 The Rohloff SPEEDHUB 500/14 is widely regarded as one of the most reliable internal hub gear systems available. Rohloff even makes an e-bike-specific system with electronic shifting – the Rohloff E-14 works with Bosch and Panasonic e-bike motors and takes shifting performance to another level!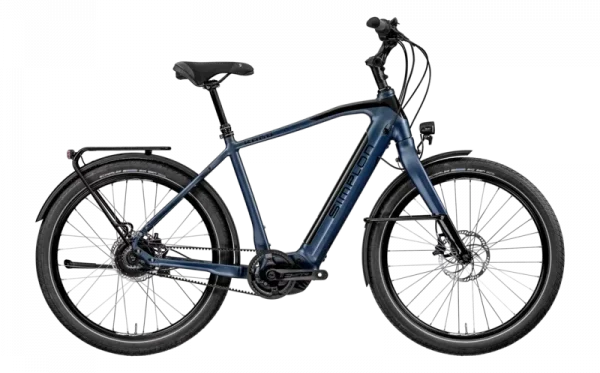 This is the 'go-to' system for adventure cyclists who ride tens of thousands of miles on all continents in the harshest of conditions. The Rohloff makes cycling simple. No longer do you have to constantly calculate what gear is required next or if the gear has correctly engaged yet. Simply rotate the Rohloff twist-shifter – regardless of whether stationary of pedalling. Rotate up to shift up, down to shift down. It couldn't be more intuitive.
Visit Rohloff for more information
---
Shimano Alfine 11 Di2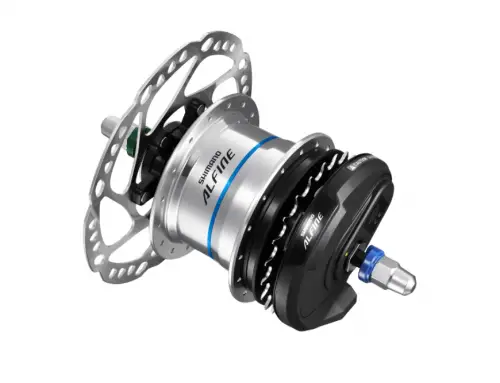 The SHIMANO ALFINE S7051 hub is a reliable and high-quality choice for riders looking for an internally geared rear hub. It offers a 409% gear range and is actuated by SHIMANO DI2 electronic shifting, making it perfect for E-BIKE use.
This hub is available in black or silver and comes with a 2-year warranty. If you're using the Alfine Di2 in conjunction with a Shimano Steps-powered electric bike, then the shifting element can be integrated with the e-bike control. I have used this shifting system on a recumbent trike, retro-fitted with a Tongsheng TSDZ2 mid-drive motor and it worked a treat!
---
Sturmey Archer X-RK8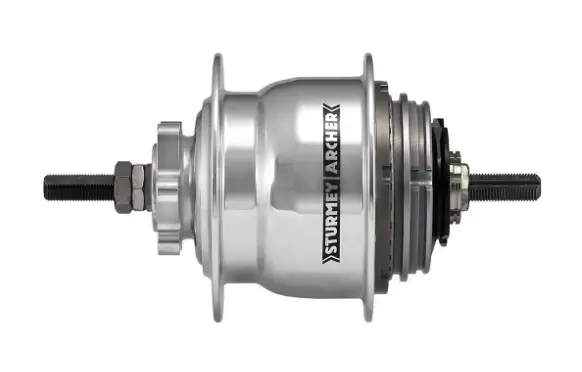 Sturmey Archer are an iconic company who's been around is 1902 and was originally started as a sub-division of Raliegh. If you're in the market for a new rear hub, I can highly recommend the Sturmey Archer X-RK8. This 8-speed internal gear hub offers a wide gear ratio with small steps between gears, making it perfect for city riding or hilly terrain. It also features a rotary selector without protrusions outside of the frame, so it will look great on any bike.
The 6061 aluminium hub shell is available in high-polish alloy or black finish and comes with 28, 32 or 36 spoke holes, making it compatible with modern wheel rims. It's also compatible with 20, 23 or 25 teeth sprockets and weighs 1860g to 1880g.
Visit Sturmey Archer for the full specification
---
Enviolo CVT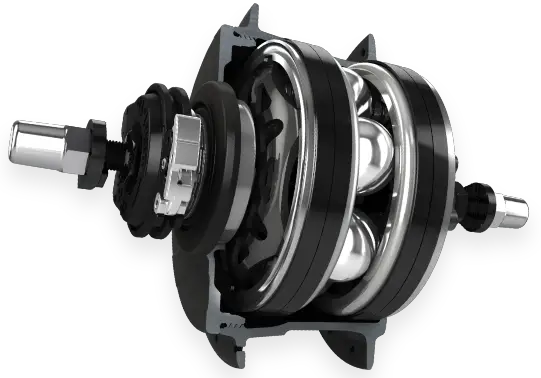 The Enviolo continuously variable planetary technology provides cyclists with a stepless transmission that enables them to effortlessly change gear ratios while pedalling under high capacity. If you are looking for an easier, more seamless cycling experience, then the Enviolo line of products is perfect for you.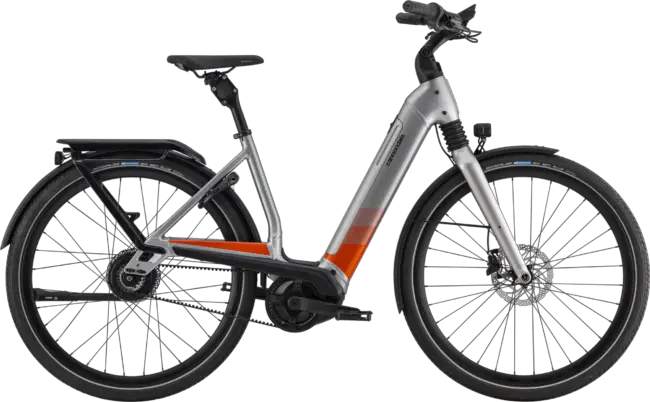 This gear hub is specifically designed to work well with e-bikes and can handle the extra torque generated by a mid-drive motor. It's an incredibly smooth and intuitive system. And, with electronic shifting, it can turn your electric bike into fully automatic shifting, which senses pedal cadence and torque, so it changes up or down exactly at the right time.
---
Shimano Nexus 8 💰Best Budget Option!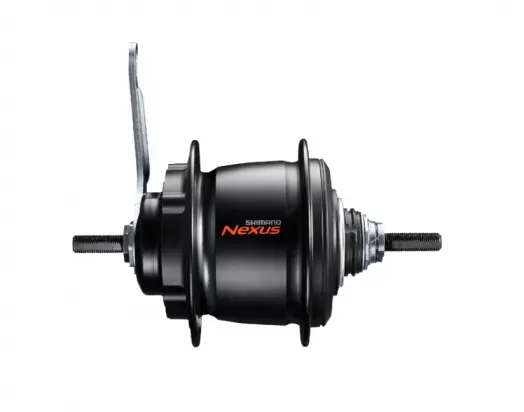 If you're looking for a reliable and efficient internal geared rear hub, the SHIMANO NEXUS SG-C6000 series is an excellent option. These hubs are designed specifically for E-BIKEs, so you can be confident that they will provide smooth shifting under high chain tension. And with long service life, you can rely on these hubs to keep your bike running smoothly for years to come. I have personally fitted the Shimano Nexus hub to numerous e-bike conversions using the high-powered Bafang BBS02B motor without any long-term issues.
Visit Shimano for the full specification
---
Conclusion
So there you have it. The best internal gear hubs for e-bikes. The Rohloff is widely regarded as the 'Rolls Royce' of hub gears and its durability and warranty are legendary. The Eviolo is an amazing piece of technology when combined with auto transmission. The Sturmey Archer continues to be a favourite and Shimano's Nexus and Alfine both work excellently with e-bikes. I hope you found this useful, but if you need any help or advice please leave a comment below – Happy riding!
Further Reading