It's time for a battle of the two best-selling mid-drive e-bike conversion kits from Bafang. In this comparison between the Bafang BBS02 vs BBSHD, we take a closer look at the motors to see if it's worth forking out the extra money for the BBSHD. The information shared in this article is based on the author's experience installing both of these Bafang conversion kits over several years.
What's the Difference Between the BBS02 and BBSHD?
The BBS02 was first released in 2014, and at the time was one of the first plug-and-play mid-drive electric bike kits available. Unfortunately the 'A' version suffered from poor quality controller MOSFETs that could not deal with the higher current of the motor, and were very susceptible to overheating leading to a lot of premature failures.
In 2015 Bafang upgraded the controller from six to nine generic MOSFETs to give it the ability to handle 50% more current, but unfortunately, they still generated a lot of heat.
In 2016 the 'B' version was released. This (supposedly) had a better controller with higher quality 'branded' IRFB3077 FETs, which convert more of the input watts into power, and less of the input watts into waste heat.
The Bafang BBSHD was introduced in 2016, and the main difference between the two motors is the HD is physically bigger and has external cooling fins (to help with heat dissipation). The Stator is 66% larger, and the controller has twelve IRFB3077 FETs and can handle 30A of continuous current. Input voltage remains the same as for the BBS02.
What this translates to is the BBSHD will produce more torque, have better heat dissipation (and reliability?) and produce more peak power.
Bafang BBS02 vs BBSHD Power Comparison 
| Bafang Model | Battery | Peak Power (Watts) |
| --- | --- | --- |
| BBS02 500w 36v | 36v (42.2v x 25A) | 1055w |
| BBS02 500w 48v | 48v (54.4v x 18A) | 864w |
| BBS02 500w 52v | 52v (58.8v x 18A) | 1058w |
| BBS02 750w 48v | 48v (54.4v x 25A) | 1200w |
| BBS02 750w 52v | 52v (58.8v x 25A) | 1470w |
The voltage figures in brackets are for a fully charged battery. Note: As the voltage drops, so will the power.
| Bafang Motor | Battery | Peak Power |
| --- | --- | --- |
| BBSHD | 48v (54.4v) x 30A | 1632w |
| BBSHD | 52v (58.8v) x 30A | 1764w |
The voltage figures in brackets are for a fully-charged battery. Note: As the voltage drops, so will the power.
As you can see from the table above there is only 294 watts difference between the BBS02 750w and BBSHD (if a 52v battery is used) – the big difference in the feel of the HD is the amount of torque it produces. This is up to 160N.m against 120N.m for the 750w. The bigger motor spins faster – 130-150 rpm (120 rpm for the 750w) and has a reduction ratio of 1:21.9
Put simply the BBSHD is more robust than the BBS02,  produces more power, but most importantly more torque and much better heat dissipation. Incidentally the 'HD' stands for 'heavy duty'. The HD is also nearly 1kg heavier than the 02, and physically slightly larger.
BBS02 or BBSHD – Which is More Reliable?
I have installed over a hundred Bafang mid-drive motors in the last 5 years. The BBS02B accounts for around 60 units and the BBSHD around 25 units.
I have had long-term reliability issues with both motors, but the BBS02  is more prone to controller failure (I have a box of knackered controllers in my workshop to prove it!)
It seems that there is a correlation between controller failure and battery voltage (plus the way the bike is ridden). I have never had a controller fail on a bike running a 48v battery, but have had over 10 failures on the BBS02 and maybe 3 or 4 on the BBSHD. That is a failure rate of 17% for the 750w and 12% for the HD, which in my opinion is unacceptably high. I know that one of the BBSHD failures was down to a faulty battery BMS, and another was being used daily in very testing conditions.
48v or 52v Battery?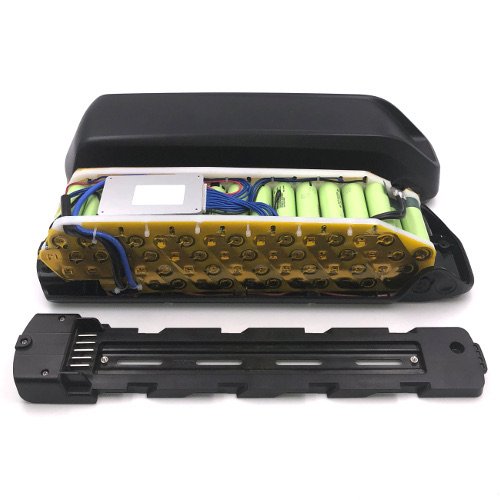 Both controllers have a maximum operating voltage of around 60v. This leaves little margin for error when using a 52v battery. 52v batteries fully charged will produce 58.8v, but I have tested some with a multi-meter and seen over 59v on occasion. A 48v battery will produce 54.4v fresh off the charger – this leaves a reasonable buffer zone.
I prefer a 52v battery. Having the higher start voltage is advantageous as it means the motor will be producing optimum power for longer versus the 48v battery. Another benefit is the same power can be achieved with a slightly lower current, reducing heat build-up.
I covered nearly 2000 miles on a 52v BBS02 powered bike for a year, without even a hint of a problem, but I only used the bike as pedal assist and very rarely went beyond power level 3. I also have a lot of happy customers whose bikes are still running fine after a year, even though a 52v battery was used.
One thing I did start doing on the 750w was limiting the current setting in the firmware to 18 or 20 Amps. After I started doing this controller failure ceased to be a problem. Having the more powerful battery on a BBSHD seems to be less of an issue.
Should I use a Throttle?
The problem I see with the Bafang throttle is that it acts like an on/off switch. There doesn't seem to be good power modulation. I have altered the firmware settings for the throttle with some success (specifically the start current). But the fact remains, I have no control over how customers use these throttles, and if you are going up a steep hill in full power mode, and you are in the wrong gear, you will be subjecting the motor to unnecessary load – causing rapid heat build-up.
The BBSHD is much less susceptible to the above problem, and can take a lot of abuse (but it still has its limits).
Which One do I Choose – BBS02 or BBSHD?
This depends on your budget and intended use. If you want an off-road electric bike that you can hammer the hell out of, then I would say go for the BBSHD. The extra £175 price may seem a little excessive, but the HD is just a more robust, more powerful and more efficient motor than its smaller sibling.
If you are going to be doing some mild cross-country-type riding and are not going to be using the throttle or tackling any ridiculously steep climbs then the BBS02 may be more suited to your needs.
As far as battery choice is concerned, I would err on the side of caution and stick with a 48v, but if you do want the benefits of the 52v, then I would limit the max current setting in the firmware to 18-20 Amps, just to be on the safe side.
Conclusion
Both the Bafang BBS02 and BBSHD are amongst the best e-bike conversion kits available. And, they will transform any bike you install them on. But before you part with your hard-earned cash, it is important to remember these motors aren't perfect and like any electrical item, are prone to problems from time to time.
I always advise customers that you need to be a bit of a DIY enthusiast to run and maintain a Bafang mid-drive. Ultimately, if you treat the motor with a little respect, be very careful with your gear selection (especially when climbing hills or hill starts), and don't constantly ride in full power mode, then you should be fine.
If you are going to treat your conversion like an off-road electric motorcycle, then it would be worth steering clear of the BBS02 and going for the BBSHD, most suppliers will replace a controller at least once under warranty, but after that, you are on your own. And at over £100 a time, it can become an expensive habit!
Buy the Bafang BBS02B 750w
Buy the Bafang BBSHD
Links to the Bafang BBSHD
---
Thanks for reading. If you have any questions please feel free to leave a comment below.