The Mycle Charge is a folding electric fat bike that's legal to use in the UK. It features a 48v 250w rear hub motor and a 499Wh battery.  The Charge blends the robustness of fat tyres with the convenience of a folding design, making it a good potential choice for both urban and country riding. In this article, I'll take a detailed look at the performance, range and practicality.
Regarding folding fat tyre e-bikes, we're spoilt for choice here in the UK. Unfortunately, many of the models available don't always conform to UK e-bike laws which put the owner at risk of prosecution if they fall foul of the law. Mycle is a UK brand whose e-bikes are assembled here in the UK. As such, their range may not be as cheap as some of the direct imports but you get the peace of mind of a (optional) 2-year warranty.
Skip to product specifications
Key Features
250w 48v Hub motor
48v 10.4Ah Battery
Puncture-resistant tyres
Front Suspension
First Impressions
This is the second Mycle bike I've tested, having previously reviewed the Mycle Compact folding e-bike. Mycle uses a great delivery company that gives you plenty of notice and a time slot for delivery. In addition, it's a two-man delivery which is good as this e-bike is heavy!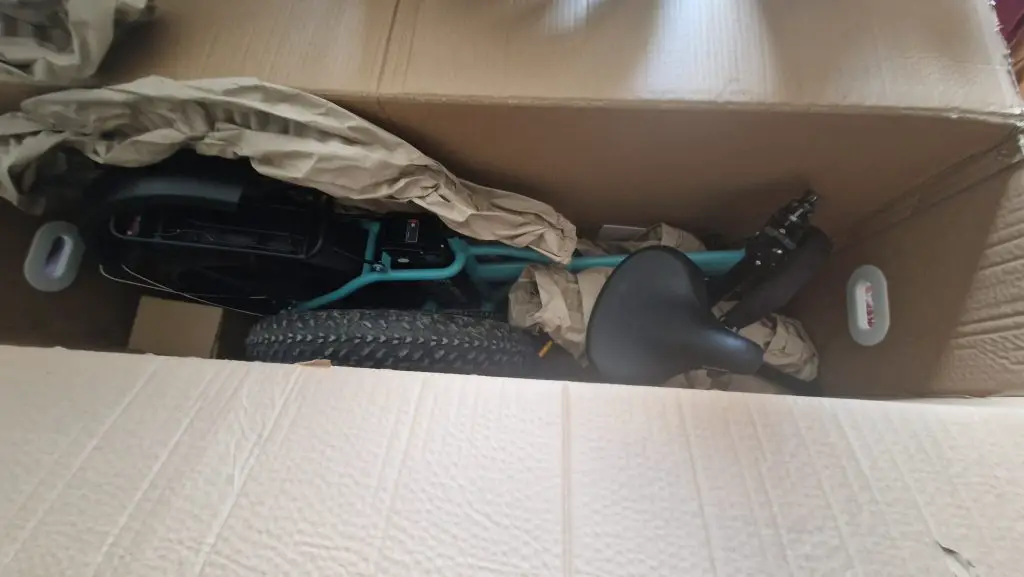 The Mycle Charge required minimal assembly before it was ready to ride – seatpost, front wheel, mudguard and light were all that was needed. It was very well protected and came with all the necessary accessories like a charger and an instruction manual. The Charge comes in a choice of three colours – blue, orange, and black.
Electric Components
At the heart of the Mycle Charge is a 250w 48v geared rear hub motor. From the outset, I was impressed by the smooth and quiet motor. Performance was particularly good for climbing moderately steep hills although it did start to struggle on very steep hills.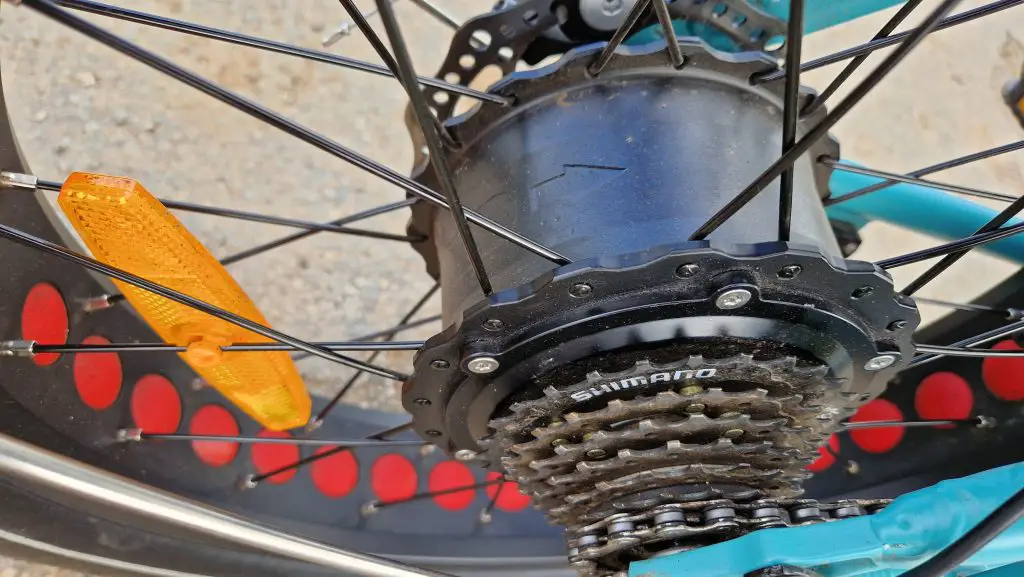 The battery is a 48v 10.4Ah battery using DMEGC cells, with a claimed range of 65 km. The test route was roughly 10 miles but very hilly. I used 3 out of 5 bars using mainly assist level 3. Considering rider weight (105 kg) and the nature of the terrain, this seems about right for a battery of this size. A lighter rider, riding on less challenging terrain should easily be able to get around 30-35 miles per charge.
For rider information, the Mycle Charge comes as standard with an LED display. The test sample had the optional LCD fitted, which was clear and easy to read with a good level of functionality.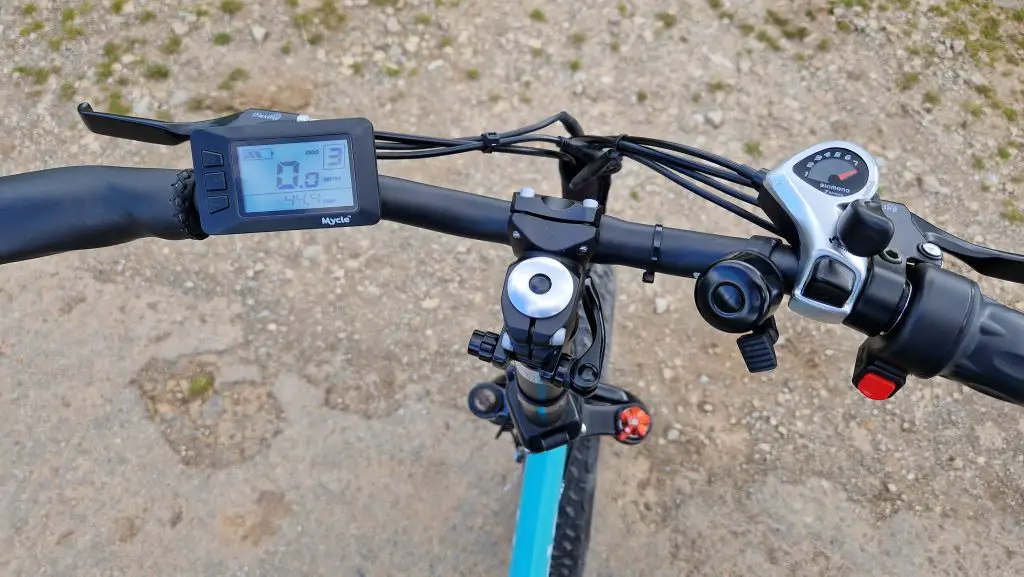 Bike Components
Gearing is provided by the familiar Shimano 7-speed derailleur and thumb shifter with a 14-28 freewheel. This gearing is ideal for lower-speed city and off-road riding although you'll quickly run out of gears much above the 15.5 mph motor cut-off point.
For braking there are Zoom mechanical callipers which provided surprisingly decent braking during the test ride. My only complaint was an intermittent squeaking noise coming from the rear brake.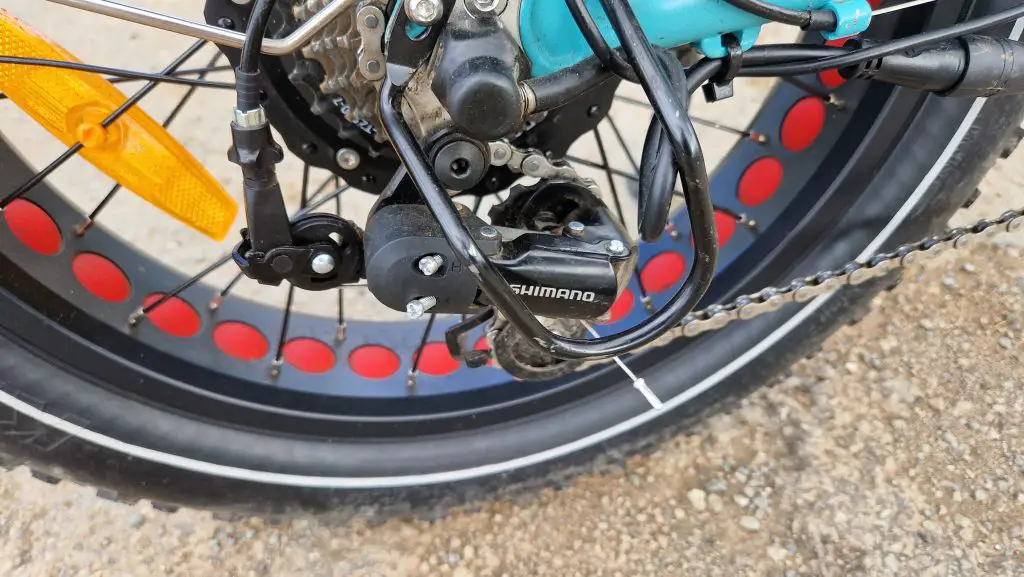 Accessories include mudguards, a pannier rack, front and rear lights (with integrated brake light), and a kickstand.
Sizing, Handling and Comfort
Like similar folding e-bikes in this category, the Mycle Charge can be easily adapted to riders of varying heights. There's plenty of adjustment in the saddle height and handlebars. I'm 6'1″ and found the Mycle comfortable when adjusted for my height. My 14-year-old daughter who is 5'8 could also easily ride it.
The extra-large Velo saddle is a quality item and gives plenty of cushioning and is a nice shape. The front suspension combined with the big tyres did a great job of smoothing the country lanes ridden on the test ride.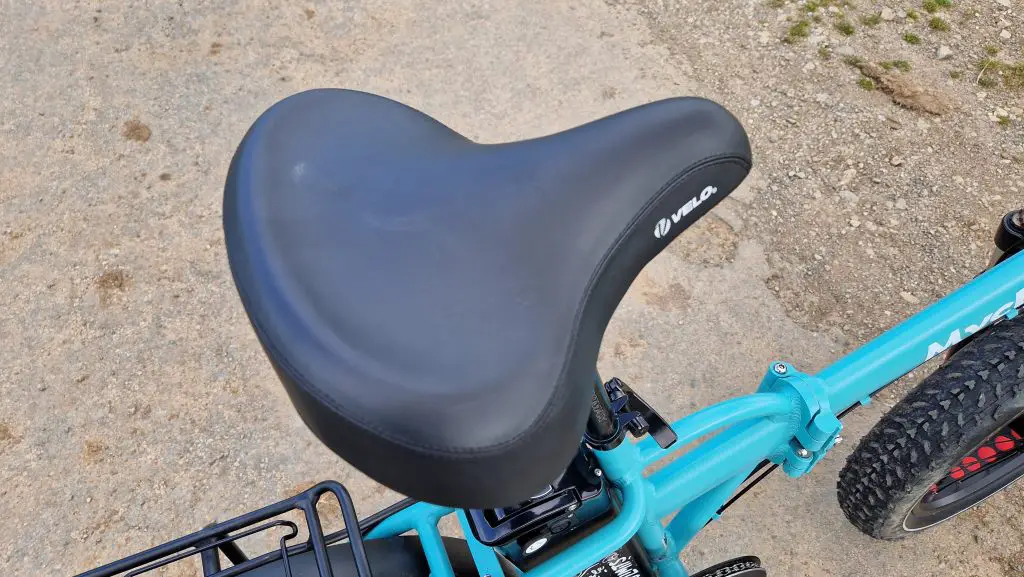 The Kenda 20″ x 4″ fat tyres combined with front suspension provided an extra level of comfort for the ride and will offer stability and traction on a range of surfaces. In addition, they come with a decent level of puncture resistance which is an important consideration for city riding. There are some downsides to fat tyres like increased rolling resistance and road noise.
As far as the handling is concerned it's typical of a folding fat tyre e-bike. You can definitely feel the weight and sluggishness of the tyres at lower speeds but once up to cruising speed, it's less apparent. It feels pretty stable out on the road, even when descending at higher speeds.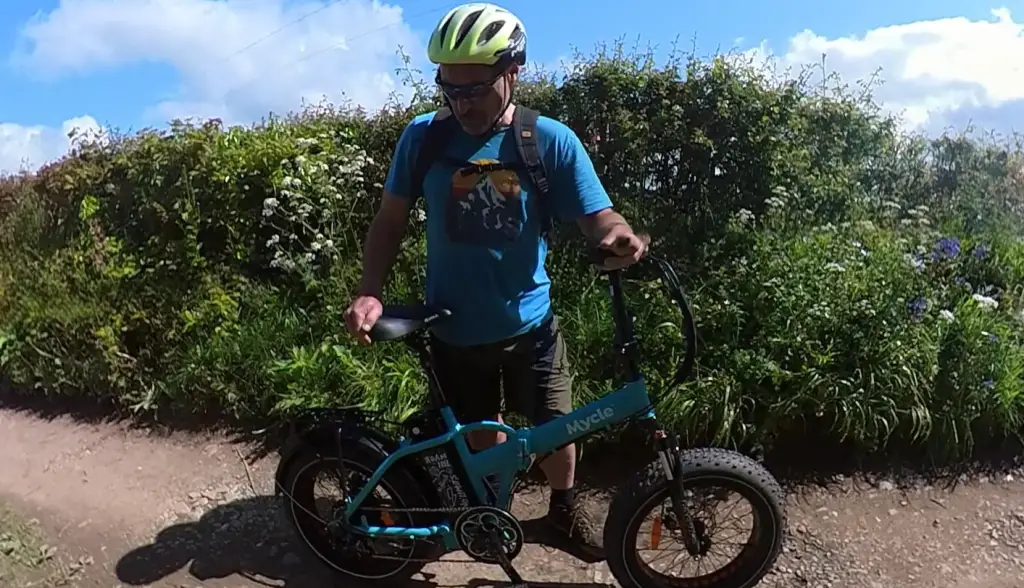 Test Ride
I took the Mycle Charge on a short (9 mile) but very hilly test route (1100 ft elevation gain). I also took the Charge for a mile on a bridleway to test its off-road credentials.
The Mycle handled the moderate hills with ease but did struggle on steep hills. This is normal for a 250w hub motor but it's worth bearing in mind if you live in a hilly area. Off-road performance was okay but I did have the tyres inflated a little too high. I would say, it's fine for light off-road use but I would not push it too far and avoid large rocks and tree roots.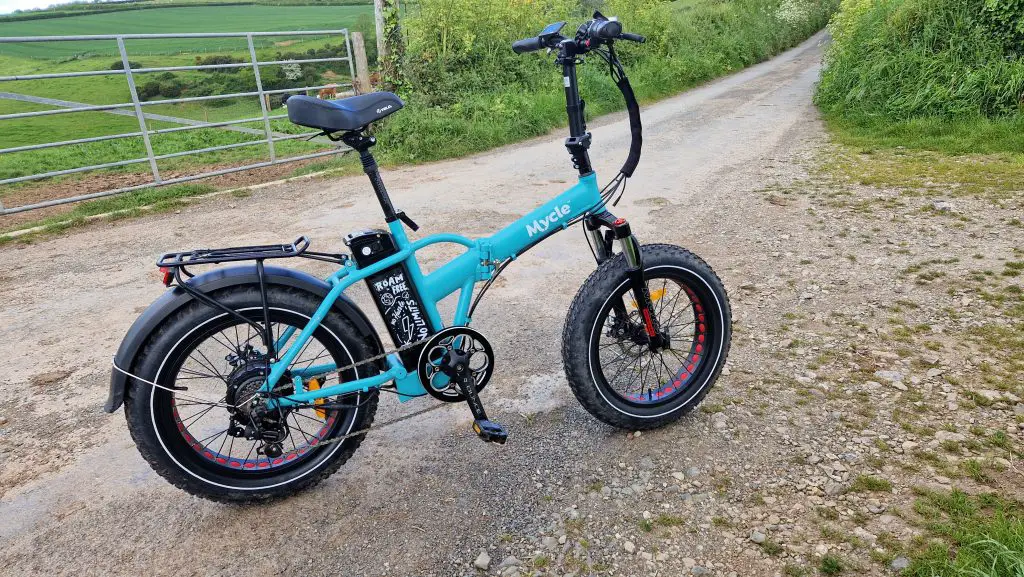 As far as range is concerned, I left home with a full battery and used 50% over the 9 miles. This may seem high but you have to consider rider weight and the very hilly route. I would suggest a realistic range in a less hilly, urban setting with a 75 kg rider would be in the region of 30-35 miles.
Positives
Very smooth pedal assist and a quiet motor. From the outset, I was impressed with the smooth and responsive nature of the pedal assist. It's definitely one of the better cadence assist systems I've experienced.
Comfortable riding position. I felt really at home on the Mycle Charge, it has the right-width handlebar and plenty of adjustment for the taller rider. In addition, the large saddle was very comfortable.
Decent performance for a 250w motor. Although the Mycle struggled on really steep hills, its forte was moderately rolling terrain. It popped along at a nice pace without too much effort.
It's legal in the UK. For those who wish to stay on the right side of the law, the Mycle Charge is ideal. It's fully UK and EU pedelec compliant.
UK Brand with assembly and customer service. This will be a big plus for many buyers. Mycle is now a well-established brand with good customer reviews and a loyal following.
Negatives
Although lighter than similar e-bikes it still may be too heavy for some to carry it upstairs or take it on public transport. Even though it folds, its bulk can still make it cumbersome to handle when not riding.
In terms of pricing, the Mycle Charge is more expensive than some of its competitors. While it offers some advantages such as UK-based customer service and an optional extended warranty, some customers may still feel that the price is steep, when compared to something like the Engwe Engine X or Fiido M1 Pro.
The Mycle Charge's battery capacity is also lower than that of some similarly priced competitors. Although it's claimed to provide a range of 40 miles, a larger battery could offer greater peace of mind, especially for longer journeys or those involving a lot of uphill riding.
Finally, the Mycle Charge can be sluggish to pedal without assistance, due to its weight and the high rolling resistance of the fat tyres. This is typical of e-bikes in this class and may not be a major issue if you always plan to use the pedal assist, but it's something to be aware of.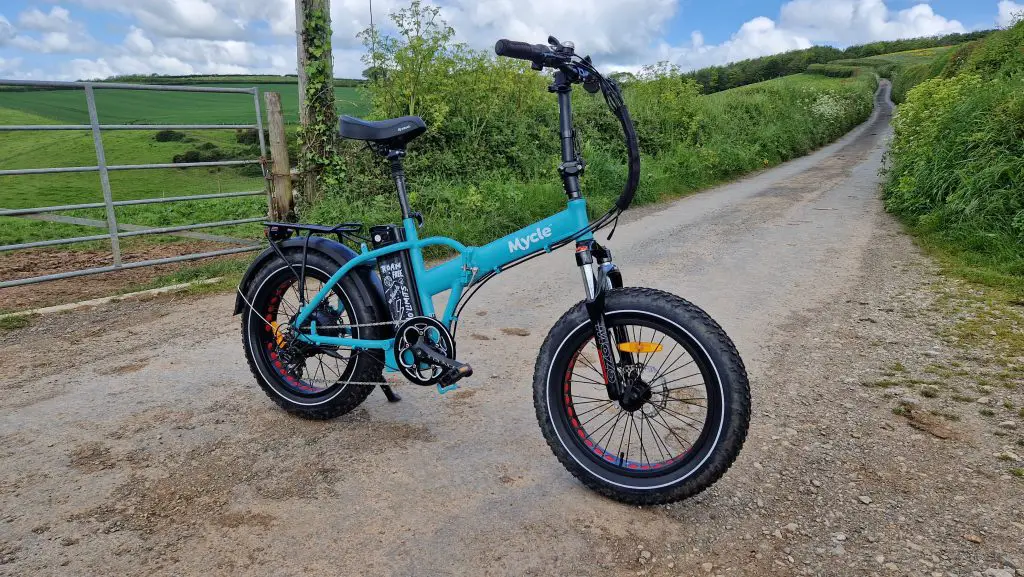 Alternatives
When it comes to alternatives to the Mycle Charge, the closest in terms of price is the Engwe Engine X. This does have a better specification including a more powerful battery and front and rear suspension, but it does come in around 8 kg heavier which is a lot of extra weight. The Fiido M1 offers a 250w motor and similar-sized battery for under £1000.
The Verdict
The Mycle Charge is a stylish, robust, and versatile folding electric fat bike that offers decent performance and moderate battery range. However, those who require a lightweight, ultra-portable e-bike for commuting or travelling on public transport may find the Mycle Charge too heavy and bulky, even in its folded state.
Despite the slightly higher price tag than similar competitors, Mycles UK-based customer service and bike assembly is a significant plus.
In summary, the Mycle Charge is a well-rounded option. It may not have any fancy gimmicks or cutting-edge technology, but it is going to be a dependable workhorse for daily riding. If you're looking for a UK-legal folding fat tyre electric bike then it's well worth considering.
Specifications
Motor: 48v 250w Geared Rear Hub Motor
Battery: 48v 10.4Ah Using DMEGC Cells
Range: 65km (Claimed)
Bike Weight: 26 kg
Maximum Load: 125 kg
Gearing: Shimano 7-Speed
Brakes: Zoom mechanical disc brakes
Size Unfolded: L176 x W61 x H117cm
Folded Size: L109 x W78x H60cm