It's always nice when you get sent an e-bike to test and it turns out to exceed your expectations. The Morfuns Eole X is one such bike and in this review, I'll explain why I think this is one of the best folding electric bikes available.
Key Features:
For a folding e-bike that's aimed at the budget end of the market, the Morfuns Eole X has impressive specifications. I have listed all the key features below.
250w / 350w rear hub motor: Very smooth and surprisingly quiet in operation (when compared to similar hub motors)
36v 10Ah battery: Uses high-quality LG cells and doubles up as the seat post – nice design and optional 15Ah battery available.
Hydraulic brakes: Branded Morfuns – functionality similar to Shimano MT200.
Shimano Altus gears: 8-speed rear cassette with Shimano Altus derailleur – shifts well.
Elastomer rear suspension: Really helps smooth out road bumps.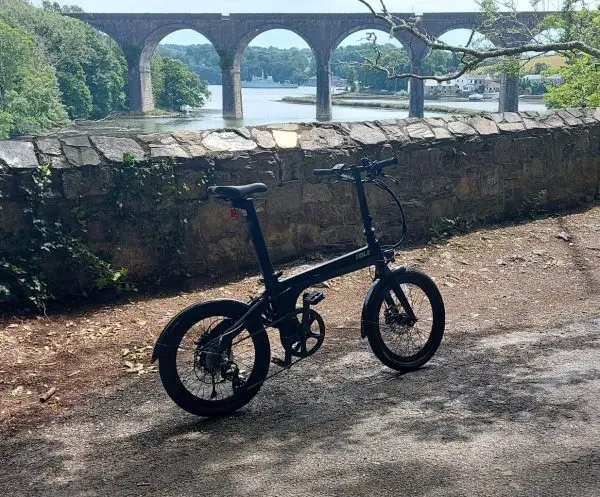 First impressions
This test bike was sent to me direct from Morfuns but will be available for EU and UK shipping once on general release. The Eole X was very well packaged and protected.
After I had removed the protective packaging material, I inspected the finish of the frame, and I'm pleased to say it's flawless – no scratches, marks or paint runs. A nice neutral colour and not too flashy (which I prefer in a bike).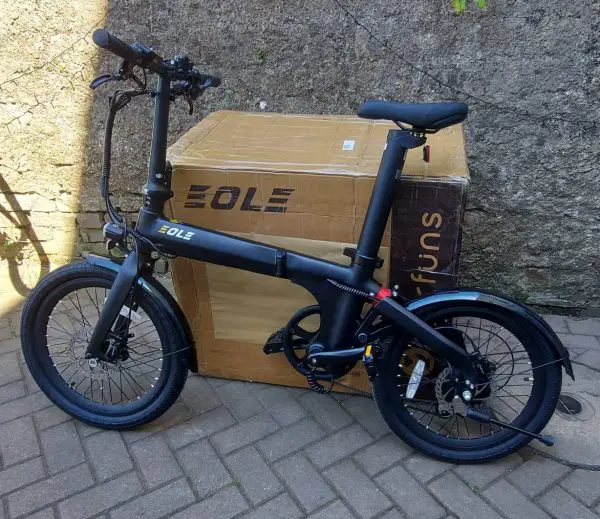 Assembly
Once all the packaging material had been removed (and there's a lot) assembly was very straightforward and could be done by a non-skilled person at home (no need to go to a bike shop).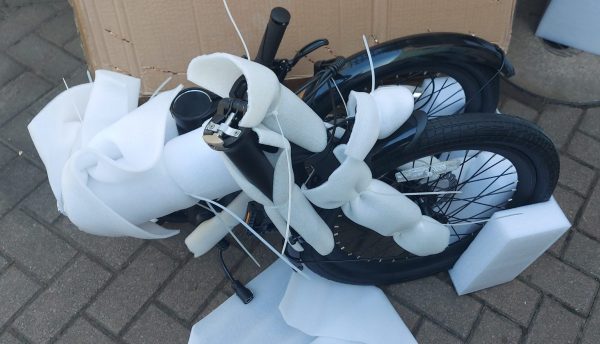 It's just a case of unfolding the bike, making sure all the folding points a clicked secure, fixing the saddle to the seat post/battery and then inserting it. Initially, it was a bit hard to get the battery in, even with the clamp loosened. All it needed was a small amount of grease around the top of the tube insert and it went in fine.
Then, it's just a case of plugging the battery in, adjusting the seat level height, tightening the seat clamp, checking the tyre pressures and you're good to go!
First ride
I decided to take the Morfuns Eole X on a hilly local route – the route involves a couple of rather short but steep hill climbs, and a couple of longer less steep hills.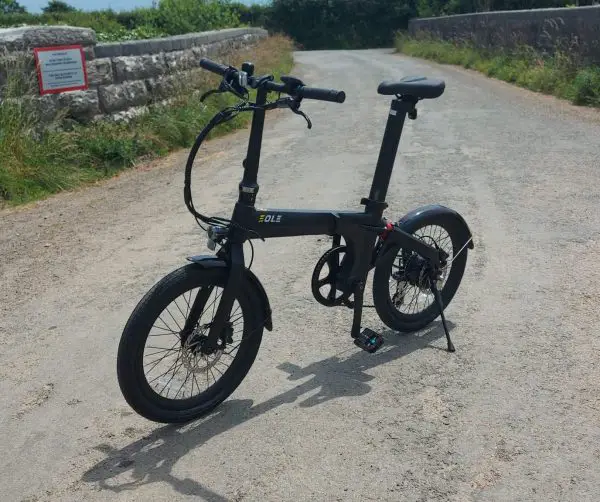 As I set off in level 3 (out of 5) I was pleasantly surprised with the pedal assist. Although the Eole X uses a basic cadence sensor, the assist was smooth and responsive from the offset. I usually find some cadence pedal assist systems can be quite jerky with stop / start delays, but this wasn't the case with the Morfuns.
How well does the Morfuns Eole X climb hills?
The first hill was 280ft of elevation gain over 1 mile with an average gradient of just under 6%. I used level 5 and the Eole got me up there effortlessly.
I covered a total of 10 miles with just over 1200ft of elevation gain. I used a couple of bars of the battery, which is fair enough considering the climbing involved. The only time I had to add a fair bit of effort was on a particularly steep (20%) section of the last hill climb.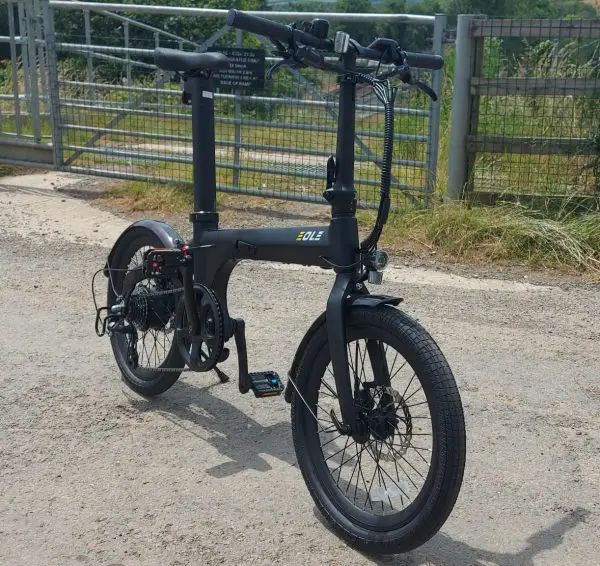 Are the brakes any good?
I have to admit, I was pleasantly surprised here. Usually, new brakes feel spongy and lack bite, but the Morfuns hydraulic brakes worked well from the outset. There was good modulation and one finger is all that was needed to work the brakes effectively.
Is the Morfuns Eole X comfortable?
Most definitely. I would go as far as to say that it's one of the most comfortable folding e-bikes I've ridden. The saddle has the right balance of firmness, and the elastomer rear suspension does a fantastic job of muting the jarring effect of small potholes.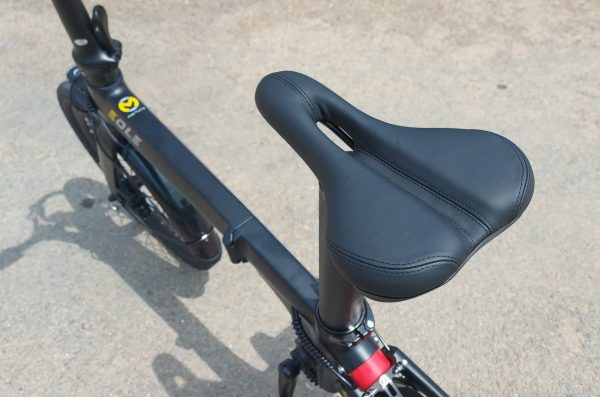 The handlebars can be easily adjusted for height and there's plenty of adjustment in the seat post –  I'm 6'1″ and usually feel a little uncomfortable on folding e-bikes, but not this time. I would quite happily ride this for 20 or 30 miles.
How does it handle?
I've always found folding e-bikes to feel a little twitchy when negotiating sharp bends. The Morfuns doesn't feel too bad in this respect, although you do know you're riding a folder. On one descent I reached speeds of over 50km/h and the bike felt stable.
How heavy is it?
I weighed the Morfuns Eole X using my digital scale and it came in just under 19kg, which is pretty good for a budget folding e-bike. It still feels quite heavy to cart about, but not as bad as some other folding e-bikes.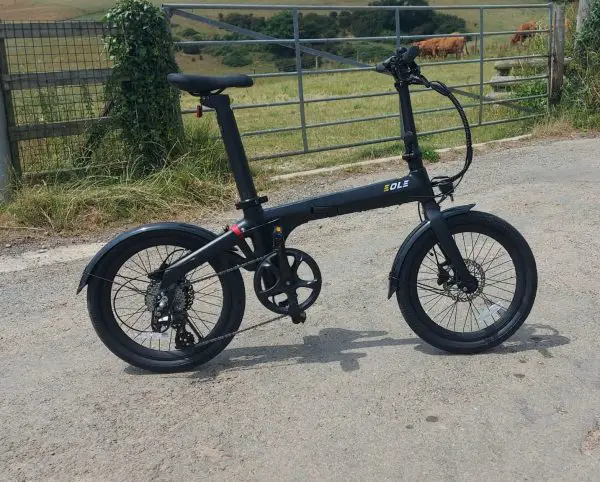 Ride conclusion
I'm very impressed with the Eole X – it's smooth, comfortable and produces a decent level of assist. Plus, the brakes really do work well and gear shifting is hard to fault. Below, I'll have a closer look at the specification.
Visit Morfuns for more information
Ease of folding
The Eole X folds up in much the same way as similar e-bikes. First thing is to release the seat catch and lower the seat post/battery. Release the handlebar locking mechanism, and then the main folding mechanism. That's it! The whole process takes less than a minute. I'm particularly impressed by the quality of the release mechanisms – they function well and are easy to use.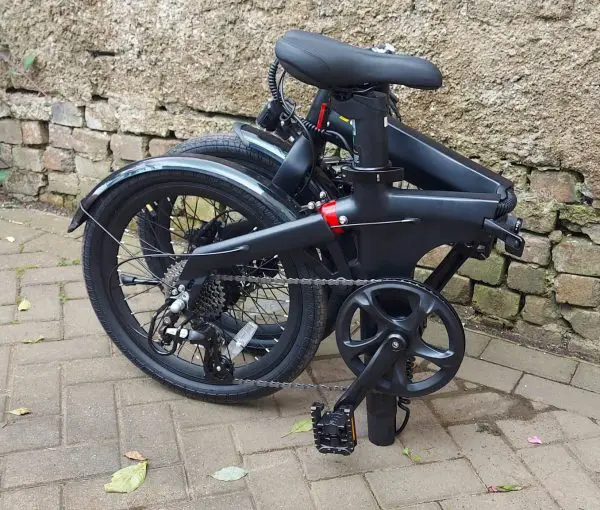 Electric components
Motor: The 250w / 350w rear hub motor performs very well – one thing I noticed is it does seem quieter than other, similar motors. There's still the audible whine in high-power mode but it's not as intrusive (as on other bikes).
Performance-wise, the motor performed as expected. It only started to struggle a bit on really steep climbs, but this is normal for any small, geared hub motor.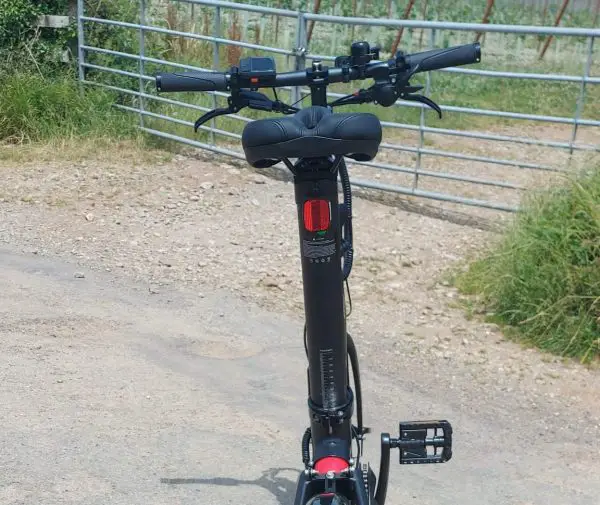 In keeping with EU and UK e-bike laws, the motor cut out at 25km/h, with no discernible pedalling resistance after power stopped (or when riding with the assist switched off).
Battery: It's good to see LG lithium cells being used on what is a budget e-bike. The 360Wh battery doubles up as the seat post, giving the bike a nice, clean look. The claimed range of 75km (46 miles) could be achieved with low power usage, a lightweight rider, and riding on flat ground. But, I would imagine a real-world range to be in the region of 40-50km. I used two bars over 10 miles (16km) with a 102kg rider and lots of hills.
A larger 36v 15Ah battery will be available as an option – this is a great idea and should increase the potential range by 50%.
Display: The Eole X display is mounted next to the left-hand grip. It seems to offer all of the usual functionality you'd expect on an e-bike display. Plus, it's in colour which is a nice touch.
Bike components
Gearing: The Morfuns Eole X has departed from the usual basic, 7-speed drivetrain offered by most and opted for the higher quality, better shifting Shimano Altus 8-speed.  Although still an entry-level gear system, Altus is noticeably better than Tourney (7-speed) offering crisp and precise gear changes through the trigger shifters.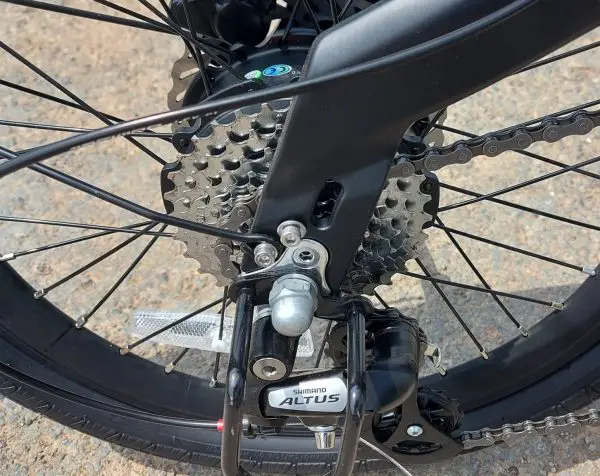 There's a single 52t Prowheel chainring combined with an 11-32 8-speed rear cassette – this is ideal gearing for an e-bike that's going to be used for general leisure riding and commuting.
Brakes: The Morfuns branded hydraulic brakes performed better than expected – they inspired confidence and I didn't experience any brake fade on long descents.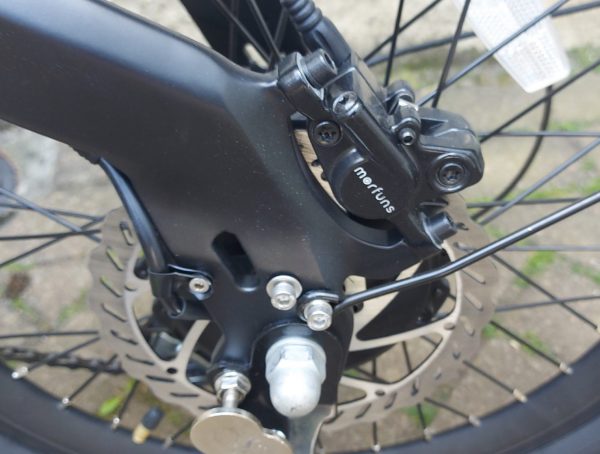 Wheels and tyres: Small 20″ wheels look and feel decent quality. There's a quick-release mechanism on the front wheel and the front wheel bearing seemed nice and smooth. Looking at the front wheel, I'd say it probably uses a cup and cone bearing, making it easy to service in the long term.
Tyres are 20″ x 2.25″ with a puncture resistance layer. I had them inflated to 35 psi (rear) and 30 psi (front) which provided the right level of comfort and grip. The tread is more tarmac orientated but would be fine for light off-road riding (gravel, canal towpaths etc.)
Rear suspension: The Morfuns doesn't use a traditional shock absorber, but an elastomer bush – this is very effective. Plus, it saves on weight and cost. I found this small bit of suspension did not compromise pedalling and really took the sting out of potholes.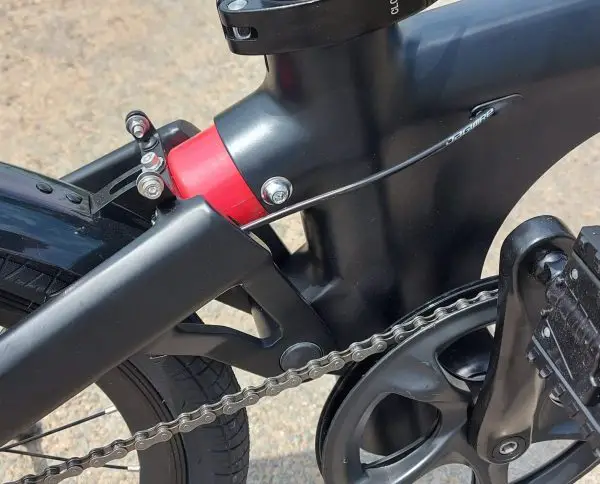 Accessories and finishing kit: Quality throughout the bike looks good. My bike came fitted with mudguards and a separate pannier rack (which I didn't fit). There's also a kickstand and headlight.
Who will the Morfuns Eole X be suitable for?
If you're looking for a versatile folding e-bike, that has decent components and a reasonable battery range, then the Morfuns Eole X is for you. It would make a great commuter e-bike or be useful for a runabout. It would also make an excellent recreational e-bike.
Conclusion
Overall, I'm very impressed with the Morfuns Eole X folding e-bike. It appears solid, and well-built. The pedal assist is smooth, responsive and relatively quiet, and the battery uses quality cells. All of the components used work well and it folds down quickly and easily making it convenient to put in the back of a car or on public transport. On top of all of that, I found the Eole X to be a really comfortable bike to ride and there was plenty of adjustment for a taller rider like me.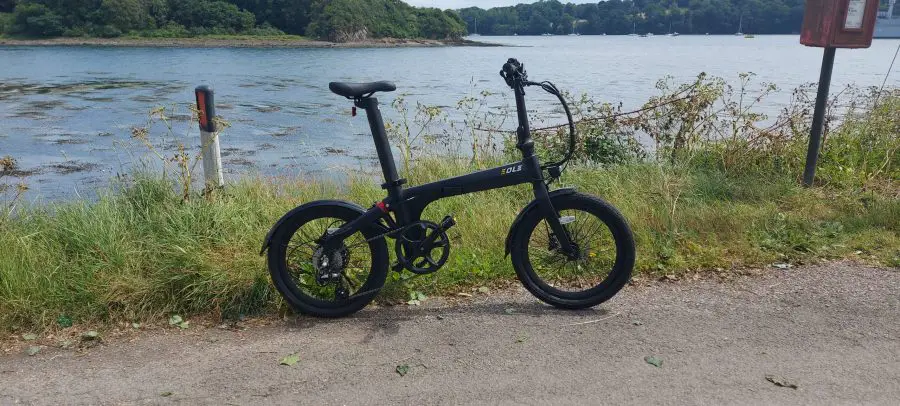 When the Eole X goes on general sale it should be a success. It's not the cheapest folding e-bike available, but it bridges the gap nicely between the budget and the more expensive end of the market. If you're considering buying a relatively affordable, foldable electric bike and based on my test ride, I would have no hesitation in recommending the Morfuns Eole X.
Update 6/9/2022
I've now been using the Morfuns Eole X regularly since the end of June, and it continues to perform very well. I use it to go shopping and I've also taken it on a couple of longer riders (20-30 miles). It's comfortable and I'm very impressed with the battery range – I use the Morfuns primarily in assist level 3, and I usually get around 35 miles between charges.
Performance has been consistently good from the small hub motor and it will quite effortlessly cruise at its maximum speed of 25km/h. I'll continue to use the Eole X over the next couple of months and report back here in due course.
Visit Morfuns for more information
Related Articles