The new Fiido C21 E-Gravel is a lightweight hybrid electric bike for recreational and commuter riders. Marketed as a 'gravel e-bike,' it's perfect for tarmac or unpaved surfaces, such as canal towpaths or woodland trails. With an attractive price tag of $1599, the C21 E-Gravel boasts high-end features usually reserved for more expensive models. In this review, I'll examine the bike's key features and answer frequently asked questions.
Skip to product specifications.
Key features
Torque-sensing pedal assist
Silent Mivice hub motor
Thru-axle front wheel
Tektro hydraulic brakes
Tapered headset
Relaxed frame geometry
In the interest of full disclosure, the Fiido C21 E-Gravel reviewed in this article was generously provided to me by Fiido. This does not influence my opinions, and the following evaluation reflects my genuine experience and assessment of the bike.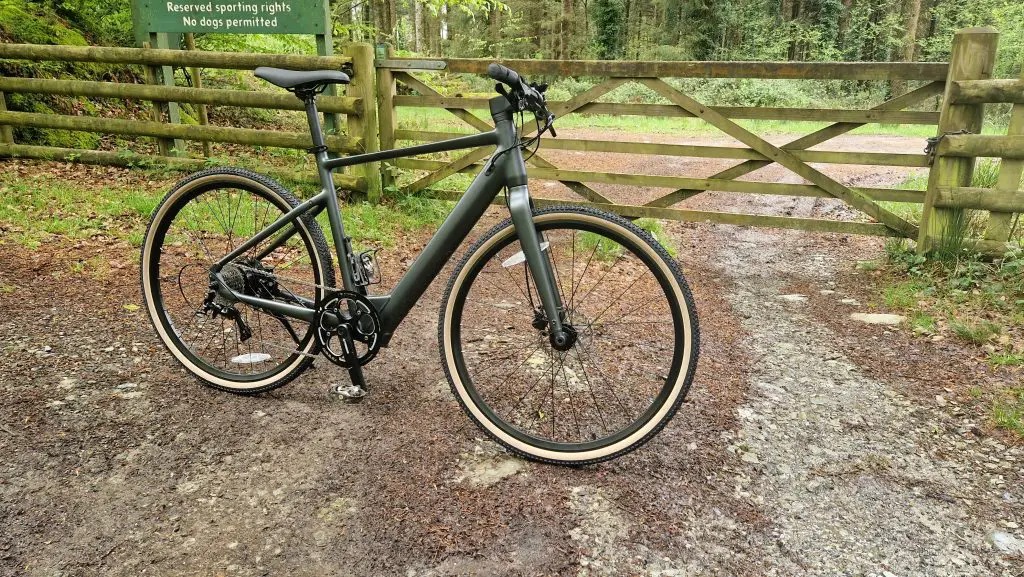 When I learned of Fiido's new 2023 range, the one bike that stood out for me was the C21. I'm a big fan of lightweight e-bikes and prefer riding them over heavier models. As someone who cycles daily for fitness, I like an electric bike that feels and rides like a regular bike but has the added benefit of a boost on hills.
Unboxing and assembly
The Fiido C21 E-Gravel arrived in a sturdy box, and the first thing that struck me was how light the box was. Inside, the bike was well-protected and included a comprehensive toolkit and instruction manual.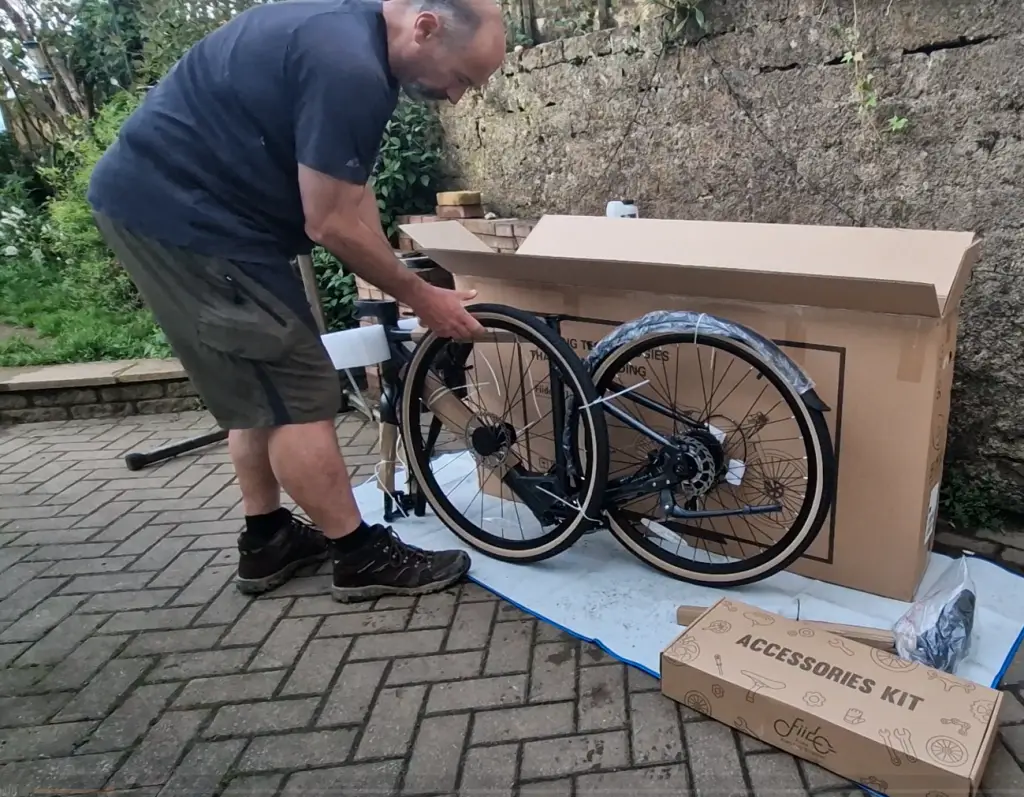 All the ancillary components, like the display, lights and mudguard stays, were in a very well-presented box that looked like the kind of thing you'd get with an e-bike costing twice the price. Assembly of the C21 E-Gravel was fairly straightforward, requiring only the handlebars, front wheel, pedals, and display unit fitting.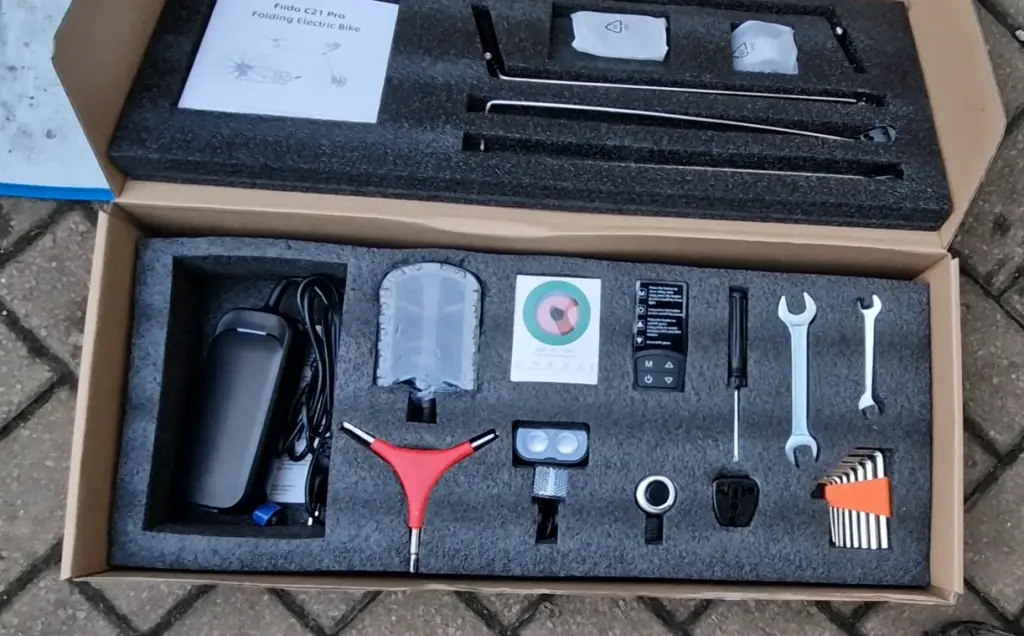 Test route
I decided to take the Fiido E-Gravel on a regular route. I ride up to Dartmoor National Park in Devon in the UK. This is quite a demanding ride for an e-bike as it involves over 30 miles and 2000ft of elevation gain. A small off-road section also takes in gravel and rough off-road surfaces.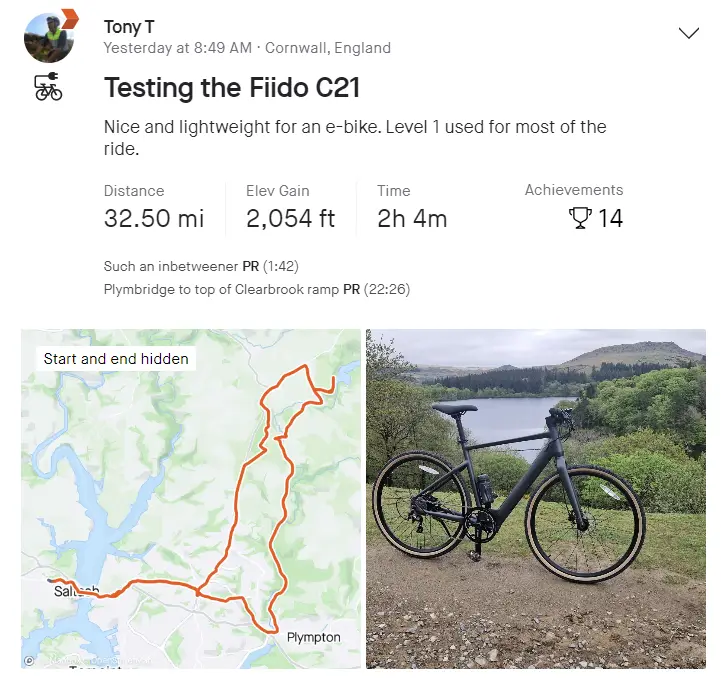 Electrics
The C21 E-Gravel is fitted with the award-winning Mivice M080 hub motor, and during my 32-mile test ride, I found assist levels 1 and 2 more than adequate for tackling a variety of terrains. There are several pros and cons of a hub motor vs. a mid-drive, but the Mivice rear hub motor left a lasting impression with its smooth, virtually silent operation.
One standout feature is the torque sensor, which delivers smooth and responsive pedal assist. The motor kicks in when pressure is applied to the pedals and reacts to changes in your pedalling effort; this makes it one of the best bottom-bracket torque sensors I have experienced. The transition from assist to non-assist at the 15.5 mph cut-off point is seamless and barely noticeable.
The 208Wh battery is integrated into the frame, giving the C21 E-Gravel a clean, polished look. The battery's range is respectable, allowing me to complete my 32-mile test ride with one bar remaining. The test route had a 2,000 ft elevation gain, and I weighed 105 kg. I imagine the range would be quite low if higher assist levels are used, but Fiido will offer a range-extender option in the future. On the flip side, a lighter rider riding a less hilly route should be able to achieve a higher potential range.
The high-resolution, full-colour display is among the best I've seen. With five levels of assist and Bluetooth smartphone and smartwatch connectivity, it provides ride data such as distance, total distance, and average speed. A small keypad near the left-hand grip controls the display.
Bike components
The Fiido C21 E-Gravel features a wide-range 11-32 9-speed cassette with L-Twoo 9-speed derailleur and trigger shifter. L-Twoo is a high-quality Chinese bike component company founded by two former SRAM engineers. Gear shifting was crisp and precise.
My only complaint in the gearing department was the 50-tooth chainring was too large for off-road riding and steep hills; I would recommend a smaller 40 or 42-tooth chainring. Also, there was quite a lot of chain-slap when riding off-road. Any upgrade to a clutched derailleur would be recommended if you regularly ride rougher terrain.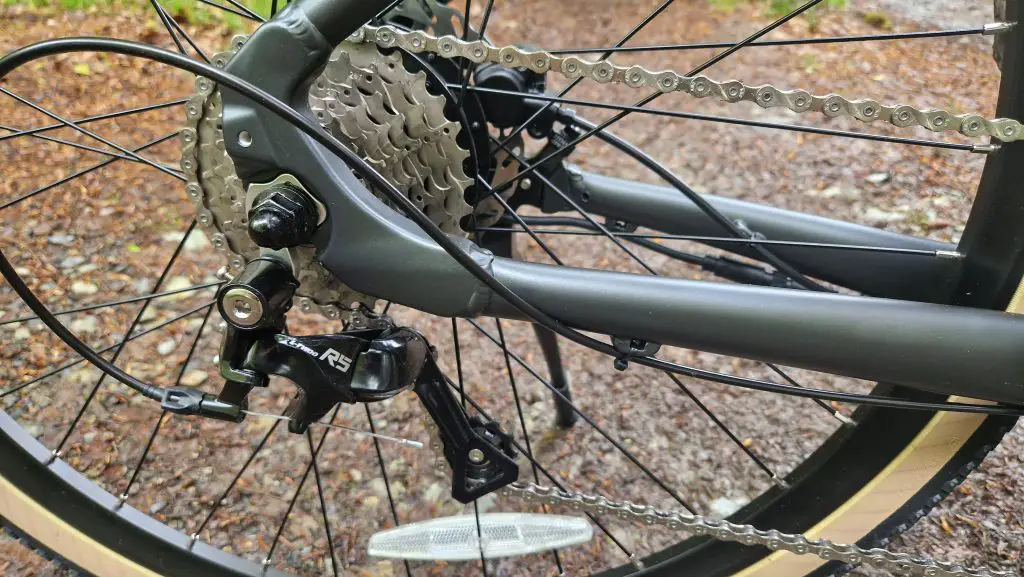 I was impressed with the braking performance of the Tektro hydraulic brakes. It's great that Fiido has used a premium brand of brakes on the C21 E-Gravel. These brakes are commonly found on e-bikes costing much more and offer good stopping power and excellent modulation.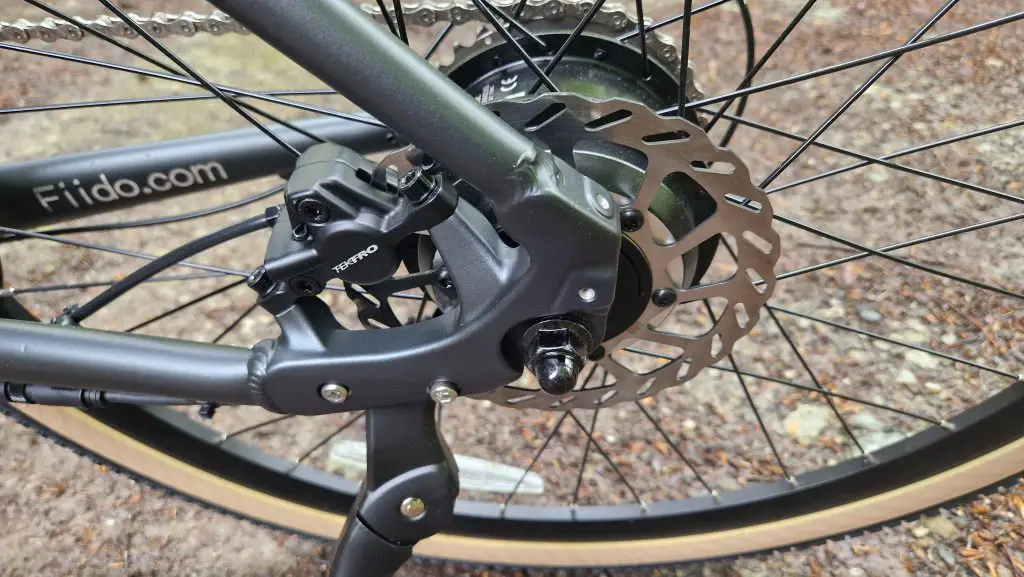 The CST Tirent 700x40c gravel-specific tyres weigh 510g each and offer low rolling resistance on the tarmac and decent grip on gravel and off-road surfaces. In addition, they have a puncture-resistant layer, which should help reduce the risk of punctures from things like glass and thorns.
The high-quality wheels have smooth bearings, and the front wheel uses a modern thru-axle format. The frame features a sleek, modern design with a tapered headtube and dropped seat stays. The Fiido E-Gravel looks like a high-end e-bike but is affordable. Internal cable routing adds a neat touch.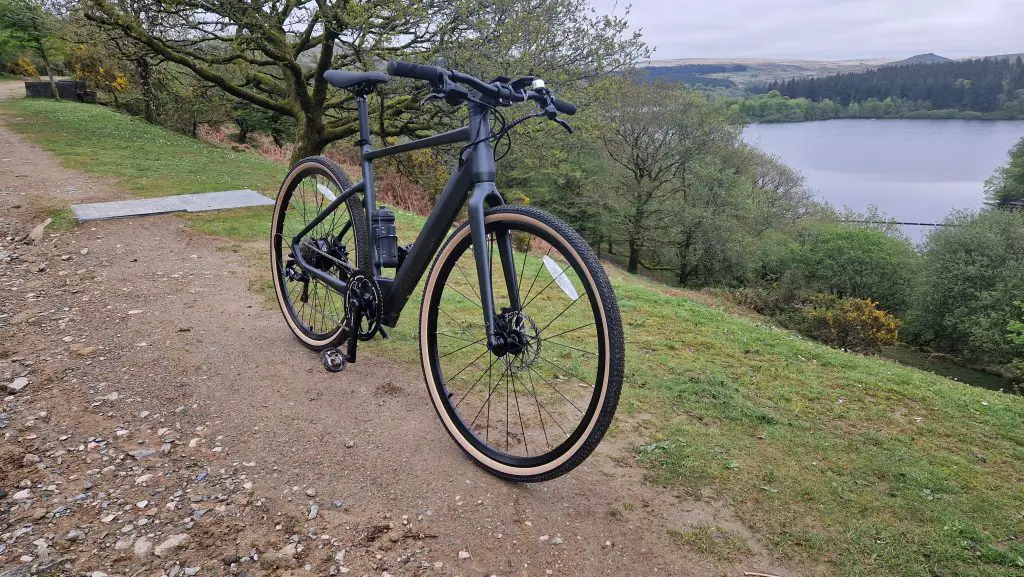 Accessories include mudguards, a kickstand, and front and rear lights. I chose not to fit the mudguards and lights for the initial test ride but will do so later and update this section accordingly.
Comfort and sizing
The Fiido C21 E-Gravel is in medium (5'2"-5'7") and large (5'6′-6'4") sizes. Our 6-foot tester found the large frame a perfect fit and remained comfortable throughout the 32-mile ride. The handlebar is nicely designed with a small rise and back sweep, giving a comfortable hand position, and the saddle strikes the right balance between firmness and padding.
The tyres are large enough to absorb road surface imperfections while maintaining low rolling resistance for rapid progress on the tarmac.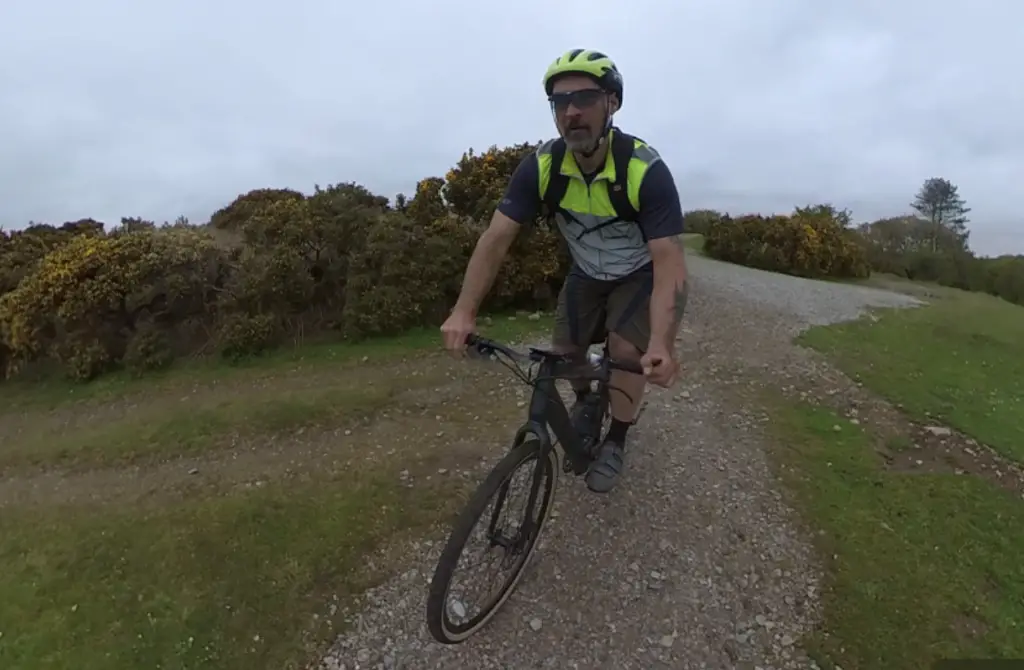 Who is the Fiido C21 E-Gravel suitable for?
The C21 E-Gravel will be an excellent e-bike for commuting, leisure riding, and fitness enthusiasts. Its lightweight design makes it easy to ride without assistance, and its efficiency makes it perfect for daily commuting. As a tool for building fitness after a long break from cycling, it would be great because you can fine-tune the assist to suit your current fitness levels.
Pros and Cons
Pros
Affordable price with high-end features
Smooth and silent Mivice hub motor
Torque-sensing pedal assist
Tektro hydraulic brakes for confident stopping power
Sleek, modern design with integrated battery
Reasonably lightweight for an e-bike at 18 kg
Cons
Gearing too high for off-road riding and steep hills
A clutched derailleur would be better for off-road riding
Battery range will be low if used in high assist levels
FAQs
How long does it take to charge the battery?
The battery takes approximately 4-6 hours to charge from empty to full.
What is the maximum speed of the Fiido C21 E-Gravel?
The maximum assisted speed is 15.5 mph (25 km/h), per legal requirements for electric bikes.
Can I ride the Fiido C21 E-Gravel in the rain?
Yes, the Fiido C21 E-Gravel is designed to withstand normal weather conditions, including rain. However, it is not advisable to ride through deep water or puddles.
Is the Fiido C21 E-Gravel suitable for taller riders?
The large frame size accommodates riders between 5'6" and 6'4", making it suitable for taller riders.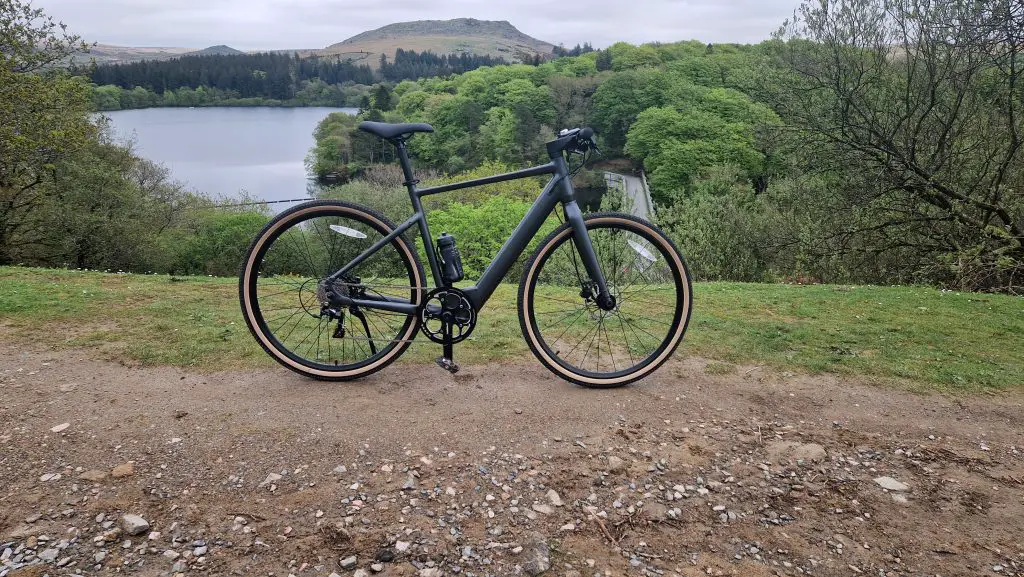 Conclusion
Overall, the Fiido C21 E-Gravel is a fantastic e-bike that punches well above its weight regarding value for money, specification, refinement and looks. I was particularly impressed with the silky smooth performance of the Mivice hub motor and torque-sensing assist.
The relatively small battery will limit long-distance applications for some riders, but the bike is so easy to pedal without assistance that it shouldn't be too much of a problem. I found levels 1 and 2 provided plenty of help on the hills, with level 2 being the 'sweet spot'.
Although the C21 is marketed as a gravel e-bike, it does lack some of the credentials to make it a true electric gravel bike. The gearing is too high, and the derailleur does bounce around on rough surfaces. The Fiido performed well enough on the rough stuff, but I recommend avoiding large rocks, tree roots and jumps.
The Fiido C21 E-Gravel is a great e-bike for the price, and I'd have no problem recommending it. It's comfortable and stylish and performs great.
Specifications
Motor: Mivice M080 250w rear hub motor
Motor torque: 40Nm
Sensor: Mivice torque-sensing bottom bracket
Battery: 208Wh internal
Display: Hi-res full colour
Frame: Step over
Front fork: Aluminium with thru-axle
Handlebar: Flat bar
Headset: Tapered bearing
Sizing: M(5'2"-5'7") / L(5'6"-6'4")
Tyres: CST Tirent Gravel tyre 700*40C
Weight:18kg
Range: 80km
Max load: 120kg
Gearing: L-Twoo 9-speed derailleur 
Cassette: 11-32 9-speed
Brakes: Tektro hydraulic disc brakes 160mm rotors