What makes the perfect electric touring bike? Comfort and all-terrain capabilities are high on the list, but what about reliability and battery range? The latest 2020 Kathmandu range of electric bikes from Cube are specifically designed with touring in mind. In this review, I will be looking at one of the higher-specification models in the range. The excellent Cube Kathmandu SL 625.
Check out the 2022 Cube Kathmandu SLT750
Summary
Cube have a long heritage of producing excellent mountain bikes, and it shows with their excellent 2020 model Cube Kathmandu electric touring bike.
The Kathmandu has been designed specifically with this purpose in mind. The model reviewed in this article is the SL 625, which sits near the top of the range at £3299, although it does start considerably cheaper with the Hybrid One 500 at £2299.
I have owned a couple of Cube mountain bikes in the past, and I have always been impressed with the frame design and overall quality.
The new Kathmandu SL 625 looks great and feels unbreakable. The spec list on this hybrid bike is excellent and reads more like something from a decent mountain bike. With Rockshox forks and Shimano XT 1 x 12 drive-train.
Electric Components
If you're looking for an e-bike to take touring, whether it is to explore the lake district or the Pyrenees.  The most important things to consider are reliability, performance and battery range.
The last thing you want is to be stuck halfway up an Alpine pass, with no assist due to a broken motor or an empty battery.
Thankfully, Cube has thought this one through, and the 2020 Kathmandu comes with the latest 4th generation Bosch CX drive unit along with their Powertube 625Wh (watt hour) battery pack.
Bosch 4th Generation CX Motor
The latest generation Bosch CX motor has been improved in several ways over the outgoing model. One of the biggest differences is the weight has been reduced to just 2.9kg.
What makes this particular drive unit so suitable for touring is its incredible versatility. It will provide up to 300% assistance (about rider input), and it also has a very useful e-MTB mode, that will provide adaptive assistance depending on your needs. This is particularly helpful if you are negotiating tricky off-road terrain (whilst carrying loaded panniers).
Reliability is a key concern with any e-bike motor, and this is one area where Bosch generally excels. I'm not saying they're perfect, and a small percentage of issues will affect some customers. But out of all the electric bike motors I have come across in nearly 4 years, the Bosch does seem to be the most reliable.
I know lots of riders of Bosch-powered bikes who have covered very large mileages without any issues whatsoever.
One more key thing regarding this motor is the high-torque output. As the Bosch CX is designed specifically for mountain bikes, it produces up to 75Nm of torque, which is going to be very useful when climbing somewhere like the Pyrenees with fully loaded panniers!
Bosch Kiox Display
The all-new Bosch Kiox is so much more than just a display! The Kiox is an onboard computer that retains all the classic functions of a traditional electric bike display but also gives you online access via a smartphone app.
The colour display provides you with all the important riding information, while the separate keypad (mounted by the left-hand grip) allows you to stay in perfect control of the handlebars
The Kiox can record your trip data and send it to your phone via Bluetooth connection.  You can also connect a heart rate monitor, which is particularly useful if you are using your bike as a means of getting fitter.
All this data can be accessed from the app, and also from a desktop computer. Very useful for monitoring your progress, and a great way to boost your motivation.
The Kiox display not only has great functionality, but it is also incredibly robust. The screen is made from scratch-resistant glass, and can also resist impacts from small stones.
Bosch Powertube 625 battery
The new Bosch Powertube 625 battery supplied with the Kathmandu SL has a massive 36v16.7ah capacity. Not only that but it is now designed to fit neatly into the frame, so you can still have space for two water bottle holders.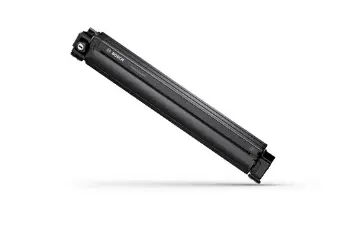 A realistic range of 100 miles can be achieved from a single charge, meaning you can cover some serious ground on this bike daily. There is even the option to purchase a second battery if required.
Of course, the battery range will be affected by the power level used, rider weight, the amount of luggage you are carrying and the topography of the land you are riding on. Bosch has kindly produced a range calculator which is a very useful guide.
Bike Components
Any good touring electric bike should be durable and have robust components. The Cube Kathmandu SL is a true touring bike in this sense.
From the excellent Rockshox Judy forks through to Shimano's XT 1 x 12 groupset,  this is a bike that's ready for anything the wild can throw at it.
Gearing
When touring, gear range is a very important consideration, especially if you are going somewhere like the Alps or Norway. Mid-drive electric bike motors like the Bosch are much more efficient at higher pedalling cadences. If you are spending a lot of time ascending long, steep climbs you want to be in a gear that is lower enough so you can still spin the pedals at a reasonable rpm.
Shimano XT 1 x 12
The Cube Kathmandu uses the excellent Shimano XT 1 x 12 groupset, that utilises a sensible 38t front chainring in combination with a mega-range 10-51 12-speed rear cassette and an XT RD-M8100-SGS, ShadowPlus rear derailleur. This is controlled by an excellent SLX SL-M7100 trigger shifter.  The whole package is finished off with a Shimano SLX CN-M7100 chain.
This kind of kit is usually only reserved for high-end mountain bikes, and with this kind of gear range, and an electric motor you can climb practically anything!
Brakes
Brakes are also very important on a touring-orientated electric bike. Hydraulic Shimano BR-MT520 and BR-MT500 disc brakes with 180mm rotors front and rear provide excellent stopping power in all extremes.
Wheels and Tyres
The tough Cube EX23 tubeless-ready rims have the traditional 36H spoke count. This increases rigidity, especially over rough ground. The front wheel uses an excellent Shimano HB-MT400-B hub with a Boost thru-axle and centre lock disc mount. The rear hub is a Shimano FH-MT500 with a standard quick-release and centre lock disc mount.
Any good touring bike worth its salt should have good old Schalwbe Marathon Plus tyres fitted. In the case of the Cube Kathmandu they have gone for the very latest Schwalbe Marathon E-Plus, which at 55-622 is wide enough to cope with a multitude of terrains, and yet still rolls very well on tarmac.
I swear by Marathon Plus, and have racked up 10,000 miles in the last couple of years on these tyres without a single puncture!
Accessories
Naturally, a good touring bike will have lots of extras fitted, from a decent pannier rack to mudguards and even lights.
Again the Cube Kathmandu SL caters for every whim. There is a powerful Herrmans H-Black MR8 front headlight and a Herrmans H-Trace rear light. These can be easily switched on or off using the display keypad.
There is a Cube CMPT kickstand and the all-important CUBE Integrated Carrier 2.0 pannier rack. Cube Acid 65mm mudguards and a bell finish off the package nicely.
Finishing Kit
The finishing kit on this bike is all typical high-quality Cube-branded stuff. 700m wide trail handlebars ensure a comfortable riding position. The well-crafted saddle is complemented by a Cube 30.9mm suspension seatpost, with a Varioclose 34.9mm clamp.

Frame
Cube are renowned for its excellent frames. The Kathmandu uses Aluminium Superlite, gravity casting technology with efficient comfort frame geometry a Tapered Headtube and a fully integrated battery. The pannier rack is also integrated.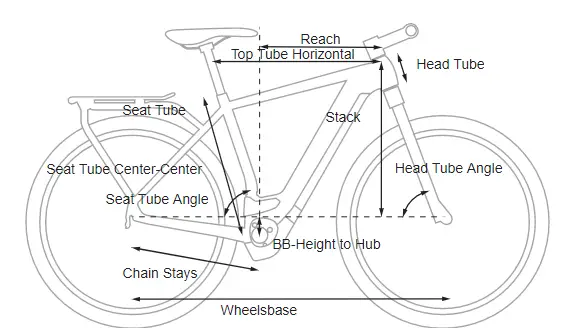 Who is the Cube Kathmandu aimed at?
The Cube Kathmandu SL 625 will have a broad appeal. Yes, it will make an excellent touring bike, but it would also be a great everyday commuter bike. With a battery this powerful, you could easily do a 20-mile daily commute for five days and only need to charge the battery once.
The included lights, mudguards and pannier rack, will also help to increase its appeal amongst commuters, as even the entry-level models have all these extras fitted.
You could even use it for the odd trip to the shop if you fitted a pair of large Ortlieb pannier bags.
If you are just a weekend leisure rider who wants the versatility of a hybrid, with the ruggedness of a mountain bike, the Kathmandu SL could be for you. It is certainly going to be more than capable of off-road riding due to the excellent gearing and suspension.

Conclusion
Cube have well and truly established themselves as a global leader in the electric bike world. They produce some of the most practical e-bikes available, and some of their e-MTBs are just superb.
The Cube Kathmandu SL 625 is an excellent all-purpose electric bike. Whether you want to take it touring or use it every day for commuting. It is just an excellent, well thought out ebike.
Unfortunately the SL model does come at a premium – £3299 is a lot of money for an electric bike. But offset this cost against running a car for 12 months, and it doesn't seem that expensive.
Here is yet another e-bike that I want to add to my wish list. The thought of being able to disappear for a whole day and cycle 100 miles without worrying about the battery running out of juice is very appealing.
The high quality components fitted to this bike also helped seal the deal for me. Having the incredible gear range offered by this bike is a big plus. Being able to take it off-road and explore usually inaccessible places is also great.
If you're after a good electric bike for touring or commuting, the Cube Kathmandu SL 625 is going to be hard to beat.