NCM e-bikes have expanded their business considerably since I first had a go on one of their bikes back in 2018. They now have a global presence with distribution facilities in North America and Australia. In this review, I will be looking at the NCM Aspen fat tire electric bike, and much like their other models, this one looks like excellent value for money with no compromise on build quality.
Summary
Electric fat bikes continue to be popular, particularly in countries where there are vast areas of sand or harsh winters with heavy snowfall.
One of the last NCM e-bikes I tested was the excellent Moscow, and more recently I managed to have a go on an Aspen, which a friend had imported from Germany. I've always been impressed with the value and build quality of these bikes, so I was keen to test it out on the open, boggy moorland not far from where I live.
The NCM Aspen uses a powerful Das-Kit 500w geared rear hub motor, combined with a decent 48v 13Ah lithium battery pack. And even though it's a big, heavy bike, the motor had more than enough power to cope with the very wet and boggy terrain ridden on.
Another thing that impressed me with this bike was its ability to deal with this harsh terrain while still retaining some composure. The 4″ wide tires were run at 10psi and held traction pretty well, even on some of the short, technical climbs.
All in all, I was impressed with what Aspen had to offer for the price. Read on for more details on the specification.
Check my article featuring 11 of the best fat tire electric bikes for 2023
Electric components
Fat bikes are considerably heavier than regular hard-tail mountain bikes, so having a more powerful motor and decent battery is quite important, particularly if you are doing lots of off-road riding. I prefer mid-drives, but these come at a premium, and most factory-produced electric fat bikes seem to use rear hub motors.
Das-Kit Rear hub motor
The Das-Kit rear hub motor is NCM's in-house brand, and it shares more than a passing resemblance to the 48v Bafang hub motor. I suspect it is re-branded Bafang as it's very similar in design and feel. The 500w on offer is the nominal output, this motor will peak at over 700w in full-power mode offering plenty of grunt for tackling muddy terrain.
There is also a useful thumb throttle fitted, so if you get tired of pedalling you can take a break. The maximum tested speed of the Aspen was about 22mph. Using the throttle when riding on flat ground should be fine, but I wouldn't recommend using it for prolonged periods of climbing (without pedalling) as this will put a lot of strain on the motor.
LCD Display
The Das-Kit L7 display is used on a lot of NCM's e-bikes, and also on some of their conversion kits. It's a very neat display and although it has fairly limited functionality when compared with other displays, it does the job.
There are up to 6 levels of pedal assist to choose from and the bike I tested was showing speed in kilometres only, I couldn't find a way to change this, but it's a minor detail. There is also a trip function.
Battery
There are 2 battery options to choose from with the NCM Aspen. The model tested had a 48v 13Ah (624Wh) although the Aspen Plus has a 768Wh battery (48v 16Ah). The 13Ah battery has a realistic range of between 25-35 miles depending on how much assist you use, and how often you use the throttle.
If you rely heavily on the throttle then the range would be reduced even further. If you are very economical with the e-assist, it's possible to squeeze 50+ miles out of a single charge.
This is the same DeHawk battery as fitted to the NCM Moscow hardtail electric mountain bike and uses quality Panasonic lithium cells.  Spare DeHawk batteries are also available if you need an extra.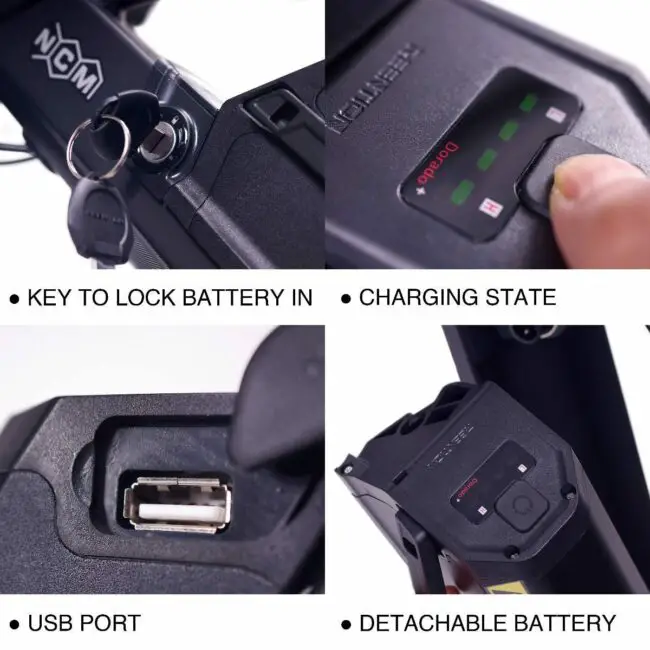 Bike components
Most traditional fat bikes have 6061 Alloy or heat-treated ChroMo steel frames. Traditionally, fat bikes had rigid steel forks. This made them very robust and the oversized tires acted like suspension. NCM has opted for an RST entry-level suspension fork, which adds to the comfort, but I think a steel rigid fork would have been better (and lighter). Most fat bikes have 1 x gearing and hydraulic brakes. The version I tested had Tektro mechanical discs, although the NCM Aspen Plus has hydraulics.
Gearing
The Aspen has a Shimano Acera triple front chainring with a 14-28 7-speed freewheel giving a good spread of gears. Front trigger shifters and rear derailleur are cheap but dependable Shimano Altus components.
Most regular fat bikes have a 1 x drivetrain with an 11-42 cassette and 32 or 34t front chainring. Although triples are now considered 'old hat' in the case of the Aspen, having the larger front chainring is great for riding at higher speeds on the road or gravel.
Brakes
This test bike had the Tektro mechanical front disc brakes, and in fairness, they did the job well enough. They lacked the modulation and overall bite offered by hydraulics, but at this price, it would be easy enough to upgrade them to Shimano MT-200s or similar. The Aspen Plus model comes as standard with hydraulic brakes.
Suspension
As I have mentioned above, I don't feel having suspension forks on a fat bike is necessary. The 80mm travel RST Guide T-26 front forks are fine for moderate riding, but you will find their limit fast (as I did). If it was my bike I would find some good ChroMo steel fat tire forks and ditch the front suspension.
Wheels and Tires
The wheels seem fairly tough, and handled rough muddy terrain without any drama. The CST BFT tires are also pretty good and can be run at a low psi when riding off-road. I didn't experience any pinch flats even though I was running them at about 10psi.
Frame and finishing kit
As with all their e-bikes, the 6061 alloy frame on the NCM Aspen seems well-made and sturdy. It's finished in a nice matt metallic grey with blue detailing.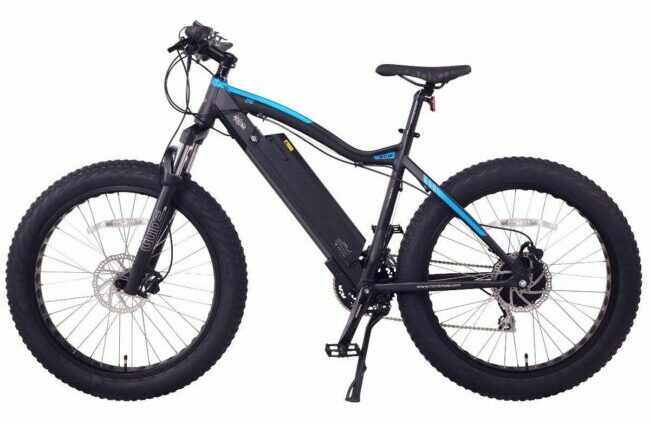 All of the finishing kit, including handlebars, seat post and stem are by Promax, and the saddle is NCM's design. I found the saddle to be adequately comfortable.
Who is the NCM Aspen aimed at?
The NCM Aspen is aimed at riders who want to explore terrain that's inaccessible on regular mountain bikes. Fat bikes were originally designed with mud, sand and snow in mind. There's also an increasing number of riders who like to use these as everyday commuter bikes.
There are quite a few advantages to riding an electric fat bike on the road (and some disadvantages). The main ones are increased durability – riding up kerbs, potholes and even steps can all be done on a fat bike. On the negative side the increased road noise and sheer bulk of the bike, may put some commuters off.
Conclusion
I think NCM's first attempt at an electric fat bike isn't too bad at all. The Aspen is a capable enough e-bike and at its price it is a very viable competitor to the likes of the RadRhino by Radpower bikes.
If I was to buy one of these I would go for the Aspen Plus, as you get hydraulic brakes and a more powerful battery. Apart from that, there's not a lot of difference between the two options.
The bike I tested was great fun to ride and handled wet and muddy terrain with relative ease.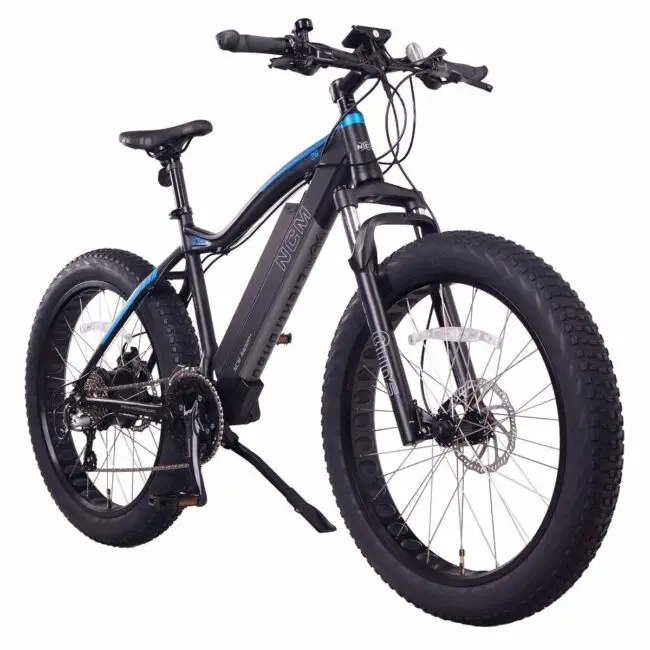 The use of fairly bargain basement components means that if parts do eventually wear out, they are very cheap to replace or even upgrade.
Electric fat bikes can be great fun, and the NCM Aspen certainly offers a reasonable spec for the price but I'm not too sure how the front forks would stand up to constant hard off-road riding. I would err on the side of caution and stay within the limits of this bike.
Apart from my concerns about the front suspension, the rest of the bike is fine. It's comfortable, handles well and the motor provides plenty of help when needed. The battery range is respectable and it neatly integrates into the frame.
If you're just after a fat bike for riding on sand or snow and nothing too severe then the Aspen is ideal. If you want something that can handle much rougher treatment, it would be worth buying something like a Kona Wo and getting it converted – read my article on building a DIY electric fat bike.