Electric mountain bikes are all the rage at the moment, and the Carrera Vengeance E bridges the gap between cheap electric bikes like the Apollo Phaze E and the more expensive Carrera Vulcan E. In this review, I will take a closer look a the specification to see if the Carrera Vengeance Electric bike is good value for money.
BUY THE LATEST CARRERA VENGEANCE E FROM HALFORDS
Summary
Finding a half-decent electric mountain bike for around the £1000 mark can be a bit of a minefield. There are hundreds of Electric mountain bikes available for around this price, and some of them aren't half bad. The main problem with buying online is if there is a problem a few months or a year down the line after sales support is sometimes non-existent.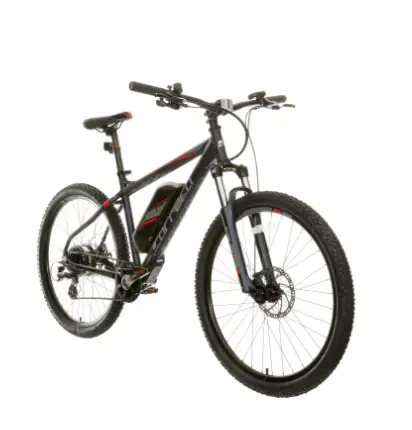 This is why if you are in the UK. Buying an electric bike from an established retailer, that has stores in every large town and city makes perfect sense.
When it comes to the Carrera Vengeance E, the sales figures and customer reviews speak volumes. This is a popular e-bike and will continue to sell in large numbers well into 2020.
The reason for its success?
It is affordable and falls well within the cycle2work scheme price bracket. For the money you get a half-decent electric mountain bike, that has the more modern 27.5″ wheels, nice frame geometry and reasonable Shimano components. On top of that, it actually looks good too!
Another big plus point is accessibility to Halford's nationwide network of service centres. You can buy this bike safe in the knowledge that if you have any electric-related issues within 2 years of purchase, they will be sorted under warranty.
Electric Components
Suntour HESC Electric hub motor
As with a lot of other e-bikes in the Carrera range, the Vengeance uses the robust Suntour HESC 250w geared rear hub motor. I have ridden various different models (including this one) and the motor is incredibly smooth and quiet for a geared motor.
It also produces a significant amount of torque, when compared with other hub motors in its class.
Of course, there is one thing sadly lacking on the Vengeance, and that is Suntour's Active Torque Sensing System. This is understandable, as the Vengeance E is a budget e-bike, so there will be cost-cutting here and there.
Nonetheless, the cadence-based pedal assist does the job well enough. Power is delivered as soon as the pedals start rotating, unlike a torque sensor that measures pedal rotation and force being applied to the pedals.
This does give the electric assist a somewhat on/off feeling, which some riders may like. If you would prefer the intuitive assist of a torque sensor, then you are going to have to fork out an extra £300 for the Carrera Vulcan Electric mountain bike.
Display
The Vengeance E uses a very basic LED display. It does display speed,  level of assist and has a basic battery indicator. Nothing too fancy, but functional enough for most.
Battery
This is another area where Halfords have cut costs. The 36v 8.8ah (317Wh) lithium battery pack will give you a fairly limited range when compared to other bikes in this price bracket. The claimed range of 40 miles is achievable but a bit optimistic in real-world riding conditions.
I would say around 25 miles is a much more realistic average battery range. Still, this will be more than adequate for a 20-mile round-trip daily commute, or a couple of hours hacking it around your local trails.
My only real criticism of the battery pack is it is quite a fiddly getting the charger plugged in. This critique has been echoed in quite a lot of customer reviews, and it's definitely something that needs improving.
As with all the other electric bikes in the Carrera range, this battery is warranted for 2 years, which will give you extra piece of mind.
Components
Gearing
The gearing on this bike is pretty standard at this price point. You have a single 38t front chainring with an 11-32 8-speed rear cassette, with a Shimano Altus shifter, and Shimano RD-M310 rear derailleur. This is all cheap and cheerful stuff, and if it does break, it's cheap and easy to replace.
Brakes
No hydraulic brakes on this one, but the Tektro mechanical disc brakes provide decent enough braking. Yes, they do lack the modulation and overall bite of hydraulics, but they do the job. As long as you are aware of the limitations and don't try anything too extreme, you should be absolutely fine with these brakes.
Front Suspension
Front suspension is provided courtesy of Suntour XCT coil-sprung forks with 100mm of travel and a lock-out and adjustment feature. These forks are definitely from the bargain basement parts bin! They do the job of soaking up potholes and road debris and are fine at coping with some light off-road riding, but try any heroics and you could well come a cropper!
These forks weren't designed for downhill mountain biking. They are designed for budget mountain bikes ridden as daily commuters and for weekend leisure riding.  Accept the limitations and you will be just fine!
Wheels and Tyres
The rims and tyres are fairly standard for an e-bike of this price. The rims are double-walled alloy 27.5″ with slightly beefed-up spokes at the back. It should be noted that the Suntour motor is designed for wider 145mm dropouts.
The Tyres are fairly basic Kenda K1027, that offer a basic level of puncture protection, and reasonable grip on and off the road.
Finishing Kit
The saddle wasn't as comfortable as I'd hoped for, I would recommend a replacement gel saddle, especially if you are planning on using this bike as a daily commuter.
Seatpost, stem and handlebars are all made from alloy and are generic Carrera components.
Frame
The frame has a nice relaxed geometry and is definitely aimed at the mellower rider. It is made of 6061 alloys and is finished in a nice matt dark metallic grey with the Carrera branding and some nice decals. Overall it looks pleasing to the eye.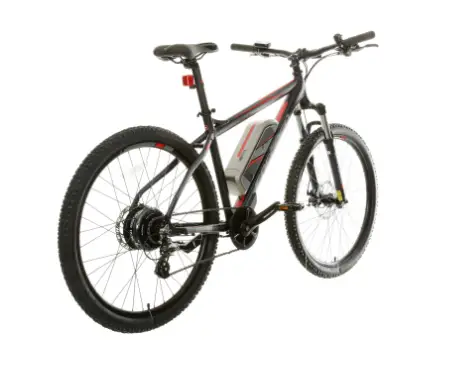 The main difference between this and the regular Vengeance frame is the wider dropouts at the rear to accommodate the hub motor.
I would say it is one of the nicer frames, found on electric bikes in this price range.
Who is the Carrera Vengeance E aimed at?
If you're a weekend leisure rider or daily commuter, the Carrera Vengeance e-bike should do the job perfectly. It has provisions for mudguards, and luggage racks, like all the other bikes in this range.
As far as serious off-road riding is concerned, the Vengeance is not suited to be beaten up on the trails. If you do choose to take this bike to its limits, I wouldn't bank on the forks and other components standing up to much abuse.
The limited battery range may put some people off, but if you're not planning on riding much more than 30 miles in one go, you will be fine.
Reliability
As with all the models that use the Suntour motor, reliability shouldn't be too much of a problem. It's like anything. Look after it, ride it sensibly and you shouldn't have any problems.
In some cases, problems with electric can and do arise. Thankfully, this is fairly rare, and even if you do have problems with the motor or battery. The warranty will cover these within the first 2 years of ownership.
Conclusion
I have ridden the Carrera Vengeance E a few times, and personally, I think it offers good value for money. Reading through the reviews, the main negatives seem to be complaints about the badly placed charging port (for the battery) and the bike feeling heavy and underpowered.
I would agree, that it is on the heavy side at around 23kg, but it is an e-bike at the end of the day, and the motor/battery combo will add at least 8kg to the weight.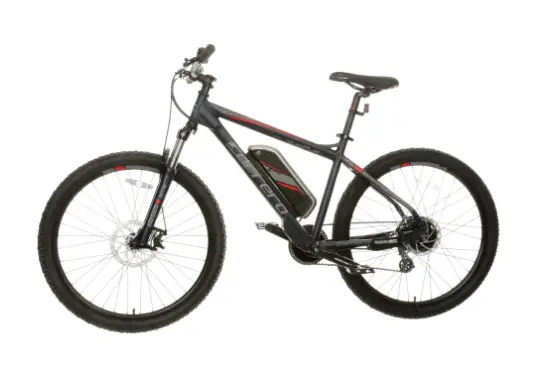 Lightweight electric bikes are usually expensive, and even more prestigious e-bike brands like Haibike and Giant are usually on the heavy side. As they say, 'You can't have your cake and eat it'.
I personally feel the 250w Suntour motor provides ample power, but the whole e-bike experience is very subjective. What may seem like a lot of power for one person, may not seem enough for another.
I suppose what it boils down to is does the Carrera Vengeance E offer value for money? In my opinion, it does. It is one of the best electric mountain bikes in its price range, and on top of that, you have nationwide after-sales support.
It is versatile, it handles okay, and it looks the part. I'm giving this bike the thumbs up – if you're after a budget e-bike that does the job, look no further!