In this second article featuring new 2022 e-bikes, I take a closer look at the Cube Nuride hybrid Performance 625 Allroad.  Cube have one of the most comprehensive ranges of hybrid electric bikes available, and I have chosen this model as it offers the best specification for the price. As with all the e-bikes featured here, I will endeavour to get hold of one for a full review if possible.
Summary
The Nuride Hybrid Performance Allroad is a recent addition to the Cube range of electric bikes, with more of a focus on adventure riding. When you take a closer look, it's a Touring Hybrid One frame minus the integrated pannier rack.

I've compared the frame geometry figures from the 2022 Nuride with the 2020 Touring Hybrid One and they're identical. That's not a bad thing as it's a very well-built frameset. The Nuride is more of a facelifted model as opposed to a completely new e-bike.
Below I'll have a closer look at the specifications, to see what has changed or been improved.
Check out the excellent 2022 Cube Kathmandu SLT 750
Electric components
This model features the Bosch Performance Generation 3 mid-drive motor which produces a modest, but useful 65Nm of torque. Don't let the lower torque figures fool you though, I have ridden an e-bike with this motor back to back with a CX Performance Line motor and there's not a lot in it. The latest version of this motor features the excellent e-MTB mode – this mode is very intuitive and will adjust the assist level automatically according to how much effort you're putting in.
One of the main things that attracted me to this model is the 625Wh battery. When combined with the softer power delivery of this motor, it's possible to get quite an impressive range from the battery – using the Bosch range calculator as a guide, a range of 100 miles (160km) is possible in eco assist mode.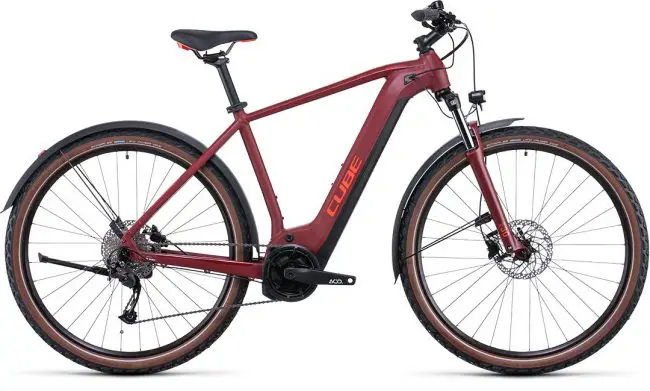 Bike components
The Cube Nuride Hybrid Performance Allroad is aimed at the rider who likes to venture off the beaten track and as such has components suitable for riding off-road.
Gearing
Gearing is provided by Shimano and features a 9-speed 11-36 cassette with an Alivio M3100 rear derailleur – this should be enough gear range for leisure riding and moderate off-road riding.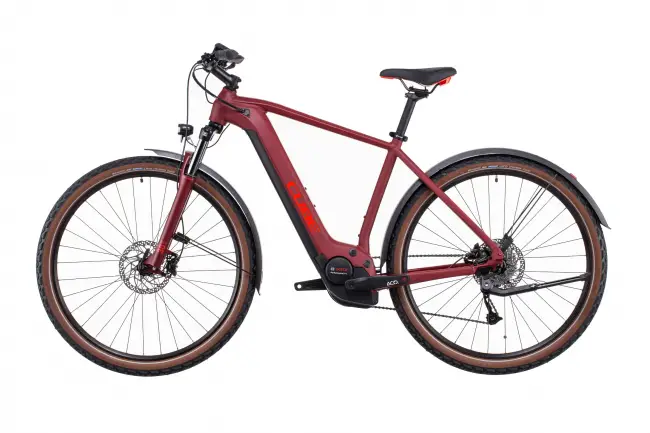 Brakes
Braking is provided by the excellent Shimano MT200 hydraulic brakes. My bike has these fitted and they work very well, I've never experienced any problems with brake fade on steep descents and they inspire confidence.
Suspension
Front suspension is Suntour NEX 100m coil-sprung forks – these are quite basic but are perfectly acceptable for the bike's intended use.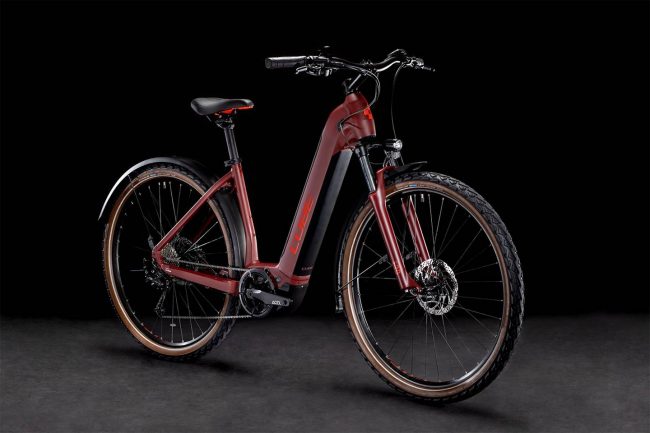 Wheels and tyres
Wheels are durable Cube EX23 rims with Shimano HB-TX505 quick-release hubs – these hubs use a cup and cone bearings so they'll be easy to service when the time comes.
Tyres are Schwalbe Landcruiser 700x55c – I've used these tyres before and they are puncture resistant (to an extent) and excellent for riding on gravel and forest trails.
Who is the Cube Nuride Hybrid 625 aimed at?
The Cube Nuride Hybrid Performance Allroad is, as the name suggests aimed at riders who favour riding on mixed terrain. If you liked the look of the Kathmandu SLT 750 but were put off by the price, then at £2699 the Nuride 625 is £1500 cheaper!
Don't be fooled by the cheaper price though. The Nuride may have cheaper components and only 9 gears, but unless you're planning on tackling some tough terrain, this e-bike will be more than capable enough.  For leisure riding, bikepacking and touring, the Cube would be an excellent choice – there's enough battery range for long days in the saddle and the Shimano components will stand up well enough to take on an epic ride like King Alfred's Way.
Conclusion
The Cube Nuride Hybrid Performance 625 Allroad doesn't bring anything new to the table. The frame is nearly 2 years old now and all the components are tried and tested. What this does have are the latest Bosch Performance Line motor with updated 2021 / 2022 firmware and that excellent e-MTB mode. The battery has also been around for a couple of years now but will give more than enough range for most riders.
One of the big plus points of this e-bike is the price. It's getting increasingly difficult to find a decent electric bike for less than £2000, and this one comes in at £2699, which considering the specification, warranty and the Cube brand is pretty good value for money.
I've had a good look around and if you're after a 'do it all' hybrid electric bike for under £3k, the Cube Nuride takes some beating.
Check out some of the best hybrid electric bikes for under £3000